Section Branding
Header Content
Kamala Harris Pushes Get-Out-The-Vote Efforts In Atlanta
Primary Content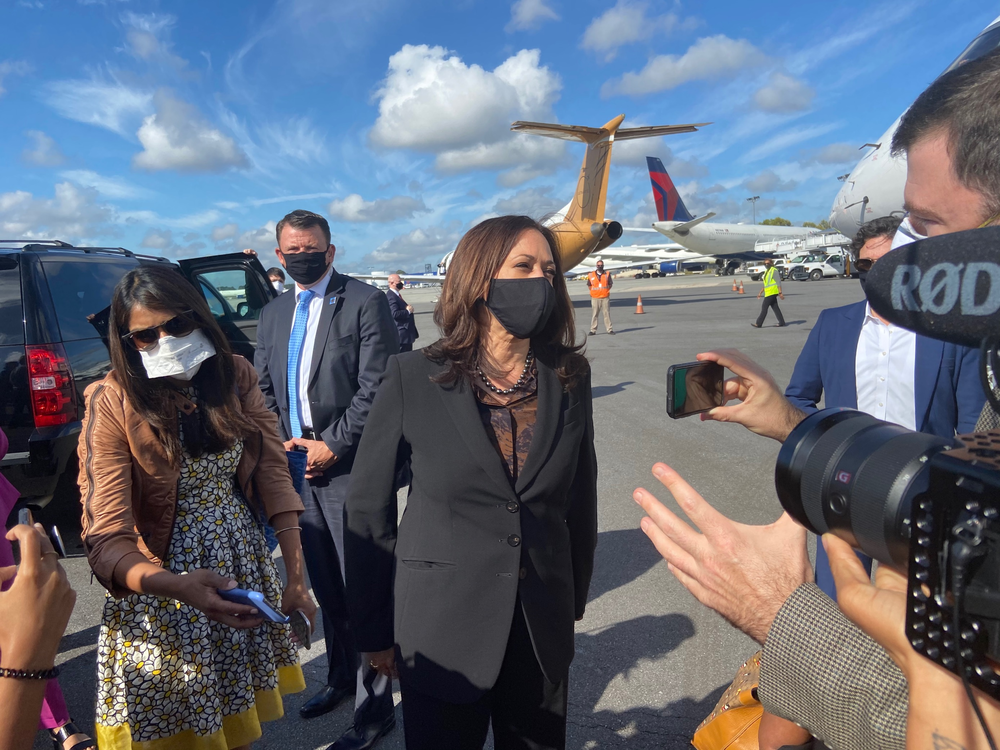 Though the typical trappings of an extravagant rally full of supporters were replaced by raucous honks at a socially-distant drive-in, Sen. Kamala Harris made it clear that Atlanta was an important stop for the Democrats less that two weeks before Election Day.
"Especially if you are Black and hold elected office in America, coming to Atlanta is like coming back to the womb," the vice presidential nominee said in front of a crowd of 50 cars on the campus of Morehouse College. "It is because Atlanta represents so much about who we are as Americans, Atlanta represents the hopes and the dreams and the fight to make real the promise of America." 
In addition to the get-out-the-vote rally, the California Senator made a stop in the peach state to participate in several virtual fundraisers, held roundtable events with Black Atlanta University Center college students and prominent Black men, ordered catfish and greens from Busy Bee Cafe and made a stop at a 65-foot mural of the late Rep. John Lewis on Auburn Avenue before leaving Friday evening. 
In the final days of the 2020 presidential campaign that polls show is neck-and-neck in Georgia, a state that has not voted for a Democratic presidential candidate since 1992, Harris focused on the current White House response to the coronavirus pandemic that has disproportionately affected Black Americans.
"He knew the deal about COVID, he had been informed that it can kill people, that it is five times as likely to kill as the flu," she said. "He knew it was airborne. He know it could harm children. And he sat on that information, and he did not tell the American people... can you imagine what you might have done. Had you know what he knew on January 28?"
At a roundtable Friday afternoon at The Gathering Spot, Atlanta record executive and entertainment staple Jermaine Dupri asked Harris about her record as a prosecutor, something critics have used to question Harris' commitment to criminal justice reform.
"It's a lot of people that feel like... you put a lot of Black brothers away," he said. "And I don't know if a lot of my friends have actually heard you say enough about this to convince them." 
"Yes, I was a prosecutor, I decided to go into a system that I believe was flawed to reform," she said. "So, yes, I decided to go up the rough side of the mountain, as we say in church. And I didn't fix the entire system. I was in the system trying to fix it."
At the drive-in rally, Anjali Enjeti said it was important to see a woman of color on the ballot.
"I am not Black, but I am half Indian, just like Kamala Harris," she said. "And it's important for me to see somebody not just because of their race, but it's because she is who she is and she stands for what she stands for."
DeKalb County school board member Diijon DaCosta, wearing an Omega Psi Phi-themed "Vote" shirt, said that he was there to support Joe Biden and Kamala Harris and hoped younger generations were inspired to vote.
"This is another historical moment for Blacks in America," he said. "Right now we have the opportunity to change what's with the current president has actually put into place and just continue to make it a better place for everyone."
Also at the rally were two Georgia Democrats vying to unseat Republicans in both U.S. Senate races on the ballot - Jon Ossoff challenging Sen. David Perdue and Raphael Warnock, who leads a 20-candidate field in most polls in the special election for the seat currently held by Sen. Kelly Loeffler.
"When we go to the polls, we'll see the names of those running for office on the ballot," Warnock, the pastor of historic Ebenezer Baptist Church in Atlanta said. "But we know that citizens do not vote for politicians, citizens vote for themselves."
Elsewhere in the state, Donald Trump Jr. rallied Georgia Republicans alongside Gov. Brian Kemp and former 6th Congressional District Rep. Karen Handel seeking to unseat Democratic Rep. Lucy McBath in a rematch from 2018.
"We need you to fight for him," Trump Jr. said of his father. "You've got 10 days...we need to win overwhelmingly and we cannot do that without you Georgia." 
Georgia's early voting turnout has eclipsed previous years as people continue to turn out at record pace. As of 8 p.m. Friday, more than 2.5 million ballots had been cast, including 919,000 absentee-by-mail ballots. Georgia has 7.6 million registered voters, meaning nearly a third of all voters in Georgia have already participated in the election.
Saturday, Oct. 24, is the one mandatory Saturday that all 159 counties must hold early voting. Check your local county election office for times and locations.
8.5.2
Secondary Content
Bottom Content