Section Branding
Header Content
State Dems: Perdue's Mangling Of Kamala Harris' Name Not A Mistake
Primary Content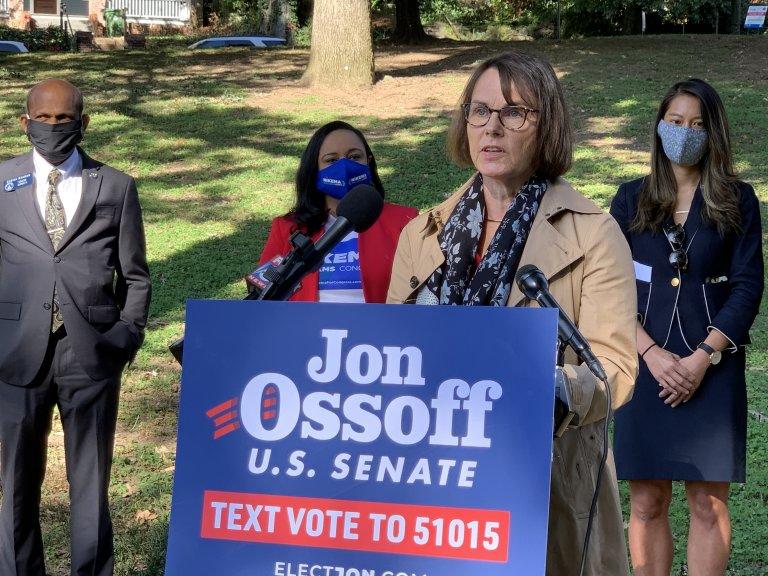 A group of state Democratic lawmakers – including two legislators who immigrated to America – say Sen. David Perdue intentionally bungled Sen. Kamala Harris' first name to pander to the president's supporters.
Perdue was speaking at President Donald Trump's Friday rally in Macon when he referred to the vice presidential candidate as "Kamala? Kamala? Kamala-mala-mala? I don't know. Whatever."
Perdue has said he "meant no disrespect to the Senator from California," and his campaign said earlier that he simply mispronounced Harris' name.
"My role in this is to point out the differences in what their agenda is and what our agenda is," Perdue said in a statement Tuesday. "A lot of Democrats will do or say anything right now to hide their radical, socialist agenda."
But a handful of state lawmakers with difficult-to-pronounce names said Tuesday that they aren't buying it. They joined Perdue's Democratic challenger Jon Ossoff in Atlanta's Grant Park Tuesday to continue to highlight what they say is a part of a troubling pattern in politics.
"He didn't mispronounce it. It wasn't an innocent mistake," said state Rep. Angelika Kausche, a Johns Creek Democrat who was born in Germany and immigrated to America in the late 1990s. "His words were filled with malice as he attempted to get a cheap laugh out of the crowd.
"David Perdue took a name that has deep meaning in South Asian culture and the Hindu religion and turned it into a punchline," she added. "It took him seconds to tell so many people who choose to make America our home that he thinks of us as foreign, as outsiders, but we are just as American as he is, and we vote."
Sen. Sheikh Rahman, who is from Bangladesh, said he was in disbelief when he first heard Perdue's comment at the rally.
"I cannot pronounce all the names that are out there myself that I represent, but I never thought I would hear people who represent Georgia mock people's names," the Lawrenceville Democrat said. "David Perdue proved to us he is not fit to represent our diverse and welcoming state."
State Sen. Nikema Williams, who chairs the Democratic Party of Georgia, decried the utterance as a "a bigoted and racist tactic straight from President Trump's playbook."
The controversy comes as Perdue is locked in a close race for reelection, with a fresh New York Times poll showing former Fortune 500 business executive in a tie with Ossoff.
Ossoff reported collecting nearly $2 million in contributions by Sunday evening following Perdue's remarks at the Macon Trump rally. In other fallout, Maryland-based Perdue Chicken launched a social media blitz over the weekend to clarify the brand is not connected to the senator.
Ossoff, an investigative journalist, has called on Perdue to apologize to not just Harris but the broader Indian American and Black communities. He also criticized the U.S. Senate for failing to pass another round of coronavirus relief.
"Even more important than an apology, what Sen. Perdue owes this state is real leadership," Ossoff said at the Tuesday press conference. "There he had the opportunity to address this state and the nation, to be candid with us about the challenges that we face, to present real solutions, to unify and inspire us to meet this moment, and instead he squanders his power, his office and his influence on schoolyard insults."
Perdue's spokeswoman, Casey Black, hit back Tuesday, accusing Ossoff of "pushing divisive smears to distract voters from his radical socialist agenda."
"While Ossoff criticized needed COVID relief for Georgians earlier this year, his biggest donor Senator Chuck Schumer last night tried to kill all COVID relief from passing until after the election. It's shameful Ossoff isn't talking about that instead," Black said.
Perdue was scheduled to debate Ossoff Tuesday on WTOC in Savannah, but his campaign announced Monday afternoon he would return to Washington for a vote on COVID-19 relief aid. A rescheduled debate is set for Oct. 28.
This story comes to GPB through a reporting partnership with Georgia Recorder.
Secondary Content
Bottom Content