Section Branding
Header Content
With Two Weeks To Go, One In Five Georgians Have Already Voted
Primary Content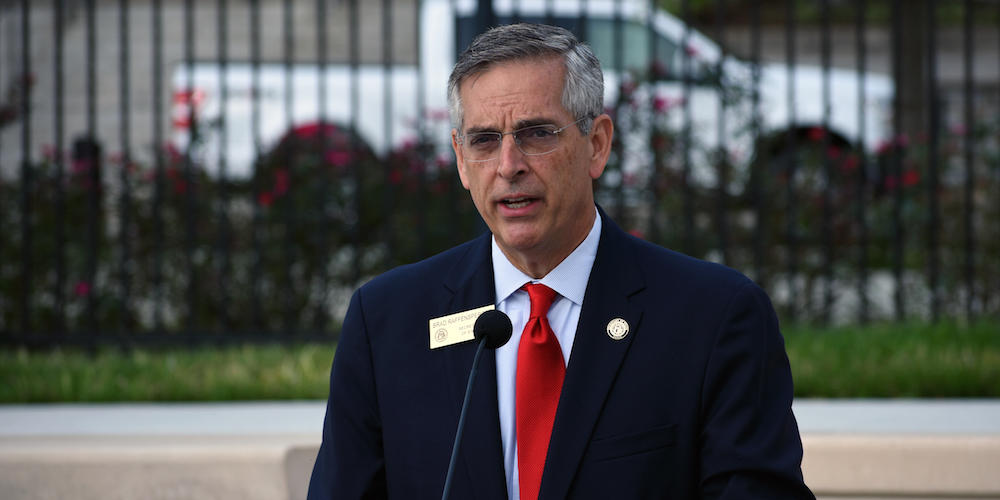 More than 20% of Georgia's 7.1 million active voters have already cast their ballot in the November general election with just over two weeks to go before Election Day, leaving state elections officials optimistic about an expected record turnout of more than 5 million. 
"I'm here today to speak directly to every voter in Georgia: Thank you for voting, thank you for voting absentee and thank you for voting early," Republican Secretary of State Brad Raffensperger said. "It is a total team effort from our office to the counties to the poll workers, and to the single most important person in the process: you, the voter."
As of Monday morning, 1,483,192 Georgians have voted early in person or absentee by mail. The first week of early voting was marked by unprecedented levels of voter enthusiasm as well as tremendously long lines caused in part by a slowdown of the state's voter registration system overloaded by a crush of check-ins and absentee ballots being processed.
Raffensperger said that the increased interest in early voting is part of a "voter-centric" election that has kept all options available for Georgians amidst the coronavirus pandemic.
"We are setting records with every passing hour," he said.
With two more weeks of in-person early voting, including a statewide mandatory Saturday of voting, Raffensperger said his office estimates at least three million votes could be cast before Nov. 3.
"The more that vote early, the less that will be left on the playing field to show up on the Election Day," he said. "This three weeks of voting with the (new touchscreen) system has really given all the new poll workers and the election officials additional time to become proficient with that system to get ready for the big day."
Some counties in Georgia are outpacing others in early voting so far: Greene, Rabun, Ben Hill, Oconee and Butts all have seen more than 30% of their active voters cast ballots already. In Fulton, Gwinnett, DeKalb, Cobb, Clayton, Cherokee, Henry, Forsyth and Hall — nine metro Atlanta counties with an explosive population growth and lack of new polling places, according to a GPB/ProPublica investigation — have seen nearly 750,000 early voters out of their 3.2 million on the rolls.
Secondary Content
Bottom Content