Section Branding
Header Content
128,000 Georgians Voted In Person Monday. Here's Why That Matters
Primary Content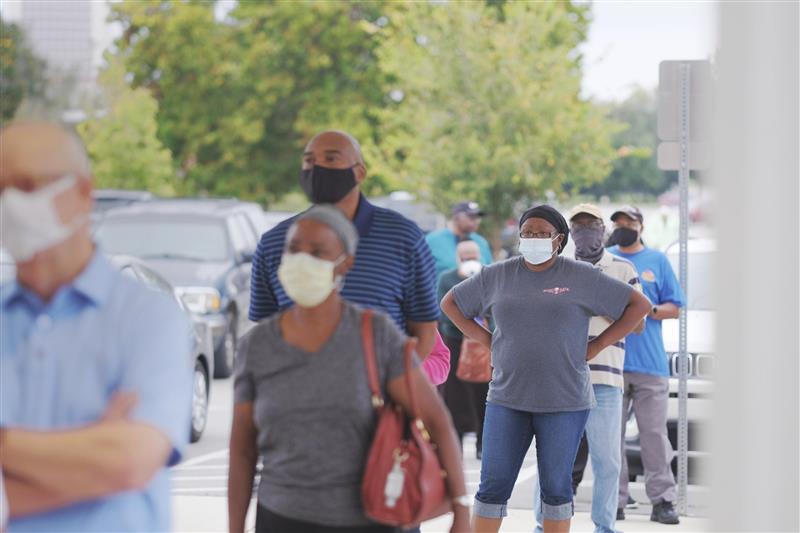 On the first day of early voting, nearly 128,000 Georgians turned out in force, with some waiting into the night to cast their ballots – a record turnout that came even as more than two dozen counties were not open because of the holiday.
According to the state's absentee voter file, 601,247 people have already voted three weeks out from Election Day, nearly four times higher than the same point in 2016. Of those, 469,673 have been absentee-by-mail, and the in-person turnout Monday was 40% higher than the 90,000 votes on the first day in 2016.
In a state that has become a battleground for both control of the White House and for discussion over voting rights, Monday's long lines brought forth dueling concerns and celebrations from many inside and outside Georgia.
The first day of in-person early voting is typically the busiest, and this year it fell on a state holiday that many had off work. Plus, with the coronavirus pandemic ongoing and every state and federal lawmaker on the ballot, Fulton County elections director Rick Barron said many were raring for the opportunity to cast their ballot.
RELATED: Listen To GPB's Battleground: Ballot Box Podcast
"I think the positive thing is that there's a lot of people out there waiting to vote," he said. "We expected to have lines on the first day, a lot of people have been anxious to vote for a long time, so we were expecting this."
In Fulton, home to 11% of the state's voting population, there are more than 30 early voting sites open every day of the 19-day early voting period that ends Oct. 30, including two mobile voting busses that will crisscross the county and provide additional machines to alleviate lines. After playing host to many of the problems with the June 9 primary and taking the brunt of the blame, county officials have doubled the elections budget and launched an aggressive plan to have 80% of its votes cast before November 3.
So far, just under 10% of Fulton's total active voter population has voted, including 16,428 who showed up in person on Monday.
At the State Farm Arena mega voting site, home to 60 check-in stations and 300 voting machines, 2,714 voters received a basketball-themed "I Voted" sticker, and another 637 received a special sticker from the High Museum of Art voting precinct.
Already, about one in 10 registered voters in several metropolitan counties around the state like Cobb, DeKalb, Clarke and Bibb have voted, a number that will only grow as the days progress.
But in many counties, wait times of up to 10 hours for some left a familiar feeling of suppression in a state that has been marred by problems at the polls for predominantly Black communities.
"This is a picture of voter suppression," former U.S. Senator Claire McCaskill tweeted over a viral video of a line in Gwinnett County. "Why do Americans have to wait in lines this long?"
Other frustrated voters shared selfies of wait times remnant of the worst crowds at a theme park as social distancing measures and relatively few machines were available for the throngs waiting.
But elections officials and experts say that a first-day crush is not inherently a sign of problems, and actually does more to help the Election Day process.
"Early voting gives people a choice when they wish to vote, a large number of people are enthusiastic to vote at the first chance they get, thus long lines," University of Florida professor Michael McDonald tweeted. "Ironically, they report high satisfaction with their voting experience. Lines will shorten after the initial rush."
Any registered voter can cast their ballot at any early voting site in the county, which means potentially thousands of people could show up at any one site on any given day. In fact, nearly a quarter of the state's counties that were open on Monday saw more than 1,000 people show up to vote Monday.
But the early voting period lasts for three weeks, and many counties open up additional locations or hours in the last week to accommodate last-minute interest.
On Election Day, voters must show up to their assigned polling place, which has at most several thousand people that are allowed to vote there. The more voters that show up early and absentee, the fewer voters there are that could possibly show up to wait in Election Day lines.
Secondary Content
Bottom Content