Section Branding
Header Content
Perdue, Ossoff Spar In U.S. Senate Debate
Primary Content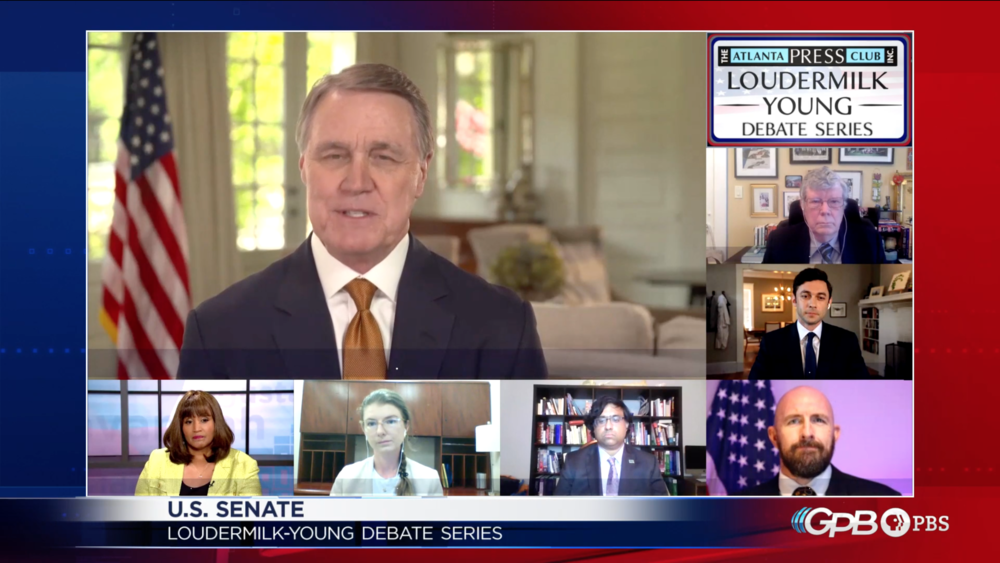 Republican U.S. Sen. David Perdue and Democrat Jon Ossoff clashed in a televised Atlanta Press Club debate Monday, as polls show a tight race in what has become one of the closer contests on the ballot this November.
"He will say anything to hide his radical Socialist agenda," Perdue said — seven times, to be exact — of his Democratic opponent. "He wants the Green New Deal, he wants to defund the police, he wants to close military bases in Georgia, he wants to force socialized medicine."
The hourlong debate, which also featured Libertarian Shane Hazel, was mostly dominated by Perdue and Ossoff attacking each other for their campaign platforms and records and focused less on issues that polls show are most important to voters.
At one point, Ossoff and Perdue got into an interrupting match over discussion of the COVID-19 pandemic, and support over the Paycheck Protection Program that granted millions of dollars of loans to struggling Georgia businesses.
Ossoff attacked Perdue for supporting President Trump's leadership that he called a "disaster" that has killed nearly 215,000 Americans, and Perdue shot back that some of Ossoff's complaints were idle chatter. 
"Senator, I'm astounded, it is not idle chatter," Ossoff said as Perdue cut in. "Are you done, Senator?"
"No, not by a long shot," Perdue riposted.
The debate was held virtually because of the coronavirus pandemic, with a moderator holding up a countdown flashcard to keep candidates on time. Occasionally, the candidates were able to ask each other questions.
The two major-party candidates also sparred over tax cuts and the economy, climate change and the makeup of the Supreme Court, a hot topic as the confirmation process for nominee Amy Coney Barrett gets underway. 
Perdue co-sponsored a constitutional amendment that says the Supreme Court should have no more than nine members, and Ossoff agreed that adding more justices would be a bad idea.
"I think judicial reform is a prerogative of Congress, and what I don't support is adding a seat to the Supreme Court because we don't like the policy positions of a justice who's been confirmed," he said. 
Hazel, the Libertarian candidate who could send the race to a runoff if he garners enough support, made a pitch to voters that eliminating most government bureaucracy and programs would be the best course of action moving forward.
"Ladies and gents, if you're sick of this kind of stuff and you want principled consistency on the policy here in the United States and overseas, you're not going to get it with these type of politicians," Hazel said.
Polls have shown Perdue and Ossoff are neck-and-neck just three weeks out from the election, with the campaigns spending a combined $150 million on ads flooding the Georgia airwaves. Democrats have circled the race as key to flipping the upper chamber.
Secondary Content
Bottom Content