Section Branding
Header Content
'I would have waited all day': Turnout Soars On First Day Of Early Voting In Georgia
Primary Content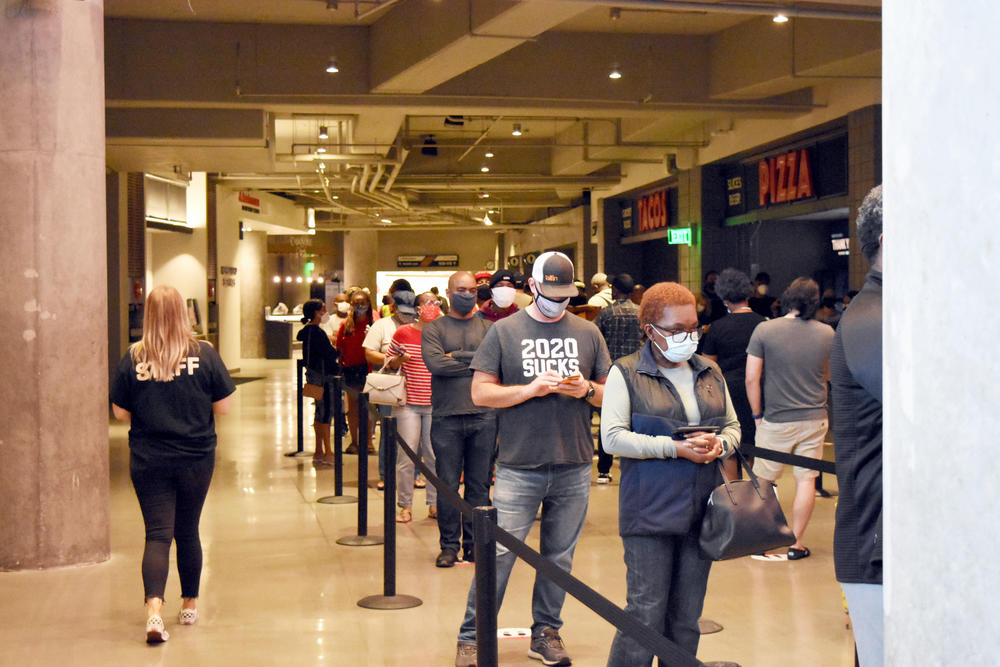 As the sun rose Monday morning, thousands upon thousands of Georgians across the state lined up on sidewalks and snaked through parking lots waiting for polls to open on the first day of in-person early voting.
From Lowdnes County to Lawrenceville, early voting locations across the state were inundated with Georgians eager to participate in a November general election that has already seen an unprecedented level of interest in mail-in absentee voting. As of Monday morning, 1.6 million voters have requested an absentee ballot and a quarter of those have been returned. By 6 p.m. Monday, state officials said that more than 110,000 had voted in person.
At State Farm Arena in downtown Atlanta, more than 60 check-in stations and 300 ballot-marking device voting machines were spread throughout the Atlanta Hawks facility, as queues wound past closed concession areas and early voting messages filled the giant scoreboard above the arena floor.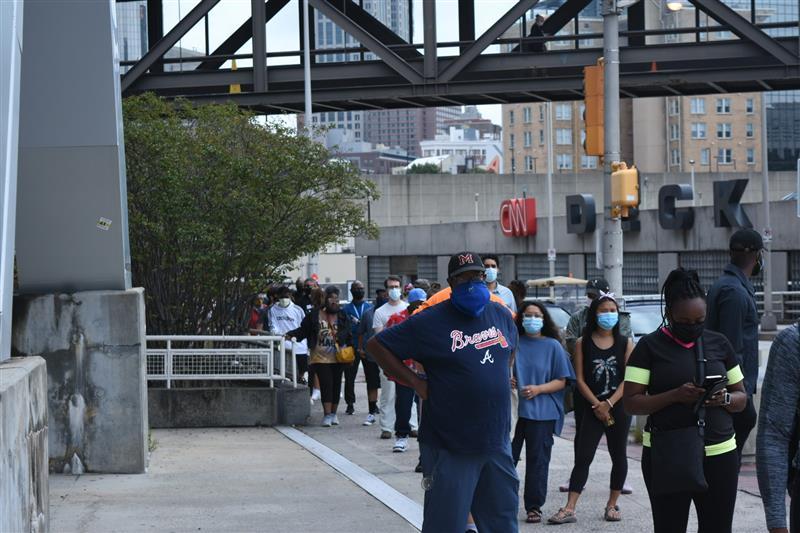 A problem with a database loaded onto poll pad check-in computers led to a 30-minute delay at State Farm, Georgia's largest-ever voting site, but Fulton elections director Rick Barron said that the machines were quickly reset and a backlog of voters were cleared within the hour.
One of those voters was Adrienne Crowley, a teacher who lives in Atlanta and who waited nearly 90 minutes because of the issues.
"It was a little frustrating not knowing what was going on, but once it started moving it was OK," she said. "I think this is a wonderful idea. I'm really glad they did this."
Crowley said she felt that people would underestimate how many Georgians would vote on the first day of early voting, and that the state's electorate had been "waiting to vote."
"I didn't expect to wait this long, but you know my grandfather was from Georgia," she said. "I would have waited all day if I had to."
In Cobb County, just north of Atlanta, estimated wait times reached five hours at the main elections office Monday. More than 166,000 Cobb residents have already requested an absentee ballot, as officials encourage voters to avoid long lines on Election Day by casting their ballot early.
Long lines in predominantly Black communities of Metro Atlanta plagued the June 9 primary election, something that spurred many voters to cast their ballots ahead of Election Day on Nov. 3, well outside of Georgia's capital city.
"My intention was to be here when the door opens this morning, because there's constant voter suppression that I am not going to stand for — and I am rallying everybody that's in my family; my kids that are eligible to vote, I got them coming as well," Willlie Purcell of Macon said. "If I have to pick them up and take them myself, I'll even volunteer to drive people who don't have a car. Whatever it takes to get people out to vote, that's what I'm going to do."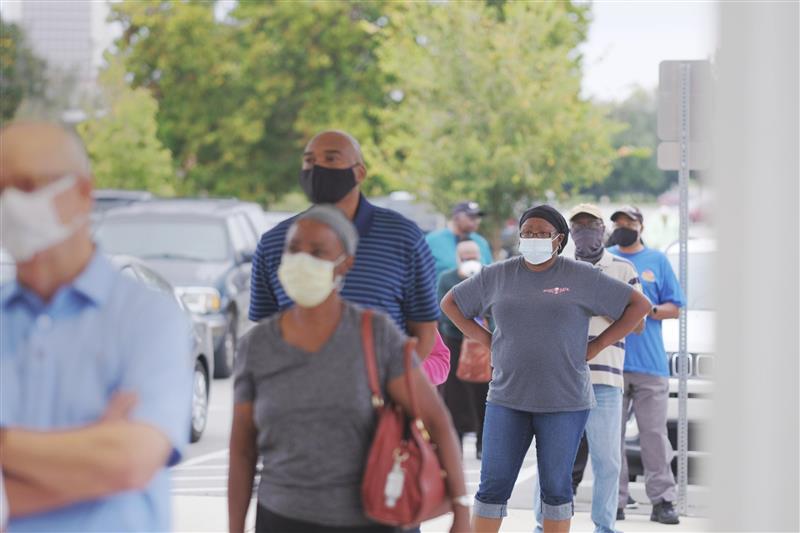 In Macon, the line to vote at the Elaine Lucas Senior Center stretched outside the building well before polls opened, one of three early voting sites in Bibb County. Similar scenes played out in different corners of the state: 42 minutes to vote in Richmond Hill, lines winding around the building in Stockbridge and a four-hour estimate for residents of Cobb County.
Some of the wait can be attributed to social distancing and sanitation policies put in place because of the ongoing coronavirus pandemic. Another part is math. Any registered voter in each county can vote at any early voting site within that county, meaning tens of thousands of people could show up on any given day, as opposed to a typical maximum of a few thousand at each Election Day polling site. 
While early voting sites usually have more equipment than an Election Day site, long lines that form before polls open take a while to process, and more people are constantly joining the line.
In Cherokee County, Cindy Webb said there is too much at stake in this election to stay home and not vote.
"I think it's important to get out and vote," she said. "I wanted to be here to get mine in person, and it's important to do it in person if you're able to."
Early voting runs through Oct. 30. Dates, times and location vary by county; you can check your local election office for more information.
Help us report on voting problems in Georgia by filling out this form. Subscribe to our voting podcast "Battleground: Ballot Box" for an in-depth look at Georgia's election woes and solutions. 
GPB News' Ellen Eldridge and Grant Blankenship contributed to this story. 
8.5.1
Secondary Content
Bottom Content