Section Branding
Header Content
State Outlines Fix For Error That Halted Election Testing
Primary Content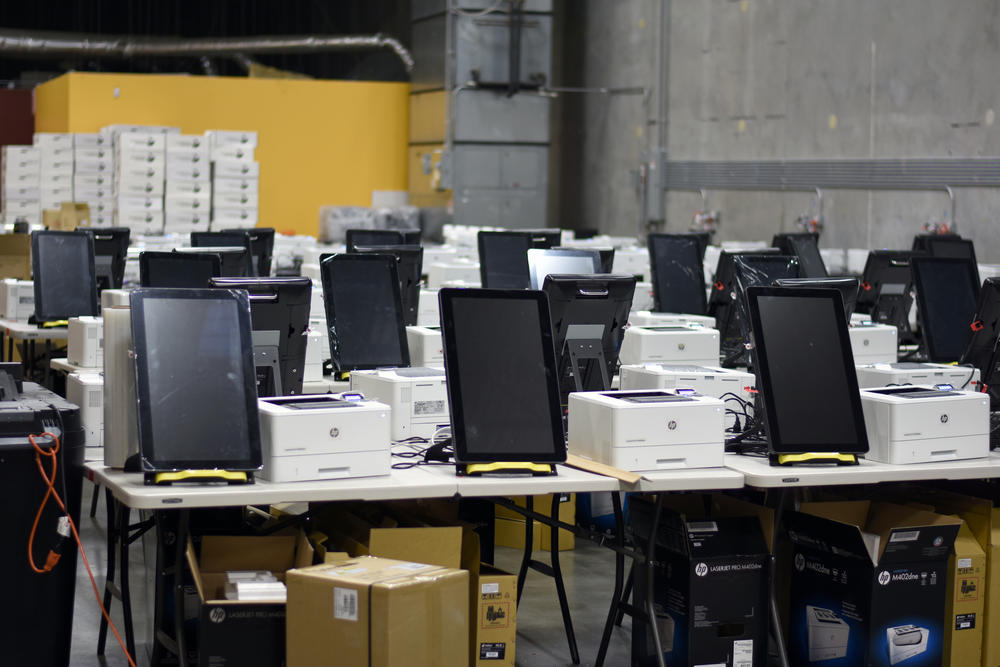 Georgia elections officials say they will quickly be able to fix a software error that caused half of the 21-person U.S. Senate special election candidates to not show up on voting machines during mandatory testing.
The snafu in the state's new $104 million voting system came to light after attorneys representing an election integrity group shared an email from the state ordering counties to halt Logic and Accuracy testing to prepare for the November election because of a database issue.
"This database defect affecting all counties in Georgia will plainly cause a substantial and untenable delay to, if not render impossible, the State's programming and testing of BMDs (ballot-marking devices) for the November election as required by the Georgia Election Code," a Friday night filing read. 
In a telephone hearing Monday, lawyers for the state said the characterization of the error reported by Douglas and Richmond counties was overblown and that the plaintiffs' attorneys were trumpeting an "apocalyptic scenario on social media."
"Where we are, I think, is again a situation where the Coalition plaintiffs have jumped to conclusions, not fully understanding what's happening," Brian Tyson said. "And they're trying to make a mountain out of what really is a molehill, that it's not nearly as big a deal as they're alleging."
A representative from Dominion Voting Systems, the state's elections vendor, said that an issue with the ballot-marking device's operating system led to the display issue for the Senate special election the first time a voter encountered the race. Dr. Eric Coomer said that the candidates reappear after a voter returns from another contest, and said the problem only occurred under rare, specific circumstances.
Candidates not appearing on the ballot is especially problematic for the wide-open special election, where three of the four top polling candidates – sitting Republican Sen. Kelly Loeffler and Democrats Matt Lieberman and Raphael Warnock – would be affected while Republican Rep. Doug Collins would not. That's because names appear in alphabetical order on ballots, and those lower on the list did not appear when the error happened.
Dominion and the state told the court that a "de minimis" software change would be sufficient to address the issue but not materially change how the system operates, and could be loaded onto each voting machine during the Logic and Accuracy process.
Lawyers for the plaintiffs argued that making a software change so close to the election creates an even greater potential for problems and security risks.
"Of all the things we've heard, this software change is the most concerning," David Cross said. "It's not what we actually thought was happening coming in today. We thought it was a database change, which had its own concerns. But this is far bigger than we originally thought."
The two-hour hearing is part of a larger lawsuit challenging the use of electronic voting in Georgia that has been ongoing for three years, and has seen Judge Amy Totenberg both decline to make sweeping changes before elections and excoriate state officials for their lack of action in addressing security concerns with Georgia's old and new voting systems.
In a separate ruling, Totenberg on Monday ordered that every polling place in the state must have updated backup paper copies of the voter list  in case problems arise with the check-in computers.
"It is a very narrow issue that it addresses," she said. "It's just a simple change in course in the way we're dealing with it."
Secondary Content
Bottom Content