Section Branding
Header Content
Error Found In Election Testing Causes Georgia Counties To Pause Some Prep
Primary Content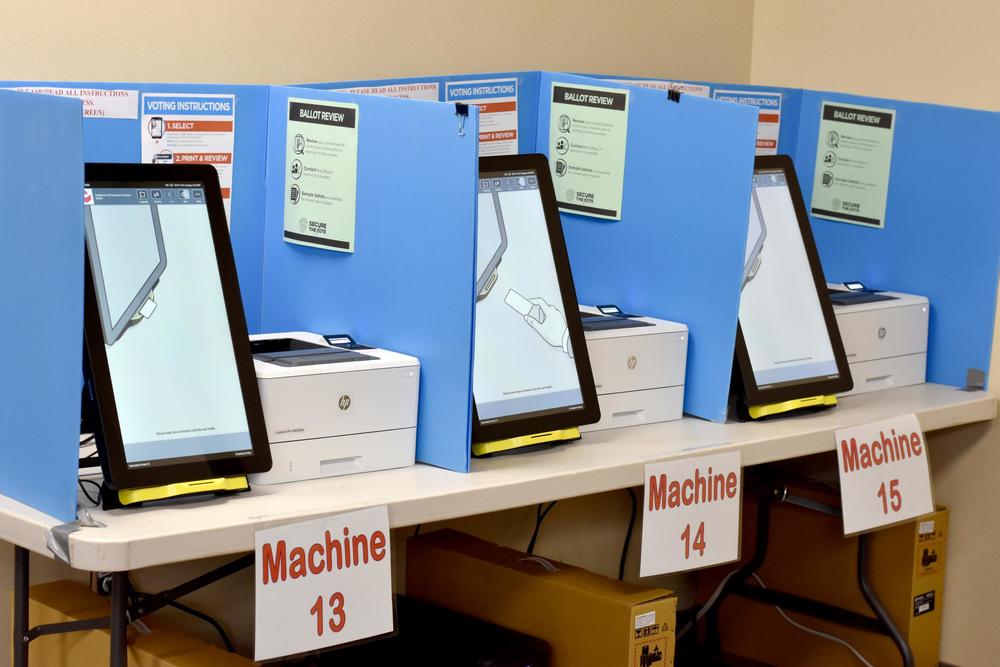 Georgia counties are temporarily pausing the Logic and Accuracy testing of voting equipment for November's election after testing found an error with how two counties displayed the 21-candidate U.S. Senate special election.
The obstacle comes as a federal judge is set to issue the latest order in a years-long lawsuit that seeks to force Georgia to ditch electronic voting machines and move to hand-marked paper ballots.
According to a bulletin sent by State Election Director Chris Harvey Friday night, all 159 counties will need to get a new database delivered before doing the legally required testing of ballot-marking devices, scanners and check-in devices.
The secretary of state's office said that due to the number of qualified candidates for the U.S. Senate special election, they designed the ballot to have all 21 candidates split up across two columns so they show up on the same screen.
Testing in two counties discovered an issue that could have led to a few thousand voters not seeing all the candidates under certain situations.
"Logic and Accuracy testing discovered an issue where if a user flips back and forth multiple times between the Senate special election and the previous race, which is not typical, the second column would in rare occasions not appear," deputy secretary of state Jordan Fuchs said. "This was discovered as it should have been during L&A testing. Dominion is preparing a fix that will be distributed to all counties so that no voters are affected."
Because the Senate race is on every ballot, the state is sending new databases to all 159 counties. 
Logic and Accuracy testing involves testing every single piece of Georgia's new $104 million voting system that is used, from the check-in Poll Pad to the voter access card to printing and scanning the paper ballots.
County elections officials also check the names, placement and order of candidates for every race and every precinct combination to ensure accuracy.
State officials do not anticipate the creation of a new database to cause any delay with preparations for the November general election, with absentee ballots already being mailed out and returned across the state. Early voting is set to begin Oct. 12. 
Fulton, DeKalb and Clayton counties have a special election on Tuesday for the remainder of the late Rep. John Lewis' term, so their Logic and Accuracy tests for November have not yet started, and state officials say that counties can complete the testing for equipment used for early voting first with little issue. 
Help us report on voting problems in Georgia as part of ProPublica's "Electionland" project by filling out this form.
Secondary Content
Bottom Content