Section Branding
Header Content
Macon Remembers Ruth Bader Ginsburg: 'She Fought For All Of Us'
Primary Content
Ruth Bader Ginsburg vigil in Macon.
Josephine Bennett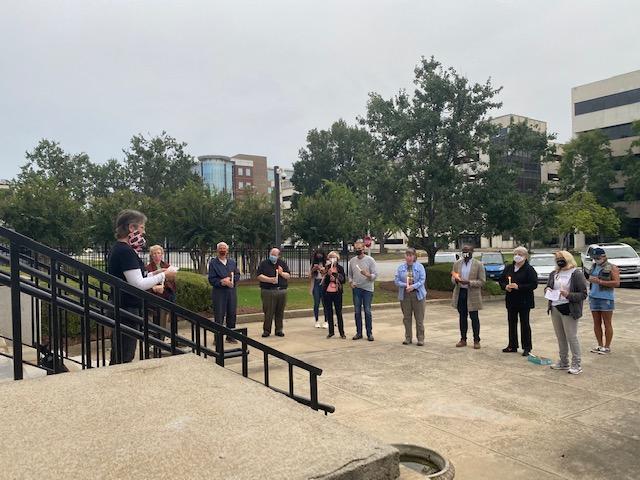 "She was my shero. She was a superstar. She fought for justice not just for women, but for men, for blacks, for whites, for everyone. And because she fought for these different groups, she fought for all of us."
Those were the words of Erica Woodford, clerk of Superior Court in Bibb County, as she reflected on the legacy of Supreme Court Justice Ruth Bader Ginsburg who died Friday night at the age of 87 from pancreatic cancer. Woodford was one of around 40 people who showed up Saturday night for a candlelight vigil in front of the federal courthouse in Macon.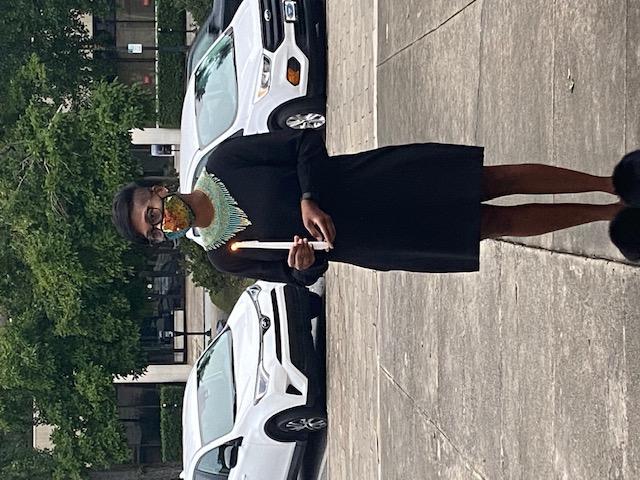 The rally mirrored others around the country following the death of Ginsburg with mourners gathering to remember the champion of gender equality and Supreme Court icon known as "RBG." 
People of all ages showed up at the Macon gathering, including 70-year-old Anne Benford who wanted to honor Ginsberg for the personal impact she had on her life.
"I came tonight because this woman was the powerhouse of my life," Benford said. "She was the one who went and made laws to protect women, to give women more rights and even to help children."
Benford said she worries about a future world without Ginsburg in it. "She was trying to make life better in this country," Benford said. "And now we have people who are making it worse, it seems."
DeMarcus Beckham, a voting rights advocate and member of the LGBT community, attended the vigil wearing a black mask with large white letters on it that simply said, "VOTE."
The 26-year old said growing up he did not understand how policy and the law are intertwined but as he learned he realized that RBG was "one of the greatest judges we have had in United States history." He credited her for making his own life better.
"She was a great ally," Beckham said. "And then through the ages, seeing in 2015 Marriage Equality Act being passed and DOMA (Defense of Marriage Act) being knocked down, it was her there in the courts helping deliver those decisions on the side of people who are part of the LGBT community, as well as being a part affirmative action."
He said being a person of color, he always knew there was someone on the court championing issues directly impacting him. He worries he will no longer have that.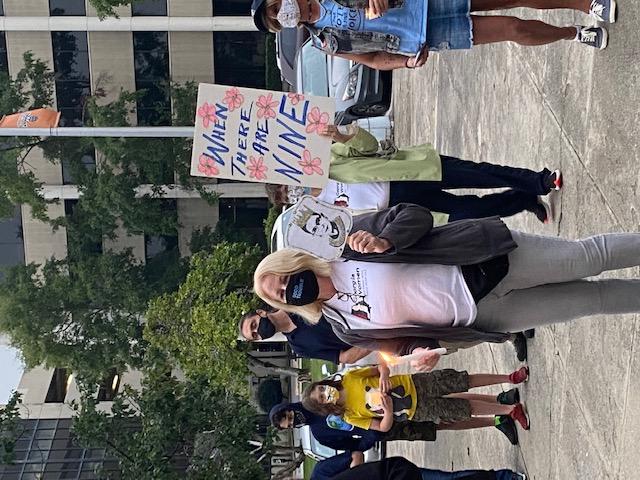 As Woodford prepared to leave the vigil, she shook her head and said, "It's a great loss."  She wore a black dress and a necklace resembling Ginsburg's signature collar to the vigil.
"I'm really afraid for our country. I'm afraid for the integrity of the Constitution," Woodford said. "I'm afraid that we will never be the same without RBG."
Secondary Content
Bottom Content