Section Branding
Header Content
Pelosi Demands Investigation Of Ga. Detention Facility, Whistleblower Alleges Forced Hysterectomies
Primary Content
Nurse Dawn Wooten, who previously worked at the Irwin County Detention Center, has come forward with claims the facility had inhumane conditions and subjected those being held to unwanted medical procedures – allegations that prompted House Speaker Nancy Pelosi to demand an investigation. 
Wooten claimed doctors performed unnecessary medical procedures and failed to test those being held for COVID-19. 
"I've seen the conditions inside the facility through times passing," said Wooten, a single mother of five children who said she worked at the facility off and on for about five years beginning in 2010. "I decided to become a whistleblower after this last round with COVID-19."
The 27-page whistleblower complaint, filed Monday with the Department of Homeland Security Office of Inspector General, alleges a high rate of hysterectomies being performed on women being held at the Irwin County Detention Center. The women "reacted confused," the complaint alleged, when told why the procedures to remove their uteruses were performed.
The complaint also accused the detention center, located in Ocilla about 200 miles south of Atlanta, of "jarring medical neglect" when it comes to COVID-19, including refusing to test those being held in the facility and not properly equipping employees with personal protective equipment.
The facility houses hundreds of immigrants detained by the U.S. Immigration and Customs Enforcement.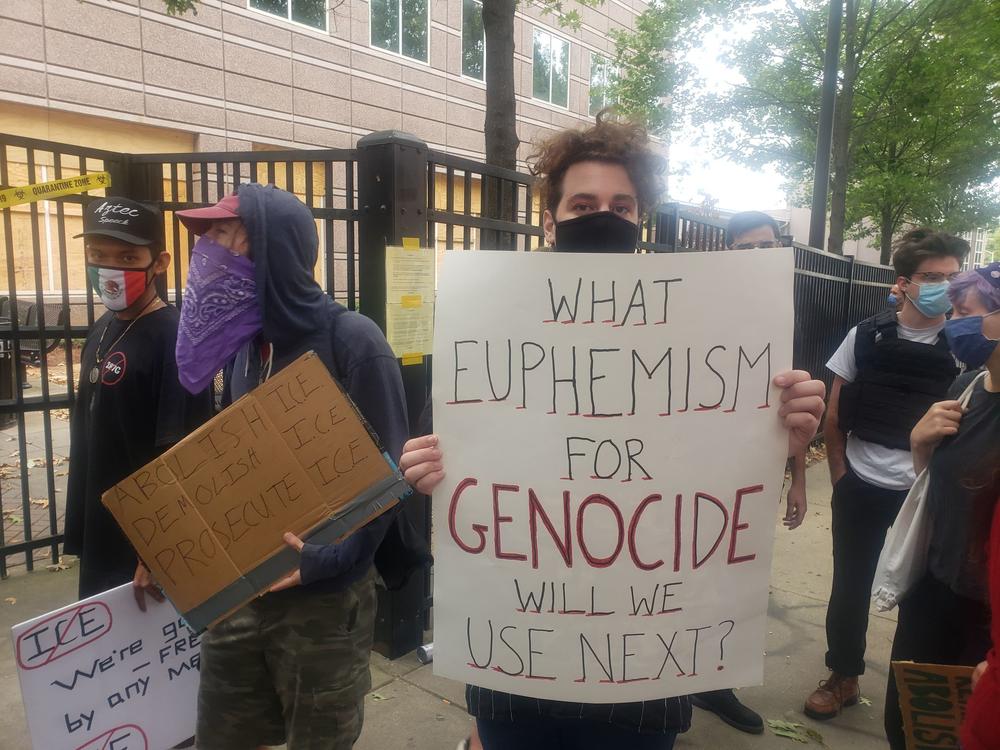 House Speaker Pelosi said she was deeply disturbed by the allegations and called for an immediate investigation.  
"If true, the appalling conditions described in the whistleblower complaint – including allegations of mass hysterectomies being performed on vulnerable immigrant women – are a staggering abuse of human rights," she said. "This profoundly disturbing situation recalls some of the darkest moments of our nation's history, from the exploitation of Henrietta Lacks, to the horror of the Tuskegee Syphilis Study, to the forced sterilizations of Black women that Fannie Lou Hamer and so many others underwent and fought."
GPB has been unable to independently verify Wooten's claims. ICE told the Associated Press it does not comment on matters before the inspector general, but that it is taking the allegations seriously.
"That said, in general, anonymous, unproven allegations, made without any fact-checkable specifics, should be treated with the appropriate skepticism they deserve," the agency said in a statement.
Wooten joined community advocates, activists, and protesters outside of the ICE field office in Atlanta on Tuesday morning, where she once again reiterated her calls for staffers at the Irwin County Detention Center to be removed from their positions and investigated.
"There needs to be attention brought to ICDC. The management needs to be changed," she said. "Until you see through the eyes of others, and you experience the eyes of others, there is no concern and there is no regard."
She added, "All I want is that people are treated and triaged medically correct."
The crowd of about 50 people, chanted "Abolish ICE!" before and after her news conference.
Somrisa Reed, who came to protest, is a nurse who studied at the University of North Georgia.
"I am here for the women who can't be here because they are in detention or have been deported without their uteruses," she said. "It's unconscionable, it's immoral."
Saro John said they have been to many protests over the summer.
"I find this to be genocide, textbook genocide," John said. "This will be in textbooks one day."
In the complaint, Wooten alleged that a doctor at the facility was known to perform a high rate of hysterectomies and that "detained women expressed to her that they didn't fully understand why they had to get a hysterectomy."
"I've had several inmates tell me that they've been to see the doctor and they've had hysterectomies and they don't know why they went or why they're going," Wooten said in the complaint.
She said she and other nurses have found the alleged practice troubling. "We've questioned among ourselves like goodness he's taking everybody's stuff out," she said. "That's his specialty, he's the uterus collector."
At Tuesday's news conference, Wooten did not answer questions about the hysterectomy allegations, choosing to speak more about the alleged lack of COVID-19 care for those at the facility. 
"I became a whistleblower; now I'm a target," she said. "But I'll take a target any day to do what's right and just, than sit and be a part of what's inhumane."
Secondary Content
Bottom Content