Section Branding
Header Content
Judge Mulls Potential Changes To Georgia Voting Procedures
Primary Content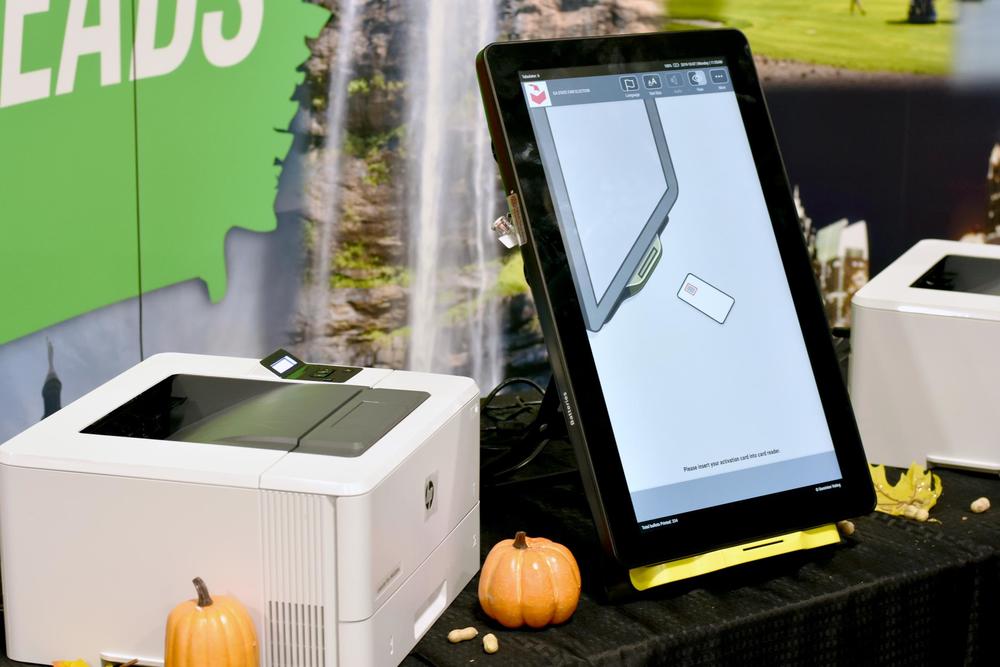 A federal judge could order Georgia elections officials to prepare additional backup copies of printed lists that show whether or not someone has voted, potentially minimizing delays on Election Day if check-in machines do not work.
"The longer the lines are, the more people are likely to leave," Judge Amy Totenberg said, noting that paper backups could "meaningfully (allow) people to cast emergency ballots and move the lines quickly so people don't give up."
The judge did not indicate when she would rule.
During a two-day Zoom hearing, which at one point was interrupted after someone started screensharing porn, images of swastikas and the terrorist attack of Sept. 11, 2001, Totenberg heard from experts in cybersecurity, statistics and election administration in Georgia as part of a lawsuit first filed in 2017.
The nonprofit election integrity group Coalition for Good Governance and several Georgia voters that filed the suit contend that Georgia's new $104 million touchscreen voting system is insecure and the paper ballots printed and inserted into a scanner are unverifiable.
One of the main goals of the suit seeks to scrap Georgia's ballot-marking devices in favor of hand-marked paper ballots, something state officials said would be virtually impossible given the tight timeline of the November election, where absentee ballots start going out to voters next week.
The process of preparing ballots for the November election started a month ago, and if Georgia switched to hand-marked paper ballots, state elections director Chris Harvey said for example larger counties would be swamped by hundreds of ballot styles that must be available at each early voting location.
"Fulton County, with over 100 ballot styles in their 300-some precincts ends up with over 700 ballot (combinations), so those are 700 different pieces of paper that that you need to serve every voter in Fulton County," he said.
State officials expect between 4 million to 5 million votes in the election, with at least half of them coming before Election Day.
On the second day of the hearing, Totenberg appeared to hone in on smaller-scale relief sought by the plaintiffs, including more backup paper ballots at polling places and more paper lists to help check in voters if issues with the new voting system leads to extended wait times.
"I'm really talking about, in large part, the problem of lines, and a lot of people waiting to vote, and having that as an impediment to their casting a vote when there is in fact an emergency process," she said. "This seems like a reasonable way of thinking about something concrete to do."
State and local elections officials indicated those changes would be within the realm of possibility less than eight weeks before Election Day, especially since the secretary of state's office already provides one copy of the voter list to each county.
"If you want to be able to check people in and if multiple poll pads fail, you need to have enough paper precinct lists to check the voters out," Fulton County elections director Rick Barron said. "If you have one, you're going to be able to do it but it's going to be a slower process."
By having updated paper poll books, workers would not have to make as many calls to county elections offices to verify if someone is registered to vote or already cast a ballot.
"If we can provide it digitally, it would have to be something counties could print out," Harvey said. "There's no way we could print it on that Saturday before the election and get it to 159 counties – that's just impossible."
Totenberg has previously denied requests to switch the state's voting system too close to elections, but chided state officials who "buried their heads in the sand" for several glaring problems with the previous direct-recording electronic voting machines used for 17 years.
Last fall, the judge ruled that the old electronic voting machines could no longer be used after 2019, and said hand-marked paper ballots should be used as a backup system if the rollout of the new voting system was not completed in time for the presidential primary.
In this hearing, Totenberg expressed concerns over scanners not counting certain marks as votes – an issue the State Election Board took up Thursday. She also heard detailed testimony about Georgia's post-election Risk Limiting Audit plans and listened to testimony in private from some experts about potential security issues.
The first absentee ballots will be mailed out to voters at the end of next week.
Secondary Content
Bottom Content