Section Branding
Header Content
Atlanta Falcons Prepare For A Subdued Season Opener On Sunday With No Fans
Primary Content
All Things Considered host Rickey Bevington speaks with GPB's Taylor Gantt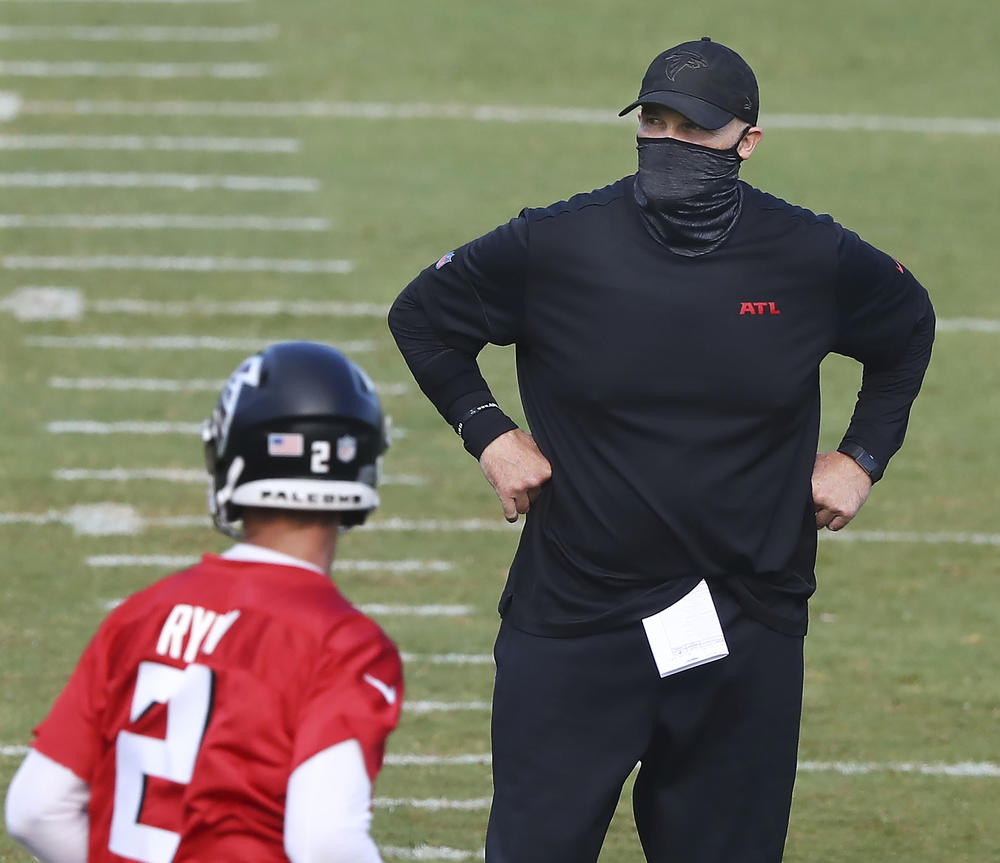 Football season in Georgia has officially begun. 
Last week, high school teams around the state began playing their first games.
And on Sunday, the Atlanta Falcons will open their season against the Seattle Seahawks at Mercedes-Benz Stadium at 1 p.m.  –  in front of no fans due to the coronavirus pandemic. 
The team says it will play in an empty stadium until at least October. But other NFL franchises are pushing ahead with limited crowds amid the pandemic.  
All Things Considered host Rickey Bevington spoke with GPB's Taylor Gantt to preview the upcoming season.
TRANSCRIPT HAS BEEN EDITED FOR CLARITY AND CONCISENESS
BEVINGTON: So how is the NFL as a league planning to move forward with its season during the pandemic? 
GANTT: Each professional sports league is taking a different approach to keeping sports going during this difficult time.  
The NBA and the WNBA brought all their players into an isolated bubble in Florida. Baseball is taking place right now with no fans.  
Meanwhile, Major League Soccer took a big step, allowing a limited amount of fans at games. If you watched Atlanta United play Orlando last week, you might have seen that in action. 
Looping around to the NFL, the league is leaving the decision to have live crowds in the hands of each team. Atlanta and most other teams are not going to allow fans until at least October while they figure out the public health landscape.  
But just down the road in Jacksonville and in Miami, they're allowing up to 25% capacity. That's around 17,000 fans. So right now, it's definitely a varied approach around the NFL. 
BEVINGTON: Safety for everyone is obviously a huge concern. What are teams planning to do just to protect fans who do want to go? 
GANTT: Well, it's certainly going to vary from place to place, but you can expect to see a lot of the same precautions.  
For instance, fans will be required to wear masks unless they're eating or drinking. Extra sanitizing stations will be in place.  
And the NFL is pushing stadiums to go cashless, which is something that we've seen at Mercedes-Benz Stadium. That's in order to prevent physical money from changing hands.  
Locally, we don't know what the exact plan will be until we get word from stadium management and the team. They're actually discussing some of those issues at Mercedes-Benz Stadium today in a limited media event.  
But for now, Atlanta will have the chance to watch how other franchises are handling crowds and they'll be able to learn from their successes and their mistakes. 
BEVINGTON: The NBA, the WNBA and MLS have all taken part in social justice actions over the past couple of weeks. What is this expected to look like in the NFL? 
GANTT: We got a little glimpse of those measures last night during the season opener in Kansas City. The team did allow fans to attend that game.  
It started off with the national anthem being played as well as the song "Lift Every Voice" as kind of an alternative to the traditional anthem. Then players from both teams, the Chiefs and the Texans, linked arms for a moment of unity, which was not received well by the crowd in Kansas City. 
TAPE: Kansas City crows boos
Now, despite that response, we will most certainly see more demonstrations like this over the weekend and the weeks to come.  
Players will be able to wear the names of police violence victims on the back of their helmets, and each team may do their own demonstration before the game.  
Whether that be kneeling before the anthem like we've seen before or staying inside the locker room altogether during the pregame ceremonies, let's finally get to the Falcons themselves as a team. 
BEVINGTON: Obviously, an incredibly disappointing season for the Falcons. Last year they ended up going seven and nine. Many people were actually expecting the coaching staff to be gutted. After that, however, Arthur Blank decided to stick with Dan Quinn, the coach, for another year. What can we expect from the Atlanta Falcons this season? 
GANTT: Yeah, it was a really difficult start last year. But the thing is, the team actually finished on a four-game winning streak, which was just enough to persuade Arthur Blank not to start completely from scratch.
Matt Ryan, Julio Jones and Calvin Ridley will make the team very dangerous on offense still. And there's also the addition of former UGA running back Todd Gurley, who signed this offseason to give them just a little bit more firepower.
But since the preseason was canceled because of COVID-19, there's still a lot we don't know about this team. Here's quarterback Matt Ryan talking about that.  
TAPE-MATT RYAN: You know, I think it's probably more amplified this year than ever. You just there's a lot of significant unknowns going into it, but everybody's in the same boat. 
And for the Falcons, it basically comes down to two things, Rickey. If the offensive line can't protect Matt Ryan, who got sacked so many times last year and the defense can't become more consistent, this team's going to have a tough time competing against Drew Brees and the Saints.
And one last thing, Rickey. Tom Brady is in the division now as a member of the Tampa Bay Buccaneers; he's a six-time Super Bowl champion.  
So even if the Falcons play at a really high level, it's going to be a challenging year for them.
Secondary Content
Bottom Content