Section Branding
Header Content
Elections Officials Investigate Alleged Double Voting In Georgia Primary
Primary Content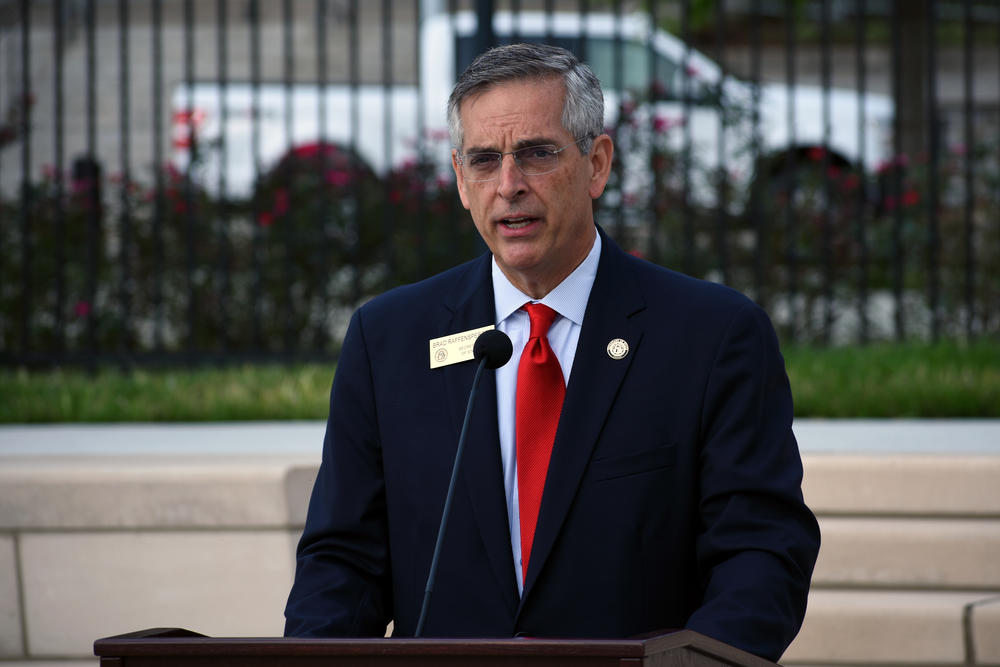 The Georgia Secretary of State's office is investigating how 1,000 Georgians were able to allegedly cast both an absentee and in-person ballot in the June 9 primary, also promising that similar issues would not happen in November and that no outcomes were affected in the process.
Republican Brad Raffensperger said Tuesday that any voter found to have violated O.C.G.A. §21-2-572 would be guilty of a felony and would face between one to 10 years in prison and a fine of up to $100,000.
"Let me reiterate this: Every double voter will be investigated thoroughly," he said. "A double voter knows exactly what they're doing, diluting the votes of each and every voter that follows the law. Those that make the choice to game the system are breaking the law."
A record 1.1 million Georgians voted by absentee ballot in the primary, and an additional 150,000 voters who requested an absentee ballot ultimately showed up to the polls in person instead during early voting and on Election Day.
Raffensperger said of those 150,000 people, about 1,000 voters residing in about 100 counties actually did submit an absentee ballot as well, or less than a tenth of a percent of all absentee ballots cast.
For voters who request an absentee ballot but want to vote in person instead, they must sign an affidavit stating they have not voted absentee-by-mail already, and then poll workers are supposed to call the county elections office to verify if an absentee ballot has already been received. 
The secretary of state's office said even if someone votes twice, Georgia's voting system is designed to only count one vote from one person, and part of the investigation will determine if county officials properly followed that procedure.
Voter fraud is rare in Georgia, and Democratic Party of Georgia Executive Director Scott Hogan said any implication otherwise undermines faith in the voting process.
"It is clear that rather than do his job of promoting the safety and security of our voting process, the secretary of state is instead pushing the GOP's voting conspiracy theories and disinformation, as he fights in court to make voting by mail less accessible to all voters," he said. 
Because of the COVID-19 pandemic, Raffensperger and the State Election Board have made a number of changes to voting in Georgia, including the addition of secure 24/7 drop boxes for absentee ballots, allowing earlier processing of absentee ballots and creating a new online absentee portal for voters to request their ballots.
So far, at least 900,000 of Georgia's 7.4 million voters have requested an absentee ballot for November.
Aklima Khondoker, Georgia State Director for All Voting Is Local, said that voters should still trust Georgia's election system and that the alleged double voting is a sign that more education and training needs to happen for poll workers.
"The poll workers could not successfully check whether a person had already voted and couldn't give voters the information that they needed to cast a ballot successfully," she said. "And because that was the issue, that led voters to not have confidence in the absentee ballot system."
Khondoker said misinformation about voting from President Donald Trump, who told supporters to commit crimes by voting twice in elections, plus general confusion about our electoral process needs to be addressed by the secretary of state's office.
"We ought to be encouraging our voters to get out and vote safely and securely, whether that's in person or through the mail," she said. "Everything has just been 'Check with your county,' but if all counties do not handle elections equally or equitably because they have different resources, then you cannot expect the message to be delivered and received uniformly."
While it is not clear how many of the Georgians who allegedly voted twice did so intentionally (though a Long County man did brazenly tell a local news outlet that he voted twice "to prove that there is a flaw in the system"), Raffensperger said that his office will work with county elections officials to ensure that similar issues do not occur in November and that voters who try to undermine the system will be held accountable.
"No one gets to vote twice, everyone gets one vote," he said.
Secondary Content
Bottom Content