Section Branding
Header Content
COVID-19: Treatment A Political Football Or Miracle? One Survivor's Story.
Primary Content
By the time Lisa Hardin saw a positive test result for COVID-19, she already had pneumonia in both lungs and every breath felt like she was breathing through a straw.
Her husband drove her to the emergency department Friday, April 10, where she became South Carolina's first coronavirus patient.
The 56-year-old nurse had a heart arrhythmia, so doctors didn't want to prescribe hydroxychloroquine. At the time, the anti-viral drug remdesivir was still in clinical trials.
RELATED: Antiviral Drug Remdesivir Shows Promise Against COVID-19 In Trials
Hardin said she knew too much about how little the medical community knew about COVID-19.
"I knew that this was a novel virus. I knew that we didn't have any tried-and-true effective treatments for it," she said. "And here I was full-blown, and I had it."
Debate erupts over convalescent plasma
President Donald Trump recently hailed the Food and Drug Administration's decision to allow COVID-19 treatment with convalescent plasma under an emergency use authorization as a breakthrough treatment.
The move was immediately criticized as political, coming just ahead of the Republican National Convention, and respected medical experts such as Emory's Dr. Carlos del Rio said we shouldn't think of the treatment as a "game changer."
MORE: Calling Convalescent Plasma A 'Game-Changer' Is A Long Shot, Emory Doctor Says
"I think, unfortunately, during this epidemic, we've seen the president tout as game-changers, hydroxychloroquine and other therapies that don't have that scientific basis," del Rio said. "And, yes, I worry when that happens, because obviously we want to be science-based."
But, since April, the Trump administration has pumped $48 million into a program with the Mayo Clinic, allowing more than 53,000 COVID-19 patients to get plasma infusions. The president called the treatment "something very special" and called for COVID-19 survivors to donate plasma, according to The New York Times.
Mayo Clinic researchers and collaborators in June found investigational convalescent plasma to be safe following transfusion in a diverse group of 20,000 patients, but ongoing clinical trials are needed to determine the efficacy of COVID-19 convalescent plasma.
As of Aug. 24, there were 114 interventional studies around the world looking at the possibility of using plasma to treat COVID-19, according to Clinicaltrials.gov.
Still, none has shown definitive evidence that plasma is an effective treatment. The theory is that the antibody-rich plasma from blood donated by people who have recovered from COVID-19, when transfused into actively sick patients, would help their immune systems kill the virus.
Dr. Matt McClain, a radiologist based in northwest Georgia, served as the Rome-based principal investigator for the Mayo trial.
"This was always meant to be a stopgap measure, sort of a practical protocol that would allow consideration of safety and maybe of efficacy, and then that would be a bridge to an emergency authorization and, hopefully, randomized trials," McClain said.
He also worked with hospital staff at Floyd Medical and Redmond Regional Medical centers to deliver plasma and he started the nonprofit Plasma Tx to help recruit convalescent plasma donors.
After medical experts downplayed the effects of convalescent plasma, FDA Commissioner Stephen Hahn apologized for overstating the life-saving benefits of treating COVID-19 patients with convalescent plasma.
While McClain said he has a healthy bit of skepticism, he believes convalescent plasma offers some benefit.
"I can tell you, anecdotally, there have been plenty of patients for whom we have given plasma and, yes, they recovered," McClain said. "And, in fact, the other thing is that we saw a drop in inflammatory markers in the patient's blood immediately following the administration of convalescent plasma."
'I see His hand in everything'
Hardin, the first person known to be infected with COVID-19 in South Carolina, believes the "liquid gold" convalescent plasma saved her life at the very moment she feared she might lose the fight.
When Hardin's doctor said the plan was to hope for a plasma donor, they thought it could take up to a week. But, on Easter Sunday, April 12, she found out Harriett Whitaker, the wife of Father Brad Whitaker, an Episcopalian priest in Chattanooga, Tennessee, had donated antibody-rich plasma.
The significance of the timing wasn't lost on Hardin, a Christian.
"Brad and Harriett both were instrumental in the Lord saving my life; I definitely see that connection," Hardin said. "When I said, 'Jesus, you died for me and by your blood, I'm saved.' And then you saved my life with the blood you made for somebody else … they gave it back to me."
Hardin added, "I see His hand in everything."
Brad Whitaker said he was one of six clergy members who attended a religious conference in February in Kentucky and returned home shortly before testing positive for COVID-19.
When he recovered, both he and Harriett, who never developed symptoms of COVID-19 but did test positive for the virus, donated their plasma.
Some of Brad Whitaker's plasma went to a patient who later succumbed to the disease, he said, but his wife's antibodies made it to Hardin. Someone had to drive all night to pick up the plasma in Chattanooga and drive it more than 300 miles to Columbia, South Carolina.
"Anything that we can do contributes to this sense of resurrection and sense of new life and the world around us," Brad Whitaker said. "And I just think it's a beautiful irony that they did get word of that on Easter Sunday."
The Whitakers met Hardin over a virtual conference because Hardin wanted to say thank you. Hardin was effusive in her love for Harriett.
"When I saw her, I just said, 'I'm going to be your friend forever,'" Hardin said. "And I said, 'You saved my life.'"
Hardin's story amazed Harriett Whitaker because, she said, Hardin was revived by the time the transfusion finished, and for the first time in four days Hardin was able to taste, smell and sleep.
"She really feels like the fact that I donated the plasma really saved her life," Harriett Whitaker said. "So we've become friends and hope to meet some time, actually, in person."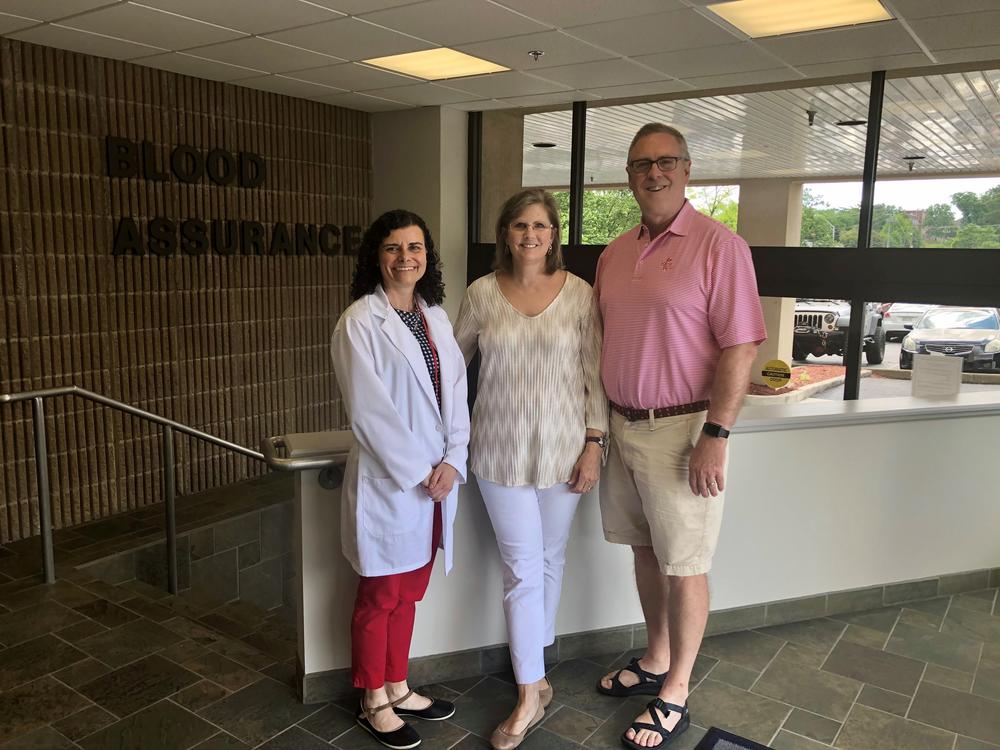 Blood Assurance Medical Director Dr. Liz Culler helped facilitate the meeting between Hardin and the Whitakers after the organization became one of the first blood centers in the country to collect convalescent plasma.
"As soon as they were eligible to donate, they did," Culler said. "And that was key to getting our program up and going."
COVID-19 survivors can donate plasma as long as they continue producing antibodies.
"We're definitely seeing some people who are losing their antibodies maybe three to four months after they've had COVID-19," Culler said.
Then you have people like Harriett Whitaker, a certified one-gallon donor after volunteering nearly 10 times, who never had a symptom and months after recovery still has strong antibodies, Culler said.
As colleges and schools across the country reopen for business, Culler said spread of COVID-19 should be expected and Blood Assurance is seeking donors.
"We need to develop the stockpile to be able to treat these folks going into the fall," Culler said. "Blood Assurance is one of five blood centers that's going to be a stockpile location for the country."
Although Hardin said her recovery took a long time, she's now cleared to donate her convalescent plasma and, hopefully, help save more lives.
"I'm going to donate," Hardin said. "I've signed up, so I'm going to donate, too."
Secondary Content
Bottom Content