Section Branding
Header Content
The Tree That Owns Itself: A Story Rooted In The South's Complex History
Primary Content
"On Second Thought" explores the history behind "The Tree That Owns Itself" in Athens, Georgia.
Residents of Athens, Georgia, who stroll past the corner of South Finley and Dearing will walk down a narrow cobblestone street past an elderly fellow Athenian. He lives on the same eight square foot lot where his father grew up over the course of four centuries. As the town's tallest tax-exempt landowner, this 78-year-old white oak tree is proudly known as "The Tree That Owns Itself." 
On Second Thought spoke with Tommy Valentine, executive director of Historic Athens, to learn the story behind this ancient resident.
"When visiting the tree, you drive down one of the busiest roads in Athens, head away from downtown and the famous UGA arch, and turn left, go up a cobblestone street," Valentine said. "It's a sharp incline and you feel almost as if you're traveling through time." 
Every few years, the Tree goes viral, drawing Georgians to come visit this historic site. Tourists can read the placard's inscription, which quotes Colonel William Henry Jackson, who granted the Tree its ownership around 1832, and was first made public in an 1890 article in the Athens Weekly Banner. It reads: "In consideration of the great love I bear this tree and the great desire I have for its protection for all time, I convey the entire possession of itself and all land within eight feet of the tree on all sides."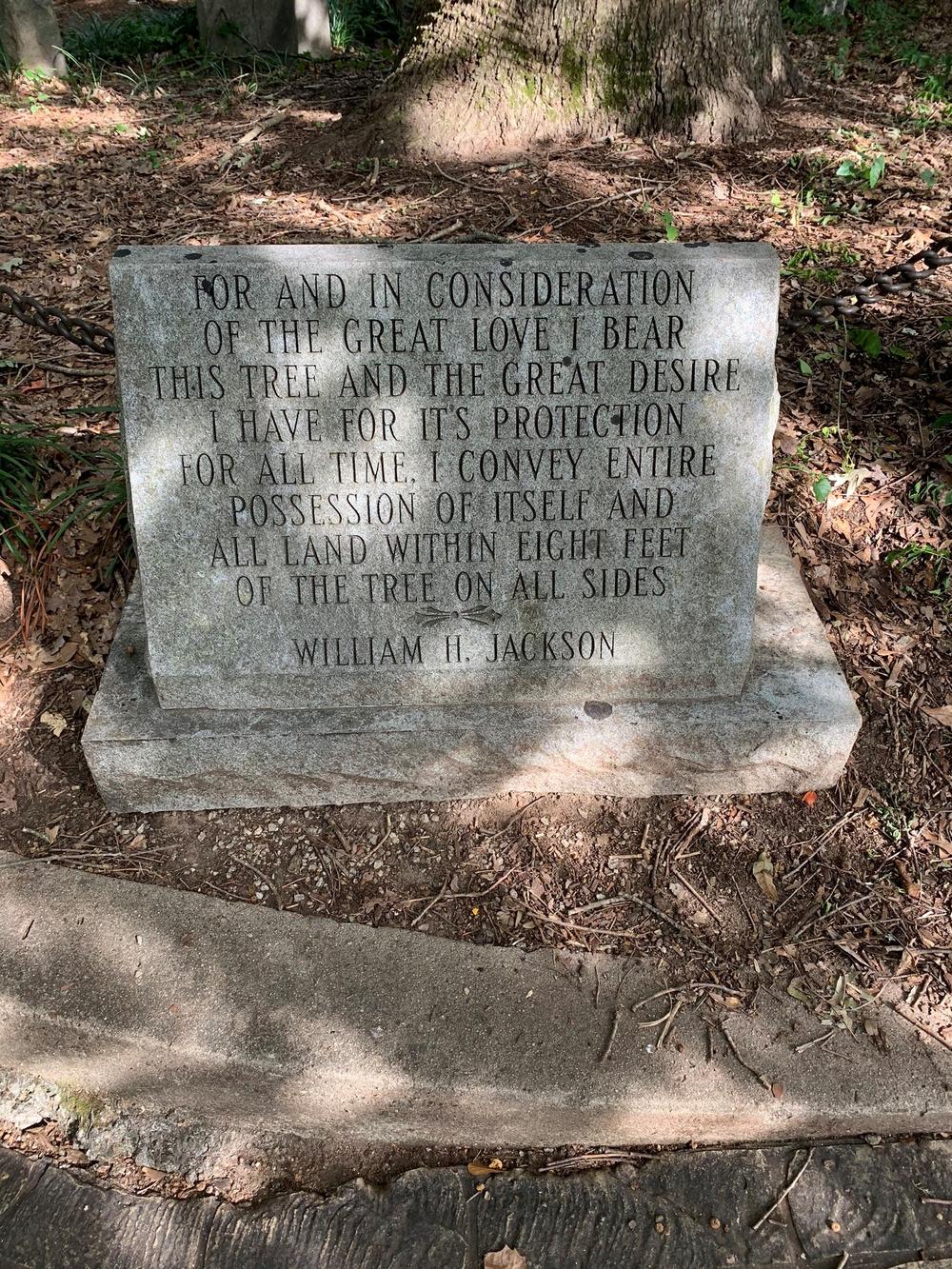 But Valentine also noted a darker side of the Tree's past.
"If this tree was deeded as anticipated, that means a citizen in Athens recognized the need for the tree to own itself before Athens itself expressed a similar sentiment for its enslaved neighbors," he said. 
The Emancipation Proclamation was issued 31 years after the Tree was given its own freedom, according to the date on its placard.
"To know that a tree was emancipated decades prior to the fellow Athenians that were walking around this community, it's a sobering fact," Valentine said.
Like many artifacts and landmarks of the South, the Tree has a muddled past, filled with both whimsy and painful reminders. Valentine believes that such hallmarks of history are worth remembering, as it paints a whole picture of what life was really like.
"Athens, Georgia, is more than a sum of its people, its roads, its buildings," he said. "You have to recognize what are the ingredients that make Athens, Athens. And, if you ask pretty much anyone, they'll agree: The Tree is one of those ingredients."
Get in touch with us.
Twitter: @OSTTalk
Facebook: OnSecondThought
Email: OnSecondThought@gpb.org
Phone: 404-500-9457
Secondary Content
Bottom Content