Section Branding
Header Content
QAnon Supporter Wins, Longtime Fulton DA Loses In Primary Runoff
Primary Content
From President Donald Trump to U.S. Sen. Kelly Loeffler and Congressman Doug Collins, congratulations are pouring in for the conspiracy-peddling Congressional candidate who called House Speaker Nancy Pelosi "anti-American" and promised to "kick that bitch out of Congress."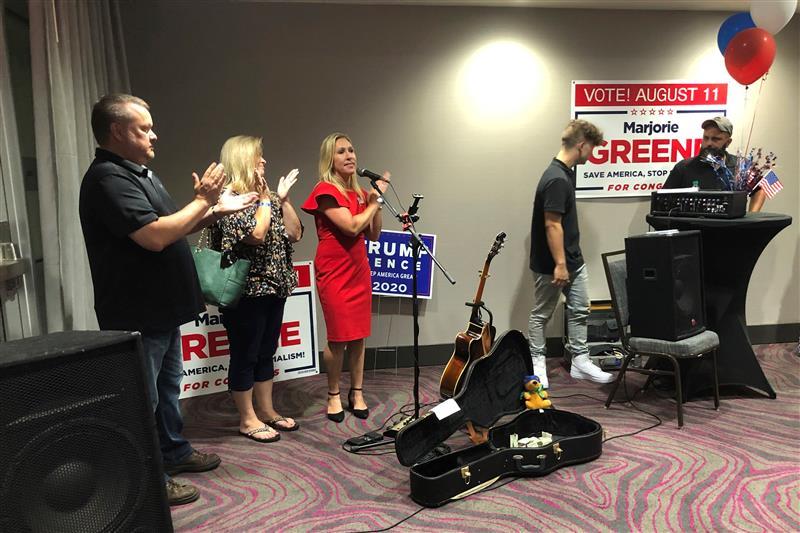 Marjorie Taylor Greene, an Alpharetta business owner who moved to Rome to run for the 14th Congressional District seat after failing to gain traction in the 6th Congressional District primary, was leading neurosurgeon John Cowan 57%-43% at the end of election night.
Greene had been widely condemned by many Georgia Republicans after stories from Politico and other news outlets unearthed racist and anti-Muslim videos Greene posted to social media, and highlighted her support for the debunked QAnon conspiracy theory, which alleges that the government is run by a malevolent cabal of pedophiles and criminals that are out to undermine the president.
Now, she appears likely to be the first member of Congress to support the theory, as the majority of voters in the northwest Georgia district are reliably conservative. 
Greene lashed out against Democrats and made comments about Pelosi, railed against the Republican establishment that publicly opposed her divisive rhetoric and decried the "lying fake news media" in a speech before removing reporters and calling the event closed to the press.
Her campaign has also spent more than $180,000 on Facebook ads with messages that include, among other things, that "Facebook and Big Tech" are censoring her.
Greene's extreme views could cause headaches for Republicans trying to win suburban Atlanta state and Congressional races, and Democrats have seized on her nomination as another line of attack as they try to flip Georgia to blue.
"Georgia Republicans, and Republican candidates running across the country, will have to answer for her hateful views in their own campaigns," Democratic Congressional Campaign Committee Chairwoman Cheri Bustos, an Illinois congresswoman, said in a statement. "Enabled and embraced by Georgia Republicans like Karen Handel and Rich McCormick, her views have no place on the ballot or in Congress."
In the 9th Congressional District, former Republican state House Rep. Matt Gurtler, notorious for voting "no" more than any other member, lost the primary to gun store owner Andrew Clyde.
Georgia's 1st Congressional District Democratic runoff saw Joyce Marie Griggs defeat Lisa Ring, who was the party's nominee in 2018.
Another high-profile election saw the resounding defeat of longtime Fulton District Attorney Paul Howard by his former assistant Fani Willis, who is set to become the first woman to serve as DA if she wins the general election. At the end of election night, Willis was up 73%-27%.
Howard was facing lawsuits alleging discrimination and sexual harassment, an investigation by the Georgia Bureau of Investigation over use of nonprofit funds and scrutiny for his decisions to file charges in the shooting death of Rayshard Brooks by a white police officer.
Last week, he also settled a state ethics case for failing two disclose two non-profit jobs and agreed to pay $6,500 in fines.
Incumbent Ted Jackson lost the runoff for the Fulton County sheriff's race to Pat Labat, and since there is no Republican candidate Labat will become sheriff.
Secondary Content
Bottom Content