Section Branding
Header Content
'I Am Not Too Optimistic About This:' Concerns Grow As College Campuses Set To Reopen
Primary Content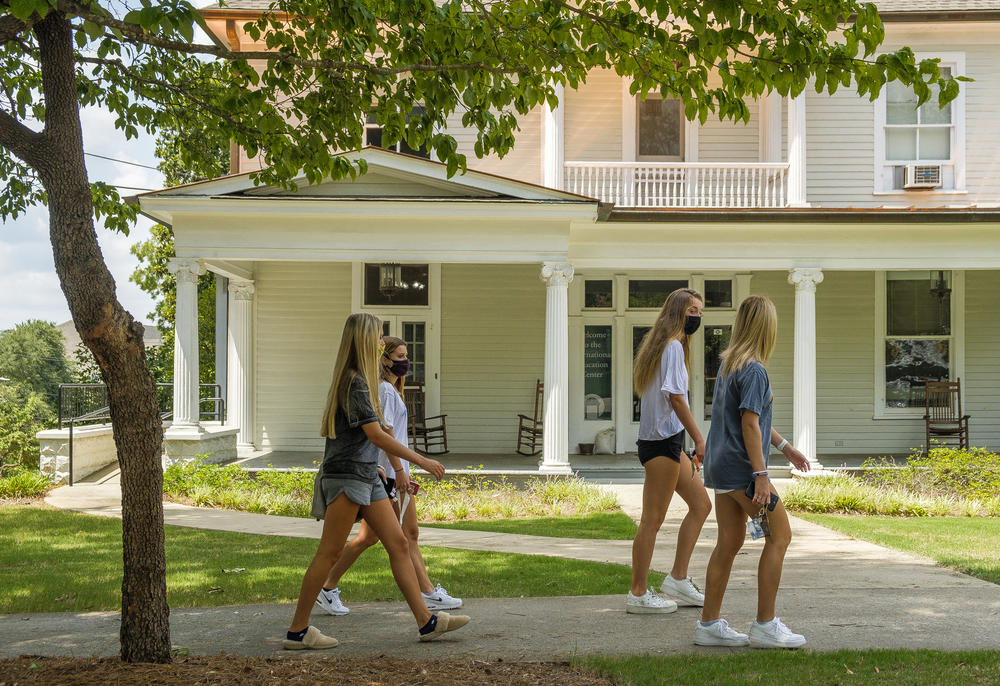 Students attending the University of Georgia will return to the classroom on Aug. 20 amid the widening coronavirus pandemic. They'll be joined by faculty, staff and university employees, including graduate assistant Bryant Barnes, a PhD candidate in history who is keeping an eye on what's happening as schools reopen across Georgia.
"I am not too optimistic about this," Bryant said. "I think that this is a larger problem than even just the University System of Georgia."
According to UGA's COVID-19 update page 457 faculty, staff and students at UGA have tested positive for the coronavirus so far.
Bryant is also a representative with United Campus Workers of Georgia, a union representing employees who work for the University of Georgia and other public universities in the state. He is also one of several employees who attended a recent "die-in" on the school's campus.
The silent protest was organized by the union to speak out against possible dangers employees face, including Ana Cabrera, a 32-year-old UGA maintenance worker who contracted COVID-19 and died from it last month. Her family called her Gaby.
Bryant said while tenured professors are protected if they speak out against the university's plans to reopen, others like Cabrera are in precarious positions.
"Ana was in facility maintenance, and these are the people who usually receive the lowest wages on campus, and they are on the front lines. They are the ones disinfecting surfaces. They are most at risk of catching COVID-19," Bryant said.
UGA officials would not comment on the cause of Cabrera's death, but Athens-Clarke County Coroner Sonny Wilson confirmed COVID-19 as the cause. It is not known where she contracted the virus.
The University of Georgia did issue this statement on her death, "We are deeply saddened by the loss of a member of the University of Georgia community. Our sympathy goes out to our co-worker's family and friends. Out of respect for them, we will not comment further."
The statement mirrors a similar one put out by Georgia Southern University following the death of 63-year-old Dr. Timothy Pearson. The director of the School of Accountancy at Georgia Southern died from COVID-19 on July 28.
"We are deeply saddened by the loss of a member of the Georgia Southern University family. Our sympathy goes out to the individual's loved ones. Out of respect for the family and friends of the deceased, we will not comment further."
Pearson's obituary referred to him as a "kind, wise and loving man" and asked that donations be made to the CDC Foundation to assist in the response to the coronavirus.
The University System of Georgia recently decided to require masks be worn indoors when "social distancing is not possible" after an outcry from professors and employees. However, some employees said it's not enough and have been critical of the adjustments being made on campus, including those in classrooms.
UGA President Jere Moore told the Athens Banner-Herald that the university has spent millions of dollars on safety measures, "including more than 2,000 Plexiglas barriers being installed on campus, buying 60,000 digital thermometers and 150,000 face coverings."
Scott Nelson, a history professor at Georgia, took to posting a photo on Twitter, saying as far as he can tell the faculty "have no voice" and the current recommendation from UGA is to leave "the air conditioning running and windows open." 
David Johnson, a music professor at Georgia College and State University in Milledgeville, said he's comfortable with the changes made to improve safety on campus, but he also understands why others might want to have the option of teaching virtually. 
"I'm very, very sympathetic to colleagues of mine who do have families or do have people that they don't want to come home to and get them sick," he said. "So, I think those people need to have a voice."
The USG has not released details on what criteria could trigger a move to virtual learning at the state's public colleges and universities, even after students return to campus.
Bryant said those concerns were raised at a virtual meeting between UGA president Moore and 2,200 of the school's employees. He said he was shocked by the lack of a definitive answer. 
"One of the questions that was asked was what will lead to a transition to remote learning, whether that's a positive test rate or a number of deaths or what?" Bryant said. "The answer to that question is that the board of regents will decide. That is not a plan. And that's totally inadequate."
Secondary Content
Bottom Content