Section Branding
Header Content
Fulton County's Distribution of COVID-19 Relief Funds 'Unconscionable,' Local Mayor Says
Primary Content
Union City Mayor Vince Williams is frustrated. He and other Fulton County mayors say the county is denying cities their rightful share of federal aid they need to help their residents and employees during the coronavirus pandemic.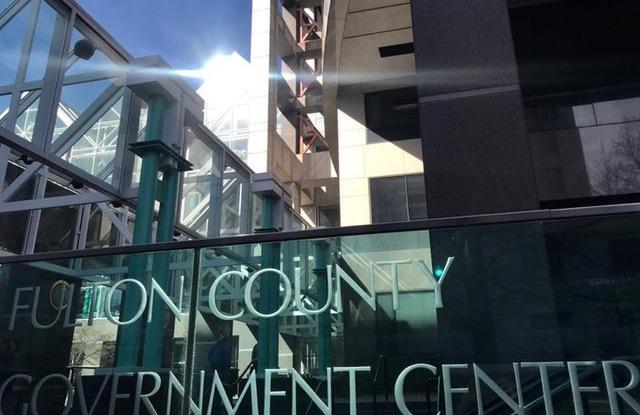 Georgia's four largest counties — Fulton, Gwinnett, DeKalb and Cobb — as well as the City of Atlanta received a combined $614 million in funding from the U.S. Treasury Department in April as part of a program to help state and local governments offset the costs of combating the coronavirus. Georgia received an additional $3.5 billion, of which more than $1.2 billion is set aside to assist the state's remaining jurisdictions, under a plan announced by Gov. Brian Kemp in June.
Officials in Gwinnett, DeKalb and Cobb counties have worked with local mayors and developed plans to distribute portions of their funding packages to their city governments. 
Fulton County has taken a different approach. 
The county has allocated nearly all of its $104 million allotment to countywide programs, setting aside $2.5 million for cities on a reimbursement basis. Despite the mayors' repeated appeals for what they say is their rightful share of the relief funds, the county has made clear it does not intend to provide the cities any additional money.
Williams calls the arrangement "unconscionable." 
"What Fulton County is doing is certainly (an) injury to its cities," Williams said. "If the county doesn't allow cities to be able to recover from this economic calamity that has taken over the world, I don't know what we're going to do."
Fulton County Commission Chair Robb Pitts defends the plan. He notes that all but a small portion of the county is incorporated — meaning nearly all its citizens live in a city. 
"Anything that we do helps and benefits the citizens of Fulton County, although (the funds) may not be going directly to a given city," Pitts said. "If they live in Fulton County, they benefit. If they live within a city in Fulton County, the city benefits."
Pitts said countywide programs such as COVID-19 testing, meals for senior citizens and aid for small businesses are initiatives that benefit Fulton cities. 
But the mayors see things differently.
East Point Mayor Deana Holiday Ingraham said the opposite is true; since the allocation of funds was  based on population, more of the money should go to the cities, where nearly all of the population lives.
"They use our residents and our populations to get that $104 million, and are being very unwilling to even consider allocating more (of the) funding that they received," Holiday Ingraham said.
Holiday Ingraham and other mayors say the county's distribution plan is not sufficient to cover the costs their cities have incurred due to the coronavirus. Mayors say they are poring over their budgets, looking for ways to cover  shortfalls. Some are considering furloughing staff, placing freezes on hiring and laying off employees.
Williams said without more help, many cities in the county could be "wiped out" financially.
'Extremely Disappointed'
The funding for state and local governments comes from a $150 billion federal program known as the Coronavirus Relief Fund (CRF), part of the $2.2 trillion Coronavirus Aid, Relief and Economic Security (CARES) Act. 
Georgia's share of the CRF came to $4.1 billion, based on a per capita allotment. The U.S. Treasury encouraged states to distribute 45% of their allocation to local governments that did not receive direct payments from the fund. Treasury guidance states that a county may transfer CRF money to a city or town but is not required to do so.
In late June, Gov. Kemp announced the state's distribution plan. In the first of an untold number of phases, the plan sets aside 30% of the $1.2 billion to which local governments that did not receive direct payments are entitled. Of that $370 million, 30% is available to cities and counties immediately, as direct payments. The remaining 70% will be available as reimbursements.
The governor also encouraged Fulton, Cobb, Gwinnett and DeKalb counties to distribute money to their cities on the same basis as the state. 
At the time of the governor's announcement, Fulton County had already allocated at least 80% of its CRF funds. 
Fulton cities had been asking the county since April for what they called an "equitable" share of the county's allocation. 
In early June, the county commission approved a plan to make $2.5 million available to the cities on a reimbursement basis. 
Pitts defended the county's position in a July 14 letter to Kemp. 
Fulton, Pitts wrote, was "unable to provide any additional direct funding to the cities."
Contrary to Kemp's plan, Pitts suggested that the 14 cities in Fulton that had not received direct aid should apply to the state for a share of the CRF fund.   
The governor's office did not respond to a request for Kemp's response to Pitts' letter.
Holiday Ingraham said she is "extremely disappointed" by the county's stance.
"When you have the cities making the request and the governor supporting the fact that the funding should come from the county, it's very unfortunate that the county is saying we're not obligated and required to give you any more money," she said.
How Things Differ In Cobb, DeKalb, Gwinnett
The other large metro Atlanta counties have taken different approaches to distributing money to their cities. 
Even before the announcement of Kemp's plan, Cobb and Gwinnett officials indicated a willingness to share a portion of their federal relief funds with cities. 
Last last month, the Cobb County Board of Commissioners unanimously approved a plan similar to the state's for allocating funds to its cities on a per-capita basis. Of the $132 million Cobb received, it will distribute more than $10 million to cities, based on the same $52 per-person formula used in the state's Phase One plan.  
Unlike the state plan, however, cities in Cobb will receive 50% of their allocations up-front rather than 30%. The remaining 50% will be available on a reimbursement basis. 
Cobb County Commission Chair Mike Boyce said cities can request additional funds if needed.
"If their requirements exceed their allotments, they are always free to come back to us and ask for more," Boyce said. 
He emphasized that any requests would require commission approval. 
Mayor Derek Easterling of Kennesaw expressed "full support" for the county's plan. 
"We know how to collaborate in Cobb County and it demonstrates lots of trust between the county and the cities," Easterling said. "I'm happy with what we have." 
In addition to the money for cities, Cobb has allocated CRF funds to county programs such as expanded hospital capacity, rental and mortgage assistance and initiatives aiding the homeless. 
It also set aside $50 million for small business assistance.
The county has reserved the largest share of its allocation, setting aside more than $74 million for a "County Contingency" fund. 
DeKalb County is taking an approach similar to Cobb's in distributing relief funds to cities. Of the $125 million in CRF aid DeKalb received, it has set aside more than $32 million for cities based on a per-capita rate of about $114, more than double the rate used by Cobb.
"We came up with a formula that's been accepted by the mayors and municipal leaders," said DeKalb CEO Michael Thurmond. 
The county did not respond to a follow-up question asking whether it would make additional  disbursements to cities at a later date.
While the plan has not been finalized, proposals call for distributions ranging from $85,500 for Pine Lake to $6.3 million for Brookhaven, according to records provided to the Georgia News Lab by DeKalb County.
Decatur Mayor Patti Garrett said she is "encouraged" by the plan. 
"The cities worked with the CEO to come up with what I think is a fair agreement," Garrett said. 
In addition to the funds for cities, DeKalb has allocated CRF money to programs such as food insecurity prevention, small business loans, mobile COVID-19 testing sites and hazard pay for frontline workers. It has also set aside nearly $58 million in a "Second Wave" reserve fund.
Unlike Cobb and DeKalb, Gwinnett County has adopted a plan for assisting cities that, like Fulton, will be on a reimbursement-only basis. Of the $163 million Gwinnett received in CRF funds, it has set aside $5 million for cities. But unlike Fulton, Gwinnett says it is prepared to provide additional funding if needed. 
"If we get to a point where the cities have COVID-19 related expenses that exceed $5 million, we do have a little over $50 million right now in our Coronavirus Relief Fund that are not currently allocated," said Gwinnett County Grant Manager Shannon Candler. "So we'll look at reallocating them if we need to."
Ken Sakmar, assistant manager for the City of Duluth, indicated he was confident that the county will meet the city's needs. 
"They have not set any upper limit (on reimbursements), as long as we meet the CARES Act requirements," Sakmar said.
Sakmar also expressed hope that countywide programs will benefit Duluth. Gwinnett has allocated $20 million in CRF funds for small business grants and loans. 
"I hope that the program is running smoothly and that businesses are getting funding on a timely basis because I know how critical it is to them," Sakmar said.
Gwinnett County has also awarded more than $5.3 million of its relief funds to housing assistance programs and more than $2.5 million to emergency food assistance through nonprofit organizations, according to a breakdown provided by the county.
'Let's do the right thing'
Unlike their Metro counterparts, Fulton County mayors say they have not had an opportunity for substantive dialogue with county officials about their needs. 
"With those four counties that got direct funding, three of those counties are sitting at the table working with their cities to carve out a meaningful allotment to those cities," Union City Mayor Williams said. "But Fulton had already told us no."
Williams and his fellow Fulton mayors say their cities' are in dire need of additional funding as the pandemic continues to ravage their budgets. Williams pointed to citizens who are unable to pay their rent and small businesses that have suffered financially over the last four months.
He says he hopes Fulton officials will negotiate with the cities. 
"Let's do the right thing," he said. "Let's share human dignity. This is not about politics. This is not about what party you're a part of. This is not about race. This is not about gender. This is about people and saving lives and getting our communities back on track, because I have several small businesses that will not be able to bounce back."
East Point Mayor Holiday Ingraham said the Fulton mayors will continue pressing their case.
"The residents of Fulton County should know that we are fighting vigilantly at every level — federal, state and county level — to get additional funding," Holiday Ingraham said. "But right now, if we don't get it from the federal government, it looks like the cities in Fulton County will come up excessively short."
The Georgia News Lab is an investigative reporting partnership between Georgia universities, Georgia Public Broadcasting and other news outlets. This reporting is funded in part by the Democracy Fund.
Secondary Content
Bottom Content