Section Branding
Header Content
New SEC Football Rules Mean UGA-Tech Will Not Play In 2020
Primary Content
All Things Considered host Rickey Bevington speak with GPB's Taylor Gantt about the upcoming SEC football season.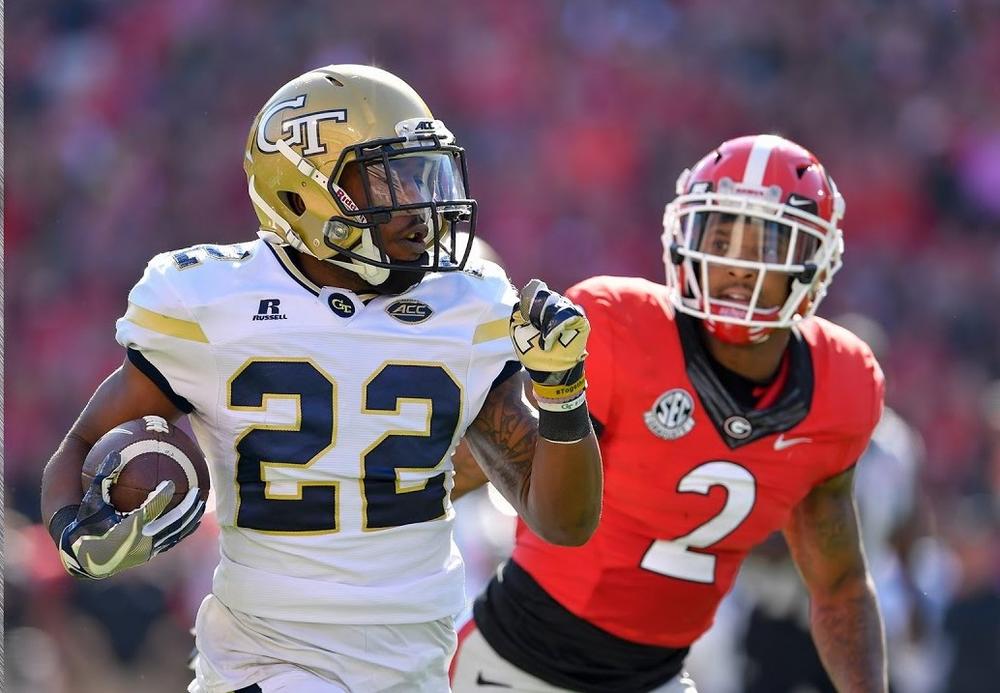 College football is going to look different this fall.
On Thursday, the Southeastern Conference released new guidelines which will shorten the season and cancel all out of conference games.
For the state of Georgia, that means UGA and Georgia Tech will not face off in their annual rivalry game for the first time since 1924.
All Things Considered host Rickey Bevington sat down with GPB's Taylor Gantt to discuss the decision and what it means for the season.
This transcript has been edited for clarity and conciseness:
BEVINGTON: So how did this decision come about?
GANTT: The SEC, like many other big college football conferences, is trying to push forward with planning a regular season in the middle of a pandemic.
But the rising number of COVID-19 cases in the South, especially in Georgia and Florida, means that there had to be changes. Other major conferences had already made the decision to play only within the conference, which would limit travel and prevent spreading the virus.
This week, the ACC, which includes Georgia Tech, made a special exemption to allow one out of conference rivalry game if the other team was in the same state.
The measure would have kept several big rivalries alive, including Florida v Florida State, Clemson v South Carolina, and of course, Georgia Tech v UGA. But the SEC didn't go along with that idea, thinking the extra game would be too much risk. So for the first time since before World War II, Tech and UGA will not play each other.
BEVINGTON: So, Taylor, if the purpose is to limit travel, why not just allow teams to play their in-state rival?
GANTT: Well, the idea makes sense, especially if you think about a trip from Atlanta to Athens compared to going to Arkansas, for instance.
But the goal seems to be about controlling standards in the conference and having flexibility in the back end of the season in case something goes wrong with an outbreak or something else that pops up.
Still, that doesn't make it any easier for people to take this tough news. Here's a little sound from UGA's athletic director, Greg McGarrity. He talked about losing the Georgia Tech game on this year's schedule last night:
RECORDED TAPE: "It'll probably really sink in here in the next couple of days. You know, it's unfortunate. And you're seeing it really around college athletics this year. There's so, so many abnormal situations that are in play."
And a lot of the reaction on social media has been the same, Rickey. It's it's been a very tough pill to swallow.
BEVINGTON: People are indeed very disappointed. Beside the schedule, though, what are the actual games going to look like?
GANTT: The SEC is pushing back its starting date from early to late September to help get things in line.
The question of fans at the games is still one that's up in the air. If it does happen, expect heavily reduced crowds, face covering, social distancing … all the norms that we've come to expect.
There is some good news for Atlanta, however. The SEC championship game is still scheduled to be played at Mercedes Benz Stadium on December 19. But that still all depends on the public health landscape when that date rolls around.
BEVINGTON: It's important to remember that not every school is moving forward with college football, or all sports for that matter. What are some of the other plans that we're seeing out there for for colleges in Georgia?
GANTT: Speaking specifically in Georgia, the Southern Intercollegiate Athletic Conference is not playing this fall. It's a group of historically Black schools. So that knocks out Morehouse, Clark Atlanta, Albany State, Fort Valley State and Savannah State from any sort of athletic competition this fall.
And even the Ivy League (Harvard, Yale, Princeton, etc.) have canceled all fall sports as well.
We can see where these big conferences with very big TV deals are making efforts to have college football work. But a lot of these other schools are just going to punt on the season because the financial gain really isn't anywhere near worth the risk.
BEVINGTON: There are thousands of athletes in the Southeast whose academic and athletic careers are gonna be so disrupted. What can they expect?
GANTT: There's still a wait and see approach for a lot of these other sports. Obviously, there is a prioritization of football because it's the big economic driver.
The SEC says men's and women's cross-country, soccer and volleyball will all be postponed thru the end of August.
One important thing to note for student-athletes who decide not to participate in sports this fall, schools say their athletic scholarships will be honored even if they don't take the field.
Secondary Content
Bottom Content