Section Branding
Header Content
'A True Sigma Man:' John Lewis, Phi Beta Sigma And The Role Of Black Greek Organizations In Politics
Primary Content
Rep. John Lewis is a member of Phi Beta Sigma, Inc. and was inducted into the fraternity's Omega Chapter Wednesday.
A sea of royal blue and white filled the Georgia State Capitol as brothers of Phi Beta Sigma, Inc. paid tribute to Rep. John Lewis as he was inducted into the Omega Chapter Wednesday night.
Hundreds of Black men gave voice to the fraternity's hymn echoing through the rotunda urging those to "March on, march on, ye mighty host, nor think the journey done," marking another important facet of the Atlanta congressman's life before his funeral Thursday.
Lewis has been called many names over his 80 years, like hero and husband, father and friend.
But members of the Phi Beta Sigma fraternity called him brother for more than 40 years, where he was awarded the highest honor as a member of their distinguished service chapter.  
William E. Stanley, Jr., a former international president of the fraternity, said Lewis joined the Lambda Sigma alumni chapter of the historically Black Greek letter organization in 1974, and the ceremony performed at the Capitol was the final step in the lifelong membership process. 
"We believe that when you pass on, when you die, that you go on to our last chapter, which is the Omega Chapter," he said. "John has been a true Sigma man. … He's been very active in the organization, and the things he does for social and equal rights is right in step with what we believe in as an organization."  
Throughout his life, Lewis constantly lived up to the fraternity's motto "Culture For Service and Service For Humanity," Stanley said. 
A legendary leader known for fighting in the trenches of civil rights may not seem with your typical picture of a fraternity brother – but you must understand that Phi Beta Sigma and the other Black Greek organizations that comprise the National Pan-Hellenic Council aren't the same as the Animal House-style undergraduate partying associated with mostly white fraternities and sororities. 
 
For starters, there's a greater emphasis on continued membership and involvement after graduation, Rhonda Briggins said.
"The process for us is to continue a lifetime commitment, the process is to continue working, striving to improve our communities, to provide public service, to be leaders in our community," she said.
Briggins is co-chair of the National Social Action Commission for Delta Sigma Theta Sorority, Inc., another Black Greek organization.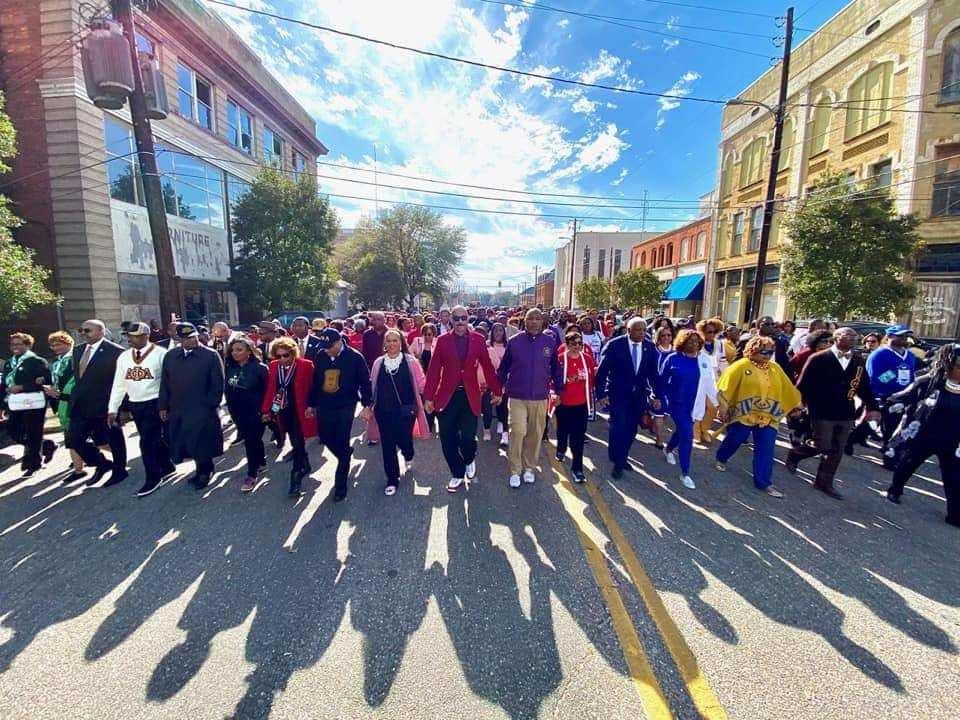 If you need examples of providing public service in the community, she said, look no further than several prominent Black figures in Atlanta politics. 
 
Martin Luther King, Jr. was an Alpha Phi Alpha man. Democratic Party of Georgia chairwoman and State Sen. Nikema Williams, who will replace John Lewis on the November ballot, is a member of Alpha Kappa Alpha Sorority, Inc. Atlanta Mayor Keisha Lance Bottoms and Congresswoman Lucy McBath are both Deltas.
Phi Beta Sigma and other Black Greek organizations played important social and political roles during the civil rights era, including the "Big Six" that organized the March on Washington. 
 
"Two of the 'Big Six' were Sigmas: A. Philip Randolph and John Lewis," Stanley said. "Also on the other side of that coin, we had Huey Newton, who started the Black Panther Party, trying to give racial justice, equality." 
Other notable Sigmas include Atlanta civil rights activist Hosea Williams, George Washington Carver and James Weldon Johnson, who penned "Lift Ev'ry Voice and Sing."
While not all Black leaders are Greek, the mission and service-oriented nature of the organizations often attract Black men and women who seek out change. 
 
"You know, you've heard of the old adage 'birds of a feather flock together,'" Stanley said. "We like being around like-minded men that want to make a difference."  
 
When Georgia Gov. Brian Kemp sued Bottoms over her mask mandate and rollback of the city's voluntary reopening guidelines to combat coronavirus, members from all nine organizations rallied in support of the mayor's decision, including a protest organized by Briggins and fellow Deltas.
"This is a new movement, a new resurgence of a need for us to step up," she said. "We are an organized body of organizations. We all are behind and support the same issues."
After the Omega ceremony and a group picture with the Sigmas and members of their sister organization Zeta Phi Beta, Inc., current International President Micheal Cristal said the type of leadership Lewis and Black members regularly demonstrate is guided by the maxim "to whom much is given, much is required." 
 
"And when you think about that required part, it recognizes that we have an awesome responsibility to work within our communities and make our communities better," he said. "And the reason is because of that level of instillment of service." 
Lewis' funeral will be at Ebenezer Baptist Church in Atlanta, where the service will be led by Rev. Raphael Warnock, Democratic U.S. Senate candidate and Alpha Phi Alpha member. Also in attendance will be former President Bill Clinton – honorary Phi Beta Sigma member – and former President George W. Bush.
The eulogy will be performed by former President Barack Obama.
Secondary Content
Bottom Content