Section Branding
Header Content
'Giant For Justice' C.T. Vivian Laid To Rest
Primary Content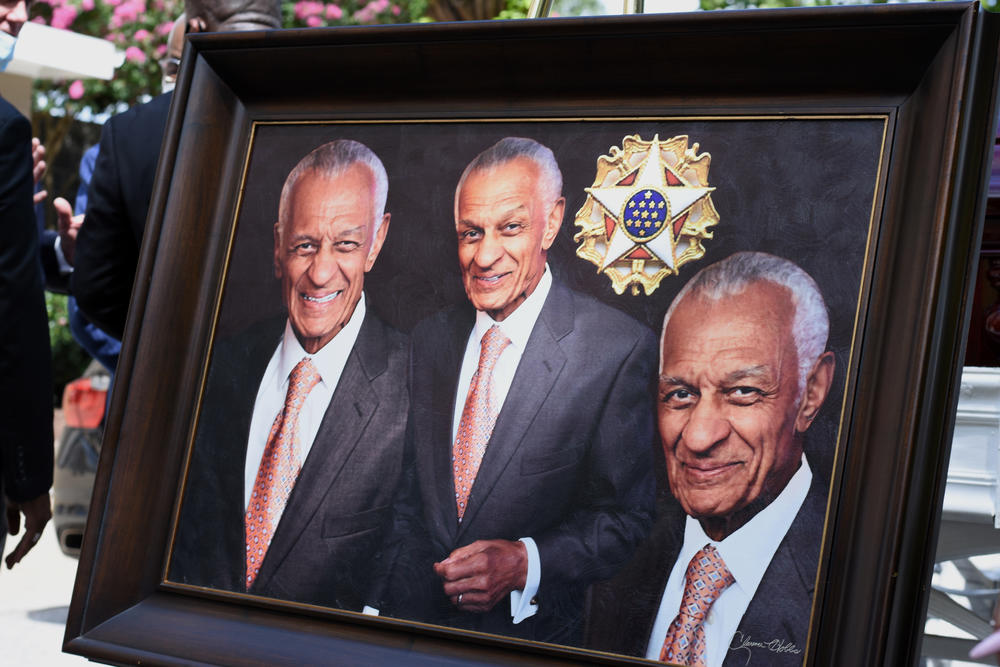 For 95 years, Cordy Tindell Vivian walked the earth and fought for justice, equality and freedom for Black Americans.
During his funeral service Thursday, live streamed because of the coronavirus pandemic, Oprah Winfrey called him a "giant for justice." Former Vice President Joe Biden said the civil rights leader's capacity for love overwhelmed "incredible hatreds." And his family shared the stories of a man who championed voting rights and organized demonstrations across the country but, more importantly, was a loving husband and father.
Vivian died at home July 17, and became the first Black man who was not a politician to lie in state in the Georgia Capitol rotunda Wednesday before his casket was driven past historical landmarks to the tomb of his good friend Martin Luther King, Jr.
Rev. Gerald Durley told the audience at Providence Missionary Baptist Church in Atlanta that the testimonials from friends and family were not steeped in sadness and loss, but how much Vivian taught them.
MORE: C.T. Vivian's Legacy Remembered At Georgia State Capitol: 'He Paved The Way'
In a video message, Biden praised Vivian's work, citing "the number of times he faced down being drowned, being beaten, being reviled only to stand up straight as a ramrod – bloodied but unbent – and declared the truth he saw so clearly."
Oprah recalled a series on race she recorded with Vivian in the 1990s, where he had such a strong impact on the mostly white, female audience, "gently, yet passionately confronting them on their ignorances and their denial of racial inequality."
Ambassador Andrew Young said that even in his final days, Vivian's voice was weak but his thoughts were clear.
"He didn't want attention, he didn't want money, he only wanted to do God's will and bring out the best in these United States of America and its people, regardless of their race, creed, color or national origin."
Vivian was preceded in death by his wife Octavia, who passed in 2011. The love and bond the two had was an inspiration to many.
"Dr. Vivian taught me that a partnership of marriage is like a bicycle … you got two wheels," George Andrews said. "That front wheel is the guiding wheel that guides you to your mission. The back wheel is the drive. … Octavia was that drive for Dr. C.T. Vivian."
Mark Vivian said one of the greatest things his father taught him was how to be a loving husband.
"See, people know all the great things he did, but they don't know him as dad," he said. "That goes beyond just somebody you help on the street. There's a love he gives you, shows you, teaches you."
In life, we have the name that people call us, and then the reputation that name evokes, and Durley said during a moving eulogy that C.T. Vivian was a man with a good name.
"Your good name says people can believe … it implies you are consistent, that your decision can be made in confidence when you have a good name," he said. "Good name speaks volumes about your character."
Whether you knew him as C.T. or did not know him at all, the towering legacy of nearly a century of activism will continue to live on through generations of Black leadership in Atlanta and beyond.
"He was impatient with injustice, he was impatient with racism, he was impatient when we took other people down," Durley said. "C.T. Vivian, he had a good name. … C.T., God bless you."
Vivian will be laid to rest in Westview Cemetery.
Secondary Content
Bottom Content