Section Branding
Header Content
Atlantans Pay Respects To 'Hero' John Lewis
Primary Content
A 65-foot-tall mural of Rep. John Lewis emblazoned with the word "hero" is visible from Atlanta's interstate, tucked in between steeples and storefronts of the historic Auburn Avenue.
But for dozens of people that trickled into the adjacent parking lot to leave flowers or take a moment of silence to honor the civil rights icon after hearing of his death, "hero" was just the beginning of his impact.
Young and old, Black and white, nearly everyone who stopped by seemed to have a personal connection to the 17-term congressman who encouraged "good trouble."
He spoke at their child's school, helped them with a problem or just stopped to chat with anyone who crossed his path.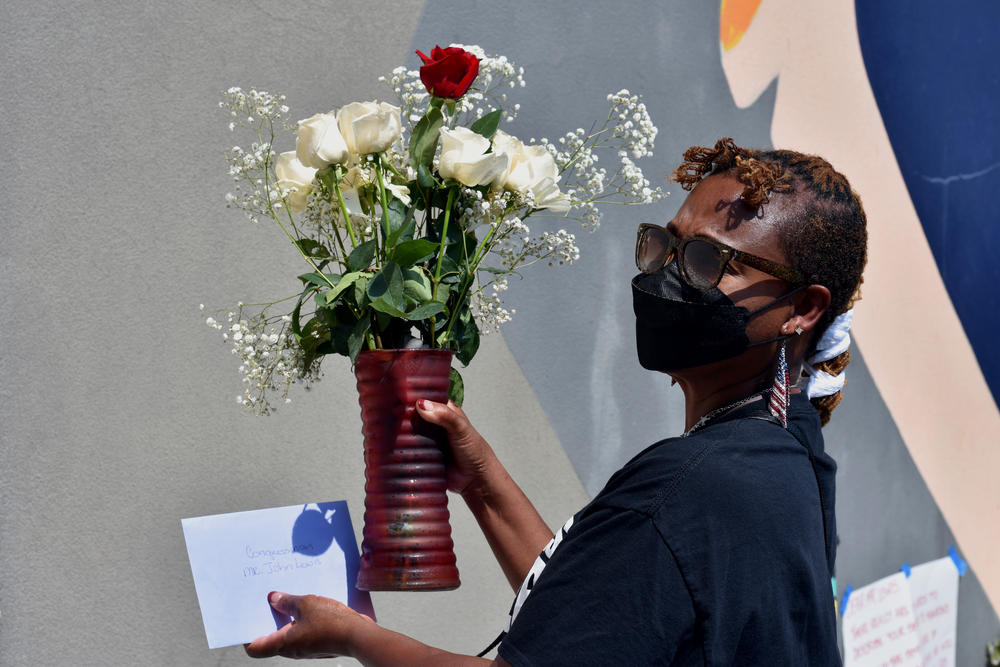 "At the CNN Center, I just happened to be passing by," Phyllis Dent-Brown said, showing off a picture with Lewis from a few years ago. "I'm so honored just to have the experience to have met him and talked to him. ... I mean, he talked to me! We talked!" 
Dent-Brown was born two days after the March On Washington where Lewis, then the 23-year-old chairman of the Student Nonviolent Coordinating Committee, delivered a famous speech calling for Americans to "get into this great revolution that is sweeping this nation."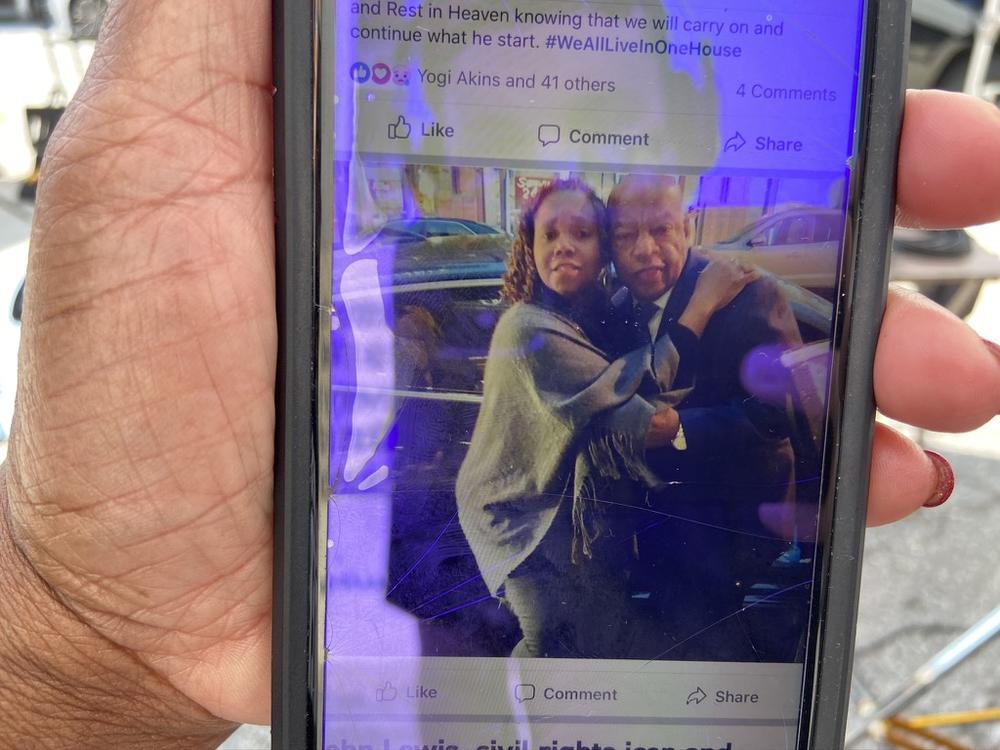 She attended the 50th anniversary of the march to pay tribute to the work Black organizers like Lewis put in to make progress against racism and discrimination, and said that the best way to continue his legacy was to vote.
"Whatever you do, if you don't do anything else this year, especially if you are a Black person in Georgia, you have to vote," she said. "Remember, this man here -- he shed blood along with so many others so that we could vote, and this is my way of honoring him." 
James Woodall, the 26-year-old president of the Georgia NAACP, said that with the passing of Lewis and legendary Atlanta civil rights leader C.T. Vivian, who died hours before Lewis on Friday, it is even more important for the younger generation to continue fighting for equality.
"His legacy is ongoing, and in many ways we still have a lot more work to do," Woodall said. "The kind of torch that he carried for so long was one that really declared that justice should roll down like waters and righteousness like an ever-flowing stream."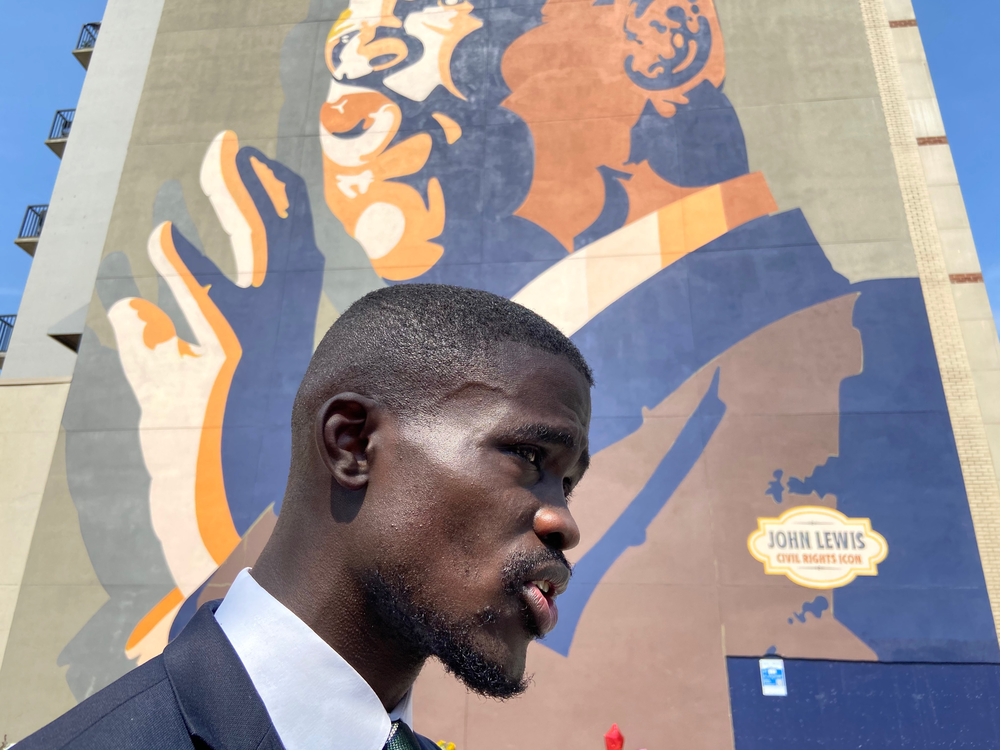 Raphael Warnock, pastor of the historic Ebenezer Baptist Church and a Democratic candidate for U.S. Senate, said Saturday morning that in life and death Lewis is a towering figure.
"John Lewis commanded respect on both sides of the aisle. He was the conscience of the Congress, and that's because in no sense of the word was he a transactional politician," he said. "Rather, he was a transformational figure who used politics as a tool for his continuing work around justice-making and truth-telling."
Lewis' legacy as a champion for civil rights and voting rights is part of what drew Xavier Peoples to bring his two sons down to the Auburn Avenue memorial Saturday morning.
"There are many murals in the city, but I think by far that this is the most iconic, most beautiful mural in the city paying tribute to one of the country's greatest heroes," he said. "He dedicated his life to racial injustice, and so the biggest thing that we could do to pay tribute to John Lewis is to eradicate racism in this country and in this world." 
"I think we should keep fighting until we get justice," added his son, Xavier Jr.
In addition to his words and likeness gracing the wall in muted tones of yellows and browns, there's a small physical reminder of the man who touched so many. 
At the dedication in 2012, Lewis donned a white coat, grabbed a brush and finished dotting the "i" in his last name with blue paint. 
"Growing up in a little town in southeast Alabama, I never would have dreamed that there would be a mural of me on the side of a building in Atlanta that is so big it could be seen from the highway," Lewis said at the time.
Secondary Content
Bottom Content