Section Branding
Header Content
The DuPre Excelsior Mill's Untold Musical History — Before The Masquerade
Primary Content
The historic DuPre Excelsior Mill on North Avenue in Atlanta has a storied past of music history, one that extends prior to its 30-year tenure as the home of the Masquerade music venue. A portion of the building collapsed last Friday during renovation efforts to convert the space into an office park.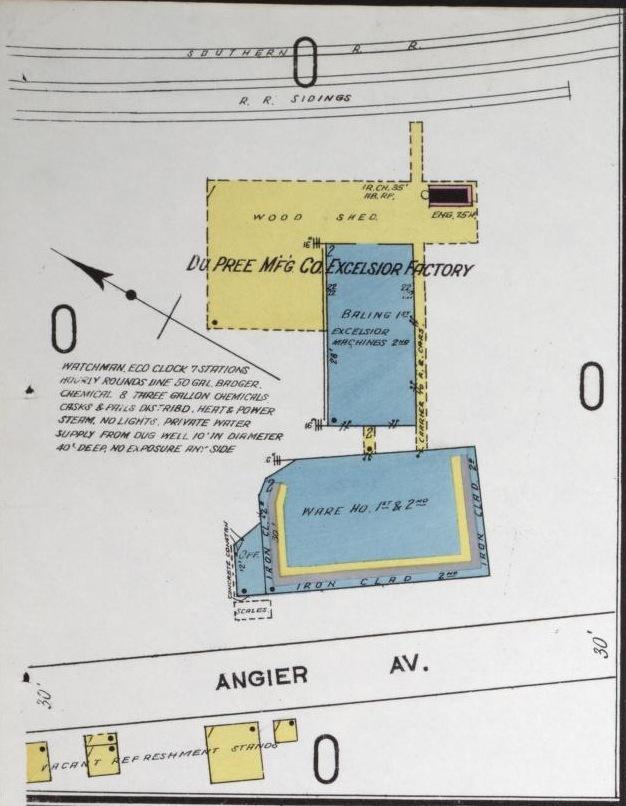 History is unclear about the DuPre Excelsior Mill's actual construction date. Some point to a factory death that was reported in the Atlanta Constitution in 1899 at the "Excelsior Mill Works," but it's unclear if the article is referring to the actual DuPre mill or one of two other excelsior mills that were known to exist in the city at the time. Three lawsuits filed in 1907 for accidents that happened at the mill are the earliest historical confirmations in city records of its existence.
Excelsior, or "wood wool," are wood shavings that were used primarily as packing material. When foam gained popularity, the usage of excelsior, as well as the mill, decreased dramatically.
The mill saw new life in the late '70s when it was renovated by Mike Reeves and his brother as the Excelsior Mill Restaurant, later rebranded in 1982 as the Excelsior Cinema and Pub.
When Reeves first began to renovate the space, it was in a state of disrepair.
"It was a serious mess and it was old, but it had those beautiful big beams," Reeves said. "The equipment and everything was just sitting there."
With the opening of the restaurant came a new era for the building. Music followed shortly after, led by an Atlanta blues pioneer.
PREVIOUS COVERAGE: The Masquerade Calls Collapse At DuPre Excelsior Mill 'Sad And Shocking'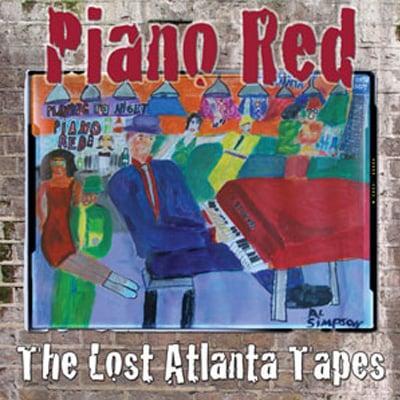 Willie "Piano Red" Perryman was famous in Atlanta's musical circles for decades. During his career, he found admirers in members of the Rolling Stones and the Beatles (who would go on to record a cover of "Mr. Moonlight," the b-side of his "Dr. Feelgood" single). During the latter half of his life, he was the resident performer at Muhlenbrink's in Underground Atlanta. He even made a cameo in the 1972 television movie The Catcher.
When Muhlenbrink's closed, Perryman found himself out of steady work until 1981, when he was hired by Reeves and his brother to perform nightly at the mill. 
"We were just fans of him and and just approached him to see if he wanted to have a regular gig," Reeves said. "We'd drive him. We pick him up from home and drive him home."
Perryman played in the upstairs part of the building, what would later become "Heaven" at the Masquerade.
A collection of his 1984 performances there would later see the light of day as a live album named "The Lost Atlanta Tapes," curated and released in 2010 by Landslide Records.
Michael Rothschild of Landslide Records said the performances recorded at the Excelsior Mill captured Perryman as a still capable, entertaining performer.
"Upon hearing the tapes I was elated that the exuberance Red put forth in his shows was still very viable," Rothschild said.
LISTEN: Willie "Piano Red" Perryman performs at the DuPre Excelsior Mill. (Courtesy: Landslide Records)
Perryman died in 1985 after a battle with cancer. His funeral was attended by then-Gov. Joe Harris and then-Mayor Andrew Young.
In its later years, the Excelsior Pub and Cinema began to see touring rock bands come through its doors, a precursor to what the Masquerade would later become.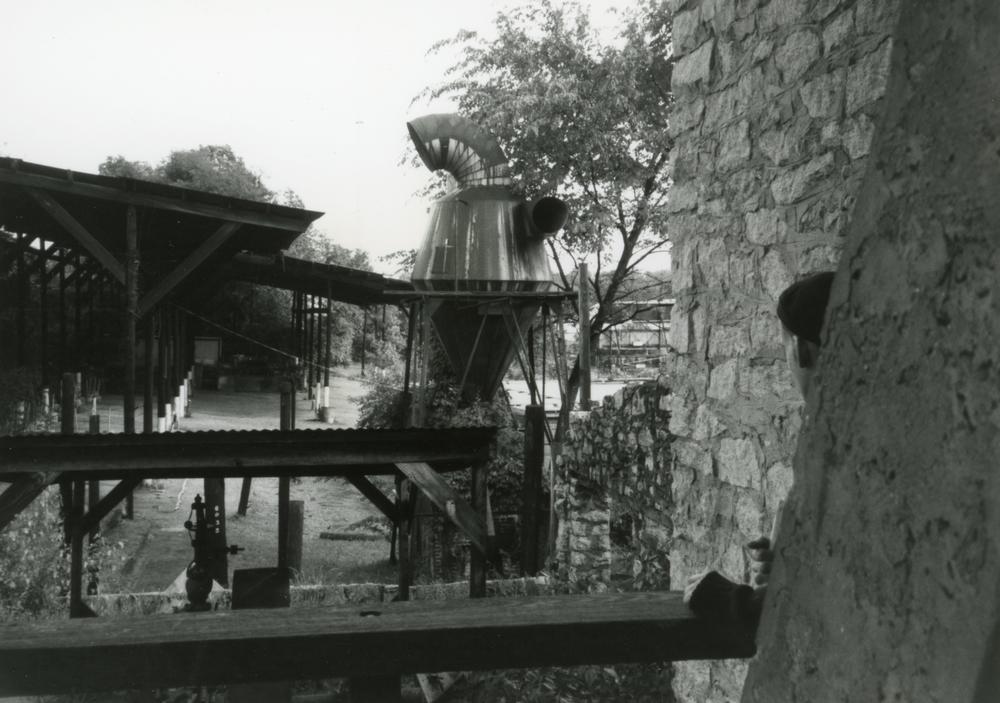 Ian MacKaye, frontman of famed punk bands Minor Threat and Fugazi, played the Excelsior Pub with Fugazi in the late '80s.
MacKaye shared with GPB News an excerpt from his tour diary, where he wrote about the band's stop at the mill:
"We're playing a place called The Excelsior Mill, which is just down the hill from where we're staying. It's a huge building that used to be an actual mill (steam powered).  It's a beautiful stone structure and huge. We play in a big hall downstairs. Upstairs there's a pizza joint and we eat there after soundcheck."  
MacKaye said it was rare for him to journal any description of the place they were playing.
"Clearly the mill was an unique space," he said. "I'm glad that we had the opportunity to play there."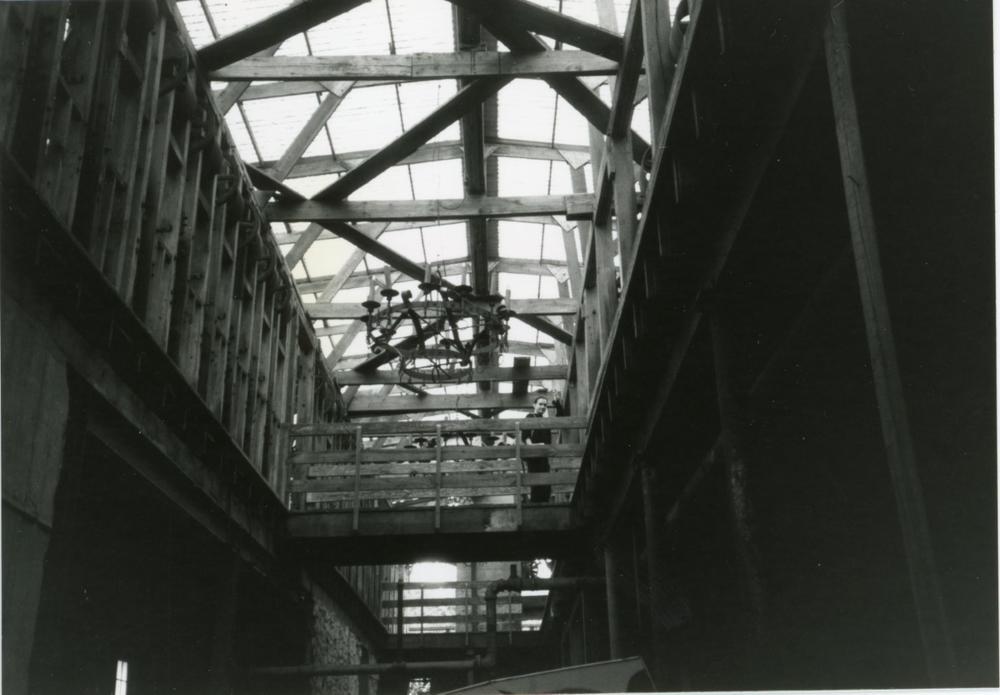 The Masquerade moved into the space in late 1989 and stayed until 2016, when it then relocated to the former Kenny's Alley space in Underground.
Greg Green of the Masquerade told GPB News he hoped developers would "find a way to maintain and/or rebuild as much as possible," saying it would be a "great loss to the city, architecturally and historically, if they couldn't."  
PREVIOUS COVERAGE: The Masquerade Calls Collapse At DuPre Excelsior Mill 'Sad And Shocking'
At the time of publication, city officials had not yet responded to requests for comment.
Atlanta Preservation Center Executive Director Boyd Coons said the building provided an important context to the city's history.
"You look at much of our development throughout Atlanta, it all looks the same," Boyd said. "When you have these historic buildings that resonate with history, it adds the richness of the experience of being a citizen of Atlanta. It gives you a sense that you're in an unique spot, that you're part of a continuum."  
In a statement released shortly after the building's collapse Friday, the developers said it "will take some time to assess the damage and figure out the best way forward."
Some Georgia residents were unhappy about the plans for the site, given its history. Reeves agrees.
"You can't turn everything into an office building. It's the same as when they tried to do that to the Fox," Reeves said. "I mean, you know, this wasn't the Fox Theater, but it could have been made into something involving art."
MacKaye, however, said he believes music culture always finds a way to live on.
"Music is like water," he said. "It will go sideways when it hits a wall and eventually find a way through the barrier. There is always a place in which music can happen and the task of musicians is to find it. Or create it."
Secondary Content
Bottom Content