Section Branding
Primary Content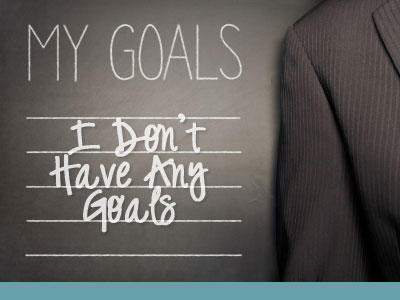 'Tis the season of resolutions and goal-setting. First, let me come clean and tell you that I am a big fan of setting goals, both personally and professionally. And I'm not just your average fan. I'm one of those face-painting, rabid kinda fans. Goals keep us on track and focused. And to be frank, had I not set some ridiculously crazy goals in my life (some might argue delusional), I wouldn't have accomplished half of what I've accomplished. While I may be a bit on the extreme side as comes to goal-setting, I would want for you the same satisfaction of setting a vision and realizing it. This month is about filling the "no goal" void with some aggressive and focused goals in order to get you closer to your picture of perfect.
The School of No Goals
Before we go too far down the path of goal-setting, I need to attend to the recent trend of anti-goals. Many of you might have encountered this school of thought. This doctrine posits that both individuals and organizations shouldn't set goals because in this new fast-paced world, too much is out of one's control and thus failure and frustration are inevitable. They argue that the real way to approach growth and progress is to focus on one's behaviors and hope for the best. My opinion on this particular school of thought? Simply put it is wrong-headed "excuse-making" clap-trap. Garbage. Junk. Not much better than some cheap "feel good" fix you might buy off the street. Of course, I can clearly see the appeal of the "no goals" philosophy. It frees one from guilt and failure. Why? Because one never sets a bar(a goal) so naturally there's no "falling short." On the flip side, "accomplishment" never happens because "success" is never defined. Without goals, we are simply buying lottery tickets hoping "something good" happens. What that "something good" is we aren't sure but we hope we'll like it. I don't need to remind us of the odds of winning the lottery.
The Tip of the Spear
As I alluded to earlier, goals serve a very important role. They give us a direction. They provide the tip of our spear as we move forward personally and professionally. They paint a picture of the world we are trying to create. Without goals we are just taking action without a clear expectation or vision of where we want to be and the life we want.
This month we are going to talk about goal setting. My job in this is twofold:
Give you a menu of differing types of goals for your consideration (a rich menu of personal and professional)
Get you to pick one (the fewer the goals, the easier it is to focus and to guarantee progress)
Packing for Next Year
One final perspective on goal-setting: it is not about achieving the goal you set in the timeframe you define (Ex: goals for 2013, etc…). The objective is to make as much progress as you can toward the goal in the time in which you allot. For example, if you set out that your goal is to make $1M next year and unfortunately, you fall short and only make $800K or perhaps you decide to lose 50lbs. and you only lose 40lbs., those are not failures simply because you didn't hit your goal. Those are clear successes because you moved far down the path toward your desired end state. Contrary to popular belief, in reality most goals are realistic. It is the timeframe we define in which to achieve them that is arbitrary. Our "goal" for next year is to use goals to focus our actions and see how much we can get accomplished. So, as we get ready to pack our goals for the coming year, guilt and fear of failure are not allowed in your suitcase (nor are they permitted in your carry-on bag). They won't get past any TSA check-points.
Leave 'em both at home…with the lottery tickets. We've got too much to do.
Secondary Content
Bottom Content