Section Branding
Primary Content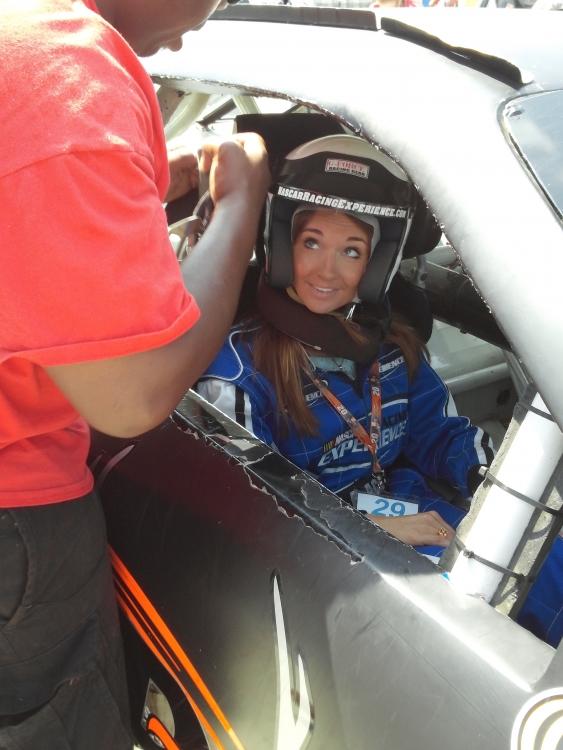 One of the first rules of being a television news producer is NEVER to turn the talent into a 300-foot smear on the back wall.
So, I tried my best to ensure that OTS reporter Grace Olson would be safe as we set out to get a first-hand look at NASCAR excitement. We traveled to Atlanta Motor Speedway in Hampton and made arrangements to take part in "Driving 101." The only rules are that the driver is over five feet tall and more than 100 pounds. They aren't kidding. I saw one white-haired gentleman climb out of the cockpit… with his cane in hand. One woman couldn't have been much over 100 pounds. Both got their chance to sit in a genuine NASCAR vehicle. Some choose to drive themselves, which sounds a little bonkers to me, but I mustn't judge. In any case, we opted to have a professional driver take Grace around for a few laps.
Ever the trooper, Grace donned her unisex fire suit; her stylish footwear poking out from below. Her driver, Stephen Leicht, told us, "I had one lady that I was giving a ride to scream the whole time. Hehe. I could actually hear her over the motors." It turns out, that lady loved the experience. I was hoping the same for Grace.
She and Leicht took off and were soon up to speed. In fact, each time they came around the track they whizzed past the other, slower cars. I found out later, Grace and Leicht topped 170 miles per hour – about twice the speed of those "super speeders" on I-285.
We used a special camera to record Grace's reactions. I couldn't make out what she was saying, but I do believe I read "Oh my God" on her lips a few times. In just three minutes, they made three laps, or about five miles. Grace climbed out full of energy and excitement, ready to go again.
On June 23rd, OTS viewers learned that Grace chose sensible flats as her NASCAR fashion statement.
Atlanta Motor Speedway hosts a big 4th of July event as well as the big NASCAR race coming up on Labor Day Weekend. For the less intrepid, AMS rents a gadget called "fan view," which gives fans the sights and sounds from the cockpit live during the race.
http://www.atlantamotorspeedway.com/
Secondary Content
Bottom Content