Section Branding
Header Content
Get A Taste Of Australia At Marietta's Australian Bakery Cafe
Primary Content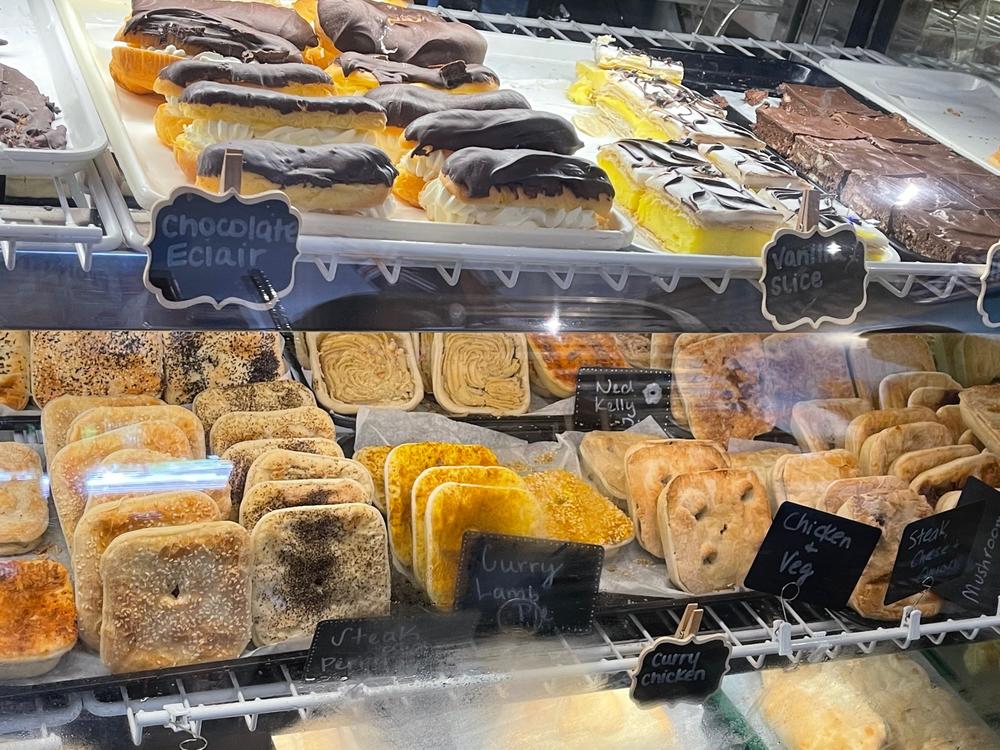 If you've been watching McLeod's Daughters on GPB and wondering what's cooking in the kitchen at Drovers Run, you're not alone. Luckily, there's a spot in Georgia cooking up classic Australian fare, ideal for the short hiatus until new episodes return in June or for catching up on the entire first season online and on GPB Passport.
Australian Bakery Café has always been a tempting spot for me over in Marietta. Admittedly, I first came across the restaurant during one of GPB's many booths at Marietta StreetFest. Usually, the café is just across the square from our booth but busy festival days hardly leave time for us booth volunteers to visit shops or have a bite to eat. Nevertheless, I've been intrigued ever since but never had a real opportunity to visit. 
Until now, that is, with the premiere of the first season of McLeod's Daughters. While I've learned quite a bit about sisterhood, farming, and how to help a cow with gastrointestinal issues (I was about as horrified as Tess when Claire showed her, and the viewers, how it's done), I've been curious about the day-to-day life on Drovers Run beyond the farming. In particular, Meg's meals for the family and staff and if Tess' dishes were truly as inedible as the show made them seem. So far, McLeod's Daughters has highlighted breakfast food, meat-and-potatoes meals, and the aforementioned curry creations from Tess, but I was certain there were more. Particularly of the pie-shaped variety.
So, I went on an adventure to Australian Bakery Café with my mother and my fiancé to uncover what made Australian pies and treats appear so delicious.
Located at 48 South Park Square in Marietta, as soon as you pass through the doors you've arrived Down Under, in a paradise of baked goods, confections, and other excellent treats. The café is part counter service restaurant, part grocery store, and part online delivery service, and if it's your first time visiting it's hard to choose what to try first. Not only do they feature the popular pies, but there's also pasties, sandwiches, salads, sausage rolls and plenty of pastries and patisserie to choose from, all displayed in brightly-lit glass cases.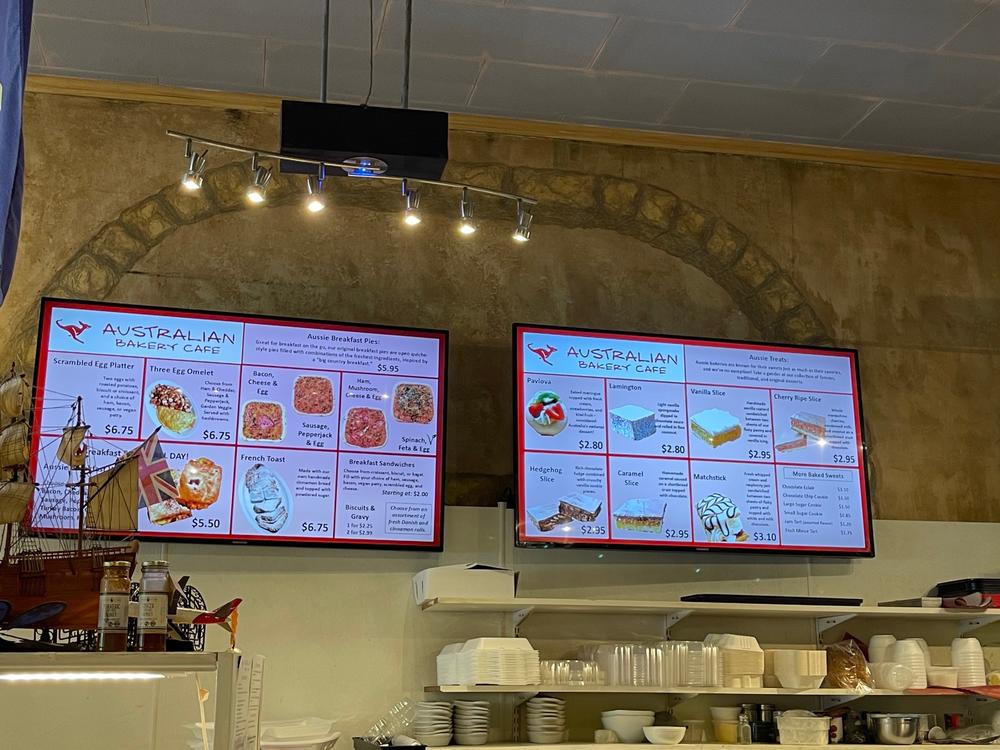 Thankfully, the team behind the counter was patient with us as we deliberated what to order. Eventually, we settled on a curry chicken pie, a steak, cheese, and onion pie, a steak, cheese, and bacon pie, and a sausage roll to share. After selecting our sides and soft drinks (there's a variety of options available, from breakfast potatoes to side salads, as well as bottled drinks and a soda fountain), we found a free table and learned a bit more about the café (and its many, many offerings).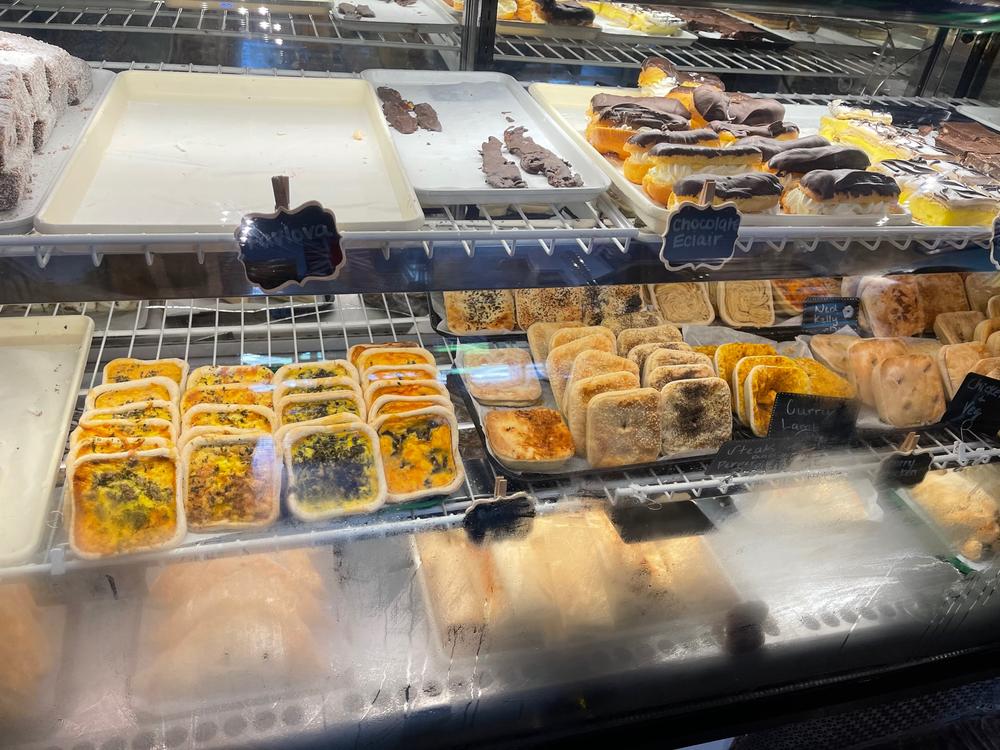 Australian Restaurateurs and childhood friends Mark Allen and Neville Steel opened Australian Bakery Café in December 2001 after several successful culinary ventures back home. They had a clear mission: to bring a taste of Australia to the United States in the form of authentic meat pies. Nearly 20 years later, they continue to be the home of the only authentic Australian meat pie on the eastern coast and serve up dishes to hungry locals, visitors, and plenty of Australian and New Zealand expats looking for a taste of home in the U.S. According to their website, they now offer over 27 varieties of pie, in both traditional and modern interpretations. And we were about to try three of them.
I chose the curry chicken pie, mostly inspired by Tess and how much she missed curry herself while at Drovers Run (and wanted to use up some of the milk Madonna, her new dairy cow, was producing in abundance. Catch up on this episode now online!). If I lived on Drovers Run, curry is definitely one of the things I'd miss too, and this pie was no exception! It's a yellow curry that reminded me of a warmed-up curry chicken salad, not unlike the sort of sandwiches served in an afternoon tea, covered in a buttery, flaky pastry crust. The curry wasn't too spicy but packed plenty of flavor, and was perfect for one of the first warm spring days in Atlanta this year. However, I'm glad I opted for a side salad with my meal, as one pie is very filling!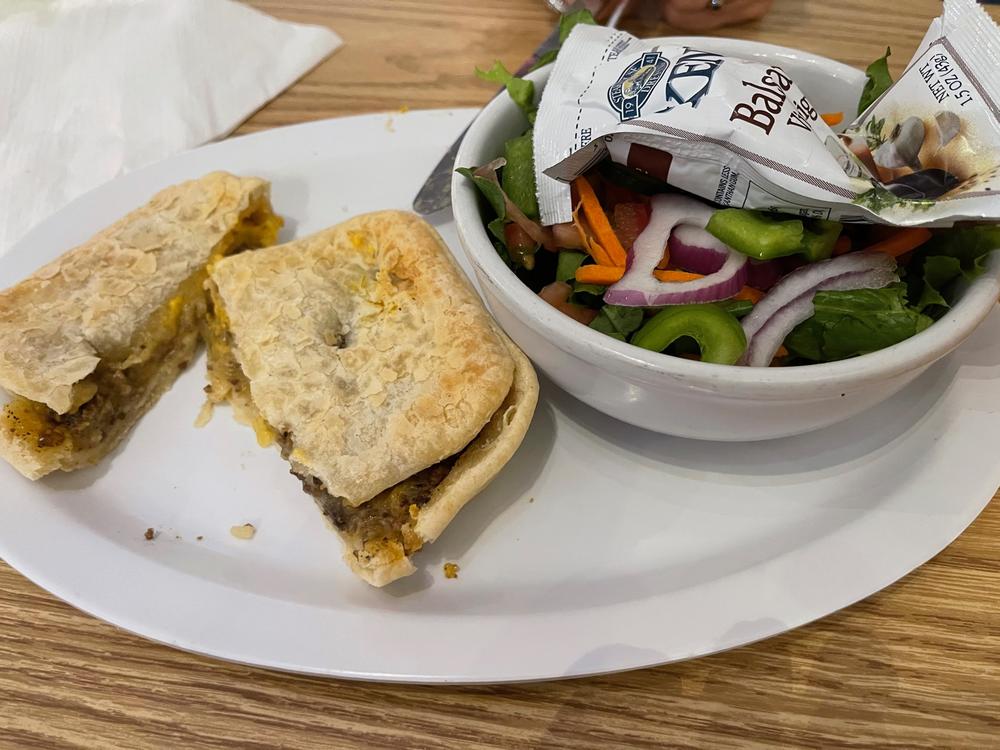 My dining companions equally enjoyed their steak-based pies as well. Both of them had their respective cheese and onion or cheese and bacon blended evenly with the beef in their pies, with golden crusts on top. Both agreed that the pies were ideal comfort food: easy to eat, hot and delicious, and the breakfast potatoes in particular were an excellent accompaniment. However, the star of the meal for us was the sausage roll. But we are a little biased.
Because as much as we wanted to try the pies, my fiancé and I were very excited to get our hands on a proper sausage roll! Both of us spent time in England as students and, in turn, were introduced to the heavenly treat that is the sausage roll. On a student budget, both of us ended up grabbing these as breakfast or snack items from the popular chain Greggs while studying abroad and, since moving back to the U.S. and starting our careers, we haven't had much of a chance to indulge in them. But our experience at Australian Bakery Café made it worth the wait!
After cutting the sausage roll into thirds (my mother had yet to try one and we weren't about to let her go without having a bite), my fiancé and I each took a bite of our sausage roll and instantly, our faces lit up. This was not the English version we remembered: it was better. Full of spices and flavor, it wasn't the comforting, yet bland version we were accustomed to. It had dimension! It was exciting! It took us both right back to England and our study abroad courses! 
Tears may have been shed in public for the sausage roll. It was that good. But we couldn't mourn our now-devoured roll: we had grocery items to check out and dessert to order!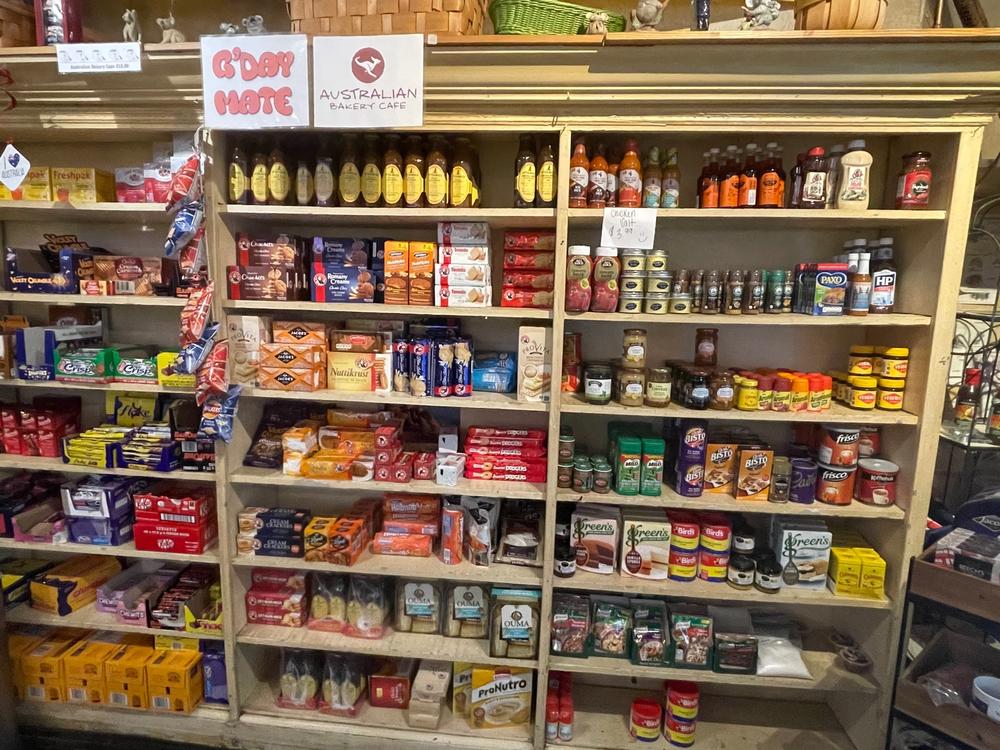 Australian Bakery Café keeps a variety of groceries available for purchase, including items from South Africa, the U.K. and Australia. While there was Vegemite and plenty of other Australian snack foods and condiments I'm yet to become acquainted with (one of the many reasons I'm in need of a return visit to the café!), I was pleased to see plenty of British snacks and sauces available that I did recognize! From Nando's PERi-PERi Sauce (I'm still waiting for Georgia to finally get a Nando's) to HobNobs to Crunchie bars, it's a great place to stock up on snacks for your next British or Australian TV marathon on GPB (I'm partial to Downton Abbey, McLeod's Daughters and winding down my weekend with MASTERPIECE on Sunday nights).
But we decided to leave them for another time: instead, we chose to get dessert to go, a meal that was far easier for me to choose what I wanted. Based on reviews and guidance from friends in Australia, I knew I wanted to order a pavlova and a lamington. 
I also learned a very important lesson: don't wait until the end of your meal to order your dessert, particularly if you want a pavlova. There were two left in the case when we arrived and during our meal, someone came in and bought the last two pavlovas! I was crushed for a minute or two before finally deciding to take home a lamington and a vanilla slice. That had been my friends' third option if the first two weren't available, as vanilla slices are apparently a big deal in Australia. There's a competition for them and everything.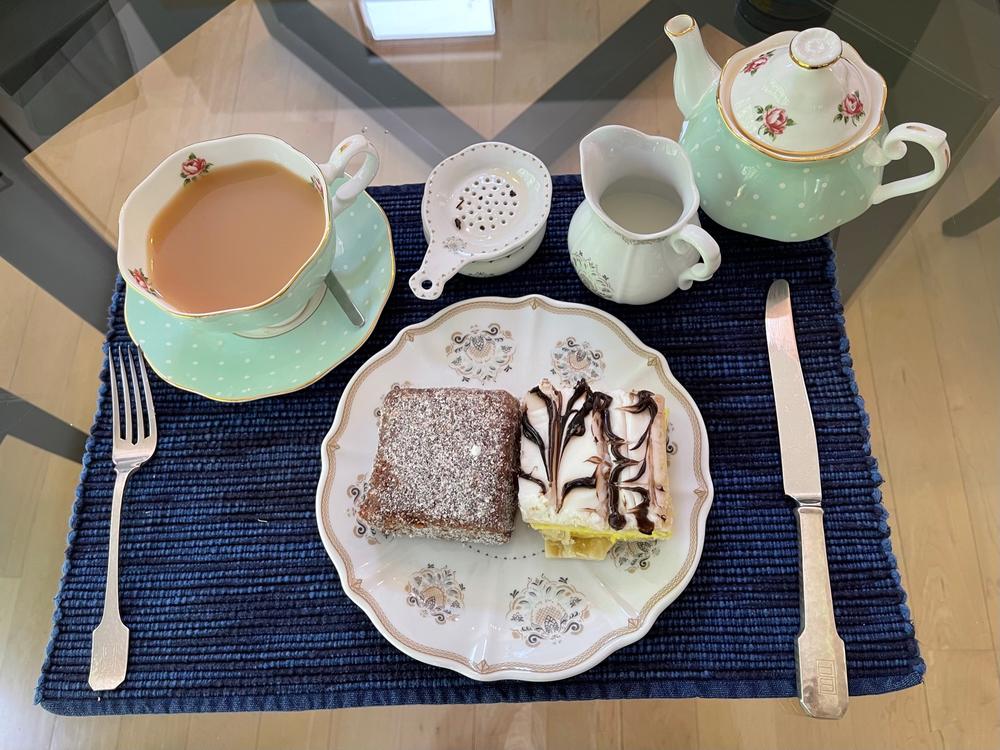 After purchasing my desserts, I bid farewell to Australian Bakery Café for now, until teatime later that day (the pies really do leave you stuffed!). I'm glad I did, so I was able to savor the treats properly! The lamington was a light sponge cake that wasn't too overly chocolatey, with the coconut providing a hint of texture and flavor (and was my favorite out of the two). The vanilla slice was a mix of flaky pastry, vanilla custard, and topped with icing. It was a bit different from desserts I'm used to, but it was very creamy with the icing providing much of the sweetness. These desserts are generously sized as well, and great for sharing.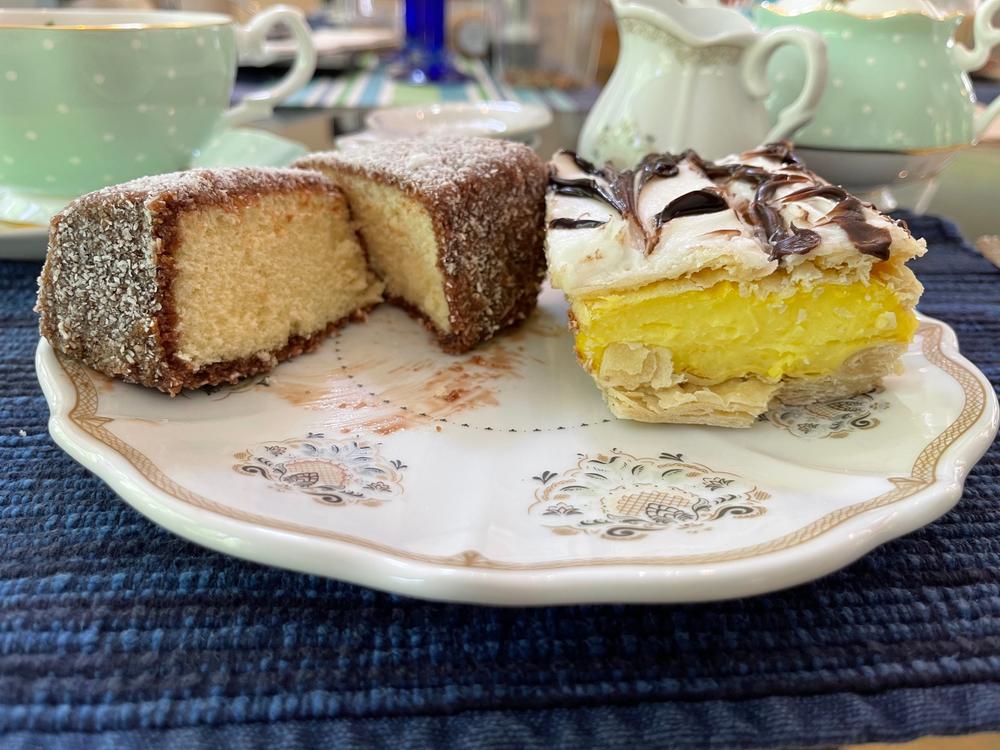 All in all, a wonderful time was had at Australian Bakery Café! I can't wait to go back, if just to finally get my hands on a pavlova (and another pie, another sausage roll, another lamington, et cetera). 
Visit Australian Bakery Café's website, Facebook and Twitter accounts for their hours, menu, and online shipping options (so you can get your fix even if you're outside of Atlanta!). Catch up with McLeod's Daughters on our website and on GPB Passport before new episodes air beginning June 17, 2021 at 8 p.m. 
Secondary Content
Bottom Content