Section Branding
Header Content
Botstein And Novick On How The Vietnam War Changed America
Primary Content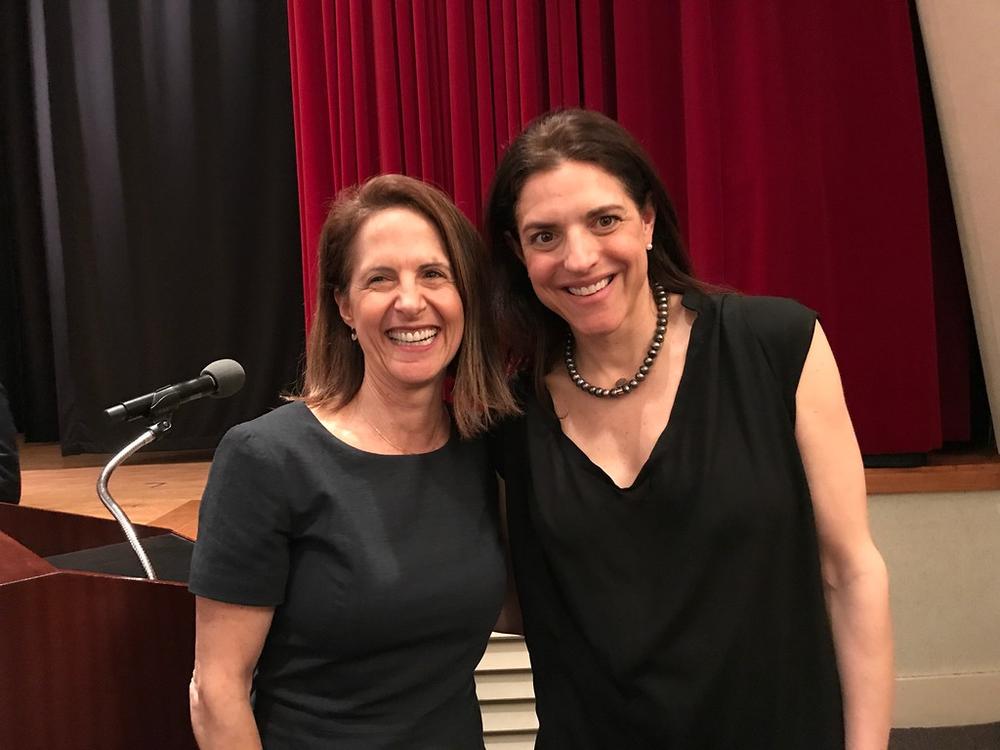 This past summer, viewers and vets received a double treat: a preview screening of excerpts from the Ken Burns 10 night documentary series "The Vietnam War" and live commentary afterward from two members of the filmmaking team behind the series, director Lynn Novick and producer Sarah Botstein.
GPB host Celeste Headlee moderated the Q&A. She questioned Botstein and Novick about the filmmaking process and what they learned about the war as a result of the project.
Excerpts of their discussion appear below. "The Vietnam War" continues at 8 p.m. through Thursday, September 28.
Watch the series online our on website or through the GPB Passport app included with your membership. 
On how many reels were were left on the cutting room floor?
Novick: We conducted 100 interviews and each person spoke for at least an hour if not more, so that was 100 hours right there. And then we have - I don't know - 1,000 hours of archival footage …
Botstein: 2,000 hours of archival footage and 25,000 photographs and thousands of pieces of music. It's enormous archival material.
How they decided what to throw away and what to keep given the many iconic moments captured on (archival) film.
Novick: That's the heart of our process that we really tried to find the balance between showing the iconic images in a new light and not leaving them out while revealing past images that we haven't seen before. It's a constant balancing act throughout the editing process basically. Occasionally in the film we would write to or speak about a specific moment as you saw the horrifying image of the assassination on the streets of Saigon. That existed in footage and we also get back to the famous photograph later to deconstruct that. For us it's a process of discovery. We start the film not knowing what we're looking for and being open to whatever we can find. And in editing we (boil it down).
How they decided what violence to include and not include.
Botstein: I think Ken would say, 'We definitely didn't want to make a war porn film and we have to be very respectful'. We all come to it with slightly different ideas and thoughts about what's appropriate, what's too much, what's not enough; we struggled with that on the film on the second World War as well. The difference between making a documentary about the Vietnam as opposed to World War II, the Civil War.
Novick: In some ways, all wars are the same in that the experience of combat in possibly being killed and actually doing violence to other people and seeing your friends killed and the kind of courage and bravery and sacrifice you all in a sense find a description of war in "Homer". The effects of war are also the same and in some ways every war is unique given the circumstances and the nature of the war - there are machines, the tactics and strategies. Making this film was extremely familiar in some ways - when you go around talking to combat veterans because some of their ways of relating what they have been through felt very familiar to us. But (what was) singularly different was the American feelings about this war compared to World War II in that it was extremely complex and contradictory and controversial while it was happening as we saw from the protest scene.
So those who fought in the war were constantly having to deal with that - as was the rest of the country dealing with enormous challenges of (what it means) to be a patriot and citizen - your country's involvement in a war that you might not agree with.
Botstein: In World War II, there is this general consensus history of what happened and how and why.
Headlee: And there were bad guys and good guys…
Botstein: … and there's a bad guy and we all kind of agree to that. In Vietnam, there's so much new scholarship, so much has been declassified - we've learned so much - the Vietnamese archives are still closed. But the people that we've met told us things that I don't think are talked about a lot - that's very different.
What more understanding did they have about parts of the war - the My Lai massacre, POW camps, the viciousness of war and why good people sometimes do horrible things in war:.
Novick: Any film about war ends up being an investigation of the human condition, who are we as a people, what are we capable of good and bad. And I think we've learned a lot from talking to some of the extraordinary witnesses that we've gotten to know over the course of making this film. I think it's important for us as human beings to recognize that we all have good and bad in us. And that no one single person is all good or all bad. Most of us are a mixture and whatever circumstances that we're in, people are capable of tremendous humanity and also tremendous inhumanity.
One of the veterans that we spoke with he said and you can make of this what you will - he said "we are an aggressive species. We're not the top species on the planet because we're nice'.
On the differences of the narrative or memory of war when there are multiple groups telling the story.
Botstein: I think let's talk about what's common among them first and then what's different about them second maybe. I think everybody that we met and everyone that we spoke to was really interested in trying to understand the war and to think about it a little bit differently and to tell an honest and human story. We found that in Vietnam, we found that in the South Vietnamese that we interviewed here and we found that with Americans both (with) people who protested the war and didn't fight and those who went overseas and fought. I think they are interested in understanding each other as well; they want to learn from each other. I think one of the more poignant moments in the film is when American veterans go back to Vietnam now or Vietnamese think about Americans here and seeing what the anti-war movement and the soldiers that fought and how they can have a new conversation.
Secondary Content
Bottom Content