Section Branding
Header Content
Fox Theatre Documentary Anchors Hot Winter Premieres And Series Returns
Primary Content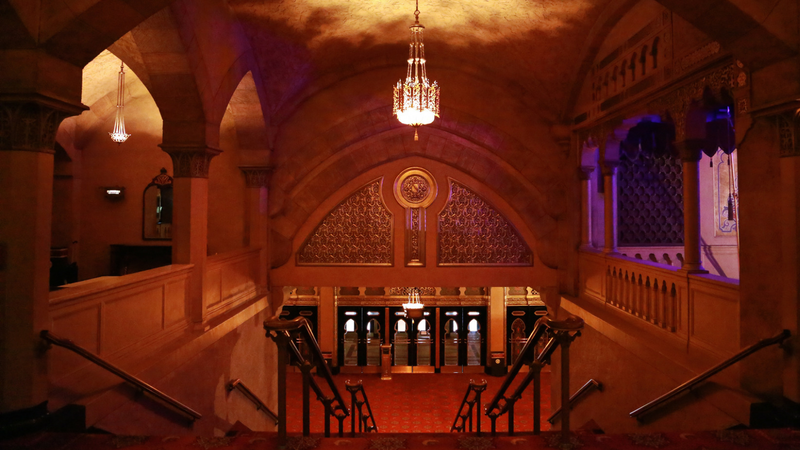 Winter is coming. But it isn't bringing an army of terrifying Game of Thrones White Walkers with it. The wintery months mark the premieres of the hottest and most anticipated new dramas, the return of beloved series and the unveiling of heartwarming locally produced shows.
Forget binge-watching Netflix or Hulu. You'll want to curl up in front of the tv the "old fashioned way" to see shows like Sherlock, Victoria and The Legend Lives On: Atlanta's Fox Theatre when they debut on-air.
Or if you must time-shift, download and watch them on the GPB apps for Roku, Apple TV, Google Play or your smartphones, laptops and tablets. What shows should you look forward to watching? Here's a short guide to the hottest program premieres and series returns worth your eyeballs.
The Legend Lives On: Atlanta's Fox Theatre - Premieres December 25 at 7 p.m. (Repeats December 26 at 8 p.m.)
How did The Fox Theatre get so fabulous? This documentary from Emmy winning GPB producer Don Smith tells you. From its beginnings as a clubhouse for the Shriners, its heyday in the 40's and 50's as a premiere movie house to its almost demolition and then rescue through the "Save the Fox" campaign and revitalization as a premiere concert and show venue, this film covers its history with precision. It also introduces the behind the scenes champions who keep the Fox fabulous all year round.
Downton Abbey Marathon - December 26 - December 31 usually starting at 12 p.m. each day but check local listings.
Remember when Lady Mary messed around with that Turkish Ambassador and he died in her bed? Still giggle when you think of the Dowager Countess asking "What is a weekend?" at the dinner table? Get goosebumps when you recall Carson and Mrs. Hughes holding hands (finally!) on the beach?
Relive all of those moments and more during our all season Downton Abbey week long marathon. You read that correctly! We're airing all seasons of the Masterpiece smash hit that ended its run earlier this year. Follow us on Facebook, Twitter and Instagram as we reshare videos and posts from our Desperate for Downton blog that includes encounters with the cast members and fan visits to Highclere Castle.
Sherlock Season 4: The Six Thatchers - Premieres January 1, 2017 at 9 p.m.
Start your New Year off right by spending it with the world's greatest detective - Sherlock (sorry Batman!). Benedict Cumberbatch resumes the titular role as the lovable sociopath and reteams with Martin Freeman as Dr. Watson. Season 4 sees the duo facing one of their biggest challenges yet - parenthood for the Watsons!
Frontline: President Trump - Premieres January 3, 2017 at 10 p.m.
Pulled from Frontline's acclaimed The Choice 2016 film, this documentary examines the key moments that shaped President-elect Donald Trump. Interviews with advisors, business associates, and biographers reveal how Trump transformed himself from real estate developer to entertainer to president.
A Place To Call Home Season 3 - Premieres January 6, 2017 at 8 p.m.
Who shot George? Will Sarah's removal of the bullet save his life? These questions and more will be answered during season 3 of our guilty pleasure Australian drama. Please Aussies don't tell us it was all a dream like that awful season of Dallas!
Victoria - Premieres January 15, 2017 at 9 p.m.
All hail the Queen V and as played by Dr. Who's Jenna Coleman, this isn't the stern looking monarch of the history books. Expect a young, vibrant and tantrum throwing Victoria. The seven-part series follows her ascension to the throne in 1837 at 18, through her relationship with her first prime minister and intimate friend Lord Melbourne (Rufus Sewell), as well as her courtship with and marriage to Prince Albert (Tom Hughes).
Mercy Street Season 2 - Premieres January 22, 2017 at 8 p.m.
The Civil War drama centered on a hospital in Alexandria brings viewers to the battlefield and inside the complicated lives of Dr. Foster (Josh Radnor), Nurse Mary Phinney (Mary Elizabeth Winstead) and the Mansion House staff; the increasingly precarious position of the Green family; and the changing world of the burgeoning black population.
Secondary Content
Bottom Content