Section Branding
Header Content
House Minority Leader Stacey Abrams: Accomplished And Driven
Primary Content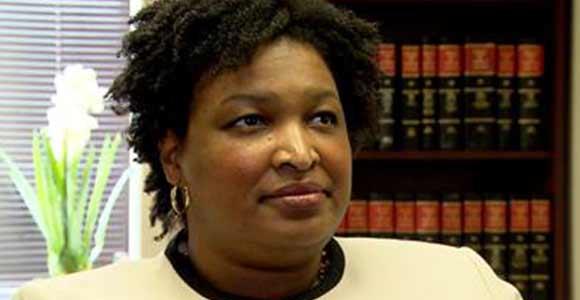 Stacey Abrams is soft-spoken. Her voice has no detectable hint of its Mississippi roots. But, that voice commands undivided attention; each word carefully selected for maximum meaning and impact.
In her presence, you get the distinct impression that Abrams has total recall and a photographic memory, something she more or less confirmed when we sat down in her office to talk about the 2015 session of the Georgia General Assembly and House Democrats' priorities as "Crossover Day" approaches. (Crossover day is, in most cases, the last day for a bill to pass out of the chamber where it originated and still be considered by the other chamber prior to the end of the legislative session.)
Accomplished is perhaps the word that best sums up State Representative Stacey Abrams, who serves as House Minority leader for the Georgia General Assembly. She is the first woman to lead either party in the Georgia legislature and the first African-American to lead in the House.
We caught up with Abrams as the House took a break for lunch Monday. She has just moved into her new office at the Coverdale Legislative Office Building, fondly known as "The CLOB".
There were several boxes waiting to be unpacked, but her desk was neat, her law books were perfectly arranged on the shelves of a tall, dark wooden book case. There was even a herald of spring on her windowsill: a paper white orchid in bloom.
It's generally acknowledged that Democrats, though the minority party in the General Assembly, are in a position of some power under the Gold Dome this year. Their support has been necessary to get some key pieces of legislation in motion, notably bills dealing with education and transportation.
Two of those measures, Governor Nathan Deal's sweeping education reform proposals, (Senate Bill 133 and Senate Resolution 287) were approved by the Senate last week after hours of debate and mostly along party lines. They're going to have a much tougher time in the House where support from Democrats will be crucial.
Abrams says she appreciates the governor's, "interest in finding a strong solution to the failing schools." But, she says the Democratic caucus has some concerns about the scope of the governor's solution, about how progress would be tracked in urban and rural schools and making sure, "we've thought through all of the mechanics of this, both the operations side and also the financial side."
She has yet to say whether the caucus will support the governor's plan but, says she looks forward to having the bill in the House.
It's clear that Abrams is not just accomplished, but driven to success. She has scores of awards and honors. Just a few include the prestigious John F. Kennedy New Frontier Award, which honors an elected official under 40 who sets an example for how public service can help solve public problems.
She is a former term member of the Council on Foreign Relations, a Council on Italy fellow, a British-American Project Fellow, a Salzburg Seminar – Freeman Fellow on U.S.-east Asian Relations and a Yukos Fellow for U.S. – Russian Relations as well as a 1994 Harry S. Truman Scholar.
Abrams, who was formerly the Deputy City Attorney for the City of Atlanta has an entrepreneurial spirit. She co-founded NOWaccount Network Corporation, a financial services firm and Nourish, Inc., a beverage company that focuses on infants and toddlers.
I asked her what it is that makes her so driven. "I fundamentally believe that if you want something to be done your obligation is to do it, and that there is very little excuse for not trying," she told me.
Abrams says she grew up with parents from southern Mississippi who both grew up in very deep poverty who not only managed to lift themselves and their families up, but also lift up their communities.
She explains, "I watched my parents go back to graduate school at the age of 40. They went together. They had six kids in tow. My oldest sister had just started college, but the rest of us were in elementary school, high school, or junior high school. So, it's hard in our family to claim you don't have time to do something when you've watched your parents go to school full time, work full time and raise six children. Excuses are very hard to rationalize."
In spite of her accomplishments, or perhaps because of them, Abrams is genuine and appreciative with no indication that she's looking down from her lofty summit with disdain on those of us with lesser goals and far fewer honors. What's next for Abrams?
"My job is to make sure that the House Minority Caucus becomes the House Majority Caucus and I will continue to work to make that happen," she says.
In the interim, Abrams says she will continue to represent her constituents and the needs of the state of Georgia. "I am deeply privileged to have this job," she continued, "and lucky that my caucus has trusted me with this responsibility."
Abrams says she wants to ensure they do the best they can, "every year and every day." As if all of that is not enough to fill her days, (she admits she probably sleeps much less than most people) in her spare time, Abrams writes romance novels under the pen name Selena Montgomery. I asked her how that came about.
"I always loved writing," she explained. "I was in my third year of law school and wanted to write an espionage novel." Some friends who were in the publishing industry told her that there were no spy novels written by or about women. When she realized it was true, she also realized that most of the espionage novels she had read were actually written as romance novels.
So she reasoned, "I decided I would kill all of the people I had planned to kill in the espionage novel, but make my spies fall in love at the end and it became a romance novel." Abrams has written eight romance novels so far and more are in the works.
I asked her about future political plans and whether she had any ambitions for higher offer. Abrams skillfully avoided giving me a straight answer saying that she is "focused on the job at hand" and the future will take care of itself.
Secondary Content
Bottom Content