Section Branding
Header Content
Competing Marijuana Bills: Medical And Now Recreational
Primary Content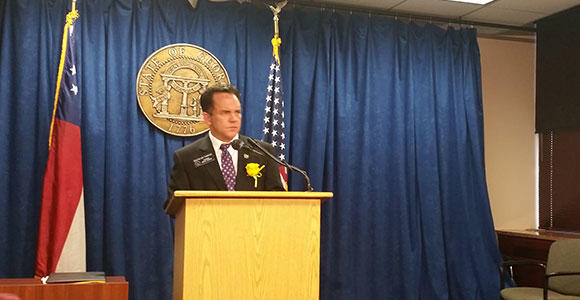 Regulating the use of marijuana in Georgia is gaining momentum at the state Capitol. There are now three separate bills aimed at doing that – two in the Senate and one in the House. The latest, however, is nothing like the other two which deal with medical cannabis.
Sen. Curt Thompson wants a constitutional amendment that would put the question of legalizing marijuana to Georgia voters. His bill would provide the mechanisms for regulating marijuana once it was legalized. It would include medical and recreational use. Thompson says it would also bring in an incredible amount of additional tax revenue at a time when the state is in need of that for both education and transportation. He says that way the issues of regulation, criminal justice and human trafficking could all be dealt with at the same time. Thompson added that once something is regulated, the incentive for the drug cartels, violent criminals and human traffickers goes away.
During a news conference, Thompson noted that everyone from former presidents of both political parties to average Joes and Janes have admitted to using marijuana. He says the U.S. should not have a system, "where if you go to Yale and your father or grandfather was a president the turnout is one way, but if you're at UGA at a fraternity party and your parents don't know the right people it turns out differently."
And when asked about use himself, Thompson said that he has used marijuana recreationally himself. He says, "Straight up? Yes." But, he adds, "You're not going to come to my house and find a green haze outside or anything like that."
He says that off the record people will tell you they support legalization of marijuana. But, he says it takes courage for people to make that declaration publicly.
In the meantime, it's been a tough fight and it's probably going to get tougher, but Rep. Allen Peake's (R) Macon, effort to bring medical marijuana to Georgia gained some traction last Wednesday when the Georgia House of Representatives approved an amended version of the bill 157- to- 2. 
Peake received a standing ovation from his colleagues in the House and Speaker David Ralston (R) Blue Ridge congratulated him on championing the legislation for more than two years.
All of this happened after rumors earlier this week that the bill might be dead.  Peake said he heard those rumors too, but they were "greatly exaggerated."  Peake said he was able to meet with fellow lawmakers, law enforcement officials and others who had concerns about the legislation and address those concerns. 
Under the bill, Georgians who get cannabis oil outside of Georgia, in states where it is legal to treat nine medical conditions listed in the bill, including seizure disorder, would be allowed to bring it into the state without fear of prosecution.  However, they could face prosecution while passing through other states on their way to Georgia. 
We'll continue to follow all three bills as they make their way through the legislature
Secondary Content
Bottom Content