Section Branding
Header Content
Making The Case For And Against Senate Bill 44
Primary Content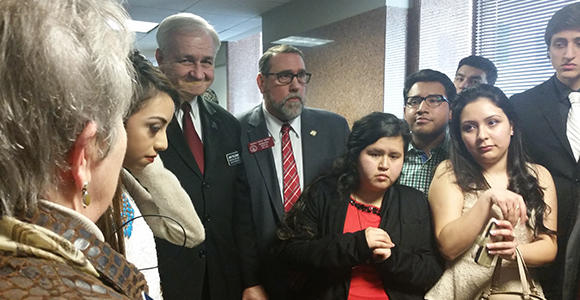 Earlier this week, a federal judge blocked President Obama's executive order to give illegal immigrants temporary protection. The administration is working on an appeal but discussions and hearings on immigration reform are taking place across the country. Close to home, a recent hearing centered on a bill that would make college more affordable to students without legal status. Here is what happened at that hearing.
About one-hundred people crowded into a packed senate committee hearing room last week to plead their cases for and against Senate Bill 44.
The bill would grant in-state tuition to students with DACA (Deferred Action for Childhood Arrivals Status). It's a bill that so-called "Dreamers" want to see approved by the Georgia General Assembly this session. "Dreamers" are young immigrants, without legal status, usually brought to the United States as young children by their parents or other relatives. The bill, sponsored by State Senator Nan Orrock, would grant students with DACA, in-state tuition rates at Georgia public colleges and universities.
Under current law, students with DACA status have to pay the more expensive out-of-state tuition rates to attend Georgia University System schools.
There was plenty of emotion at the hearing as immigrant students and their supporters appealed to members of the Georgia Senate Higher Education Committee to move the bill forward. 22-year-old Dulce Guerrero told how she came to Georgia in November of 1996 at the age of two and graduated from high school in 2011. She began working at the age of thirteen, saving her money for five years to be able to go to college. She enrolled in community college but was only able to attend for one semester because of the price of out-of-state tuition. Guerrero said her story is typical of many immigrant students in Georgia who have DACA status.
There were opponents of the bill at the hearing. Republican consultant Phil Kent said the fact remains that these students are still illegal immigrants and that by granting them in-state tuition they are taking slots away from legal residents of the state. Well-known illegal immigration opponent D.A. King also testified before the committee. He says the proposed bill would give illegal immigrants an unfair advantage over legal residents.
There was no vote on the bill in committee that day. Orrock says more committee hearings will be held in the future. But they may or may not matter.
Last June a Fulton County Superior Court judge dismissed a lawsuit that sought to reverse the University System's policy. The Georgia Court of Appeals is currently considering the case.
Secondary Content
Bottom Content