Section Branding
Header Content
Hard Work Has Commerce Back in Chase for Championship
Primary Content
Last Friday night Commerce beat Jasper County 58-19 in the first round of the GHSA state playoffs. The Tigers are 11-1 and enjoying a season that has been three years in the making. When I caught up with head coach Mark Hollars on Sunday evening, I got the feeling that the victory celebration didn't last very long.
"We're playing a bunch of kids right now that have been in our system," says Hollars. "They understand what is expected of them and they have had a lot of reps at it. The first year or two, we knew it was going to take a minute to do things differently. We are not thinking anymore. We are just reacting. They are comfortable with what's asked of them. They know what their assignments are and just go out there and play free and fast."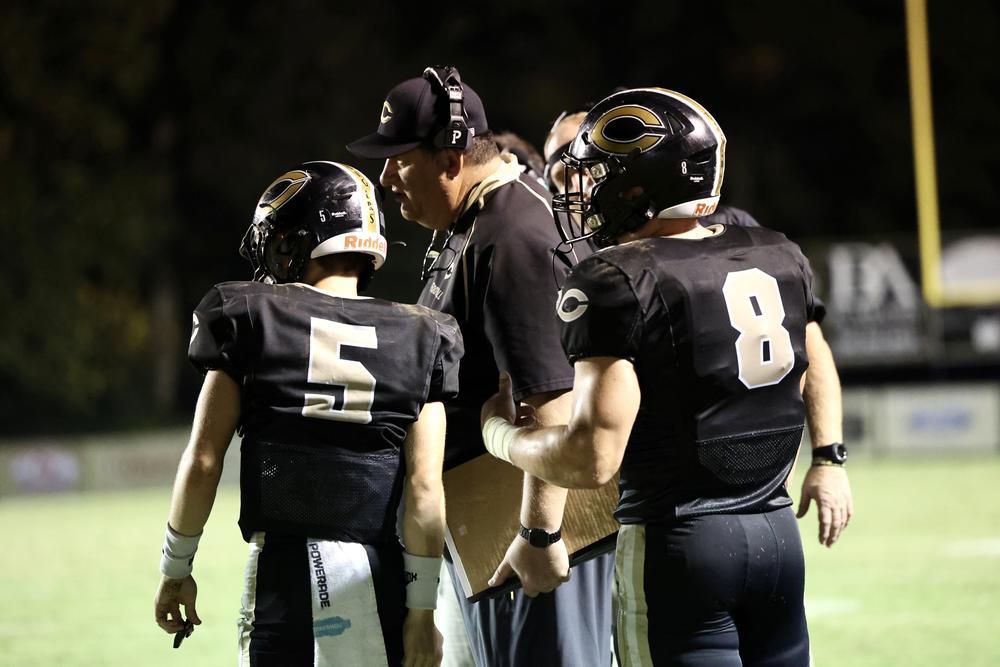 Hollars is in his third season at Commerce. Season Two ended with a first-round playoff loss to Trion, but a 6-5 record allowed the team to see that not just winning, but contending was a possibility.
"There is no question that we are in a better place right now from the commitment that was made," recalls Hollars. "Our kids are dedicated to the weight room. I don't have to chase them down. They understand what the expectations are. We're going to focus on the things that we can control, and we're going to give our pregame speech Monday through Thursday. I don't give a big speech on Friday; Friday is their day. We tell them to be at their best at 7:30 every Friday. You're not competing against another opponent; you are competing against the standards of Commerce football. We are competing against each other and can we play better than the week before."
The Tigers season hit a major bump in the road in Week Three, when they suffered a 31-21 loss at Hebron Christian. Hollars says his team simply got worn down in the loss, but there was no time to dwell on it.
"We knew we played a good team," says Hollars. "We tried to pull the positives from it. We had some big rivalry games coming up, so there was no time to feel sorry for ourselves. We were on the road at Lincoln County the next week and that is where we grew up and took some major steps. We were down in that game 10-0 early. You are on the road at Lincoln County. They don't lose at home too often. Our kids showed a lot of maturity. They hung in there and I think that was a turning point, more than anything. They walked out of there knowing we can do that against anybody."
The 17-10 victory at Lincoln County started a six-game winning streak leading up to the final game of the regular season. A showdown with Rabun County for the Class A Division I Region 8 championship that would require more than four quarters.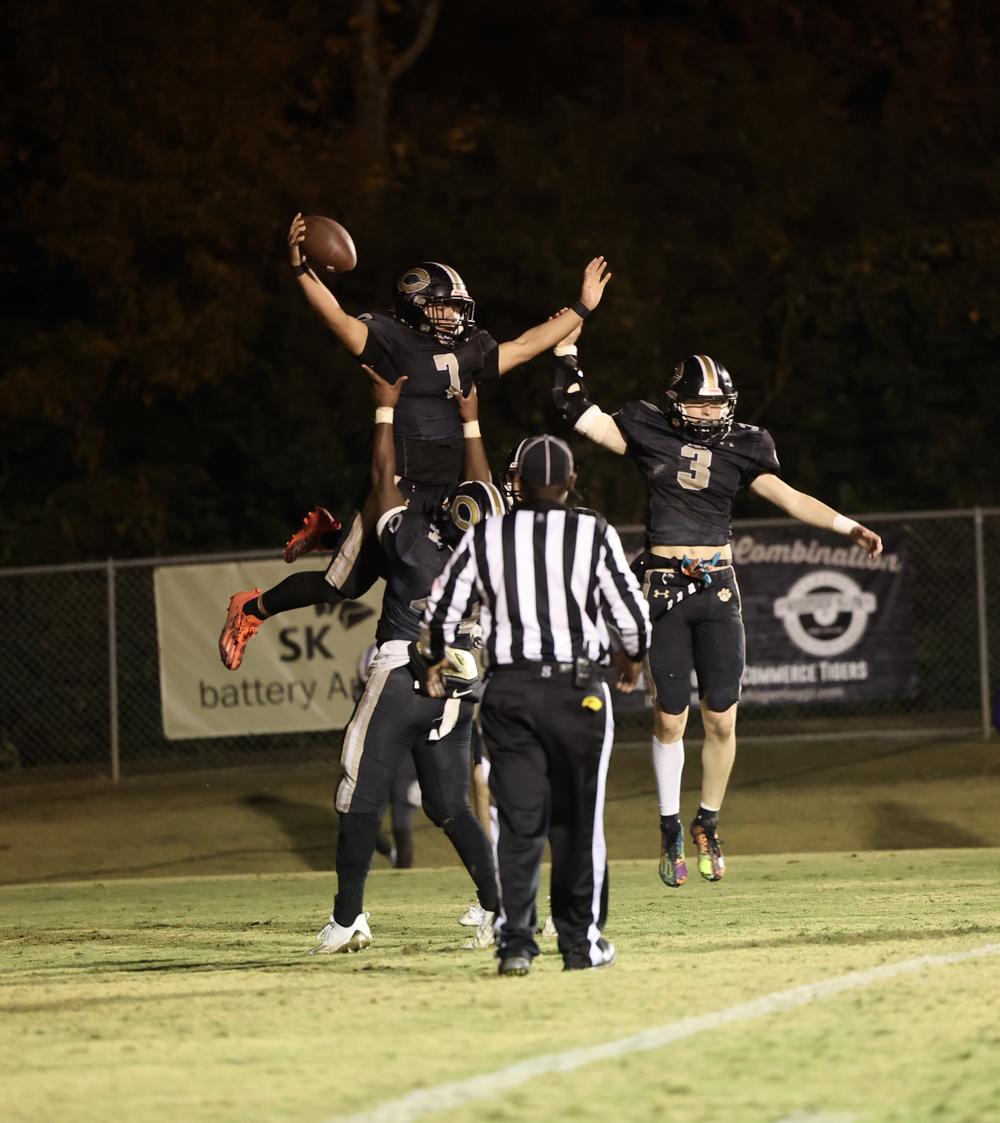 "That was one of the most physical football games we've been a part of in a long time," says Hollars. "It was tied up at halftime. It was our kid's ability to persevere. We were resilient. We try to tell them winning a region championship is hard. We had played the previous two seasons in the region championship game… We lost on the road at Lincoln County the first year. Last year we lost on the road at Rabun. This time we were home and that helped us."
Home is Ray Lamb Stadium. The Tigers' homefield is a very special place. When Commerce is having a season like this one the stands are packed with fans who arrive early and make it an intimidating place for opponents to play. It's the home of legends and Hollars knows that every Friday night he gets to walk in their footsteps.
"Playing in Commerce is special; I tell our kids about that all the time;" says Hollars. "We are fortunate to have coach (Ray) Lamb and coach (Steve) Savage, coaches that help make this program special, still live in town. They are retired guys, and they come around to practice. They help us get our kids to understand the tradition of Commerce football. Our kids take a lot of pride in protecting their turf. We are home again this Friday night, and we realize it's special."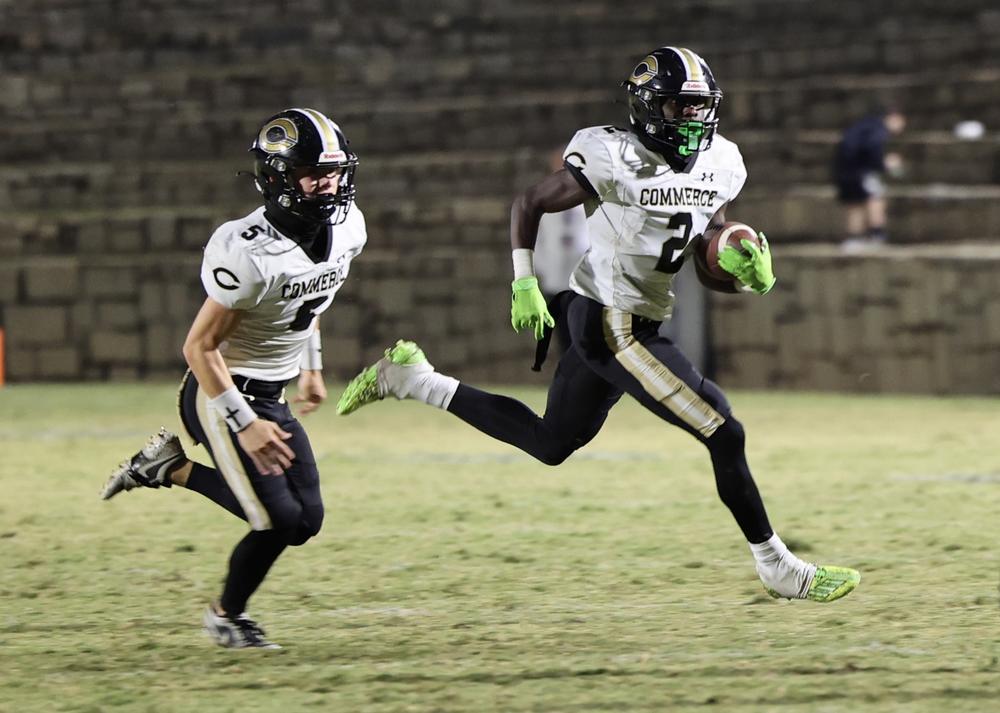 This year's Commerce team is fairly young.
"We only have six seniors on the team," says Hollars. "Two of them are new to our program. Our quarterback is John Paul Allen. He has done an outstanding job for us as a senior leader. We have Joey Duncan, who is an all-region performer on the offensive line, and Corey Suber plays great tight end for us. One of the newcomers is De'kan Williams, who was born here and has moved back. He has been an outstanding play maker on both sides of the ball."
The bread and butter of this team has been its running game. Jaiden Daniels rushed for 1,504 yards during the regular season, while fullback Tysean Wiggins went for more than 1,200 yards. A talented offensive line has been consistent all season. It's their focus and determination that has brought the Tigers to the second round of the state playoffs.
Click here to watch the replay of the Commerce-Elbert County game. 
"We talk about keeping the main thing the main thing," says Hollars. "There are a lot of distractions out there in the social media age. Those phones can be so distracting. Our kids know that in order for us to have success we have to block and tackle. We just have to play fundamental football. You have to be extraordinarily ordinary. That's who we are."
Next up for Mark Hollars' crew will be a visit from Dade County. The Wolverines have won their last five in a row including last week's first-round win over Mount Pisgah Christian. They will make the drive across north Georgia for a second round tussle with the Tigers.
"They are a physical, hard-nosed, well-coached team and we are fortunate to be at home," says Hollars. "I'm glad we're not driving up through the mountains of northwest Georgia. As beautiful as it is, I'm glad we are at home. Our kids know they are coming in to give us their best punch and we better be ready to go."
Secondary Content
Bottom Content