Section Branding
Header Content
Quartet of No. 4 Seeds Keep Dreams Alive with First-Round Wins
Primary Content
Most of Week One was, what we call "chalk..." in the first round of the playoffs... 
That means that the top teams won -- and won a lot. Our friends over at the GHSF Daily crunched the numbers and reported that ranked teams went 72-6 last week. 
In a few instances, we went to the extreme. Four four-seeds made it through their opening round games. Cass, Jenkins, Gilmer and Lovejoy all advanced, beating Kell, Arabia Mountain, Adairsville and Effingham County to advance to their respective rounds of 32. 
Steve Gates' Cass Colonels are in the second round for the second year in a row and getting into the playoffs meant they had to beat Calhoun to do it. The win over Kell was their second in a row over a ranked team and has them playing this week. They come out of a region that had four teams separated by one win (two teams were 3-2 and two were 2-3) in Region 7-5A.  
Two quick things to know about Cass: It's all about "anyone, anywhere" when it comes to who is on the schedule as they grow as a program and all you ever need to know about top recruit Sacovie White and the kind of young man he is can be found right here... 
We mentioned Monday that Jenkins head coach Tony Welch got his 50th career win as a head coach and it took a major upset to do it. One of the big shocks of week one was the 14-13 upset of the Arabia Mountain. ...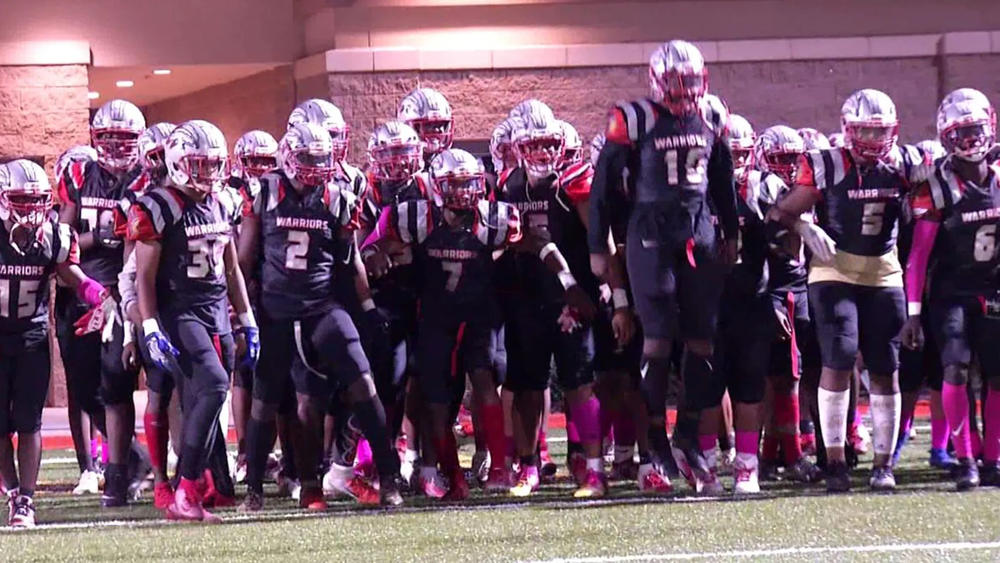 Two quick things about the Warriors, the No. 4 team from Region 1-5A... 
One: Jenkins has played the toughest schedule in Class 5A. Opponents include No. 1-ranked Benedictine and Coffee along with Carrollton and Ware County. 
Two: He's got some stories about a dear friend first when we caught up with him before the 2022 season... 
Jenkins has made the playoffs every year Welch has been head coach -- even with that schedule. This is the third different Savannah-area school he has coached. He had a good run at Memorial Day in the GISA, where he was a head coach, and then an offensive coordinator for six years under Michael Thompson, where they won three state titles. 
Gilmer's head coach is no stranger to the postseason... 
After the 2020 season, Paul Standard left St. Pius for the mountains and the Bobcats are in the playoffs for the first time since a 2015 "Thunderdome" appearance in a Monday mini-game against Ridgeland.  
(I remember that night at Christian Heritage) 
In his 20 seasons at St. Pius, Standard won eight region titles and was in the postseason every year but two... and to make it to Round Two, they battled all night with Adairsville. 
"Once again showed their true grit, their determination, and their desire to make this season go another week," he told the touchdown club after the game. "It just shows you what our young men are made of and what our coaches have done. I said this a couple times as we were celebrating. It's hard to believe that three years ago when we came, we only had about 24 or 25 high school kids and about 24 ninth graders and that's all we had in the program. It's a great thing to see this thing grow with the support of our coaches and our players.  
"I'm so proud of these seniors because they have had gone through some tough times and they have led this team and you know they've done some things that not many Bobcat teams have been able to do and I'm proud of it. I'm just happy we get to work another week, baby." 
When Al Hughes rapped up his run at Lovejoy after the 2013 season, the Wildcats had four straight region titles, four straight double-digit win seasons, and two finals appearances. 
Here's your 2012 flashback with Norcross where Lovejoy had to face some guy named Alvin Kamara in the backfield for 48 minutes... 
Edgar Carson took over the head coaching position at Lovejoy and, in his tenth season, they have made the postseason every year but once. They are the only No. 4 seed remaining in Class 6A but a win against Lee County would put Lovejoy in the quarterfinals since those back-to-back finals.  
So, now that we've introduced you to the remaining four four-seeds, what was your result of the first week, Dear Reader? Drop the notes in the comments and we'll get ready for Week Two of Season Three all week long... 
Play it safe, everyone... I'll talk to you soon! 
Secondary Content
Bottom Content