Section Branding
Header Content
Football Fridays in Georgia: Breaking Records and Setting New Ones
Primary Content
In this episode of the Football Fridays in Georgia podcast Jon and Hannah talk with Lumpkin County Head Coach Heath Webb about making school history, Coffee Head Coach Mike Coe addresses coaching in Georgia compared to other states, and Carrollton's JuJu Lewis broke a school record.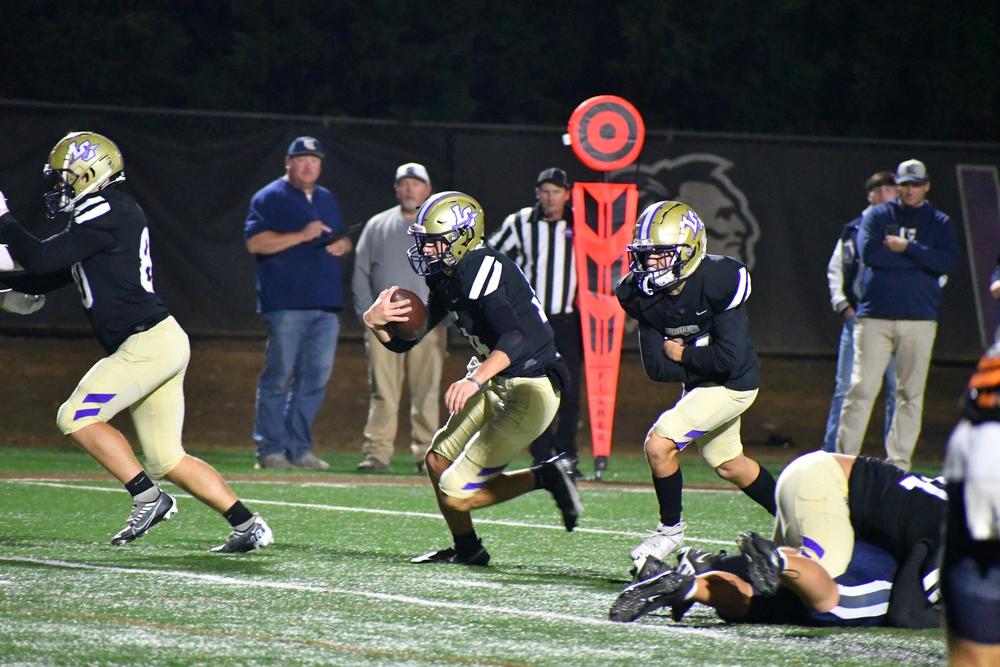 In this episode: 
Lumpkin County makes history
Interview with Lumpkin County Head Coach Heath Webb
Interview with Coffee Head Coach Mike Coe
JuJu Lewis breaks school record
Playoff bracket breakdown
Houston County vs North Atlanta recap
On making history at Lumpkin County
Hannah Goodin: Let's start with Lumpkin County head coach Heath Webb and get right to his interview. Welcome to the show, Coach Webb. We are so happy that you are here. Gosh, there is so much to say about Friday. You're coming off a 52 to 6 win over Gordon Lee. Your team has been playing since 1961. After that win, it's your first ever unbeaten regular season at 10-0, first ever region championship, and first ever playoff win. How do you and the team feel?
Lumpkin County Head Coach Heath Webb: Oh, it's cool, You know, and the thing that we're enjoying is making the history, continue making history and talking to the old guys that set some records a long time ago. And it's been cool that people come back into town and want to be a part of it and come to our games and people that haven't been to our games in 30 years showing up. It's been a lot of fun.
On coaching high school football in Florida compared to coaching in Georgia
Jon Nelson: What's it been like for you over this last couple of seasons coming up from the state of Florida, where you're well-known there when it comes to making postseason runs and making dives to championships, winning championships. What's it been like for you and your staff coming north to the state of Georgia? What are the differences, say, in what you've experienced here in Georgia versus what you know and what you've experienced in the state of Florida?
Coffee Head Coach Mike Coe: Well you know, in the SEC they say that the SEC just means more. It just means more in Georgia, too. You know, it just does people back up what they say. They support you. The resources are unbelievably different, which is sad. You know, I was at Madison, which was 30 minutes from Valdosta and Lowndes. And you see the things that they had, you know, compared to what we had at Madison, you know, it's actually sad, but Coffee County has been tremendous to me. Our administration is top notch. They allowed me to bring in five ex-head coaches to be on our staff, but I feel like I did a really good job keeping guys that were here too. We got a really balanced staff of guys that's been here a while, been here in Georgia their whole life, and I lean on those guys a lot. I'm telling you, we go on a road trip. I still I still don't know what roads we're on, where we're going. "Ah coach, we're going to go down here to 31 and make a left. And I'm just we all know I have no clue where we're going. But obviously the coaching, as you know, because you can pay better here and get get more coaches here, the coaching is top notch every Friday. You know, you're not going against teams that are poorly coached. Almost every team we've played has been well coached and been in that weight room and has a nutrition program and things like that. But I've enjoyed my time here and I've really enjoyed our kids here. They've bought in from Jump Street and I'm really proud of them.
Secondary Content