Section Branding
Header Content
Jenkins, Pierce Take Different Paths to Unbeaten Starts
Primary Content
We're in Season Two now... Well, for the most part we are...
Most teams now get to turn the corner and focus on region play, putting their first season under glass, figuring out what was learned and what is still needing to be learned before we get to Season Three.
Figured this week we'd go and visit with two undefeateds and see what they've learned so far...
First stop: Millen and Jenkins County.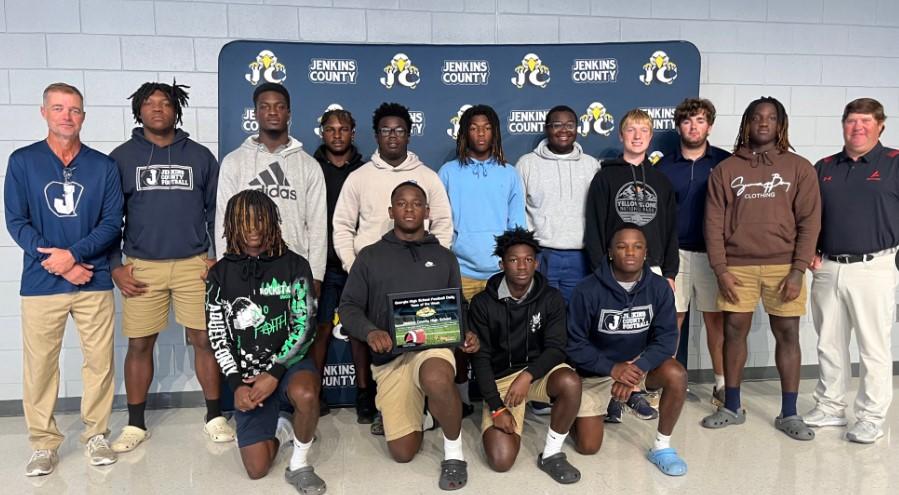 Charley Waters is in his third stint as the Eagles head coach. He was in charge for a 1-9 season in 2011 when the team only scored 91 points for an entire season. He was called back for his second turn in 2014 and was there for five seasons before David T. Johnson took over, only to come back last season for a third time.
The school has been around in its current form since 1952 -- so in 72 seasons their program has only had a record above .500 on 16 occasions and have only been in the playoffs eight times. Three of those eight have been under Waters' leadership and half of the eight have been since Waters' first appearance in 2014. A lot of that time has been in a region that had Claxton, Savannah Christian and Calvary Day with area rivals like ECI and Johnson County.
That's a tall order since Day One but that hasn't stopped Waters and the program from working toward successes on and off the field with their student-athletes. Last season, the Eagles went 7-4 as a region runner-up and have followed up with a 6-0 start in 2023 with wins over Johnson, Screven and Claxton.
I got to visit during the bye week as they get ready for McIntosh County Academy in two weeks...
Coach Waters told me that the staff takes things day by day and they prepare four times a week. After the game ends on Friday night, the team lives with the end result and they don't talk about it a whole lot.
"The kids, I'm sure, talk about it amongst themselves," he tells me. "We reminded them after the win last week against Claxton that everything up to now doesn't mean anything since we're starting region play. We have to keep getting better. We control what we control within the 48 minutes we go and play.  And I know that may sound, kind of, philosophical in how we do things. But we have to keep putting ourselves in positions to win each week."
The Jenkins County community is, naturally, very excited with this start. Everyone is going back into the history books trying to figure out the last time the Eagles started a season 4-0 or 5-0. Waters, as a local product, is a bit of a program historian and has the 5-0 start in 1955 and had the 2014 season as the last 4-0 when they lost to Calvary Day. When the Eagles played for the title in 1960, they hadn't even had that good a start.
"They're really behind us," Waters admits. "I have older graduates coming up to us to talk about the old days. But with region coming up, we've got MCA, Montgomery County, ECI and Portal to finish this season we started. They'll all be tough ones."
Since this is Waters' third time through the program, I asked him how different a coach he has become. And it was really interesting to hear more about the philosophical approach he has adopted. He admits he has been able to relax more as a coach and, in turn, help the team relax. He's more even-keeled than he was when he started and encourages the Eagles to "just play the game."
"The more ramped up we get as a staff, the more ramped up they get. You don't want any volcanoes out there. During the week, we'll practice two hours a day. That's it. The first time we did that was back in the 2014 season and we lost in the playoffs to Hawkinsville. So, we thought as a staff that since we didn't make it far in the playoffs, that meant we had to practice longer.
"We should do better, right? We went 2:45 in 2015 until 6:15 or 6:30 at night. I think we burned them out. We learned if we structure it right and we do it well, two hours is good. I mean, coaches have families and some of the team have jobs they go to at night. So, if we're done at 5:30, they get to work from 6-10. We go hard for two hours and then, we go home."
Learning from this mindset, the team actually asked late in the year to go a little longer to get some concepts down in big region games. If you believe and trust in what you're doing, Waters says, "more" isn't always best.
Region 3A-Division II will be very interesting in their sprint with all the talent on display, but we'll let them catch their breath for a sec...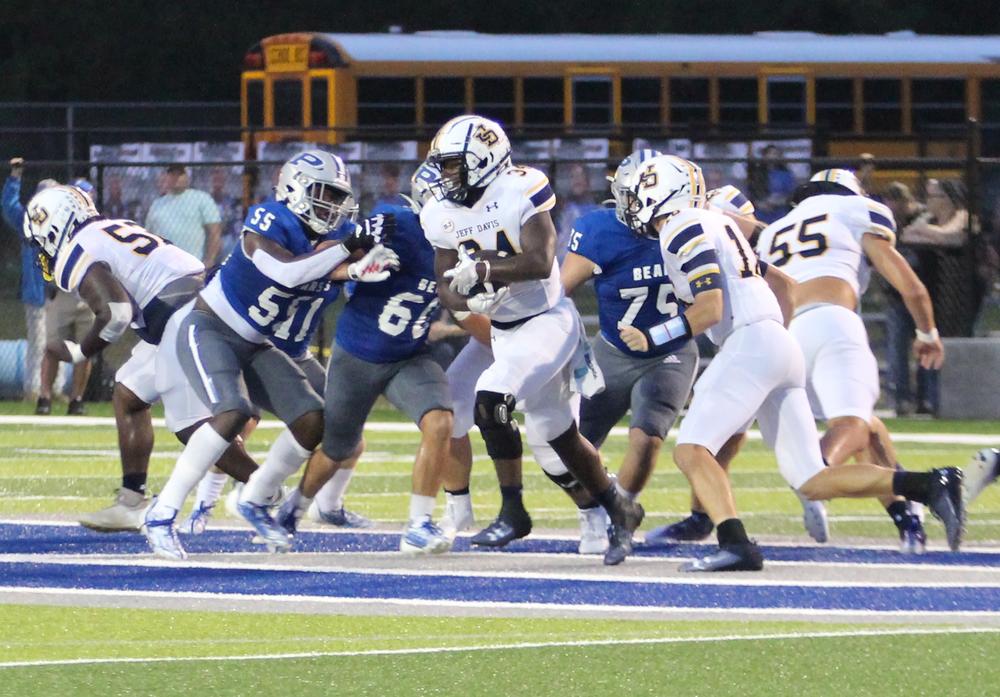 Our other stop this week is in Blackshear to catch up with Ryan Herring and, when he picked up the phone, he was trying to figure out his game plan against Appling County for a huge Region 3-AA matchup at home Friday night. His offense has put up some serious numbers -- not scoring fewer than 41 in a game. Defensively, they've only given up 30 points total to go 5-0.
"We're happy with what we've done at the halfway point of the season," Coach Herring tells me. "But we're in a region with some really good teams. Appling is really talented. Toombs, we've talked about, with their start. We know Vidalia is looking to get better each week as well."
Last season was the fifth straight double-digit win season for the Bears, but it was the first time in his tenure that Herring's team was not a region champ. They would lose to Fellowship in the quarters on Thanksgiving weekend.
"I think the No. 1 lesson we brought with us from last season was: we have to figure out how to play 'outside of a phonebooth' and play with the whole field. We have to be able to make teams defend the whole field against us at times. We've been really successful 'in a phonebooth.' But we have to be multiple-enough to make the field play wider.
"Also, we need to work on our depth where we can have enough offensive players where most of them can play on defense as well when we need. Getting ready for that means we work on our collective mindset and our culture here. They have to know we expect to work on that every day and that it's going to be tough when we work."
It's something they work on year-round, and, during the week it means that you have individual, group, and team periods on defense for an hour. Then, you have them on offense for an hour. Then, you have special teams work.
Every day ... and that's all they know at Pierce.
I had to ask about the battle coming up with Appling this week and Coach Herring gave me three pages of notes that I'll try and condense -- otherwise, I'm writing two columns this week and calling Coach Mullis for his side of the equation.
"They're so big on their defensive front, they look like a 7A team," Coach Herring says. "Their D-Line is so athletic, and their D-Ends could play for anyone, really. They've got a lot of size and speed and everyone finds a hole on that front. They cause things to go haywire. They can bull rush. They can speed rush. They've got good-looking linebackers. Their defensive backs all can run and they don't mind tackling, either."
He and his staff have seen a few games and knows it'll be difficult to run on them. The key is not to get into third-and-long against them.
"But you'll have third downs against them in every possession."     
And how they handle those third downs will be a big key on Friday night in Blackshear.
And we'll all be watching...
Play it safe, everyone... I'll see you soon... 
Secondary Content
Bottom Content