Section Branding
Header Content
Girls Flag Football Expands to North and South Georgia With Help From Atlanta Falcons
Primary Content
Girls flag football is taking Georgia by storm this fall. It all started with a pilot program for 19 schools in 2019, and now there will be more than 250 girls flag football programs in action this season across the state including several schools in South Georgia participating for the first time.
The Atlanta Falcons have been at the forefront of the growth of the sport and they have awarded 44 schools with grants for the upcoming season. The grants, supported by the Arthur M. Blank Family Foundation, will either help launch a new program or provide much needed funds to existing ones.
Most of the high schools that received grants this year are from the southern and northern regions of the state. Danielle Renner, Falcons Manager of Community Relations, has been at the forefront of the girls flag football efforts and explains why those regions have been targeted.
"Those are the areas that don't really have girls flag football right now, it's kind of few and far between, so we've really been pouring into them to try and get it up and running there. If you look around metro Atlanta, there's tons of girls flag football opportunities, but if you go further and further out, it just gets a little bit more skim so we want to make sure that we're really pouring into those areas. So those are a lot of schools that got the grant this year," said Renner.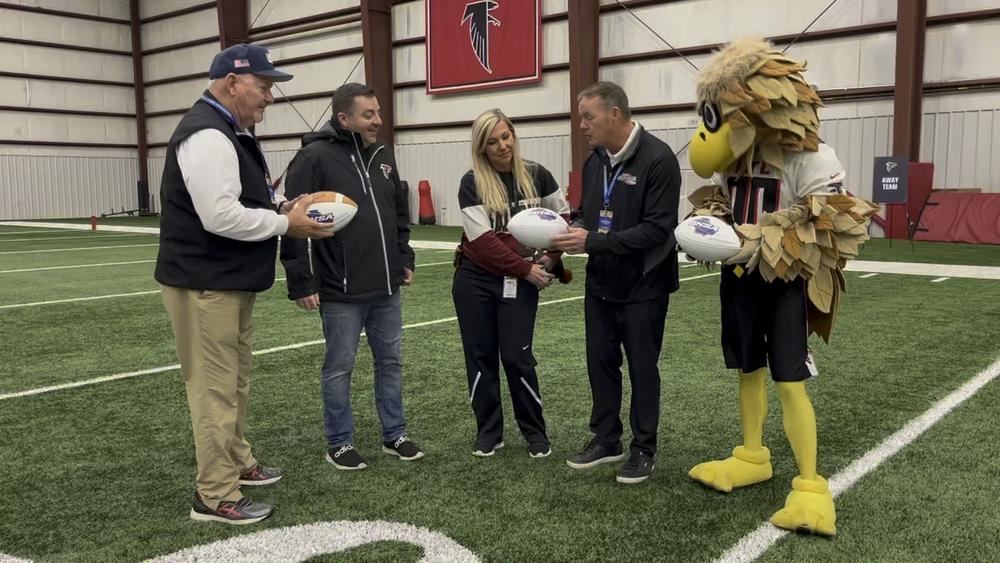 The Falcons have been giving out grants since 2018 and focus heavily on schools that are about to start a new program because first year funding can be slim. They also assist programs that had previous funding but may still need an extra boost.
Valdosta High School is among the schools that received grants this year to start their new team. Wildcats Athletic Director Reginald Mitchell has been a huge champion of the sport.
"We had to do a little more research to find out exactly how things are going to go, but fast forward… we put out a survey asking the young ladies around the school if they would be interested, and the numbers were overwhelming. As of right now we have over 200 young ladies signed up that are going to try out for us in May. We're going to have two teams and we're going to have 20 ladies on each team. So you're going to have 200 young ladies trying out for 40 spots," said Mitchell.
Renner explained that Valdosta was chosen for one of the grants because Mitchell wrote a "beautiful" application. "He basically said the impact that he's seen and how dedicated he was to getting the sport up and running. We thought this is going to be someone who's going to be eager to help us make a huge impact."
Mitchell said that the Wildcats plan to use the grant money for equipment, uniforms, basic coach gear and other essentials to get the program started.
The Falcons also chose Valdosta to host a flag football clinic this year to expand awareness throughout the entire region and it was a huge success.
"We've been working with Reginald for the past two months on this event and he has been fantastic. A big thing for us is we just want to host these events for people to come together, whether that was the coaches to get to network with other coaches that may be new to the sport… or the athletes just getting another opportunity to either try the sport for the first time or scout out what competition is coming down in the fall. It's just really great to see everyone come together, bond over the love of the sport and they get to do it completely for free," said Renner.
"Just seeing all the girls and the coaches there and all the love for girls flag football and where it's going was truly inspirational," Renner added.
Athletics is an integral part of the Valdosta and South Georgia communities, so it comes as no surprise that girls flag football is such a big hit already. Mitchell said the Wildcat ladies are ready to get started!
The list of Georgia high schools receiving grants from the Falcons for the 2023 season: 
High School 

County/District

Alexander High School*

Douglas

Callaway High School

Troup County School System

Chamblee High School*

DeKalb 

Claxton High School

Evans

Colquitt County High School*

Colquitt

Creekside High School

Fulton

Cross Creek High School*

Richmond

Discovery High School

Gwinnett 

Dougherty Comprehensive High School*

Dougherty

Dr. Martin Luther King Jr. High School

DeKalb 

D.M. Therrell High School

APS

East Jackson High School*

Jackson

Emanuel County Institute

Emanuel 

Fannin County High School*

Fannin

Fayette County High School

Fayette

Greater Atlanta Christian School*

Gwinnett

Green County High School

Greene

Harris County High School

Harris

Herschel V. Jenkins High School

Chatham/SCCPSS

Hiram High School*

Paulding

Houston County High School

Houston

Jackson County High School*

Jackson

Jackson High School

Butts

KIPP Atlanta Charter High School*

APS

LaFayette High School*

Walker County

Laney High School*

Richmond

Long County High School

Long 

Lowndes High School

Lowndes

Macon County High School*

Macon/Macon County School System

Monroe Area High School*

Walton

North Clayton High School

Clayton

Perry High School

Houston

Peachtree Ridge High School

Gwinnett

Richmond Academy*

Richmond/Richmond Board of Education

Spalding High School

Griffin-Spalding

Statesboro High School

Bulloch County School System

Swainsboro High School

Emanuel 

T.W. Josey High School*

Richmond

Valdosta High School*

Lowndes County/Valdosta City Schools

Veterans High School

Houston 

Villa Rica High School*

Carroll

Washington County High School

Washington

Windsor Forest High School*

Chatham/SCCPSS

Woodville Tompkins High School*

Chatham/SCCPSS

 

*Denotes schools launching girls flag football programs in 2023
GPB Sports will stream a girls flag football game of the week all season long and will televise the state championships Dec. 12-14, along with boys tackle football. Follow us on social media @GPBSports for all the latest news and updates leading up to the 2023 football seasons and visit gpb.org/sports for more information on how to watch the games.
Secondary Content
Bottom Content