Section Branding
Header Content
Mays Keeps Its Success Story Rolling into Quarterfinals
Primary Content
The high school football season usually starts with morning practices in August before classes start and practices shift to the after-school hours. If you have a good season, you make it to the playoffs. If you have an exceptional season, you make it to the quarterfinals. This is quarterfinal week and there are no classes, so teams can have practice in the morning again. A full-circle moment for sure, plus it's Thanksgiving week. For those teams who have yet to put their gear away, there is much to be thankful for.
"We put on our vision board, back in August, that we wanted to play and practice on Thanksgiving," recalls Mays head coach Tony Slaton. "So for this week the idea is to get them in early, put in the work, then get them out of here to spend some time with family. But our main focus is Friday night. We go down to Dutchtown and try to come up with a win."
Slaton is in his ninth season at Mays, but it's his first season as head coach. He ascended to the top job when Nikita Battle departed in May after six seasons leading the Raiders. Slaton implemented some changes, like a 7:45 a.m. breakfast, and a team dress code that included designated days for collared shirts, business attire, and jerseys and jeans. It was a culture shift that got families involved.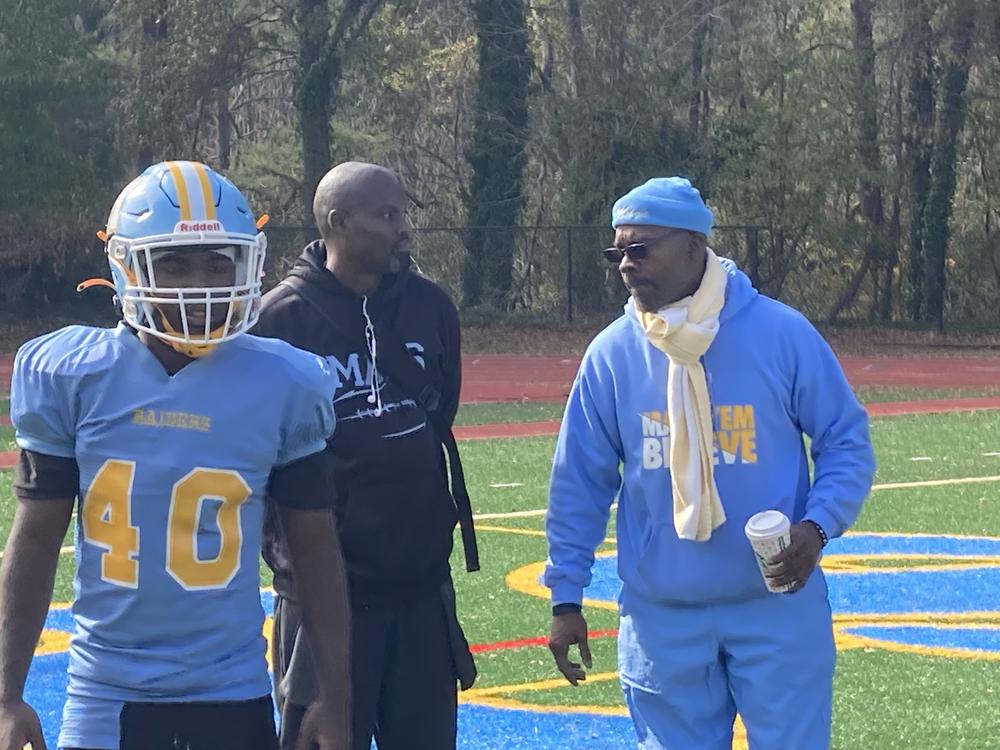 "It all started with the parents buying into to the way we were going to do things," recalls Slaton. "A lot of our kids didn't get to play middle school football and didn't play in the ninth or 10th grade due to the COVID situation. We are a very young football team."
Coming off back-to-back 3-7 seasons, the Raiders seemed loaded with potential, but low on experience. The team needed some leaders and Slaton was pleased to see leadership come from the place where he needed to see it most.
"One of the most improved players on our team is quarterback Saulamon Evans," beams Slaton. "Throughout the season we have watched him grow into the player and leader that a quarterback should be. We put it on his shoulder, and he has stepped up to the challenge."
Before departing, Battle left a challenging schedule. The Raiders lost non-region contests against Douglas County and Class 6A No. 1 Hughes and with their season mark at 2-2 faced region rival Creekside on a game that was moved to Monday night. The Seminoles won a 22-21 thriller, but the Raiders' season would be changed.
"A lot of the kids have grown up together and played rec ball together," says Slaton. "A lot of the coaches at Creekside and on my staff know each other, went to school together or even played college ball together. It was like a sibling rivalry, playing a game in the backyard. It was about being disciplined and fighting through to the end. It came down to a two-point conversion that Creekside got on us, but our guys didn't feel defeated, even though it was a loss. That helped us know that we could play with the best of them."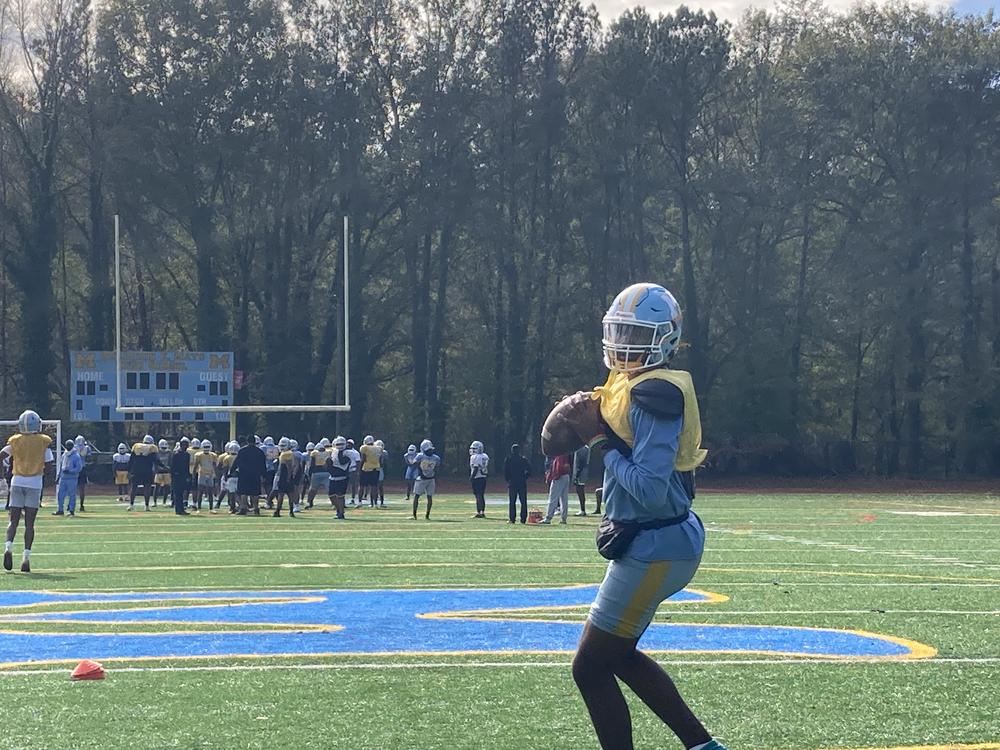 Another region loss followed and with their record now at 2-4 the Mays defense took the lead. The Raiders beat Villa Rica, Tri-Cities, and Banneker without surrendering a single point.
"We were fortunate to have three shutouts in a row," says Slaton. "It helped the confidence of our defensive players. They gave up points in the last regular season game, but it gave them a chance to learn from mistakes. In all, we had four shutouts this season. Great for the confidence."
That confidence propelled the Raiders to a five-game winning streak heading into their second-round matchup with a Cass team that pulled off the upset special the previous week by beating Jefferson.
"Cass has a really good football team," recalls Slaton. "The coaches did a great job with those kids to have them prepared to go to Jefferson and come away with a big win. That was huge for their program and for the community. We didn't get caught up in the hype. We just came out playing Mays High School football. That's to play fast, play physical, be disciplined, be enthused and to win the game. We checked all those boxes on Friday night"
Triston Morgan had 18 carries for 178 yards against Cass to lead the attack.
"He's been in the program for four years and is a really hard-nosed runner," Slaton said. "Our other running back Quintarion Kelly was down on himself because he had two turnovers. He ended up with six carries for 89 yards and a touchdown. The running game was solid for us against Cass."
This has been a very special week at Mays. The Raiders are back in the quarterfinals for the first time since 2017. Slaton says that alumni and parents have provided food for the team each day. There is even a team meal planned for Saturday, regardless of the outcome of Friday night's game.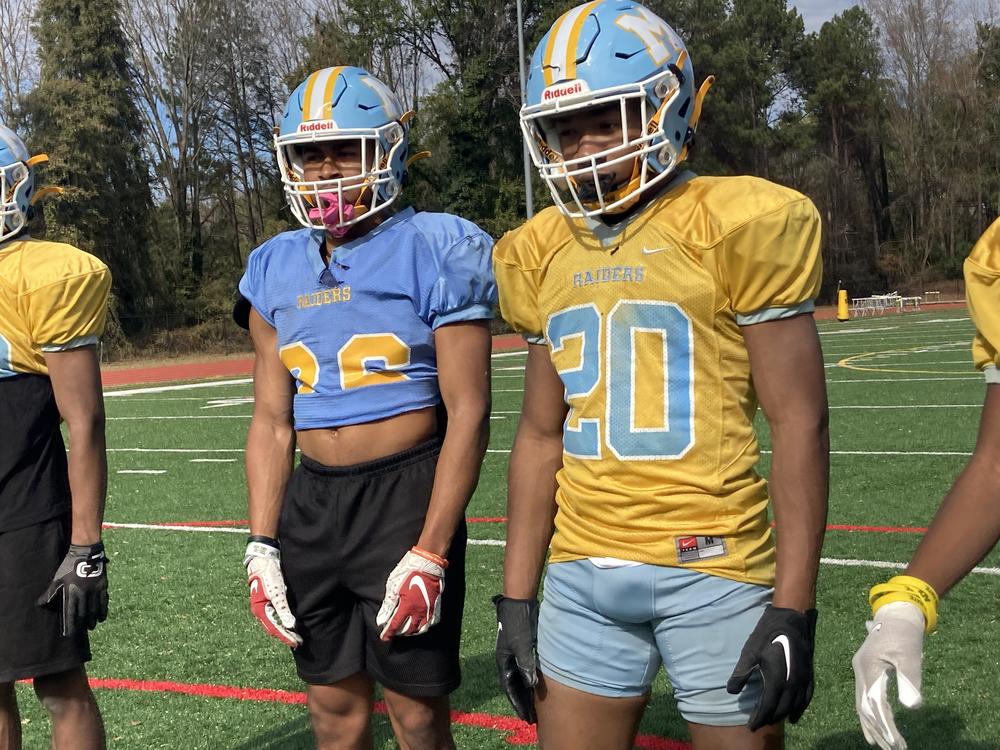 Oh, by the way, there is a that game. Mays faces a Dutchtown team that brings a record of 11-1. Like the Raiders, the Bulldogs defense had four shutouts this season and there is that person that both programs have in common. Coach Nakita Battle is still fresh in the memories of the Mays players. His success at his new post in Henry County comes as no surprise.
"Coach Battle has done a fantastic job at Dutchtown," says Slaton. "Being with him when he took over here at Mays and knowing what he brings to the table … structure and disciplined, I knew that he would be fine down there and keep their winning tradition going."
This will be the first meeting between Mays and Dutchtown in football. There is no history there, but there is a connection between Battle and Mays. Both coaches are keeping focused on the game. Any showing of sentimentality will have to wait.
"Maybe reactions will come after the game," says Battle. "Right before kickoff I may feel something. I'm so tunnel visioned and looking forward, I can't look back. I know that my kids are waiting for me to show some form of emotion. I'm just blessed that I don't have it right now. "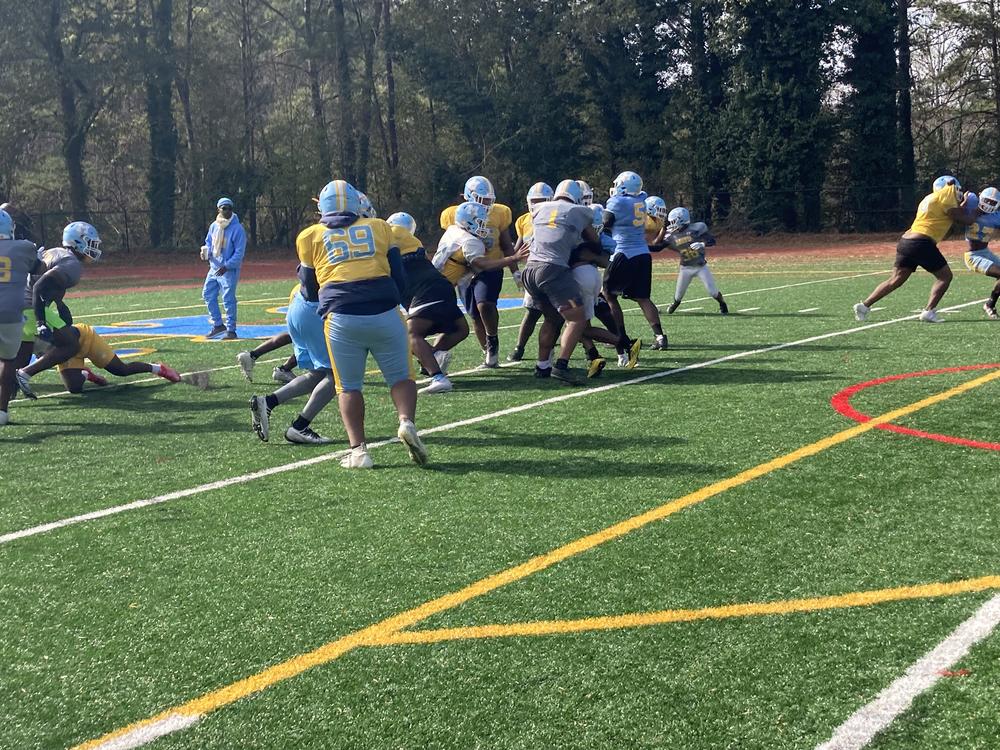 "Coming into this week I have heard a lot," says Slaton. "You're playing your former boss. What do you think about it? It's not Coach Slaton against Coach Battle. It's Mays against Dutchtown. We do similar things so it will be like two brothers going against each other. Let's see who can prepare our teams well enough to get the win."
The Mays Raiders are among the bright spots for Atlanta Public Schools this fall. Six APS teams earned playoff berths, with four advancing to the second round. This week Carver and South Atlanta will join Mays in the quarterfinals.
"It's really great for Atlanta Public Schools," says Slaton. "It really shows the type of talent that we have, with the kids who chose to stay with their home schools and play together. I think at each school we have kids who played recreation ball together and middle school football together and that's what you see. It says a lot about the coaching that we have at these schools."
This week Football Fridays in Georgia will feature Walton and Carrollton. Kickoff is at 7:30 p.m. on the Great GPB! Happy Thanksgiving!
Secondary Content
Bottom Content