Section Branding
Header Content
Harlem, Social Circle and Berrien Still Living the Playoff Dream
Primary Content
Welcome To Game Twelve!
With Round One of the playoffs in the barn, we now have the Field of 128 chasing titles at GSU and there's some interesting numbers we can carry with us to this weekend...
Top-10 teams and top seeds were dominant ... not a surprise ... and the offense that some teams put up in their wins was staggering.
Forty-one teams won by scoring 40 points or more, 13 won by 50 points or more, and 10 teams won by scoring 60 points or more. Two teams (one who we'll catch up with down the page) broke their 40-plus year losing streaks in the postseason. Twenty-one lower seeded teams won in Round One (7A-2/6A-3/5A-2/4A-1/3A-5/2A-3/A Div. 2-4/A Div.1-1) out of the 127 matchups (a batting average around .167) and three of the winners in Round One had never even won a playoff game in their respective school histories.
You can hear from one of those schools on the "Football Fridays in Georgia" podcast later this week as we visited with head coach Kurt Williams and the Lanier County Bulldogs.
Harlem shut out Long County 28-0 in the Class 3A playoffs. It was Harlem's first postseason win since 1981 but their first-ever state-playoff victory. They were 0-8 going in. The last time the team made it out of the old region playoff format was all the way back to 1974 and the Class A quarterfinals.
Mark Boiter is in his third season and has taken the team from a two-win season to a 5-6 season to the first double-digit win season in school history. The other element in all of this is that Boiter is an alum who is coaching at home. When we caught up last week, he told me that when he interviewed for the job when he was an assistant, he said he wasn't just interviewing to be a head football coach at Harlem- he was interviewing to be the head coach for Harlem. It's the only place he wants to be a head football coach.
He has been an assistant coach there and took over for Todd Booker when he became an assistant principal at the school. Boiter knew he had big shoes to fill back in 2020. Todd Holcomb caught up with him with his Four Questions column over at GHSF Daily last week and this question resonated with me:
What have you and the staff done that's made the most difference in taking the program to the next level? "All credit to our players. Their work and their commitment have been outstanding. Our staff works incredibly hard to put our guys in the best position possible so that they can make plays, but it's been the work and commitment of our players that has been the difference. We talk to them often about leaving a legacy for future players, and they have done that. They understand that there is more to be accomplished this season as well. We still have goals yet to be achieved."
Next up for Harlem is a home game with Carver-Columbus...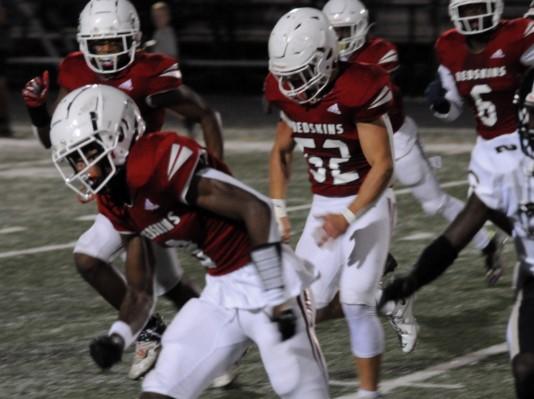 Social Circle last won a playoff game in 2005 when they finished 7-4-1 under Ken Stoudenmire and they're one win away from tying the school record for wins at nine. Rob Patton and his staff are in their third year with the Redskins and have gone from a five-win team to a six-win team to an 8-3 mark after their win over Whitefield Academy in overtime, 10-7.
"I would have been very thankful if you would have told me we would be here at the beginning of the season," Patton tells me. "If you would have said that three years ago, I might have said you were crazy. But we have a good senior class of 15 players and everyone here has put in a lot of hard work."
Social Circle started out with a game against a bigger Morgan County team this year -- on purpose.
"They're bigger than we are and we got thumped," Patton admits. "We just couldn't stop the run in that game. But you schedule folks to see where you need more work. They whipped our tail, but it sent a message to our team. Then, we got an upset win over Lamar County a little later in the non-region schedule that made the state take a little notice (39-7). We, then, lost to a great running team in Commerce in overtime. But we learned some things there, too."
In Region 5-A Division I play everyone was making the postseason, it was just a matter of the "where." Patton credits Ashley Henderson and the job he and his staff are doing at Monticello and admits that Oglethorpe County is a tough team as well. Then, there was the winner-take-all for the region title against Prince Avenue.
"We were able to hang with them until the half. But that game reminded us that to beat a team like that, it's going to take a full four quarters. It also set us up for the game against Rabun County because of how they pass the ball."
The game with Whitefield in Round One was another recall of the past -- the Commerce game. Turnovers and a missed late kick cost the Redskins in the regular season, but the game last week would be different.
"Our defense got a turnover on the first play of OT and we have a sophomore kicker with ice in his veins that made the kick," Patton says. "He made my weekend and a lot of other people's weekends, I'm sure. It's been incredible here. It really has. The stands are always packed here. This weekend, it'll be a different environment for the team but we're looking forward to it and to traveling to Rabun County."
Social Circle is also going to get in one of those "wintry, cold, true" practices for this time of year with what we're seeing out our collective windows.
"It'll be good to have one of those before Friday..."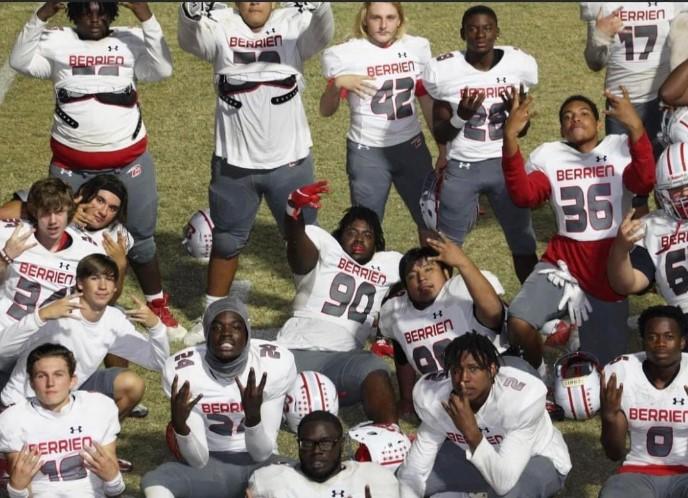 Berrien won its first playoff game since 1991 when head coach Tim Alligood and the Rebels beat Region 2-2A champion Spencer 43-36. With a record of 7-4, they're now one win away from tying the record for wins in a season in Nashville.
"I thought it was a very good possibility for us to be where we are right now," Alligood tells me. "It was a disappointment not to get into the playoffs last year and when we lost a nailbiter this year to Clinch County, I still had a good feeling about our team. We had multiple chances to win that one."
Berrien's senior class is 15 and that's a pretty solid percentage of the roster. Most of them have played four years of football for Berrien as they've gone from two two-win seasons to a four-win team last year to this year. There was the share of nailbiters again all through the schedule -- wins and losses -- but if you ask coach Alligood it came down to making plays at critical times that got them into the postseason.
"I felt like we should have won the Worth County game," he admits, "but I thought we were going to be a decent team. Against Lanier, we trailed most of the game. But we didn't panic and we won, 14-10. I think it tells you a lot about a team in games like these where you see their confidence, for sure."
With a larger region than in years past, you know naturally, you're going to have to win more games to get into the playoffs. You wonder how your new region mates are going to be as opponents and you find out a lot about yourself.
"We found ways to score that we hadn't in the past," Alligood says. "Against Worth, we had a pick-six, a kickoff return, and a fumble recovery. It was a bunch of different ways and I liked how we competed. Against Sumter, we hit a last-second field goal. And when you see yourself win, it gives you confidence. Against Dodge, we won in overtime. And against Spencer last week, we were down 13 early. We didn't get rattled and we found a way to win. We were really resilient."
Berrien won't have to travel all that far this week. It's a trip to Blackshear and Pierce County. But one thing Coach Alligood learned is how to travel. He was on Robby Pruitt's staff at Coffee and learned to break a day, like the trip to Columbus and the Spencer game, up into parts so you aren't slow getting off the bus. He credits the Berrien administration on understanding those elements of success and the Rebels left first thing in the morning. They made a day of it -- watching a movie, walk-through in Columbus -- and the result speaks for itself.
"It's a big thing to win a first-round playoff game around here," Alligood says. "I mean, it's been 30 years." And those last two words took a while for the understanding of the added significance where, for a long time, if you just beat Cook (your biggest rival) it was a successful season. "You can't just be satisfied with what we've done so far. You have to stay focused on the next big thing."
Coach Alligood gave me an example. After nine games this year, Berrien set a new record for points in a season in a win. They added to that number the following week, but it was in a loss.
"We have to stay hungry and keep chopping wood like we have been doing all year this week. Everyone around here has been ecstatic about all we've done and we've also done a good job, I think, of raising people's expectations here. We hope to continue doing that."
And we'll see what happens as we now have 128 chasing titles this time around...
Play it safe, everyone... I'll see you soon...   
Secondary Content
Bottom Content