Section Branding
Header Content
Parkview Regains Stride in Time for Playoff Opener
Primary Content
It's the opening week of the GHSA football playoffs and while play begins this Friday, the teams in the state's largest classification will find themselves waiting to play on Saturday. For Parkview head coach Eric Godfree playing on a Saturday in early November has caused a bit of a dilemma.
"Some of the coaches are talking about going to watch another game on Friday night," says Godfree. "There won't be any scouting. What do we do? Go and watch a game or break down more film?"
This year Classes 6A, 4A, 2A and Class A will play their first-round games on Friday, while Classes 7A, 5A and 3A will play their games on Saturday. Officials are the reason for the change. There simply are not enough of them and not all officials are certified for playoff games.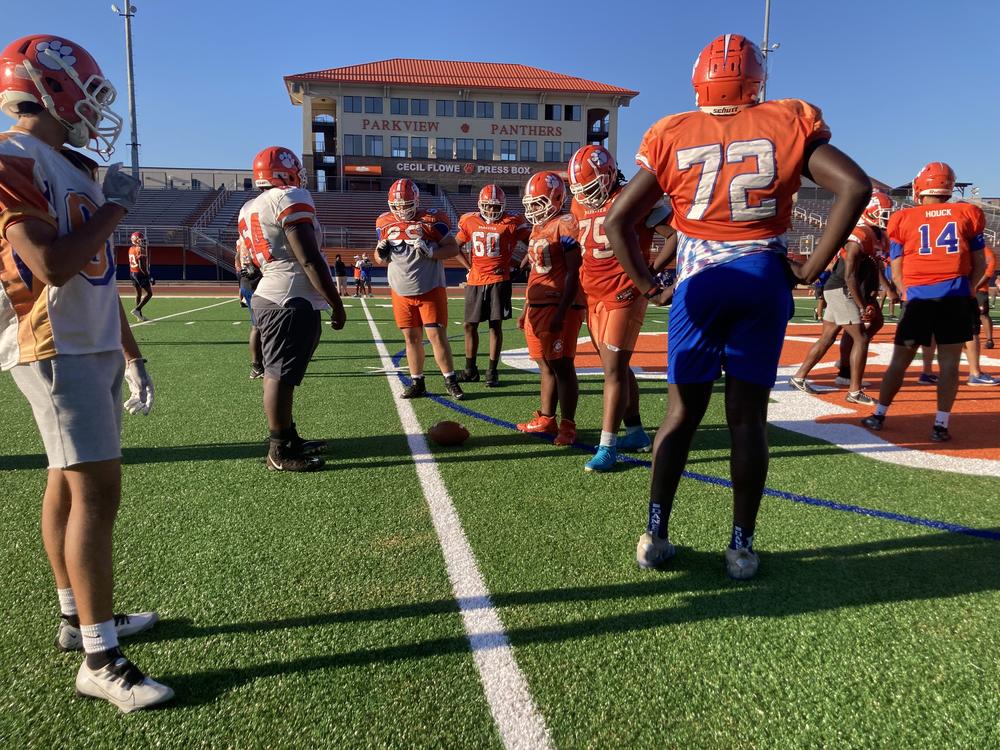 Godfree is looking at the bright side.
"We are actually liking the extra day," says Godfree. "We get an extra day for preparation, and an extra day to get back healed up from this sickness bug. With the flu going around, we've been hit by that, too, so we have quite a few players wrestling with that kind of stuff. Obviously we would rather play on Friday. Playing on a Saturday is just different. I do think it helps home teams a little more. You don't have to get out and travel on a Saturday."
Ah, the home-field advantage can make a big difference at playoff time. The Big Orange Jungle has a well-earned reputation for being a tough place to get a win at playoff time. I stopped by Parkview this week to get a look at the Panthers working out on their new turf field. Their season started with great promise but back-to-back loses to Newton and Brookwood left Parkview in need of a win headed into the regular-season finale against Grayson. Parkview got the win and will be perhaps the most dangerous No. 4 seed in Class 7A .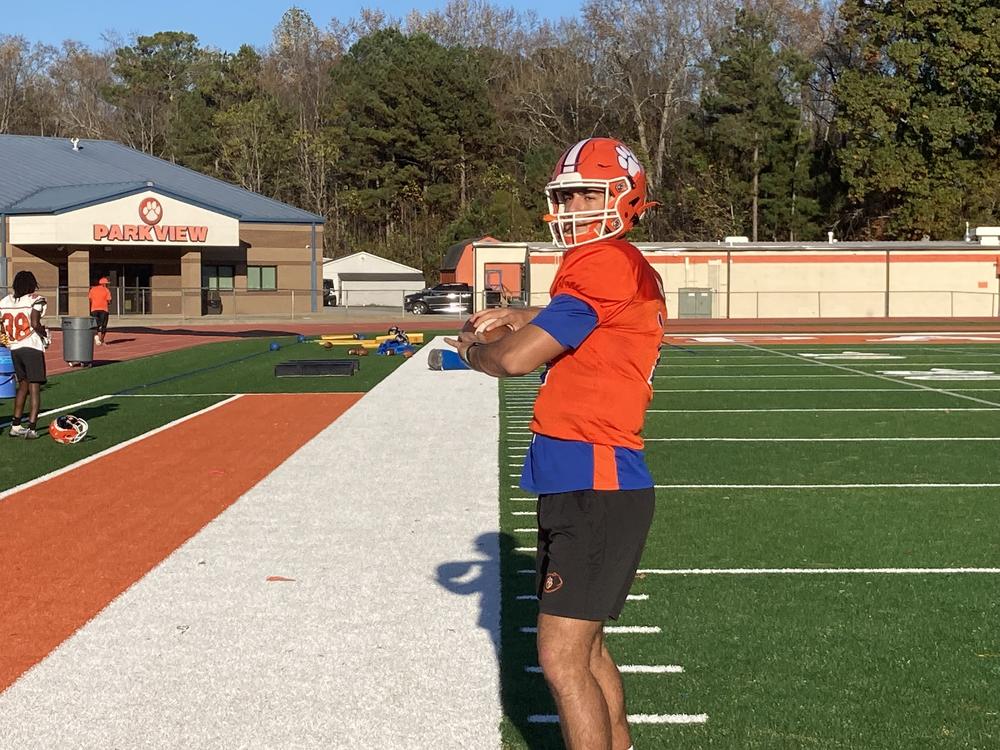 "Our first goal was to win the region and we didn't accomplish that goal," says Godfree. "I felt like we could have, but we fell short. Our next goal is to win the playoff games, one at a time, make it to the state championship game and win that game. We are in the playoffs, we are in the hunt and I think we are a pretty good No. 4 seed facing a great No. 1 seed in North Paulding. We are excited for the opportunity to be in this thing."
This Parkview team has a high-powered offense that can strike through the air or on the ground. where junior running back Khyair Spain has rushed for 1,958 yards and 14 touchdowns this season. Godfree knows that he is coaching the kind of running back that most coaches wish they had on their team.
"It gives you a great deal of confidence," says Godfree. "You don't have to worry about 3-and-out with a guy like Khyair Spain. The way he runs the ball, getting tough yards and he's hard to bring down. It really opens up our pass game as well. You can't just sit back and give us a light box, having a guy like Khyair Spain back there at running back."
At quarterback is one of the area's top two-sport athletes. When I visited Parkview during spring football drills Colin Houck wasn't on the field. He was playing shortstop for the Parkview baseball team. He is committed to Mississippi State for baseball and don't be surprised if he follows in the footsteps of Parkview legends Jeff Francoeur and Matt Olson as first-round picks in the Major League Baseball draft some day. This fall Houck has thrown for 1,886 yards and 20 touchdowns. The strong running game has been an ally.
"It has helped him out a lot," says Godfree. "Last year we didn't run the ball as well so defenses were sitting back on the pass. This year we are a lot more balanced and it has helped Colin as well. Our most improved unit as a whole from last August to now is the offensive line. They protected really well last week and with Spain's numbers running the ball the offensive line has done a great job of maintaining blocks, staying on blocks. Our offense has racked up a lot of yards and we owe it to the offensive line."
A major part of preparing for the game against Grayson was looking within. Sure, beating the Rams would be a tough task but the Panthers really needed to challenge the team they saw in the mirror first.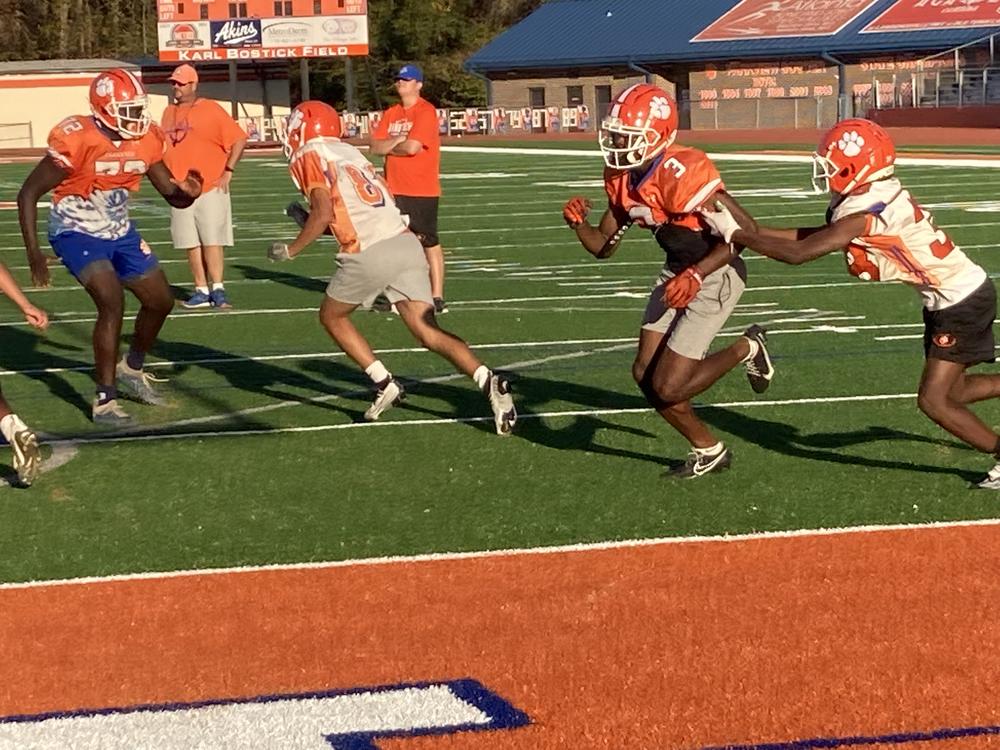 "We knew we had some corrections that we had to make," recalls Godfree."We weren't as disciplined as we should have been on the field. There were to many penalties and not getting lined up. There were some things we had to address during the week and it got the onus back on us to do those things correctly. We really emphasized those things during the week and it paid off Friday night."
The Panthers raced out to a 21-7 halftime lead on the Rams. Houck completed 14 of 23 attempts for 253 yards and three touchdowns, while Spain carried the ball 26 times for 222 yards and a score. The Parkview defense had a big night as well.
"Antonio White and Ira Singleton led our team in tackles," said Godfree. "Antonio had an interception and Ira had two sacks. Justin Nunn continues to play super solid for us at linebacker. Those guys all had really good games for us Friday night. Our defensive line played the best game it had played all season last Friday night."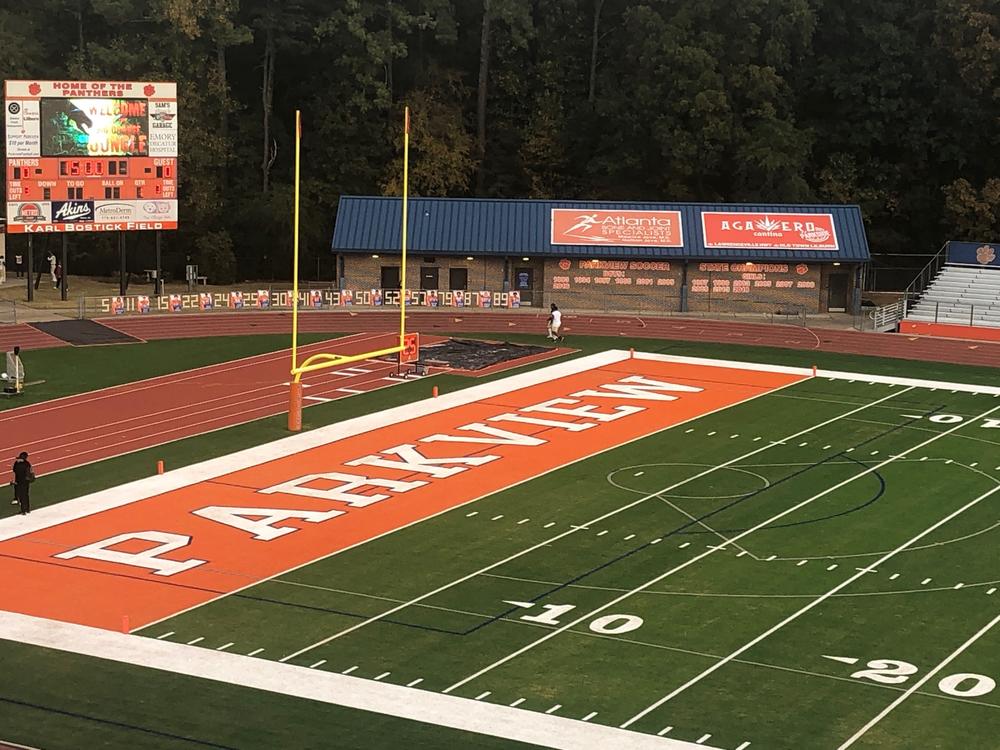 The 28-21 final score lifted the Panthers record to 7-3 overall and 2-3 in Region 4-7A. They made it to the postseason party but will have to wait an extra day and take a long ride across town for their first-round showdown at North Paulding. The 6 p.m. Saturday start time means tweaking the gameday routine.
"The coaches will pack the trailer, things we usually do on Friday after school," says Godfree. "We will get that done Saturday morning. The players will come in around noon and we will have offensive and defensive meetings. We will load the buses at 2:05. The goal is to get there by 3:45 so we will have time to get off the bus and we can move around a little bit. From that point on its business as usual."
This week Football Fridays in Georgia will feature a first-round playoff match between Blessed Trinity and North Forsyth. Kickoff is 7:30 on the Great GPB!
Secondary Content
Bottom Content