Section Branding
Header Content
Long Wait is Over for Roswell and Blessed Trinity
Primary Content
As the calendar prepares to turn from September to October, high school football fans get set to dive into that special part of the season. The part that includes region showdowns, bitter rivalries and of course, Homecoming! It's all getting moved around due to the approaching storm that is stealing the thunder from a game that most thought would never be played.
Blessed Trinity plays Roswell this week in a matchup of schools that are a stone's throw away from each other. The size of enrollment in the schools has been the main reason for no football games in the past. Last year's reclassification by the GHSA changed all that.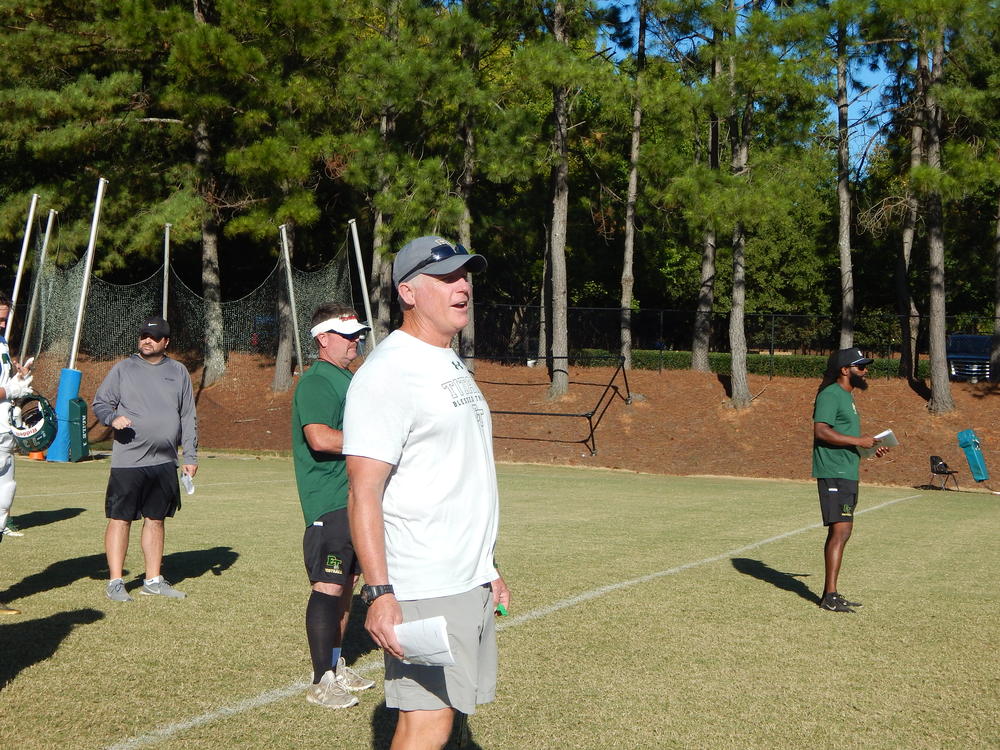 "A lot of our guys know their guys," says Blessed Trinity head coach Tom Hall. "That is causing some excitement. Our guys are embracing this challenge. I must say, they have been eyeing this one for some time. I would be lying if I didn't say that from a depth standpoint it's a bit of a challenge for schools our size to compete in 6A."
"You never knew if it was just someone wishing it or if it would actually happen with the reclassification," recalls Roswell head coach Chris Prewett. "Logically, it makes sense that they be with us. They are right across the street, they can walk to the game. I think the two communities have wanted to play for some time. Being in different classifications makes scheduling a challenge. Being in the same region (7-6A) now it just makes sense."
Depending on which coach you believe, the distance between the two schools is either one mile or a quarter of a mile. Tim McFarlin should know for sure. As head coach, he has led both schools to state championships. Once at Roswell and three times during his tenure at Blessed Trinity. McFarlin, who coached at both schools for ten years each and never had a losing season, now coaches at Fellowship Christian. The Paladins have a game this Thursday night, so McFarlin can't attend the first ever BT-Roswell meeting.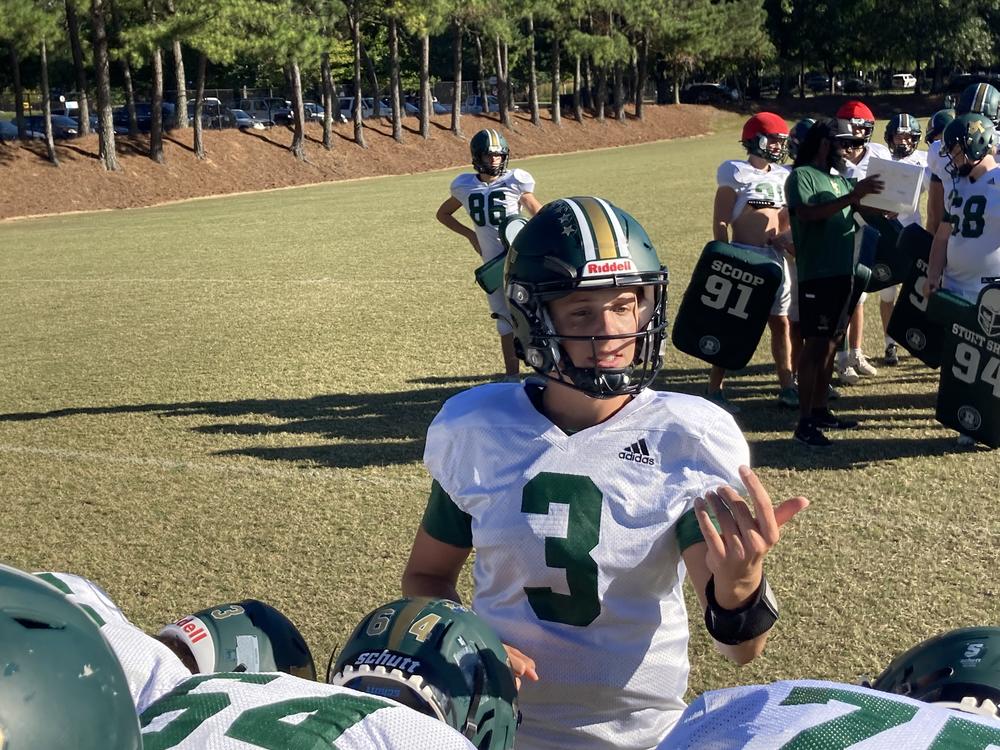 "I told (athletic director) Steven Craft at Fulton County that I wish they had not moved the game," says McFarlin. "I really wanted to go and see it. To be honest with you, it was something that I always hoped for because I think that it is good for the city (Roswell). We tried to make that game happen a couple of times, but there really wasn't a good reason for an upper-class team to play a team from a lower classification."
Hall took over at Blessed Trinity after McFarlin left and is in his second season leading the Titans. Last season's team made it to the semifinal of the state playoffs. This team is different.
"We are a young team," says Hall. "We have a lot of sophomores out there playing. It's a talented, but inexperienced group. We have a good offensive line and a sophomore quarterback (Brooks Goodman). We had a couple running backs that transferred out."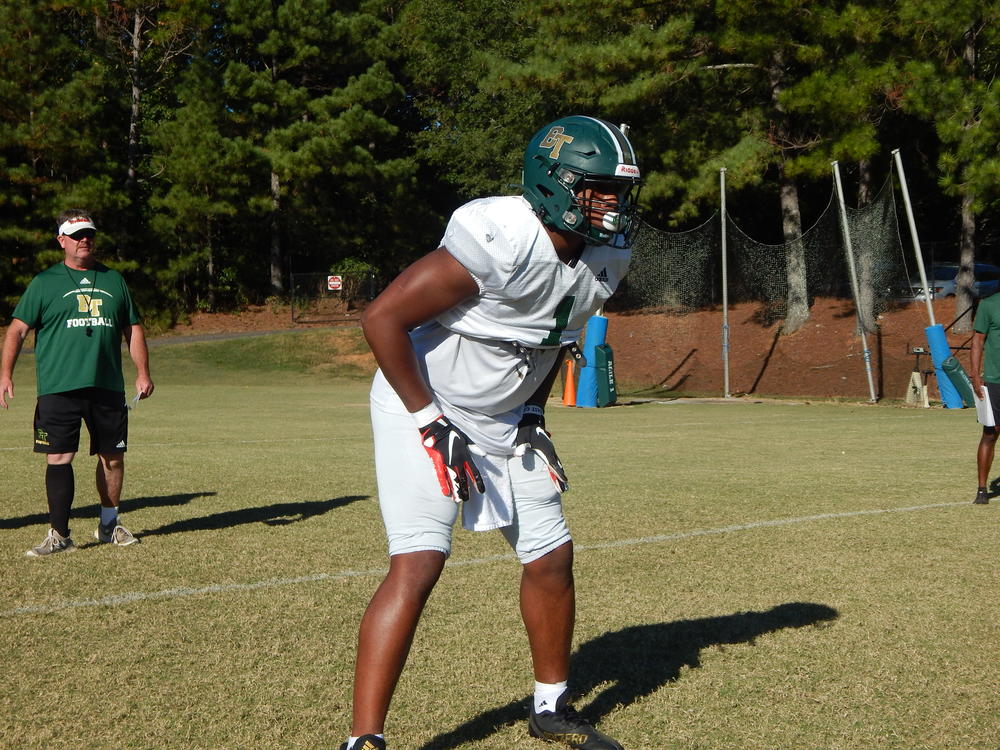 Senior running back Kieran Davis has stepped into the void created by the transfer of Justice Haynes and has rushed for over 600 yards and seven touchdowns this season. The Titans have thrived in a non-region schedule that included Calhoun, Eagles Landing Christian, St Pius and Marist before starting region play against Sprayberry.
"Last week against Sprayberry, an athletic team, we played well," says Hall. "I thought our defense played well. We struggled to run the ball as well as usual, but our quarterback played well for us. He threw for 145 yards and a couple touchdowns."
Prewett is in his third season at Roswell and led the Hornets to the quarterfinals last year. This year's team has more seniors than last year but is less experienced overall. The offense is moving under the leadership of junior quarterback K.J. Smith.
"It's been a work in progress," says Prewitt. "We are fortunate to have K.J. around our program for a good number of years. The great thing to say about him is that his last game was his best game. He does some things differently than Robbie (Roper) did last year. We are going to try to make their defense cover 53 yards wide and 100 yards up and down the field. As long as he's making the right decisions and getting in the right play, that's all we can really ask from a quarterback."
The game will present two contrasting styles of offense. Like most teams in the higher classes, Roswell likes to spread things out and the BT defense has seen it before. The Hornets defense should be on the lookout for a throwback when BT has the ball.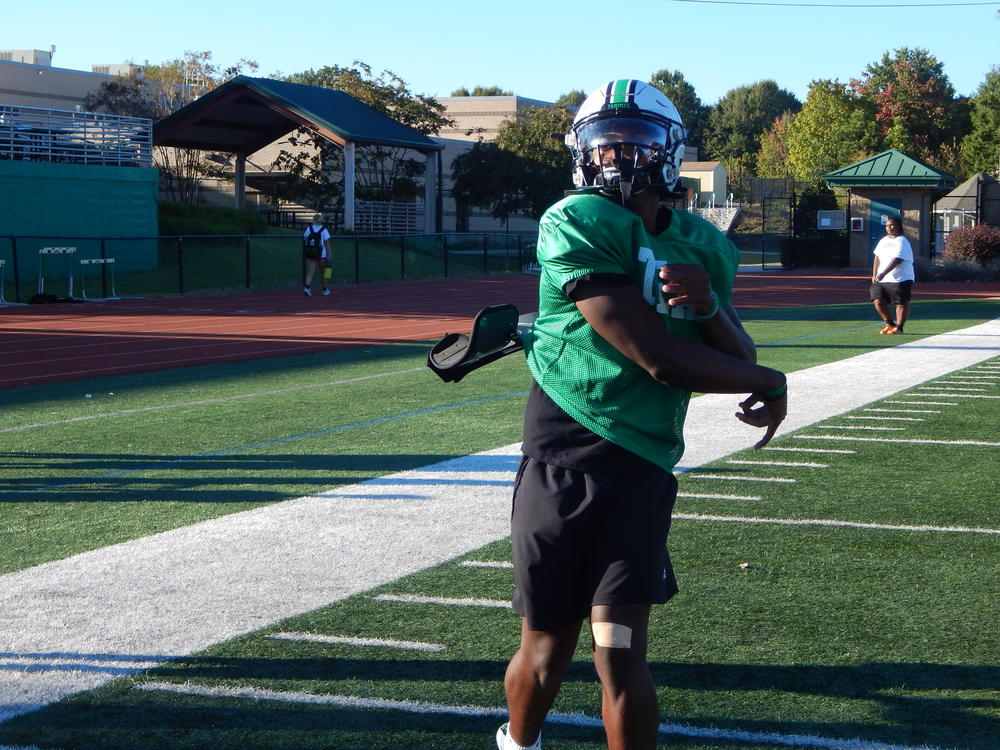 "Roswell can have all the film on us that they care to have," says Hall. "We are a pretty traditional team  We're not spread ... our quarterback is still under center. We still have two tight ends and sometimes a fullback. They don't get to see that very much and i hope that will be to our advantage."
With both teams sporting (4-1) records, it's a first-time matchup that will mean so much to people who live and work near Hwy. 92 in Roswell. The teams must play with one less day of preparation.
"We talk about adversity all the time," says Prewitt. "Both teams have adversity this week. There will be one team that takes advantage of it and makes it a positive and the other can use it as an excuse. Our guys wished we could play Tuesday, Wednesday or Thursday. It doesn't matter. I told our kids Monday that we might play Thursday and they were excited."
Whether it becomes a great rivalry or not remains to be seen. It may only last until the GHSA's next reclassification in 2024. This week a flame will be lit with a storm on the horizon and the "Wizard of Highway 92" is thrilled.
"It's a tight community," says McFarlin. "It will be a healthy rivalry. The Milton-Roswell rivalry is great, but I have always felt that a BT-Roswell rivalry could be one of the greatest rivalries in the state. I'm just glad to see it getting off the ground."
Due to rescheduling both Blessed Trinity and Calhoun at Cartersville can be seen tonight starting at 7:30 on GPB.org, in a Thursday night edition of Football Fridays in Georgia Calhoun at Cartersville will air Friday evening at 7:30 on the Great GPB!
Secondary Content
Bottom Content