Section Branding
Header Content
Two dentists, one pregame, no appointment needed
Primary Content
It was one of those rare things that you couldn't resist because of the symmetry involved...
In Adel, it's Dr. Michael McCartney at Adel Dental Associates. In Valdosta, it's Dr. Ron Reagin with his own practice. For one Friday night, they were in the same place entertaining a different kind of clientele.
They're the respective play-by-play voices for the Cook Hornets and the Valdosta Wildcats as the two teams squared off at Bazemore-Hyder Stadium in a non-region game. Valdosta won 34-7, but we'll get back to that in a bit.
Dr. McCartney was raised outside New York City and listened to the voices of folks like Marv Albert breaking everything down for the hometown teams. He would add University of Georgia voice Scott Howard as a touchstone for his emotion and approach. Dr. Reagin is from Moultrie, played at Colquitt County under head coach Jim Hughes, and grew up listening to local radio legends Durwood Dominy, Darrell Strange, and Jim Turner.
And that's their reference points as they tell their respective tales on Football Fridays.
"I started back in 2002 and I was doing some voice over work at the station that broadcasts Hornets games," McCartney says. "One of the members of the broadcast team wanted to go back to coaching and they asked me at the radio station if I wanted to do it. I had to ask my wife if it would be OK since it would take up our Friday nights. She said yes and I started as the color commentator before sliding over to play-by-play four or five years later."
"In 2016, my daughter was a cheerleader and I would spend time on the sidelines. So, I would get to know the supporters and the sideline reporter job became open to be on the air with Monty Long and Dirk Harrell. It was at the same time that Alan Rodemaker became head coach so there was a bit of a natural fit there, too. After two years on the sidelines, Monty moved north and they came to me and asked if I wanted to take over play-by-play.
"I told them I liked being on the sidelines and I liked being there with the kids. But Dirk really went for the hard sale."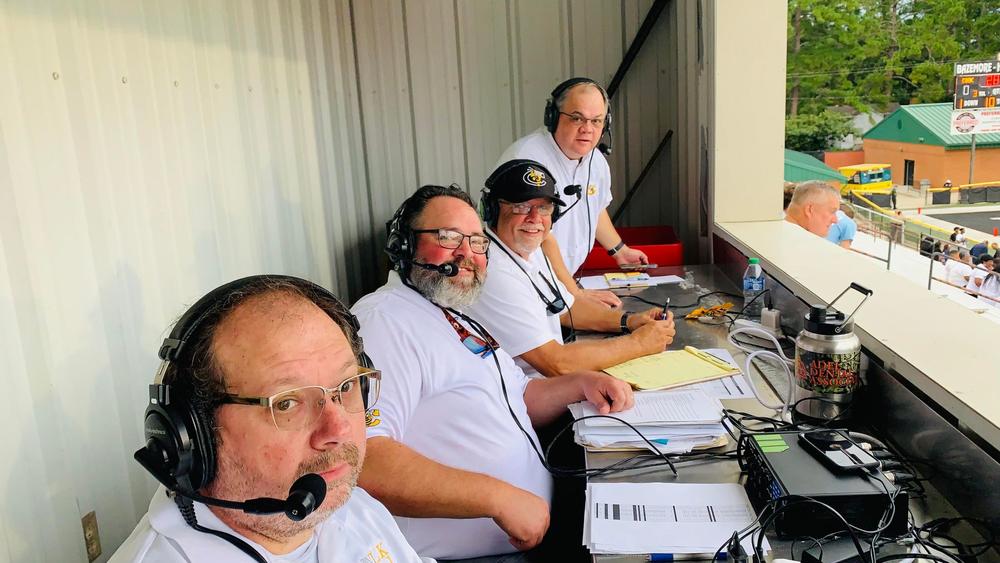 Dirk went to Dr. Reagin and told him that he really wanted him to do it. So, Ron moved into the play-by-play chair and admits he was surprised how well it went. He misses the sidelines and the huddles -- those sounds you don't get by being in the press box -- but he loves his job and being with Dirk in the booth.
Dr. McCartney admits he's a little busier with adding duties with the Cook Touchdown Club as they are meeting more as the season is ramping up. He'll spend four to five hours with his reports, preps and everything he's printed to work for the coach's show and the Hornet games. The program itself played a non-region schedule and has come a long way since the late 1990's. There were the back-to-back semifinals appearances, and the team has made the postseason every year since.
"When I first got down here from the northeast," McCartney says, "the teams were not very good. You had a situation where coaches wouldn't let their players crossover and play other sports. You also had a situation where there were other kids wandering the halls and you wondered 'Why isn't he playing sports here?' Those students would be going to jobs and such.
"But things have really changed. Football really is a part of the fabric of the community here. You can talk about the new stadium here, too, as a part of it all."
Everyone knows Valdosta's pedigree, but last year was an anomaly. With a postseason ban in effect, there wasn't anything to play for.
"It was a different year," Reagin admits. "You really couldn't have expectations even as they are normally always winning region and winning a state title. Expectations here are always high and the fans expect you to play for a title every year.
"The kids have really responded to Coach (Shelton) Felton and it reminds me of when Coach Rodemaker was here. He and the staff may be hard on the kids, but they love them. You see a lot of that from Coach Felton here."
Reagin and the Valdosta Wildcats have an hour-long pregame show and they welcomed Cook to town. They hosted McCartney and his team in their first segment before Doc Mike had to start their 30-minute pregame their own selves.
Two dentists, one pregame, no appointment necessary to listen.
"It's ironic, but it's a lot of fun," McCartney says. "Believe it or not, there was a third dentist, Dr. Ashley Moorman that was a part of the south Georgia rotation when he called Valwood games and they played our schools down here."
"I didn't know Mike's history until I started here," Reagin admits. "I do miss out on things since I don't have any social media. But we are colleagues in different ways now. There were times we would cross paths as dentists. We would have patients come from different directions and recommendations and they would be linked to us."
They're now linked again.
McCartney admits his style is trying to be as matter-of-fact without being a homer. Reagin would listen to Monty Long, formerly the voice of the Wildcats, and has him and Florida play-by-play announcer Mick Hubert as his reference points. You'll be able to recognize him with his big info sheet he carries to the booth. If there's any piece of info he thinks he needs for a game, it's on that sheet.
Trust me...
When you ask these two passionate announcers about their teams, McCartney feels Cook head coach Byron Slack is going to put his best 11 against the other best 11 with, about, 55 kids on his roster this season.
"Coach Slack will tell everyone that we all put our uniforms on the same way and they won't fear anyone when they lock the gates and get ready to play. They didn't flinch last week against a 7A school in Valdosta -- even in a 27-point loss. The kids played really competitively. It'll be another measuring stick playing Brooks County this week."
McCartney thinks that the early season predictions on where Cook will finish in region are a little low. The same for Reagin's Wildcats: "Folks think Colquitt is the team to beat, but I think we'll be right there with them in Region 1-7A."
Safe to say, it wasn't like pulling teeth to get these two to talk about their similarities- on the field and off. But, when you get them to open up, their mentors come from nearby legends that are great guides for all of us on Football Fridays.
Enough with the dental puns for one week, right?
But when the doctor will see you, we'll hear him carrying the story in two great football communities this season -- and beyond...
Play it safe, everyone... I'll see you soon...      
Secondary Content
Bottom Content