Section Branding
Header Content
Talented North Cobb Faces Daunting Schedule in 2022
Primary Content
Many of us are familiar with the Charles Dickens novel Great Expectations. Like me, you may have been required – or forced -- to read it during your high school years. "Great Expectations" might be a fitting slogan for the 2022 North Cobb Warriors. After back-to-back 10-2 seasons and Region 3-7A championships, the word is out that North Cobb is loaded with talent and that this could be their year.
I ventured to Acworth during spring football and sure enough the Warriors drew college recruiters from Power 5 conferences right on down to Division III. After two years of recruiting virtually, this spring representatives of college football programs resumed high school visits and from what I was able to see, visiting North Cobb was at the top of many lists.
"This will be our 17th season," says North Cobb Head Coach Shane Queen. "When the coaches come here they know our guys are going to act right, have good grades and do what they are supposed to do in the classroom. They will go there with a chance to play early because we have been preparing them for the next level. We had 118 college coaches come by here during spring football."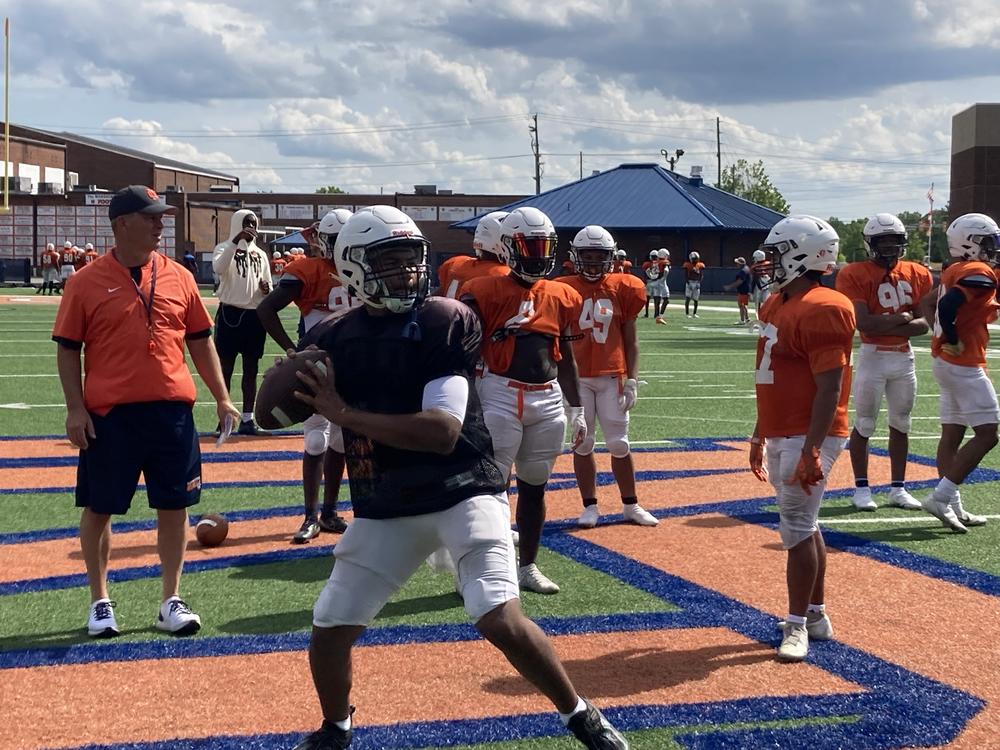 The Warriors were indeed prepared to work out before the steady stream of college coaches. Even in May, the practices were crisp with attention to detail. The coaching staff was planting seeds they hope will produce a victory harvest in October, November and beyond.
"We spent this off-season working on the little things, trying to get better every day," recalls Queen. "We have a mantra here of 'Win The Day, Win In the Weight Room, Win In the Classroom and the End Result Will Take Care of Itself.' We've had a great summer and a great couple first weeks of school, so everything is rolling along. Hope we can stay healthy through this SEC schedule we got." Stay tuned for more on that SEC schedule.
Speaking of the SEC, North Cobb's field general will be headed there next year. Just days before my visit to the Warriors spring workout, senior quarterback Malachi Singleton committed to Arkansas. Last season Singleton threw for more than 2,000 yards and 21 touchdowns while running for close to 900 yards and 22 touchdowns Queen knows that having Singleton directing the offense the Warriors will be hard to stop.
"When he has the ball in his hands you have a chance to be successful," says Queen. "He does the right things on the field. He has a 3.7-3.8 GPA. He works with the youth league quarterbacks and brings them up on the weekends. He's just the total package. Arkansas is getting the real diamond in the rough."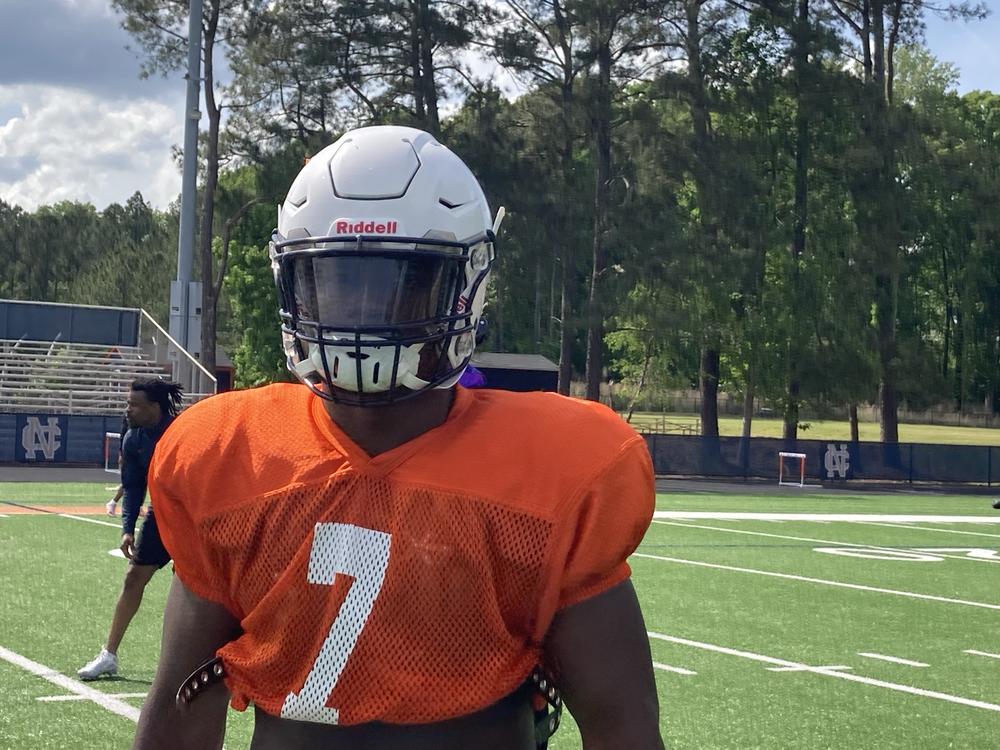 Running back Ben Hall (Michigan), tackle Robert Grigsby (North Carolina) and defensive back Quentin Ajiero (Duke) are other DI commits.
"Now they can enjoy their senior season," Queen said. "They don't have to worry about getting up on Saturday morning, going all over the county and being tired when they get back on Monday."
Those are just a few of the players who will be members of a bountiful 2023 signing day class from North Cobb. Now you see why those Great Expectation are in order for the Warriors this season. Queen knows his team can't hide and welcomes those expectations.
"Obviously a lot of people, especially the media, put some pressure on us," says Queen. "I like the pressure. It brings a responsibility that your program is at a point where people are expecting you to do something great."
Last season's team featured an offense that posted 40 or more points games in nine of the 12 games. That included scoring 51 in a region win over Walton. But the memories of the two loses linger. The Warriors opened the season with a loss to Buford in a game that was an emotional rollercoaster. But it is the second-round playoff loss to Roswell that remains a bitter memory. The late Robbie Roper willed the Hornets to a dramatic victory that still stings the Warriors.
"We felt like we had a great week of preparation," recalls Queen. "We didn't punt the whole game. We averaged 9 yards a play. We didn't play our best defensive game. Roper went out and had a career game against us. He just played lights out. We had our chances. Were up by nine with 1:24 and just didn't finish it. That is a bitter taste in our mouths and our kids are ready and hungry. Sometimes you can let something like change the whole dynamics of your program. It made us stronger. Our kids have bonded and they are ready to go to work."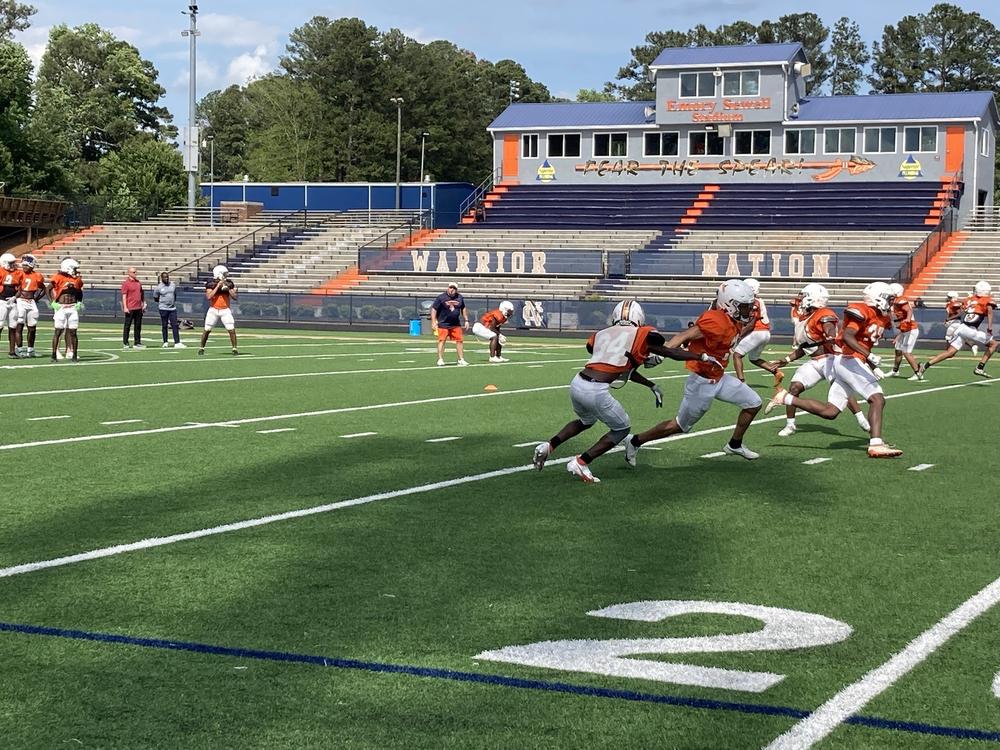 That bond will be tested by that SEC schedule that the coach mentioned earlier. It gets started this week at Westlake, then at Buford, followed by home games with Marietta, Northside Warner Robins, Milton and the region opener at Walton. How the season starts will speak volumes about how the season could end.
"Out of the first six opponents are tough," says Queen. "We got Collins Hill, Milton and Buford. You have three teams that played for the state championship in the first six games, and the other three went at least to the second round or further. I just want to see growth and improvement. We talk about each week getting better and you want to peak when you get to the playoffs."
So, if you are the coach, you say "thank you" to whoever made the schedule. Maybe? Queen left South Cobb after winning a region title in 2005. He knows that this team is the most talented and experienced group he has had since arriving in Acworth. Yes, it appears to be a very challenging task, but the coach has not lost his sense of humor.
"I tried to find some other opponents, but the University of Georgia wasn't open," laughs Queen. "They wouldn't play us anyway. Obviously, you want to play a schedule that prepares for your region, but when you have players like Malachi, there are some teams that don't want to play you. Going 20-4 the last two years, there are some teams that would prefer not to play you. You want some challenges, but I don't know if you want six of them like we've got.
It's opening week for many high school football teams around the Peach State. Good luck to all of the player and coaches. The season premiere of Football Friday's in Georgia will be this Friday night, as the Denmark Danes visit the Roswell Hornets. The game kicks off at 7:30 p.m. on the Great GPB.
Secondary Content
Bottom Content