Section Branding
Header Content
GPB To Expand Coverage of the Hottest High School Sport in Georgia, Flag Football
Primary Content
Over half of the GHSA high schools in Georgia now have a girls flag football team and more plan to sign up before the season begins in October. The newest GHSA sport is exploding in popularity. So, fans will be happy to know that GPB Sports will live stream weekly regular-season games on Thursdays in addition to our continued televised coverage of the state championships games.
"We obviously live in a hotbed of football in the state of Georgia and everyone, men and women, enjoy the game. So, I think the kids just saw this as a way to get involved. When we finally got to do that inaugural season for us when we were piloting it, the thing that I started noticing is how much every game the crowd got a little bigger. The first couple games there was just some parents there, but by the end of the season we actually had a really good crowd for the championship," said West Forsyth High School Athletic Director Brett Phipps.
During the sport's inaugural season in 2020, West Forsyth was one of the first girls flag football teams to win a GHSA state championship at Center Parc Stadium. The game was so competitive several plays made the SportsCenter Top 10.
WATCH: 2020 GHSA Girls 6A-7A Flag Football State Championship: West Forsyth vs Hillgrove
In the quest for another title, the Wolverines are hoping to ramp the sport up to another level by creating the inaugural kickoff classic called "Clash of Champions."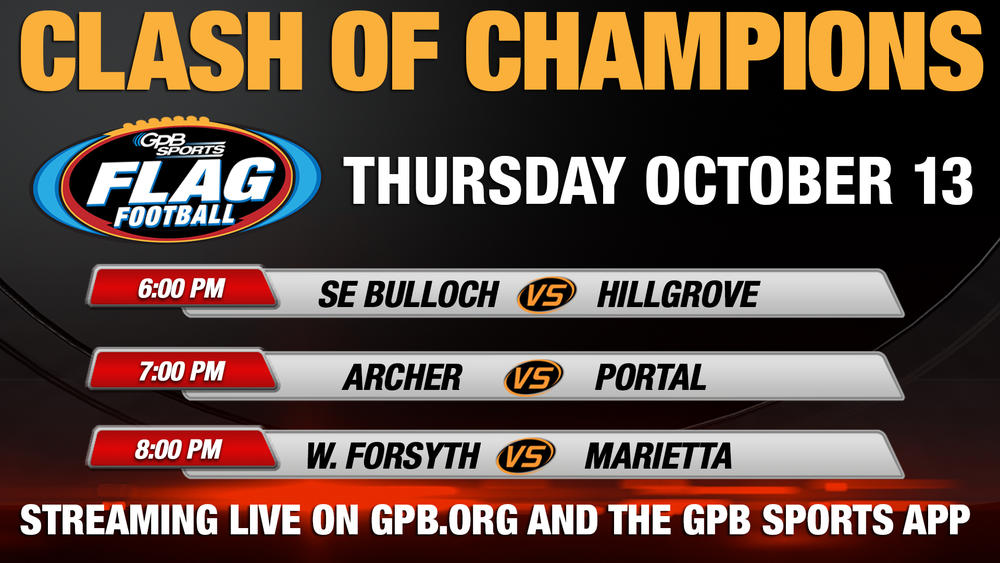 The tournament will feature three marque matchups including defending state champions Southeast Bulloch and Hillgrove facing off at 6:00 p.m., final four team Archer playing back-to-back state runner up Portal at 7:00 p.m., and state runner-up Marietta facing host and state champion West Forsyth at 8:00 p.m. All three games will be streamed live on GPB Sports on October 13th.
"You're looking at two defending state champions there and we crossed the classifications up, so we got pairings that we don't normally get at the state level and we just thought it would be a great competition," said Phipps.
Following the Clash of Champions, GPB will also live stream two flag football games every Thursday, beginning Oct. 20th. That will run all the way through the championship games which will be televised as part of GPB Sports' state championship weekend coverage on Dec. 9th.
With so many schools participating and so many games being scheduled, the GHSA has decided to increase the competitive field from two divisions to three.
"This year we're really excited because we've got almost 230 schools that are playing. And because of that, we now have three divisions… I think at some point in time, we're probably going to have four divisions," said GHSA Assistant Executive Director Ernie Yarbrough.
"I can't tell you how many folks talk to me about it and to Dr. [Robin] Hines. And always comment on how much they enjoy watching it. I think part of the reluctance in the beginning was, what's it going to be? Is it going to be, you know, the traditional powder puff game that they have in the spring and all that? Well, it is far from that. These are these are all skilled athletes that are extremely competitive," said Yarbrough.
One team competing at a high level is Portal High School. The Panthers have played in both state championship games, falling to Calvary Day in 2020 and Southeast Bulloch in 2021. Although they haven't been able to bring home the trophy yet, the sport has made a huge impact on the east-central town of Portal.
WATCH: 2021 GHSA Girls Div 1 Flag Football State Championship: Portal vs SE Bulloch
"It's been a huge boost to the community, and Portal is one of the smallest 1A schools in the state. We probably have, just if I was just estimating, maybe 125 girls in the entire nine through 12th grade," said new Portal head coach Michael Holsonback. 
"So, the first year we played Greenbrier in the semifinals, you're looking at a 4A or 5A school, so they have a larger pool of young ladies to pull from. It's been just a boost, a huge boost to the community walking around and people say, oh, I saw you on television. I saw your girls play back-to-back state championships. And so, it's been humbling to hear just the comments from other people about the success of the program so early," said Holsonback.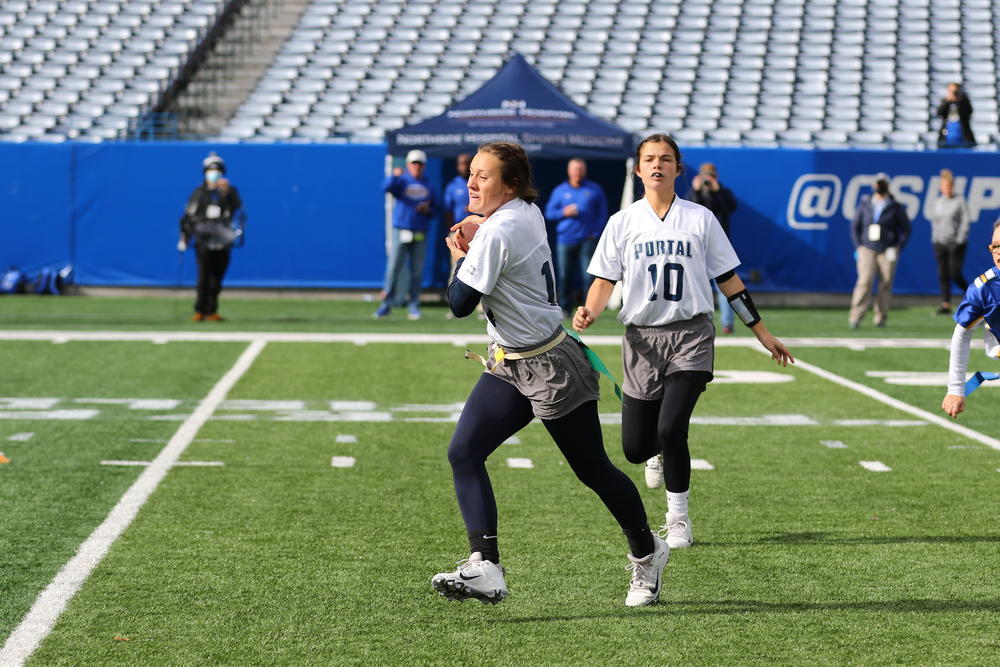 The sport is not just taking off locally, but across the nation as well. Girls can now earn flag football scholarships to play collegiately and even have professional opportunities as well.
"There's 15 NAIA schools that are offering flag football scholarships and hopefully that's going to get bigger each year. I went up to the new coaches' clinic in Macon three or four weeks ago, and there was a lady from the Falcons talking about how much they are putting into the sport. They're committed because they want more women in college football and in the NFL in some capacity. And maybe someday there's going to be an opportunity for a female to play at that level. I don't know. But I certainly don't want to be the one to tell them you can't play football," said Holsonback.
Over the past six years, the Atlanta Falcons and the Arthur M. Blank Family Foundation have worked hard to spread the word about girls flag football. Their mission is to promote gender equality and awareness in sports. Their efforts have helped it become the fastest growing sport in Georgia and other states are quickly following suit.
"It's pretty staggering the amount of money that the Falcons invest in these grant programs. And additionally, they have special programs at their stadium where they recognize the kids. They've got three or four events coming up at the stadium that are that are targeting girls flag football. They are an intricate part of what we're doing. They're a great partner in this program," said Yarbrough.
Despite all the positive momentum in the state, there is still one thing that Yarbrough would like to see: "We know this is football country, but for some reason the schools in South Georgia are very reluctant to put their toe in the water and feel what it's going to be like. But I expect that to change relatively soon," he said.
If you know anyone that's still on the fence about the hottest high school sport in Georgia, then Phipps has one more message for you.
"If people will come out and watch it, I think they're going to be pleasantly surprised. They're going to have a good time to go, wow, that was fun. There's some real talent in these kids to do this. You can clearly see a lot of them have grown up with their brothers playing football in the backyard, so it's just a lot of fun and we're hoping that it continues to grow," said Phipps.
For more information about when and where you can watch girls flag football this fall, please visit gpb.org/sports and follow us on social media @GPBsports.
Listen to our latest Football Fridays in Georgia podcast all about girls flag football here. 
Secondary Content
Bottom Content