Section Branding
Header Content
Justin Rogers Has A Plan To Return Thomas County Central To Its Glory Days
Primary Content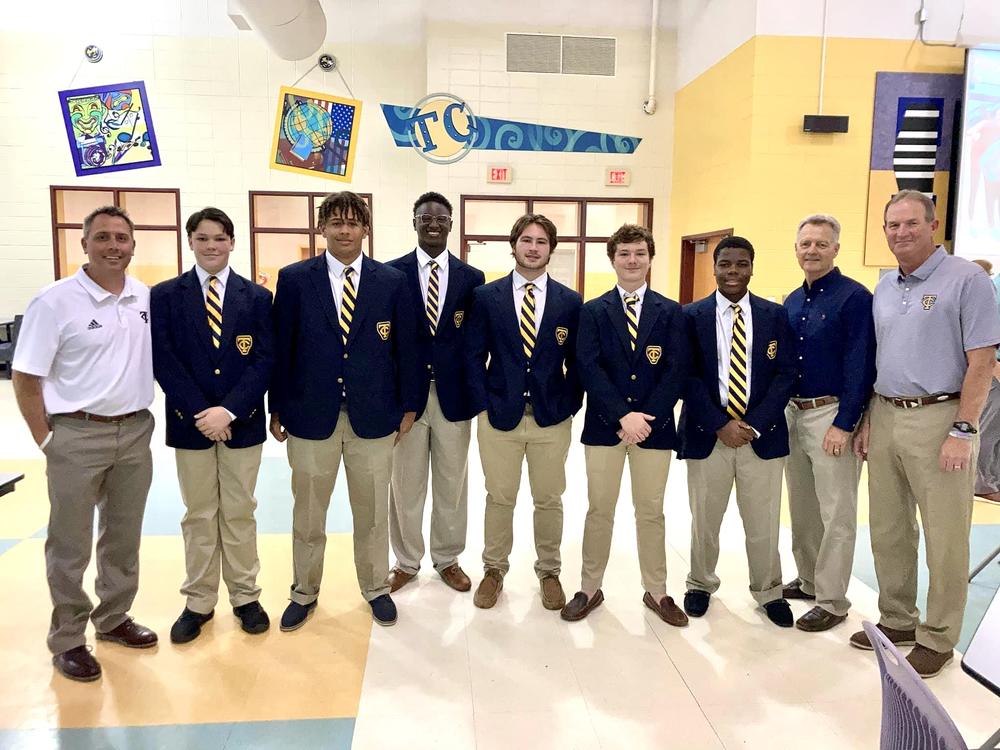 Justin Rogers plans to bring Thomas County Central football back to the glory days of the 90's. During that decade, the Yellow Jackets won 5 state titles, including 3 in a row from 1992-94. There's already a plan in place to make that happen, including blueprints for major facility renovations.
Rogers was named the new TCC head coach in December and began his duties with the team on January 3. He didn't have to travel far, Thomasville is just 30 miles south from his previous heading coaching position at Colquitt County High School in Moultrie, GA.
During his three seasons with the Packers, Rogers went 26-7 with three straight playoff appearances and was named the 2020 Region 1 7A Coach of the Year. He now replaces Ashley Henderson at Thomas County Central and is looking forward to leading the team to its first winning season since 2016.
GPB Sports' Hannah Goodin talked with Rogers about what's happening at the Jackets' Nest and some of the reasons why Rogers took the job. 
Read the full interview:
Hannah Goodin: Congratulations on the new gig, coach! How are you and your family settling into Thomasville?
Coach Rogers: Oh, thanks so much. I'm settling in great. I've been here since January, got started, so I've been here for quite a few months now. The kids are working unbelievably hard. The support that we've had from the community is amazing. It's such a great community to live in anyway. We got settled into the new house, you know that's always a big deal getting moved and settled in. And now, you got spring football in two weeks, so we're all super excited right here in Yellow Jacket country.
Hannah Goodin: It's coming up fast. I was going to ask you if you did move because you only had to go 30 miles south from Moultrie, where you had a successful three seasons at Colquitt County. What was the reason behind the move? And I guess you love South Georgia football at this point, right?
Coach Rogers: First of all, who doesn't love South Georgia football? I mean, I always used to say it's just like the SEC it just means more down here and obviously it's a special deal. Everything in life is sometimes about fits, you know, just having the right fit. Thomas County Central has always been a job I've kind of eyed from a distance. When I was at Jones and it first came open, I remember thinking man that'd be a great job. Even then me and my wife discussed it, but we really liked Jones and everything and didn't find that the timing was right. And so, when they reached out this time and asked if I would be interested and they presented the facilities being built, because we're building a brand-new weight room, brand new locker rooms, kitchen area and 120-yard indoor facility attached to it. That's the blueprints in the back to remind me of what's coming baby. And so, their vision to really return this thing back to the glory of the 90s, really made it enticing to come in here and kind of breath fresh air into a program that used to be such a giant. I just felt like it was the right fit and the right time. You know, fit and time. Everything kind of ties into that when things blow up. And so, like you said, it was just down the road so you're very familiar with it, but if you're going to coach somewhere, I believe you need to live there and be part of that community. We felt like it was important to move down here.
Hannah Goodin: Well, I know the players are excited about it and like you said, you've been there a couple of months now and you've gotten to meet the team. What was your original message to them and what has it been like getting to know your players?
Coach Rogers: Ah you know your number one message is just get them to try to buy in and understand that some change is what it is. They didn't pick me, but I picked them, and I wanted them to understand that. That this place is important and that's why I picked it and just get a buy in from them. Get them also to accept things will be done differently. Just because you did it a certain way, doesn't mean we are doing it that way anymore, and just to understand that change is coming. But they've been amazing, they've been hungry, they're very talented young men and very driven. They wanted to see a change, I believe, and so it's been exciting to see buy in.
Hannah Goodin: You and the Yellow Jackets have a tough fall coming up. Let's talk reclassification. They were competing in Region 1 4A just last season and now you will be in Region 1 6A competing against Houston County, Lee County, Northside Warner Robins, Tift County and Veterans. How do you feel about that coach?
Coach Rogers: Well, I'm not a fan of the multiplier rule, I promise you that. That was one of the deals there that obviously got us. Interesting fact on this it's kind of weird how the timing has come out on some things. But you know, we had I think it was 155 kids that were out of district kids, because we got a city school system in Thomasville and we're the county school. So, if you live in the city and go to school here, then you're out of district. And so, with the multiplier, as a county, we're the only county school that it jumped two classifications by that multiplier. But the funny thing is, only nine percent of those kids came ninth grade or after. These kids have been a Yellow Jacket since first grade, second grade, third grade, fourth grade. I know they talked about passing it now where if you're in fifth grade or below it doesn't count, so in the future I don't think it will affect us as bad, but it got us this year. We're jumped up, but again, I don't think it's a big bad wolf. I don't think it's just some death sentence. Thomas County Central is used to playing a Northside, Tifton and Houston County. Been in that region, been successful in that region. You know, and that's been in the middle 2000s they've been in that region and have been successful. So, it's not necessarily that you're not going to see familiar folks, and when we drop back down to six classifications, you're probably going to be right in there with some of these teams still. So, you know, it is what it is, deal with it, and have your team ready.
Hannah Goodin: Well, that's a good attitude on that. We'll talk non-regional schedule as well. Your new rival is Thomasville High, where there is a coach opening because Zach Grage is heading to Lowndes. What have you learned about the War of Roses rivalry between the two schools?
Coach Rogers: It matters. That's what I've learned. I'm telling you, you're either red or blue man, so that's great to be part of such a storied rivalry and one that where the community takes such pride in it. And so, I look forward to that. I was fortunate enough to be a part of some really good rivalries at Colquitt, and so having that makes it fun. And like you said, you know, obviously you've got Thomasville, which is a huge game, but then you've got these South Georgia battles that we have with Cairo and Bainbridge every year. It's just going to be fun atmosphere's which is great. The region's already tough and you pick up those tough three it makes even more of a competitive schedule.
Hannah Goodin: First game is set for Friday, August 19th against Cairo at the Jackets' Nest. I know you have not coached on the sidelines there, but for those who have not been to the Jacket's Nest, what's it going to be like this fall?
Rogers: Well, we hope it is exciting and rocking. We want our fans to come out and have an experience where they feel like it's interactive. We want them to be a part of the game and part of the climate because if we're going to play with the 12th man, that's them. There're going to be twelve. And so, we really want to create that atmosphere to where you can feed off that energy. And I don't think sometimes fans really appreciate and understand how big of an affect that is on young kids. I mean, it matters when they feel that support coming from behind. So that's what we're going to need. Now unfortunately with the schedule that we have, that I inherited, we have some home and aways and the way the draw went in the region, I don't think we will have but four home games this year. So, we better make the most of those four.
You can Follow Thomas County Central Football on Twitter: @tcchsyjfootball
Follow coach Justin Rogers on Twitter: @CoachJRogers1
Secondary Content
Bottom Content