Section Branding
Header Content
A Few Takeaways From Championship Weekend
Primary Content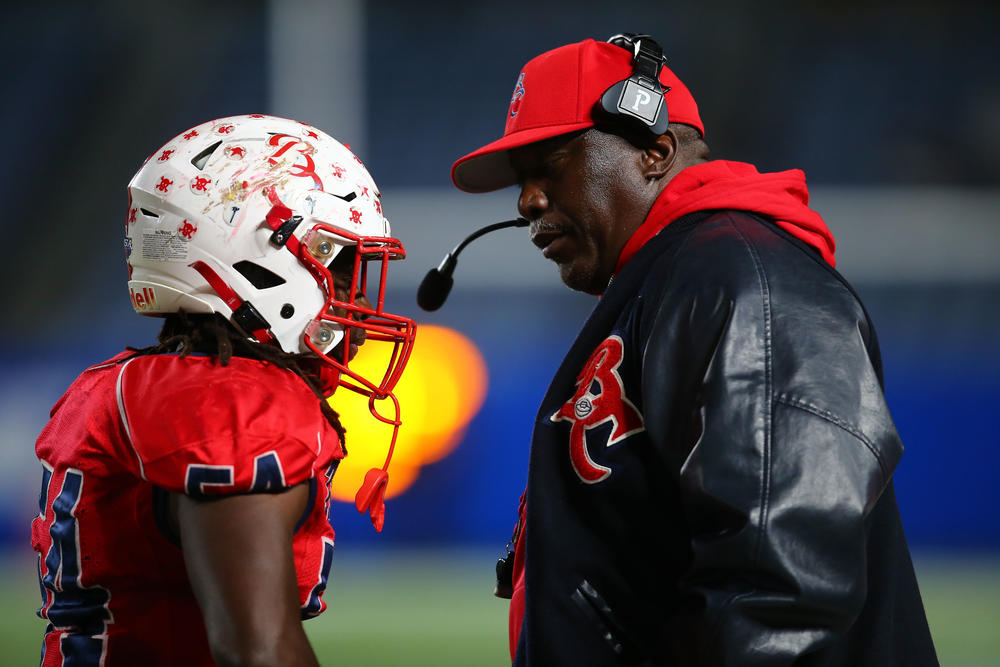 Looking back at the weekend at Center Parc Stadium, a few things come to mind.
First, I had to go "double raincoat" to make sure (when the monsoon hit) that my suit wasn't going to get destroyed ... and what I mean by "double raincoat" is that I have an XL and a XXL that fit over one another to try and make sure the dress shirt and tie aren't destroyed like they had been in years past.
But you look back and you get to see some great guys get some trophies to take home.
In Class A Public Maurice Freeman has taken the trophy around town in the back of his truck and show it off to anyone in Quitman and everyone around the area. I check his social media and there are photos with everyone in town and my friend, Chris Beckham, and his radio show on Monday nights in Valdosta. 
The trophy is secured by seatbelt in the back- as it should.
For Irwin County, this rebuilding year ended without a game in the last game of the year. But I don't anticipate anything else other than chasing after a title in 2022... 
In Class 2A, Paige Dauer, Sports Director at WALB-TV in Albany, got to see a moment that I hoped would happen.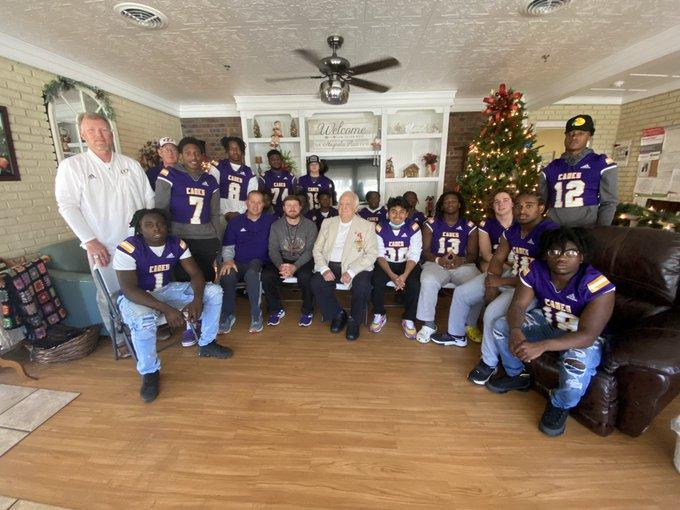 Fitzgerald and Thomasville, rivals out of Region 1, played for a state title and the winner would get their first in either a long time or a LONG time. It would go to Fitzgerald for its first crown since Class C in 1948 and to see the joy on head coach Tucker Pruitt's face was a true highlight. His dad, Robby, got to share that moment with him as a father and a predecessor.
For Tucker, who grew up there, played there, and now coaches there, he now can be called a state champ there, too...     
Benedictine's Danny Britt adds another state title to his dossier on the coaching resume and his work with the Cadets. Being on the coast, I think his work and that of the program gets lost a little bit. With the balance on offense and tenacity on defense, it's his third in eleven seasons. Every single year he has been in charge, they have been in the postseason and the only year he was below .500 was his first. But what we also saw from Corey Joyner, a fellow Georgia Southern alum, through his work at Carver-Columbus lends itself to a lot of promise in years to come as well. 
In 5A, Warner Robins head coach Marquis Westbrook was able to accomplish something that no other coach was able to do when it comes to state titles -- go back-to-back. One of the numbers that stands out to me (and I didn't know it off the top of my head) was the number of points the Demons scored this season -- 716.
Kind of fitting that a Hank Aaron number gets picked up across the street from (what used to be) Fulton County Stadium.
That comes out to, about, 47 points per game. And it's 102 points more than the National Championship team scored in 1976 under legendary coach Robert Davis.
Crazy stuff... 
Before I go for the holidays, we have had some silly season stuff happen already.
Josh Niblett retired from his gig at Hoover (Ala.) High to take over at Gainesville, Justin Rogers moves from Colquitt County to Thomas County Central, Heath Webb goes from Gainesville to Lumpkin County and North Hall is looking for a new coach as David Bishop resigned. 
That's just this week. 
I want to thank each and every one of you that reaches out -- however you do -- all year long, not just football season.
Thanks to all of you that watch what we all do and thanks to every one of you that followed my broadcast partner Hannah Goodin and her family on her journey, as her family of four is now a family of six with the birth of the twins for her and her husband, John.
Thanks to one of the best crews in the business at GPB. You all are the top -- bar none.
I wish you all nothing but love and warmth this holiday season and we'll catch up soon!    
Secondary Content
Bottom Content