Section Branding
Header Content
Football Fridays In Georgia: Rapid Fire Finals Edition
Primary Content
It's the Finals edition of the Football Fridays in Georgia podcast. GPB Sports' Hannah Goodin and Jon Nelson travel across the state to bring you a rapid fire preview of all of the GHSA Football State Championship games from the Football Fridays in Georgia Media All-Star team.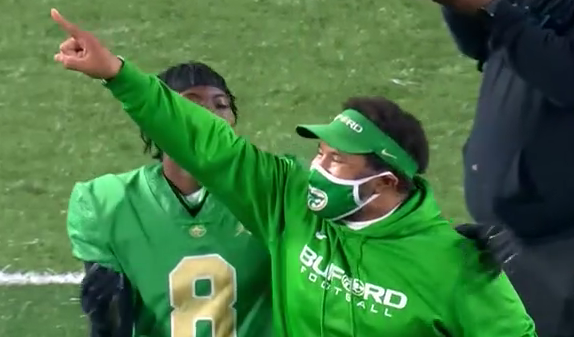 This week's media all-star team includes:
Todd Holcomb - editor of the Georgia high school football must-read newsletter Georgia High school Football Daily 
John Koon - legendary play by play voice in the state of Georgia. He looks at the Single A public game and gives his first hand perspective of Brooks County after calling the called Brooks County and Metter game.
Christian Goeckel - from ESPN Coastal to give us the Savannah perspective on the AAAA matchup featuring the Benedictine Cadets.
Jack Patterson - gives us the Columbus perspective for Carver-Columbus on the other side of the AAAA matchup from WRBL-TV in Columbus.  
Paige Dauer - the sports director at WALB looks at Southwest Georgia, previewing AA and Single A Public for us.
Marvin James - part of the great high school football coverage from 13-WMAZ-TV in Macon. He's also a Warner Robins graduate. 
Matt Stewart - the voice of Georgia High school football here for Football Fridays in Georgia at GPB
TRANSCRIPT
Jon Nelson: Welcome to another round of the Football Fridays In Georgia podcast here at Georgia Public Broadcasting. Two more additions to the Football Fridays in Georgia All Stars this week and next, getting you ready for the state championship games at center park stadium at Georgia state this week and next. So that's preview this week,review next week for the last two editions of the Football Fridays in Georgia podcast. Jon here, Hannah there, and we've made it to the last games.
Hannah Goodin:  We have and I can't believe that we've got seven guests today who all know their assignments. They've each been assigned to talk about a specific classification that goes with their neck of the woods, and they really go in depth. They really break down these championship match-ups and I feel like, I learned something today.
Jon Nelson:  Yeah, it's always good to have all of the different perspectives that we get when it comes to the championships. Todd Holcomb, with the Georgia High school Football Daily, John Koon, legendary play by play voice here in the State of Georgia. He's going to look at Single A public for us. He called Brooks County and Metter. So he got to see Brooks County close up. He'll talk about South Georgia a little bit as well. Both sides of the quad A matchup Christian Goeckel from ESPN Coastal to give us the Savannah perspective. Jack Patterson, the Shaw graduate gives us the Columbus perspective for Carver from WRBL-TV in Columbus. Next up is someone close to you.
Hannah Goodin:  Jack's passion is unmatched by the way
Jon Nelson:  That's the Shaw grad coming out.
Hannah Goodin:  We have Paige Dauer, the sports director at WALB she'll be looking at Southwest Georgia, previewing AA. and Single A Public for us.
Jon Nelson:  And then after that, it's Marvin James from 13-WMAZ-TV in Macon part of their great coverage down there, the Warner Robins graduate. So he's got a bit of an additional perspective there, and we just all get to it when it comes to that particular game with you. Thank you. And then Matt Stewart coming in the voice of Georgia High school football here for Football Fridays in Georgia at GPB. So it is a stacked show and a stacked roster this week and next,
Hannah Goodin:  Our very first to sports all-star on the podcast today is editor of the GHSF daily Todd Holcomb, Todd welcome in. How you doing buddy?
Todd Holcomb: I'm doing great. I'm very honored to be batting lead off
Jon Nelson: This week and next he's batting leadoff on the show and it's going to be fun. So from 30,000 feet, as we start rapid fire with you, what is, what's your 30,000 foot observations of this year's championship games?
Todd Holcomb:  Well, a lot of really good kind of showdown matchups of teams that, that we thought from the very start we're going to be good. I mean like Collins Hill - Milton, I had them ranked one, two in pre-season and just a lot of teams like that, that really been playing well. There's I mean, it's always fun to have Cinderella's and maybe there are a couple of those as well, but it's also fun when you got, you know, some teams, that have just really played well all year. You thought they would. And now here they are,
Hannah Goodin: We're assigning each all-star a classification. So you're lucky draw is AA and single A private let's start with a AAA preview at Cedar Grove versus Carver-Atlanta. Cedar Grove won a state championship back just a few years ago in 2019, Carver-Atlanta has not played in a state championship or won one since 1967. They just made it to the finals. I did not win one that year, right? Talk to the head coach, Darren Miles at Media day on Sunday, he could not have been more excited to be in that atmosphere. I asked him to talk about some of the leaders on his team. He named every single player and every single staff member,
Todd Holcomb: He, I mean, he is the best. I'm so happy for Coach Miles. One of the best coaches out there doesn't, you know, the only time in a state level, you get a lot of tensions for being good coaches, if you want a bunch of state titles and that sort of thing. And he, all he does is he's just, they just have good teams year in, year out. And it's really nice to see them get to the final for the first time. And, and so long, because, you know, he went to Carver-Atlanta, and they, they had no real tradition and he, but he just views that as a place that he feels he has a calling for. He's passionate about it. And, you know, he's built winning teams, but also really had a great impact on that community. And that's, that's really one of my favorite stories for them to be their first time since 1967. And then also, you know, quickly notice, you know, '67, that was one year after George high school association was integrated. You know, you didn't have all black schools playing together until 66. And that Carver team was really a iconic one because they were the first one to make a championship game from the old GIA.
Jon Nelson:  And then on the flip side, your, your other assignment, sir, is Class A private. And a lot of folks had thought that Trinity Christian was going to be one of the teams to look at incredible numbers offensively, and they make it. And it's another go round with PAC.
Todd Holcomb: Yeah, it is. Of course it will be flipped this time. You know, Prince Avenue was a big favorite last year because they had brought Vandagriff and I think it's a neat story this year. That they've, they're so good. Again, they're not quite as good as maybe they were last year. All that remains to be seen as they play a big game, maybe great quarterback, Aaron Philo, who I think is leading the sophomore leading state in passing yards now, and then, but Trinity's loaded. I mean, I, I really thought, and I mean, they may be the best Class A team that we've ever seen, honestly. Although they looked mortal  last week, you know, winning in double overtime. But what a great class A team they have. 
David Dallas, a great quarterback, went to Western Michigan with his brother, wide receiver Joshua Dallas, and they've got several really, really good players. So, they're the favorite in that. But two really good teams.
Hannah Goodin: Some really cool storylines coming out of PAC. They're going for their second state championship in a row. But Coach Vandagriff told me that Brock's actually mentoring their current quarterback and that he's the one that's kind of pulled him through this season and taught him what he knows. And I think, I think that's something that's really cool.
Todd Holcomb: Yeah. I think he started doing that last year, even when they were teammates. Yeah. Just a lot of pride that goes into that school. When, once you develop a tradition like that in a way it matters and you want to pass down to the guys that are coming after you to keep it going. And so, yeah, that's a cool story.
Jon Nelson: So Todd, you're our version of Ricky Henderson hitting a home run hitting lead off this week here on the Football Fridays in Georgia podcasts. We'll catch up with you next week for your review of what you thought from everything at Georgia state. Thanks for hanging out.
Todd Holcomb: Hey that sounds great. Thanks
Jon Nelson:
Batting second for the Football Fridays in Georgia All-Stars long time play- by- play voice of the Vidalia Indians, the man who is the major Domo of everything, central Georgia, John Koon, trusted and loved friend of mine. Thanks for hanging out with us in battin' second this week and next.
John Koon: Yeah, yeah, absolutely man. Pleasure to be with you guys anytime.
Jon Nelson: All right, So 30,000 foot look from your perspective of the, the central Georgia and Eastern Georgia teams. What's your, what's your take on the championships and how it looks
John Koon: Well, when you start looking down the line, I mean, Warner Robins has got to be, you know, right there in the mix. As far as the central Georgia look, I mean, look what they've done two weeks ago. They just absolutely demolished. I mean, just demolished Jones County. And I never thought that would happen not in a million years, especially the way that Jones county have been playing. So, you know, Warner Robin's very, very good. When you start moving south, of course, then you've got the big matchups in class A and AA. AA is a rematch of a region championship game, Thomasville and Fitzgerald, you know, Thomasville has got all that offense. Fitzgerald's got defense only gave up 193 yards to Thomasville in their first meeting, so ought to be pretty good. And then in class A you're looking at another rematch. You're going to get Brooks county and Irwin county, same song, just a different day.
Hannah Goodin: We're going to ask you to get a little bit more in depth with that Single A public matchup. That's your assignment on the show. Irwin County going for three championships in a row, Brooks county is back in the finals for the third year in a row, has not taken home the trophy. So get a little bit more in depth for us on that one. Irwin versus Brooks.
John Koon: Well, you know what Irwin does? I mean, they're just, they're just Irwin County. They're not going to change a thing. They're, they're just going to lock it up and they're going to say, you know, if you can stop us, you can stop us. We don't think you can, nothing fancy, just play hard nose football. And they've been doing that for years. Brooks county, much the same, you know, they play the variation of the old Delaware wing T if you will,
Jon Nelson: A Tubby Raymond referencing.
John Koon: Yep. Absolutely. And that's exactly, that's exactly what they do. And, and if you want to, you know, if you want to tighten it up for them, they'll put it in the spread. And then when you start spreading the out, then you've got really big problems because Omari Arnold will go just wild. I mean, he had over 2000, almost 3000 yards, 2100 yards. I said, almost 2200 yards, 2100 yards going into the Metter game. First play from scrimmage 62 yards gone. I mean, not even touched the second time he touched the ball, he went 72 yards. And, and for all practical purposes, that game was over. Arnold is just a beast. And then if you try to stop him, then you gotta worry about Jamal Sanders throwing it to  Willie Brown who can run with the best of them. So I, I have no idea exactly how this one's going to turn out. But I do know that it's going to be one of those good old fashioned slugfest again. And whoever doesn't turn the ball over is going to win the game. I really think that it's going to come down to that guys. I think whoever makes the least amount of mistakes is going to win the game. Because the last few times they've played, it's been about who gets the big stops and who takes advantages of the mistakes that the other team makes.
Jon Nelson: So then real quick before your at bat is over for this week, sir, did the results surprise you did? How surprising was that Brooks County Metter result to you?
John Koon: Oh, I was shocked like just about everybody else, except for somebody from Brooks county. I'm sure you just don't do that against Metter. And I think they just got stunned. I mean, you go 60 to 72 and then the third possession, they have it at one, it wasn't like they weren't moving the ball guys. Metter was moving into the territory. They just couldn't get it in. They were inside the red zone two or three times got stopped twice and then fumbled on the third possession, guy picks it up and goes 75 yards. I mean, it's 21 to nothing and there's three minutes left to go in the first quarter. And like I said, for all practical purposes, it was over then, but I was stunned. From that moment on, you know, Metter pretty much, you know, settled down a little bit and played decent ball. But I think, you know, you get too far behind the eight ball there and it's all over with,
Hannah Goodin: Metter a one seed Brooks County, a two seed 49-7. I mean, that's, that's a shocker.
John Koon: It is. It is. I think the, I think the whole south part of the state was pretty well shocked except for Brooks County and Irwin County because they know exactly what can happen with those guys.
Hannah Goodin: Bringing the hammer.
 John Koon: Yeah and real quick, I'm going to tell you guys something, Brooks County is going to be loaded again next year. They only have 12 seniors on their roster. So, you know, Arnold's gone, but Sanders in, you know, and company are going to be back in. They're going to fill in with some great guys, watch them next year. They'll be right back in it.
Jon Nelson: John Koon Bringin' the hammer as always. Thank you for hanging out with us. My friend, we'll catch up with you again next week.
John Koon: It's always a pleasure. Thanks
Hannah Goodin: Victim number three, Christian Goeckel,
Jon Nelson: Batting third.
Hannah Goodin:  Christian Goeckel of ESPN Coastal, coming on to talk about what's happening on the coast on our GPB championship preview show. So before we, we give you a year assignment of quad A what have you seen from the coast teams heading through the playoffs into the championships?
Christian Goeckel: I just, I think it came down to consistency. When you look at all of these teams and BC is one of those teams where I think the most consistent thing about them is they've been able to attack you in so many different ways, offensively and defensively. So when it came down to, in the playoffs, you have to make some adjustments because you're playing really good teams. BC is the last one standing cause they've been able to answer those questions.
Jon Nelson: And obviously in getting to catch up with a head coach, Danny Britt at the coach interviews before this week started, it was good to get the breakdown from him about how prolific and offense it is and the balance that they have. And I got to talk to him about defense too. Let's take it a step at a time when it comes to Benedict. What's it been like, is he Holden Geriner mature into who he is as a senior?
Christian Goeckel: Yeah, it really started the first week of the season when they took on Columbus out of Miami. And I just thought the fact that he was hitting his three-step drop and just immediately getting rid of the football, you can just tell, he's seeing the whole field. We've known the talent since he was in eighth grade because he's six feet tall and eight grade and with a big arm and then just became the maturation process. So we, we saw it last year with Trent Broadnax. He could hit the deep ball. This year it's just complete control of the offense. And then obviously being able to touch every part of the field with that arm, it's really been special to watch
Hannah Goodin: Carver Columbus versus Benedictine in the AAAA championship. Tigers have not been to a title game since 2007. Benedictine has won championships in 2014, 2016. So they're pretty familiar with, with what it's like to be on the big stage. And I want to take a look at their zoom in more on their offense, because look at these numbers first round 59 to nothing, second round 63-7, quarterfinals, 24-21. And of course in the semifinal game against North Oconee, 42 to 32, that's a lot of points on offense.
Christian Goeckel: Yeah, here's the thing about that though. And I guess as a former defensive guy, I'm always going to look at it this way is the defense has really set the offense up in plus territory a lot, not taking anything away from the offense of what they've been able to do to capitalize on it, but turnovers forcing the other teams to go three and out and punt. And Zaquan Bryan able to return and just create those short fields. I think against Luella, BC had three drives that started with inside the 30 and a couple more inside the 40. So if you're playing offense that good and they're never on on own side of the field, it's going to be a long day.
Jon Nelson: Well, you mentioned Zaquan last week. I think it was seven for 103 and 2. And then you have Justin Thomas who's has football as like a number two sport because with baseball heading to Athens, he runs for 126. And so you can't necessarily pick your poison with this offense because of the balance that's there.
Christian Goeckel: No, but I just want to think this matchup is so interesting because I think Carver can come out and they can try to match up one-on-one on the outside and let BC take their shots there. And then just focus with the nine other guys on stopping the run game up the middle. That's what North Oconee tried to do. Obviously 42 points is 42 points, but North Oconee did a great job of setting the edge and just keeping Justin Thomas contained and then he breaks 1 for 65 yards for a touchdown. And that kind of skews his numbers a little bit. But outside of that, they did a really good job of containing him. But I was laughing with Danny Britt on his coaches show this morning. Because I was like, "It's a pretty good backup option for your team when you have a four- star quarterback as your backup that's committed to Auburn."
Hannah Goodin: Seriously, final thoughts on Benedictine this season and zero in on some of the storylines you're following in the championship game.
Christian Goeckel: Yeah, you kind of touched on a little bit earlier. For Columbus coming into this game they're looking at this as, "Hey, this is the first time since 2007 we've been here. Maybe a lot of people didn't expect us." Whereas, since last year against Jefferson in the semifinals for BC, the expectation has been to be here. You have a four- star quarterback committed to Auburn. You have Justin Thomas coming back. You have Holden Sapp on the defensive side of the ball who's committed to Army who's having an unbelievable season. So just the pressure these dudes have been under to get back here. It's not like playing with house money. This is where a lot of people expected them to be and certainly where they expected to be. So, to see them kind of carry that weight throughout the entire season and to see them on the stage now is really cool, because anything short of this, I think for them would've been disappointing. So I'm excited for the entire state to get to see this offense, because I've been covering high school football in Georgia for a little while now and I played it. I really haven't seen an offense this multiple before. It's not very often on the same drive you see flex bone, then you see four wide, five wides and they go into I formation all on the same drive and it's fluid. So I'm excited for you guys to get to see it up close in person.
Jon Nelson: So who's your favorite number three hitter in baseball of all time
Christian Goeckel: And so long as a Chipper Jones, obviously, but if I'm your number three color, I just, I need that Freddie Freeman money. If you've guys can work that out.
Hannah Goodin: The money he's about to get too.
Christian Goeckel: Well, we're hoping.
Jon Nelson: Well, Christian as always, thanks for hanging out with us here on the Football Fridays in Georgia, all stars, we'll catch up with you next week as our number three hitter, as we break down what happened at the championships? Looking forward to seeing you this weekend, my friend,
Christian Goeckel: I'm excited to be back up there, guys. Thank you.
Jon Nelson: Now let's see, we're going to have to ask our next guest who his favorite cleanup hitter is Jack Patterson joining us from WRTV, uh WRBL-TV in Columbus. Jack, who is your favorite cleanup hitter of all time?
Jack Patterson: Oh, that's a toughie, man. You put me on the spot. I'm always going to go with the Atlanta Braves, so you never can go wrong with good old Chipper. And by the way, WRTV is in Indianapolis.
Jon Nelson: That is true. RTV is RBS. That is true. They are channel six in Indy. RBL is where you are in Columbus. If I could actually get what I'm saying to come out of my mouth correctly. So basically Christian Goeckel said, Freddie Freeman, and you're going to say Chipper Jones. So this is an Atlanta Braves based lineup.
Jack Patterson: I'm a Georgia baby, what can I say?
Jon Nelson: And that's where first question is for you when it comes to what has been going on in the Western frontier this year, just in the overall, before we get specifically into Carver, Columbus and Benedictine, and what have been some of your takeaways from the state of play there in the Western frontier for us this year?
Jack Patterson: I think there's a, there's going to be a lot of change as we head into this year. And next year, that's kind of the overarching storyline for me when you're talking about, you know, teams that are going to be on the rise. I look at teams like Schley County, Manchester, Chatt Co., continuing, even though they're going to have to replace Cody Duffy at quarterback, but I have full confidence in Pierre Coffee in that group. What Tanner Glisson has going on at Troop county, Matt Napier at LaGrange. You know, just a lot of teams that you see everything starting to come together. And I, in that this year was kind of the stepping stone to where next year they could really be players in this, on the state stage. And obviously we're talking about Carver here today in a little bit. So we talk about them for sure. And then you have a team like a Northside who, you know, before Moore, went down, they were looking fantastic at the beginning of the year. And then the season kind of went sideways from there on, but there's a lot of talent here in the Chattahoochee valley. And it just seems that next year could really be a breakout year, especially with the new reclassification. You have a lot of Columbus schools, that'll be in 3A for the time in about 15 years since I was in high school. So was going to be a big, big change here in the Chattahoochee valley, for sure.
Hannah Goodin: Well, let's just jump right in to talk about Carver Columbus. We just had Christian talk about this AAAA matchup, but he was zeroing in on Benedictine. So thoughts on Carver through the playoffs as a one seed, they got through that semifinal matchup, 22- 21 against Cedartown. So what would were your thoughts on that?
Jack Patterson: Man, the overarching storyline for me, for Carver in this playoff run so far is the fact that these guys just will not be denied. West Florence came in in the first round, punched them in the mouth. They were winning in the fourth quarter and then DJ Riles and Jaiden Credle, they turned it on in the fourth quarter. Carver pulls away, gets the wins. Second round gets, Hapeville Charter was some of what we've seen so far in the regular season for Carver, where they jump out on your quick, fast in a hurry and put you away. And they ended up winning that game by about 40 and then in the elite eight in the final four, just an outright battle. And the thing I see with this team is they're gamers. You know, they're, you know, outside of Elijah Pritchett, who's committed to go to Alabama, to offensive lineman. There's not a lot of highly, you know, heralded, you know, recruits on this squad. You know, you look at DJ Riles, the quarterback he's committed to middle Tennessee, Jaden Credle is not really being recruited. All. You want to talk about, give that kid an offer.
Jon Nelson: There you go.
Jack Patterson:  There you go. There you go. Give that kid an offer. Because that kid has been incredible. Jamari Riley is just as good as well. So, for me, it's just a bunch of gamers who just will not say no. Who will not say die. And that's dangerous in the playoffs.
Jon Nelson: Spoken like the Shaw kid who knows what's going on down there in Columbus.
Jack Patterson: Yeah, you gotta, you gotta remember that. I was at Shaw when Dell McGee was coaching at Carver. So the last time that Carver made it this far, so trust me, I have a very vivid memory of what this team can be.
Jon Nelson: When you talk to Corey and everybody down there about Benedictine specifically, what are their concerns heading into this game?
Jack Patterson: Well, you have to start with Holden Geriner. I hope I'm pronouncing his name, right?
Jon Nelson: you got it. Holden Geriner. You're there.
Jack Patterson: Yes. The Auburn commit. He is incredible. And a lot of people in our area, you got to taste the BC last year when they played Troop County in that shootout in the first round last year. And a lot of people have, they have not forgotten, you know, just how prolific that offense was because Troop County had a squad last year. And you know, that pushed Carver to the limit in the region title game. So a lot of people haven't forgotten about that and, you know, we our friends down at WSAV and Savannah we've actually been showing, we actually showed the highlights of BC and North Oconee on Friday night. So people can kind of get a taste..
Jon Nelson: Did you get some extra time in your sports cast to show all those highlights, man?
Jack Patterson: Hey, they owe us, after everything we do at a six o'clock, but I digress, but we were able, you know, we were able to kind of give them kind of like a sneak peek at, you know, what to expect and you know, that explosive offense for BC, you know, you gotta figure out a way to contain them. Now Carver's got some dudes, you know, when you have Cam Crowell, and Mike Merriweather on that, in that deep as a secondary, they got some dudes back there. And the one thing I've noticed is that in the four games in the playoffs, they have adapted to every offense they've played, whether it's being kind of that kind of like spread look that West Lauren's runs or that bounce, that balance look or, you know, Hapeville and Doherty. They like to run it up the gut ground and pound, or you have the wing t triple option with Cedartown. They have adapted to what they've had to play against.
Jon Nelson: They're going to have to do that pretty much snap to snap. And when Benedict Benedictine and Carver Columbus had to center park, Jack Patterson, WRBL-TV here in Columbus, hanging out with us on the football Fridays and tell it well, yeah, Rex is Rex is a slightly busy, so yeah,
Jack Patterson: He's in Atlanta when we're taping this covering Pacelli in the flag football semis.
Jon Nelson: Yep. So when you, when you both come back next week and we decide the, the tag team championship of the state of Georgia, when it comes to Football Fridays, it'll be good to catch up with you. Thanks for hanging out with us. My friend,
Jack Patterson: No Problem. See you guys on Friday at Center Parc Stadium baby.
Hannah Goodin: Guest number five, I am honored to introduce my gal Paige Dauer, our sports director at WALB. We are going to have you preview AA and single A public, those big championship matchups this week. First we want your thoughts on central and Southwest Georgia through the playoffs.
Paige Dauer: Well, first it's great to be back on the show. I'm glad you all brought me back, but you know, playoffs here in Southwest Georgia and brought us a ton of surprises. You know, you look at Lee County, who got blanked by Buford for total surprise. Collins Hill taking down Lowndes. That was another great surprise. And then Colquitt County losing really early in the playoffs. I was not predicting that to happen at all, but you know, also another surprise still here that Irwin county is still here coming into the final game of the season. They lost a lot of players after their state championship when last season. And even if you ask Soliday, he's a bit surprised he made it this far too. So we've had some not so good surprises and some pleasant surprises along the way, right?
Jon Nelson: Since you namedrop, we'll go ahead and start with single a public and talk about Irwin County. And when you catch up with Coach Soliday and cover him as much as you do, the biggest thing is, is that a lot of folks and himself included thought that this was going to be a rebuilding year. If this is a rebuilding year for Irwin county. What's exactly. I know. What's it been like for you to, to look at Irwin county this season?
Paige Dauer: I know I think it was maybe more of a reload than a rebuild as far as how they're here and then the final state championship game, which is quite impressive. But, you know, following them this year, they really have made leaps and bounds from where they were in the beginning of the season, just losing so many of those playmakers from last year and having to have, you know, Cody Soliday really step up this year and to have Damarkus Lundy, such a key component for them on the offense, they've really made strides in their offensive play and they're averaging like 40 points per game on offense and their defense. I mean, they're holding these guys and their opponents to 14, 15 points a game. So like you said, it was supposed to be a rebuild year, but they're somehow just as strong as they've been in your side.
Hannah Goodin: This is one of the games I'm really excited for Irwin Ccounty and Brooks County. And I think it's going to take a lot for Brooks County to be Irwin, but the way that they beat Metter 49 to seven, anything can happen. Let's move on to AA. We got Fitzgerald versus Thomasville. Fitzgerald back in the final second year in a row, they lost to Callaway last year. Bulldogs reached the finals in 1993. So they are trying to get a championship as well. So Paige, Fitzgerald versus Thomasville thoughts on them, through the playoffs and then this big matchup.
Paige Dauer: So I think Thomasville enters this game with all the momentum in the world. If that's something that you all buy into, as far as momentum goes. For Fitzgerald too, they are another team, especially being in these small regions, you see it all the time and single A or AA, their guys play both ways. So when you lose someone to graduation, you're really losing two players. So in offense, they lost nine of 11, four Fitzgerald on offense. So the offense has kind of, I wouldn't say it's in their weakness, but the defense has definitely been the strength of this team. And in this last few games here in the postseason, you see that often really starting to pick up and start to match the defensive efforts, to be able to play that complimentary football. I talked to Tucker and he was saying, you know, in their last game against Swainsboro, they had one of the scoring drives was just in two plays. If you asked to think it's been that explosive earlier in the season. Absolutely not. So for them to be able to find explosive plays like that, this deep into the postseason speaks for itself on the leaps and bounds. They've been able to make, to mask their defensive strengths, but it'll be a big game for them too. I think this team with Thomasville. They're pretty evenly matched for both of them was one of their lowest scoring games. When we met earlier this year Thomasville won, 15 to 8 and talking to Tucker, you know, I'm like every other game since 2016, it's gone back and forth. And the road team is the one that always seems to win. And he was laughing saying that hopefully that trend continues on, on the state championship game because they lost to Thomasville earlier this year. So if the trend continues, then this game is theirs and they went in that second elusive state title. So I think there's a lot of storylines coming into this game for Thomasville and Fitzgerald. And it all comes on to their offense and to kind of scores first and scores last.
Jon Nelson: And when you talk about Thomasville chasing after their first state title, since '88 first championship game appearance, since '93, there's a lot of history there for someone who's never been to Thomasville to see what it's like there for the bulldogs at Veterans Memorial stadium. What is the vibe in Thomasville for the bulldog fan? And I know for the yellow jacket fan as well at Thomas County Central, but specifically, what's it been like for you to cover Thomasville?
Paige Dauer: Yeah, Thomasville, it's one of the best environments to be in on, on Friday nights and high school football. It really is a really special atmosphere talking to coach Zach Grage. She had a unique comment. They all have a senior walk, the final game that they play at home each season. And then the past that senior walk came after a loss. So this is the first time that their last game they play at veterans Memorial comes with a win and you're able to do that senior walk and have, and then that be the last game of the year that came in a loss. I thought that was really special that they were able to do that. But you know, Grage says this team traveled well too. So I think we'll have a veterans Memorial 2.0 here at center park. It really is a really special atmosphere. And you can see this community really buys in to who these players are off the field are dominant on the fields but  they're even better guys off the field. And I think that's why there are so many people in the community that buy into this program because they're really good people and it's easy to cheer for really good people that you know, and you care about. And I think that's what makes this Veterans Memorial Thomasville bulldog fan base really strong and really frustrating if you're the opponent having to, to be there and to listen to them. But it's, it's something special if you haven't been a part of it yet.
Hannah Goodin: Well, thanks for this amazing insight page, great preview of the game. I feel more informed. I don't know about you, John, but I'm ready for this matchup now. So thank you Paige. We cannot wait to see you at center park stadium later this week.
Paige Dauer: Yeah, I'll be looking forward to it.
Jon Nelson: Batting sixth for the Football Fridays in Georgia lineup here with the all-stars that is Marvin James, Warner Robbins alum. He is in a large truck. He is in, he's in a 36 Wheeler. It's not even an 18 Wheeler. It's a 36. So he's doing
Hannah Goodin: So, where's he going with 36 wheels?
Jon Nelson: Oh, he is covering everything in central Georgia for us and for WMAZ 13.
Hannah Goodin: I think I saw him in Atlanta.
Jon Nelson: Yeah. 13 WMAZ. And so Marvin, there's only one way really that we can start this rapid fire addition of interviews. So would you like to kick it off with the appropriate greeting, sir?
Marvin James: Oh, okay. Yeah, sure. Let's go! Yeah. Sure.
Jon Nelson: There we go. All right.
Hannah Goodin: Let's go.
Jon Nelson: Let's go and let's start off the top. Let's talk about Central Georgia on the whole, what are some of your takeaways with Central Georgia football and your footprint from the playoffs getting to the last game of the year?
Marvin James: Well, okay, so we'll save Warner Robins then, if we're going to talk about all of Central Georgia.
Jon Nelson: Right.
Marvin James: Once again, Central Georgia did a great job of representing football. Perry, got to give a shout to Perry and Coach Kevin Smith out there. They did an amazing quarter finals appearance, two years in a row back to back region champs. I think that speaks volumes of where that program has come. So, I've been proud of the way that they've been operating. Jones County also won their region and they played really well. Made it to the quarter finals as well. So, Peach County, Coach Chad Campbell, I think they started off, 0-2, and then they were able to bounce back and now shake up some things around, within their team, and make it to the quarter finals. They lost to a tough Pierce County team that was playing in it last year. So, those are just three, three teams that really did well and excelled here, at the Central Georgia level. And it's a proud area, because we're not South Georgia football, or we're not Atlanta Metro. I guess everything outside of Atlanta is Metro, or North Georgia.
Jon Nelson: Right.
Marvin James: But, we're Central Georgia, so we're a proud area. We want to be able to put our mark out there and let people know that we play a tough brand of football here. We'll hit you in the mouth.
Hannah Goodin: Good save on 5A. I'm going to have you preview that championship game. It's Warner Robins versus Calhoun. Warner Robins second year back in the finals, they won the championship last year against Cartersville. Calhoun, first time they're back since 2017, when they won the championship. Thoughts on this matchup, and did you see these two teams battling it out here in the last game of the season?
Marvin James: Yeah, actually I did. I thought that it was going to be between that whole region of Cartersville, Blessed Trinity and Calhoun. They've been battling. They've battled it out every year, back and forth. I was there in 2017 when Calhoun made it to the state finals and they beat Peach County. And that controversial game that happened at the Mercedes-Benz. But they're a tough team. Great team led by the quarterback, Christian Lewis. I know him and his brother, Chris are twins. And I went to school with their parents down at Georgia Southern, so I've been following them a lot. Pretty good little waves of their career, and they just continued to impress. And I know they're excited to be able to play on the big stage their senior year, to follow that great tradition that Coach Lamb built down there at Calhoun. But then when you talk about what Warner Robins has been able to do five years in a row going to the state finals, that is a tall order. And sometimes when you win so much, people overlook those things and don't truly appreciate it, but that's enough to be praised about. And I'm sure they're going to really appreciate it later on in their careers, but they have a chance to win it back to back for the first time in the school's history. The program's history, they've won it four times previously, but now get a chance to win it back to back, is a little something special. They're loaded, they're talented. And I think it's going to be a great game on Saturday.
Jon Nelson: And I think it speaks a lot to what Coach Westbrook and his staff have been able to maintain over this last handful of years, getting to deep playoff runs, getting to the last game of the year, getting everything that what Warner Robins football has meant to Warner Robins. I think it speaks a lot to Coach Westbrook and that staff.
Marvin James: Yeah. And I talked to one of the staff today, the defensive line coach, Coach Talton, and he was telling me the swagger is back. The same swag that was there in the 70s and 80s and the 90s when the Demons were really a prominent football program across the state, with Coach Davis, that was leading the hell. But the Swagger's back. And he said, it's great to coach, but it's also hard to coach. Because, the kids know they're going to win. They feel like they're going to win. They're very confident, not cocky, but it's hard to get them up every week when they know that there's a lesser opponent across the field. So, I think that's the good thing and a bad thing of playing in a program like that it's enough to, to continue to reward and talk about the coaches, and what Coach Westbrook is doing. Because it's hard to get 16 and 17 year-olds hyped and committed and up and all that good stuff to play on that consistent level. And they're doing that.
Jon Nelson: Proud alum, full disclosure, proud alum.
Marvin James: No doubt, no doubt.
Jon Nelson: Sports anchor supreme for 13 WMAZ, Marvin James. Marvin, it's great to have you as always as a part of the Football Fridays in Georgia All Stars. We will catch up with you again. Same time next week, to get your review of the final exam for Warner Robins in their game against Calhoun. Thanks for hanging out with us on the show.
Marvin James: I'm excited about it. Thank you guys. And we'll see you Saturday.
Jon Nelson: Sounds like a plan.
Marvin James: Good deal.
Hannah Goodin: And last but never least ...
Jon Nelson: Nope.
Hannah Goodin: GPB's Matt Stewart, who will be on the call later this week for a couple of these big time matchups. Matt, before we preview 7A and 6A with you, what are your overall thoughts on these championship matchups?
Matt Stewart: Well, when you look at them, everything just looks great and hopefully they all turn out to be as good as advertised. But I just look at all these match up and I just don't see anything that just says, "Oh wow, mismatch," or anything like that. Certainly from a historical perspective, you have some games that look a little bit different than others, like Langston Hughes, playing in the finals for the first time ever against a Buford team going for their third straight, for their 14th state championship. But once you get beyond that facet of that game and don't get caught up in that and just start talking about the talent levels of the two teams, and what they've been able to do, I like that. I think that's a great match up right there. The experience factor maybe plays in, but I don't know whether it will or not. I just know from the talent level, Langston Hughes certainly does stack up against Buford, and that should be a great game too. And just all them across the board, Benedictine and Carver Columbus are back in the big show for the first time in a while. I think that's going to be a fun one in 4A, the two south Georgia powers. ... Across the board, not just those two teams, but also, Fitzgerald and Thomasville, what a matchup that's going to be. And then you got the rematch in single A public, and I'll be calling that game too. Just got off the phone with those two coaches, that's going to be exciting matchup. And then the region rivalry game between, Cedar Grove and Carver Atlanta. In fact, we got a number of region rivalry matchups in the state finals here. In fact, three of them, if I'm not mistaken.
Jon Nelson: So then let's go straight to 7A, since you talked about 6A, and Langston Hughes being in there for the first time. A school in Langston Hughes that's only 12 years old, making it to a championship game is fantastic. But in 7A, I know a lot of folks at the beginning of the playoffs, the beginning of the year, really, we're looking at Collins Hill, nationally ranked, all the star power that they've got. They made it to the last game of the year against a Milton team that has really caught fire.
Matt Stewart: Well, I had Milton number one in my preseason ranking. And I did not have Collin's Hill there. When you're talking about star power, both of them certainly have it. If you're talking about total quantity of star power, Milton maybe has even more college prospects than Collins Hill. They don't have Travis Hunter, though. And they don't have Sam Horn. Those two guys are two of the highest ... though, and they don't have Sam Horn. Those two guys are two of the highest liked players in the state. This is like a college football game. There's going to be a lot more stars on the field in this game on the top end than a lot of college football games that you see on Saturday. Now I'm not saying that this is like a college football game because you got to go top to bottom the entire roster and the depth stuff. But, as far as high level talent, this is about as good as it gets. Same thing in the 6A game too. You have so much star power from a college football recruiting standpoint, the 6 and 7As, it's pretty amazing. But the 7A matchup is just going to be a tremendous matchup. Milton had the loss to North Cobb early on in the season after Buford had beaten North Cobb in the opener and Collins Hill's just been mashing people. Collins Hill mashed Grayson in the semi-finals this past Friday night on GPB. They've just been dominant. I expect this to be a game that maybe goes down to the final possession, the final play of the game in 7A.
Hannah Goodin: Circling back to 6A, I want to touch on Buford too. Got to talk to Coach Appling at the media days on Sunday and he's just so calm, cool, and collected. And he was talking about the fans and the community taking all these wins for granted. They're going for three championships in a row. So thoughts on Buford back, I actually asked him what his game day routine was at Center Parc Stadium, because it's basically home for them now.
Matt Stewart: Yeah, no doubt about it. And that's a message that he's been telling to us all season long when we've talked to him about Buford games that we've televised is that there's a, apathy's not the word, but I think the expectation is that they just show up and win and that's kind of the message to his team. So he kind of fights to use the word of the day, the rat poison, the Nick Saban rat... He fights that rat poison In the halls of his own schools, in his own community, where they just think they show up and win the games. And he says it's not that. And that's the message that he constantly has to preach to his team that is that, no, it isn't, you don't just show up and you don't just win. If you don't do the things that you've been taught and the things that we've practiced this week and all season long, you can get beat. And so that's something that he works on all the time. It's a blessing and a curse for Buford, if you will. They won 13 state championships. That's the blessing. The curse is people start to take for granted that they've won those 13 state championships. I know he doesn't take it for granted. And he said, "People ask me, "Does it become old hat?" He says, "Heck no, man." He says, "I'm still as nervous going into this state championship game as the first one I did as a head coach and going back to all the state championship games that I got prepared for as an assistant coach under Jeff Simpson and Dexter Wood." So yeah, he doesn't take it for granted. And his big challenge is always to keep his players grounded and very interesting comparison. His program reminds me a lot of the Alabama program. I hear the boo and hisses from all the Georgia fans out there, but I think you have to respect that. Alabama is a program loaded with talent and nothing's given to you there. I'm not implying that anything's given to anybody else. I'm just talking about Alabama right now. Nothing's given to you over there. You show up with five stars. It's not given to you. You got to earn your way onto the field. And Buford's the same way. They are loaded and stacked with talent, but that doesn't mean anything. You still got to earn you're playing time. And most the time, those guys, including the starting quarterback, doesn't even know whether he's going to be the starter or not until 15 minutes before the game. So, that approach. And so, he agreed when I said I would compare you to Alabama. He says, "Yes, we model ourselves after Alabama." The other twist to that was, he says, "We also model ourself after West Point." So that's where the discipline part of it comes in. It's a very interesting contrast that they model their program after Alabama, but they also model their program after Army West Point. I think it tells a lot about why they're so good. And I saw a tweet today and it said, "A lot of teams have a lot of great talent, but being able to win with it." You got to give Buford a lot of credit because they do that. There's a lot of programs that have a lot of great talent and don't always win with it. Buford always wins with it.
Jon Nelson: Matt, one last thing before we wrap up the show this week is I wanted to reach out to you and break down what this weekend is for Georgia Public Broadcasting. It is wall to wall football. It's our Super Bowl weekend. And it's like it's our Daytona 500. It's the Super Bowl. It's all of those super events wrapped up into three days and it's the crowning jewel here at GPB.
Matt Stewart: It's not our wrestling Raw?
Jon Nelson: No, it'd have to be WrestleMania because WrestleMania takes more than a couple of days.
Matt Stewart: I can't even do that. You and Wayne get in there together and you guys are all talking about wrestling and everything and I'm always left out. And so I was trying me to put in
Hannah Goodin: Me too, man.
Matt Stewart: a wrestling reference and I couldn't even get it right because I don't know.
Hannah Goodin: Wrestling Raw
Jon Nelson: It's our WrestleMania, yes.
Matt Stewart: Okay, I knew you'd get me straight on that. So yeah, this is the crowning of our season. And we hope every week that we're absolutely given our best, whether it's the recruiting show or it's the podcast or it's our blogs, it's the game, it's the Post Game show. It's all that stuff that we do. And every week we're trying to give and do our absolute best. And then it all culminates in this, this avalanche, this tidal wave of 11 games, counting the flag football. And hopefully the previous, however many weeks it's been, 14 weeks I guess. I lose track. However many weeks it's been, hopefully that's all prepared us to be ready for this, but it's still a daunting task. No doubt about it. And we, you, me, Hannah, all of us that are on camera, people see us, but there's so many people behind the scenes making this all work. All the way from top to bottom and no job is not an important. And so sometimes I refer to as the GPB army on the air.
Jon Nelson: We are.
Matt Stewart: And it is. We're a little army. We come marching into your high school or your community to put on this show. And it's an honor for us to be able to wrap it up with all these state championship games at Center Park Stadium.
Hannah Goodin: Yep, so many moving pieces and it all comes together. Well, Matt, you're going to hang out while we wrap up the show here. Let me go over the schedule really quick. On Thursday, those three flag football championship games start at 11:00, then 12:45 and 2:30. Then we've got Single A Private at 5:00 and Single A public at 8:00. Then Friday, we will have our noon match up. Start us off with AA. 3:30 will be AAAA and 7:00 6A. Saturday, December 11th, our noon game is 3A, then 3:30, that will be the class 5A championship. And finally the prime time 7:00 game, class 7A Milton versus Collins Hill. Really looking forward to that one and all of these games, John.
Jon Nelson: Yeah, it's going to be fun. And the GPB army will be there all week for all of these games. And it's going to be cool to see the flag football games as well. Three of them this year instead of the two from last year because more teams are now involved. So it's going to be a blast and it's going to be great to see everybody down at Center Park. And Matt you're paired with Rusty Mansell and Wayne Gandy, right?
Matt Stewart: That's right. They make it easy for me, so I don't get things messed up in my schedule. I always have at least the last game every day and then when we have three games, I get the second in the last game. So I'll be doing 1A public, the Irwin and Brooks game with Wayne. And I'll also be doing the 6A, Buford and Hughes and the 7A, Milton and Collins Hill with Wayne and then Rusty Mansell is going to jump on board with us this year. Excited to have him on board with us with the 4 and the 5A with Collins. Then I end up with Columbus, Carver Columbus and Benedictine in the 4A and in the 5A, the Warner Robins and Calhoun match up.
Jon Nelson: So Matt, as always, great to have you on with the Football Fridays in Georgia All-stars. Same time next week you'll put a bow on the season for us. Let me see if I get the roster right. Todd Holcomb, the Georgia High School Football Daily, John Koon from Vidalia, Christian Goeckel ESPN Coastal, Jack Patterson, WRBL in Columbus. Page Dauer, WALB in Albany, Marvin James, 13 WAMZ, and the voice of Football Fridays, Matt Stewart. She's Hannah. I'm Jon. That's your preview. That's the All-stars. Enjoy the championships at Center Parc.
Secondary Content