Section Branding
Header Content
Flag Football Is A Roaring Success Throughout Georgia
Primary Content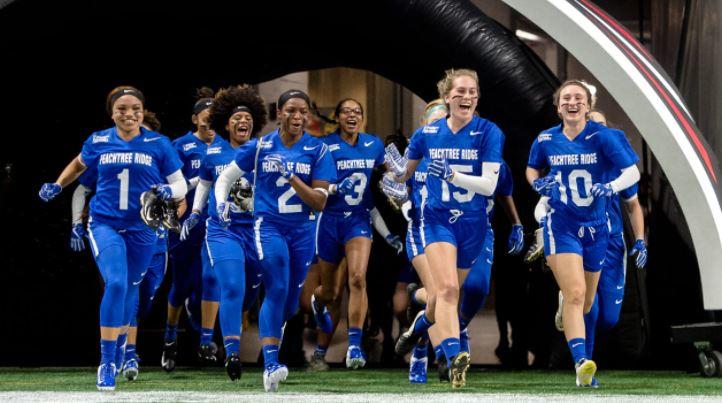 Girls flag football has exploded across high schools in the state of Georgia.
In a few quick years, the sport has grown to where nearly 200 schools participate in the Georgia High School Association sanctioned leagues.  Although girls flag football has a short history in Georgia, it's a quick and exciting story.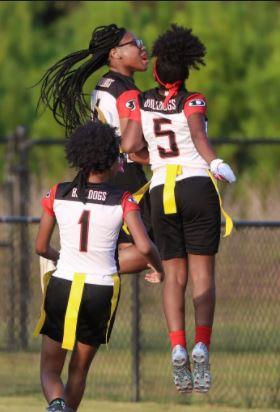 In 2018, the Arthur M. Blank Family Foundation approached Gwinnett County Public Schools about the idea of funding girls flag football for the county. With the hopes of getting 10 teams to have a season, schools had more interest than anticipated. All 19 high schools in Gwinnett County Public Schools participated in the 2019 season where they played 14 regular season games and a playoff.
This culminated with the championship game played at the Mercedes-Benz Stadium. Peachtree Ridge High School won the championship that day. Other activities, including a Women's Leadership Summit, kept the energy going -- along with the Super Bowl being in town. USA Football, Nike and ESPN all helped promote the sport of girls flag football.
The 2019 season saw nothing but growth in this sport where Gwinnett County would be joined by Cherokee, Forsyth, Henry, Muscogee and Rockdale counties in playing girls flag football. Those schools were fortunate enough to have the championship played at Mercedes-Benz Stadium, where Columbus High School was crowned champions.
After seeing the interest and success of flag football, the GHSA decided to sanction the sport starting with the 2020 season. Although the struggles of COVID-19 hit many programs, 91 schools participated in the inaugural season. No longer just a metro Atlanta sport, teams from Savannah to Augusta, Columbus to Canton competed in the 2020 season.
The season wrapped up with the semifinals being hosted at the Home Depot Backyard at Mercedes-Benz Stadium. Even more exciting, on Dec. 28 the two classifications played their state championship games. These were televised on Georgia Public Broadcasting at Georgia State's Center Parc Stadium prior to the boys' football state championships. Calvary Day defeated Portal in a defensive battle and West Forsyth defeated Hillgrove in a thrilling double-overtime matchup.
With more schools finding ways to battle COVID-19, the 2021 season has seen 189 schools across the state compete in GHSA girls flag football. With the sharp increase in teams, the GHSA expanded the sport to three classifications.
Georgia is now one out of five states across the country to sanction girls flag football.
Flag Football Championships
Thursday at GSU's Center Parc Stadium
Div. 1: Portal vs. Southeast Bulloch, 11 a.m.
Div. 2: Lithia Springs vs. Dodge County, 12:45 p.m.
Div. 3: Hillgrove vs. Marietta, 2:30 p.m.
Secondary Content
Bottom Content