Section Branding
Header Content
Consistent Carver Runs Its Way Back To Final Four
Primary Content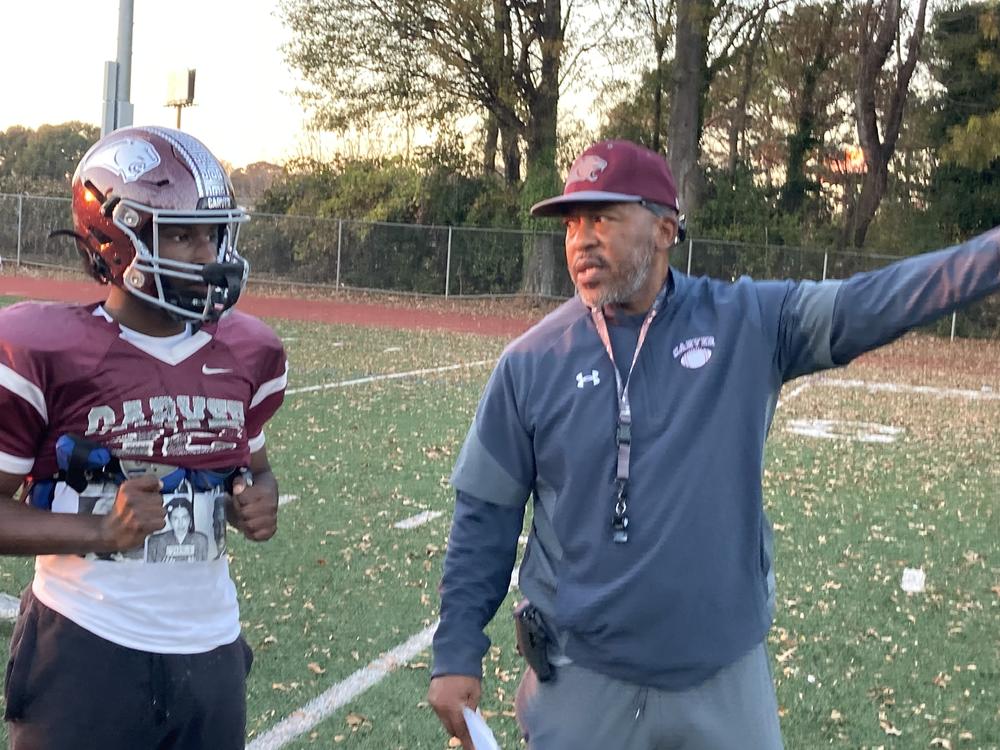 Thanksgiving week is special for high school football in Georgia. If you are a head coach, you are thankful that your team is still in the hunt for a state championship. On the other hand, you might be concerned about a break with what has been your routine. The team practices in the morning hours and on the day before the game the players spend additional time with family and friends.
The hope is that the team comes back ready for what awaits them. For some teams the quarterfinal round brings a long bus ride to the homefield of their opponent. This was not the case for the Carver Panthers. Their school is just a few blocks away from Lakewood Stadium. They did have to wait for the South Atlanta-Callaway game to end on a rare day that saw two Atlanta Public School teams host quarterfinal games.
It was Burke County's task to make the long bus ride over from Waynesboro. It would be an even longer ride back. Carver led 25-7 after the first quarter and was up 46-7 at the half. It all happened so fast, and Carver Coach Darren Myles had been so preoccupied with managing his sidelines and coaching staff that he had paid little attention to the scoreboard.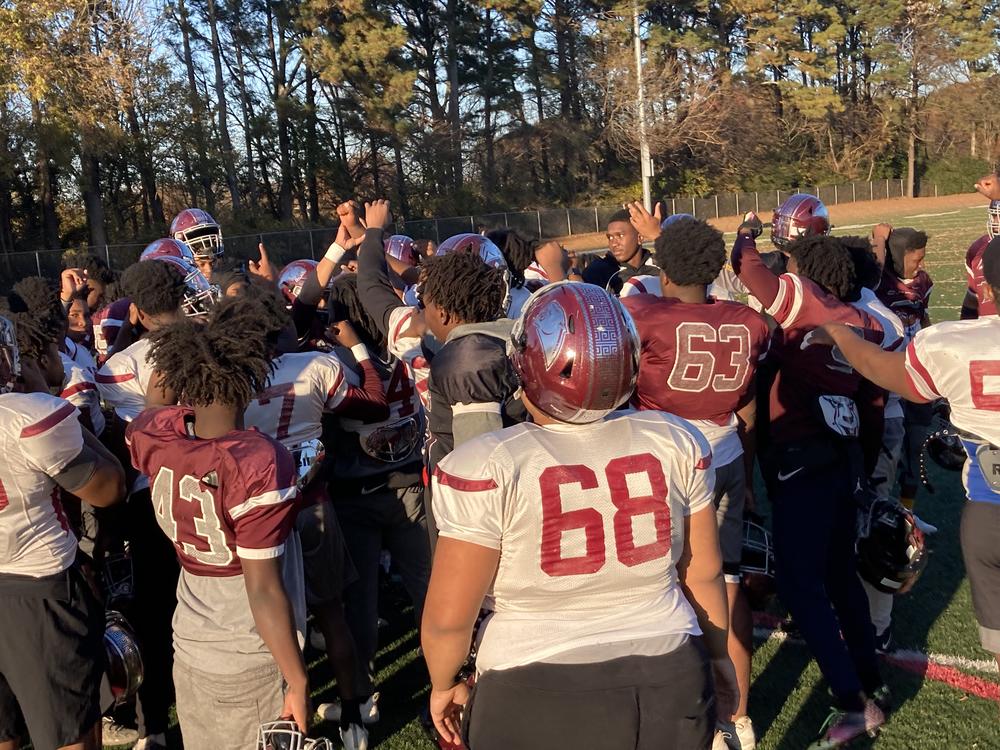 "I was surprised that we jumped on them early like that," recalls Myles. "I came out of the locker room and told my starting tailback Jarveous Brown that he was not going back in. He had nine plays. Then I told Quintavious Lockett that he had one series, but when I came out to start the second half and looked at the scoreboard, it said 46-7. I said, wait a minute 46 points in the first half? I decided we can't do that.
"I said, where is Lockett? I told him, I'm sorry. You're not going back in tonight. He understood, we have next week. I would look like the dumbest coach in Georgia if I put him in the game and something happened with a 46-7 lead. We took the starting quarterback out and let the backup guys get some work in a playoff type atmosphere. I was pleasantly surprised. I knew that we could have some success and was confident that we could win the game. It turned out that our players were more confident that we were."
The 46-14 win over Burke County launched the Panthers into the semifinal round of the state playoffs. The path to get there has been a unique one for Carver. The whispers of state championship had started after an impressive 36-29 region victory at Sandy Creek.
"It allowed us to see that we can play with these guys," says Myles. "We can beat them … we beat them last year. I always tell them, we don't play records, we play teams. We don't play state rankings, we play teams. Nobody is going to lay down to Carver just because you got off the bus. We prepared, and we knew that we were going to be in for a battle with Sandy Creek. They were very explosive on offense. We had to do some things we don't usually do on defense. We were down 14-0, but there was no panic. The Sandy Creek game was the one that got others to believe. I've been preaching state championship to these kids since spring ball. You can't just say state championship without going through the process to get there."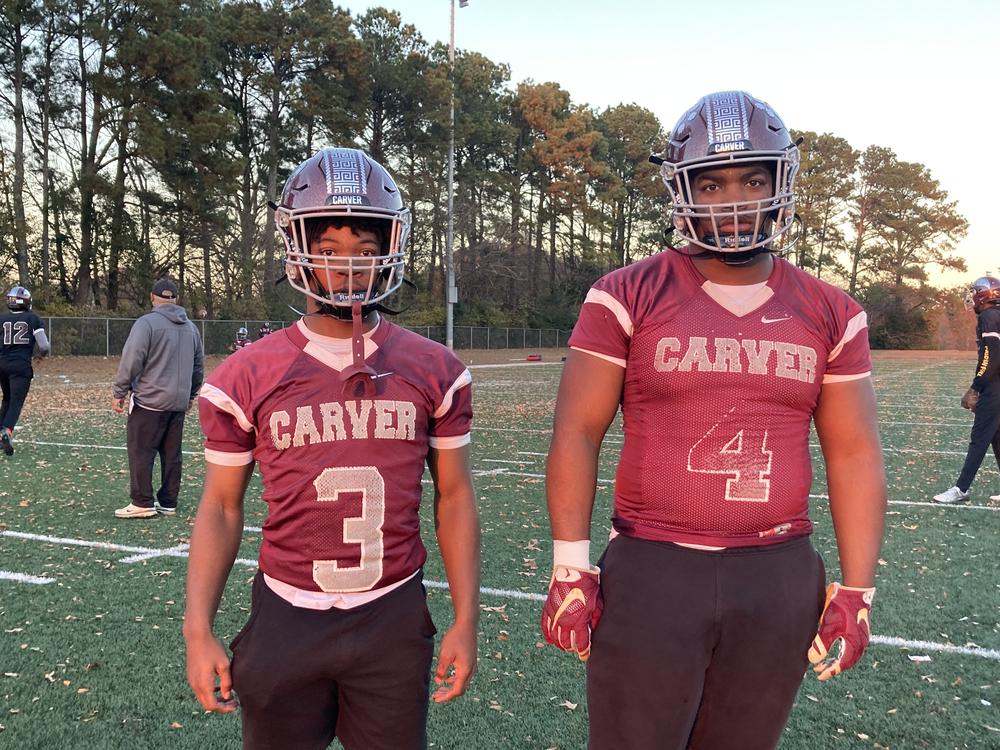 I happened to be on the sidelines for the Carver spring game against Hapeville Charter. The Panthers looked impressive that day, but it was obvious that they were having troubles at the quarterback position.
"We had Kiontae Strozier set to be our starting quarterback in the spring," recalls Myles. "He tore his ACL and PCL. He was also our best cornerback. Strozier was injured during the last contact practice of the spring. At the time of his injury he had numerous offers, Virginia was among them. We had two sophomores that were backing him up. Dashawn Calhoun started the season, was injured against Redan and we lost him for six weeks."
Down to their final quarterback headed into the meeting with top ranked Cedar Grove, the Panthers got a boost when Bryce Bowens moved into the Southeast Atlanta community from Grayson and enrolled at Carver. Bowens took over at quarterback the following week and the Panthers have not lost since.
"All he did was open up our offense, starting after the Cedar Grove game," recalls Myles. "What Bryce has been able to do for us is make people play us honest. We have always been great at running the football, but we have always struggled to throw the football. This year we are a little better throwing the football."
Last week, Bowens threw three touchdown passes and ran for two more scores in the win over Burke County. His abilities seem the perfect complement to the running back duo of Jarveous Brown and Quintavious Lockett. Both have rushed for more than 1,000 yards this season despite missing games with injuries.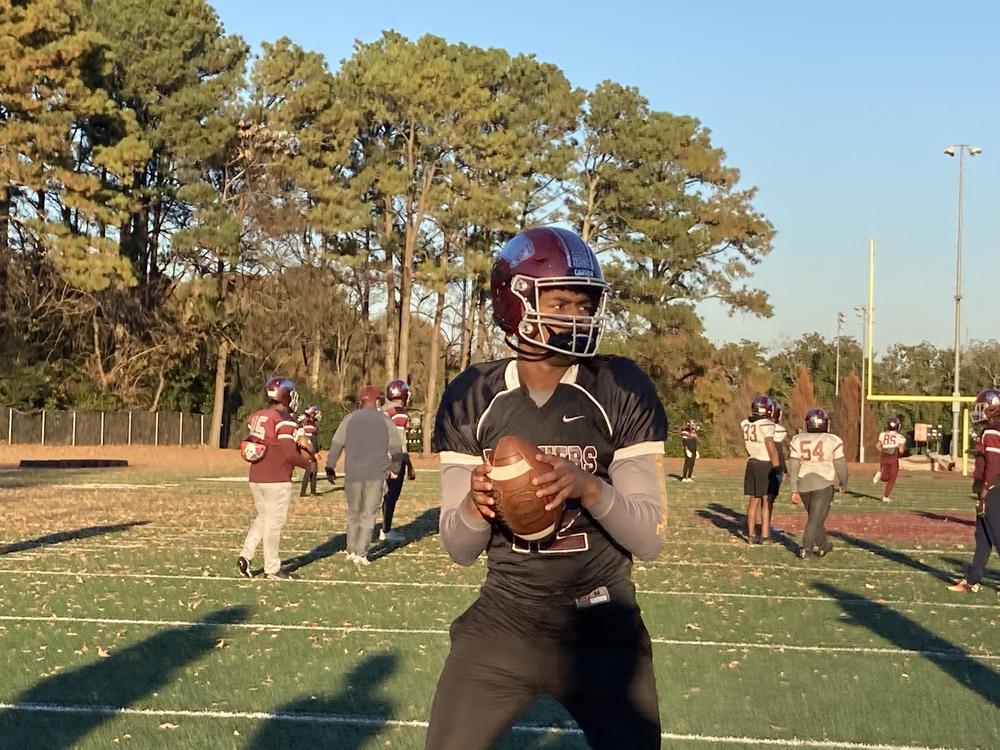 According to the Georgia High School Football Historians Association, this year's Carver team is just the fourth team in school history to win at least 10 games. Of the four, three of those have come during Darren Myles' 17-year tenure at the school. There are new developments just blocks away from the school that look to the future, while there are still symbols of the community's challenged past that remain. And, there is the empty lot just outside the school's gates where a Wendy's was burned to the ground during the civil unrest a summer ago.
There are those who felt that Darren Myles would have left Carver for greener pastures years ago. He has chosen to remain and has created an oasis of consistency in what for many of his players is a very inconsistent world.
"To me stability is very important," says Myles. "Growing up I remember moving around a lot, because we had to. I adapted, but I didn't like it. I also know that all that glitters is not gold. When I look into my players' eyes, I see myself as a teenager. Coming from an inner-city school in New Orleans, I was undersized, and wanted to go to LSU. I was a small running back and had to go up north (Purdue) to play. Going up north, I saw a big difference. My first week there I saw car with keys in the ignition and the windows down. I looked around and thought, 'What is going on? Somebody left their car and didn't take their keys?' You didn't do that where I came from. It was just my introduction to life in a different place."
It's the idea of seeing a different place that had Darren Myles attending a recruiting expo on this semifinal week. He took a break from telling college recruiters about his players to speak with me. 
"We are blessed and fortunate to still be playing this week," says Myles. "This recruiting expo has been going on for years. It is designed to allow colleges that don't have the travel budgets to come down here and get everybody in one room to look at high school prospects. That's the whole reason why I got into coaching. I didn't know how much I would get paid, just trying to figure out what I was going to do with my life. Maybe I can help some kids get out of the neighborhood. I knew that I could teach them football, because I played it. So that has always been a goal. Develop them to well-rounded student-athletes who will become lifelong learners and productive citizens."
Carver is a win away from becoming the first Atlanta Public School team to play for a state championship since the 2014 Mays team. This week they face defending state champion Pierce County in Blackshear in a rematch of last season's quarterfinal.
"We know that they are a physical team," says Myles. "We know that they will be well-coached and the environment will be electric. We had the opportunity to go down their last year and play them in the quarterfinals. That game (a 51-18 loss) didn't turn out well for us. From the schematic standpoint, they are about the same on defense and on offense they have a dynamic player in D.J. Bell, who is playing quarterback. We know we're re going to have to play 48 minutes, and do our best to play mistake-free football."
This week Football Fridays In Georgia will feature Grayson at Collins Hill. It all starts with Recruiting 2021 at 7 p.m. on the Great GPB! 
Secondary Content
Bottom Content