Section Branding
Header Content
No. 4 Seed Johns Creek Manages To 'Find A Way' To Keep Playing
Primary Content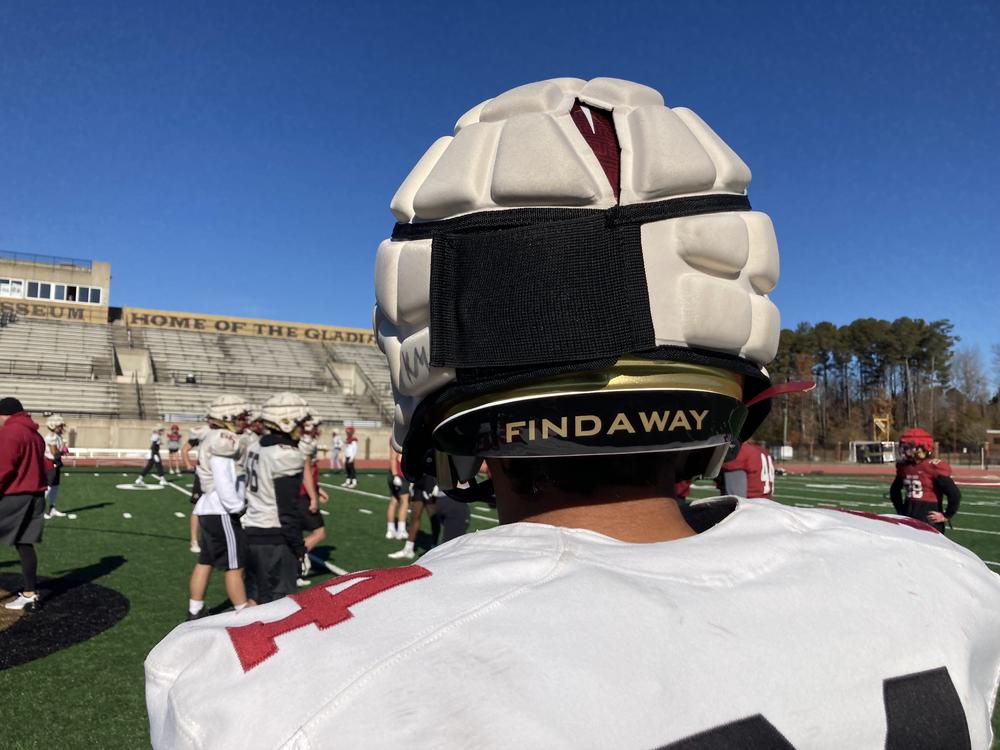 It's Thanksgiving Week and around the state a very special group of high school football teams are still at it. It you have a winning record you have had a good season. If you make it to the playoffs, you have had great season. And if you are still practicing football on Thanksgiving week, you are having a special season.
In Georgia, high school football teams begin their preseason workouts in August, the morning hours, because classes have not started yet. This week most schools are out. That means no classes and football practices return to the morning hours. The Johns Creek Gladiators are on the field after reaching the quarterfinals for the first time in school history. Head coach Matt Helmerich has been aiming for this time since his arrival at Johns Creek in 2017.
"It has been a personal goal of mine and a goal since we got here," says Helmerich. "I tell the kids every year that, and it's not to brag, but down at St Thomas Aquinas (his former school) we practiced on Thanksgiving every year. It was my favorite week of the year. Knowing that a lot of people's seasons are done and we're still going is a special feeling, a blessing and an honor."
A four No. 4 seed from Region 7-6A, the Gladiators were resigned to a bus ride each week during the playoffs. Last week's trip to Evans, near Augusta, was a long one.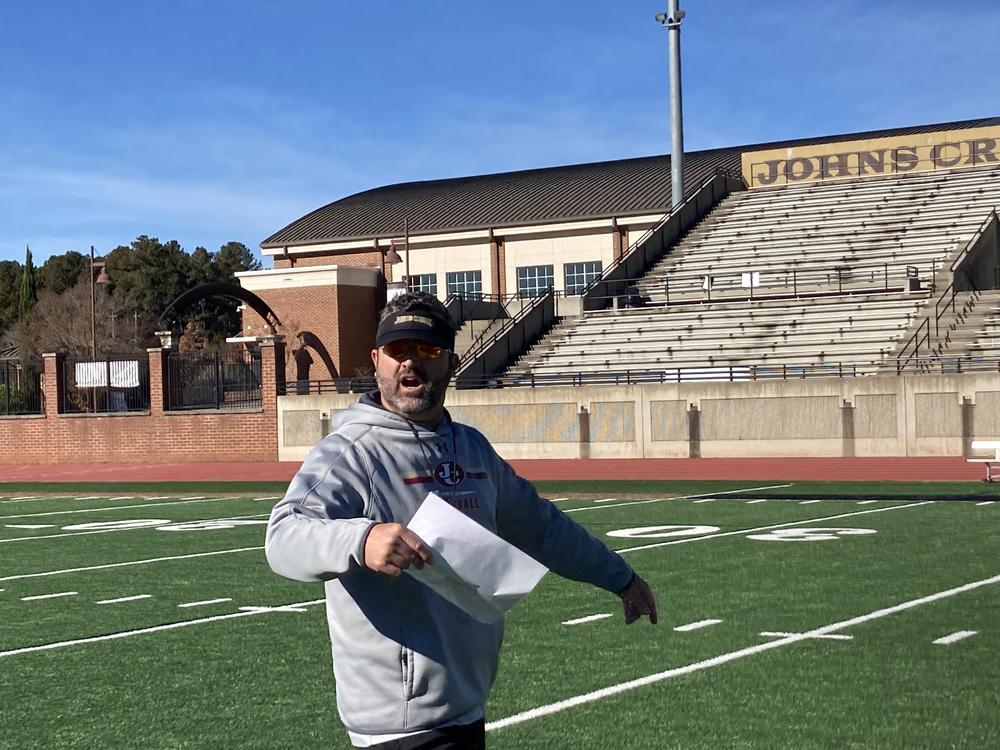 "We stopped at Greene County and did a walk through," recalls Helmerich. "Any time you go on a long bus ride like that you wonder how the kids will handle it. We didn't start off great, but we did some good things in the first half. Evans came out ready to play. I was surprised by how athletic they were. They looked a lot better in person that they did on film. Our kids responded and really did well after some adjustments at halftime. We managed to pull away and even get some of our backups in the game. Just happy to get the win. After the ride back, I walked in my house at 2:30 a.m. and got up the next day and started watching film, getting ready for the Falcons."
Johns Creek's 45-14 win over Evans marked the sixth time the Gladiators had scored 40 or more points in a game this season. After starting the season 2-1, the Helmerich's team got rolling, scoring 40 in a win over Sequoyah and 41 in a big region win over Riverwood.
"Sometimes it takes offenses a bit longer to get going," says Helmerich. "Our running game is great. Tylan Johnson (180 yards and two TDs vs. Evans) is a really good running back. He runs behind an offensive line that is the best and about the biggest line we have had since I have in my five years here. We have a tight end, Rowan Darnell, who has been down with a torn ACL since Week 2 of last year. He came back a few weeks ago and has added another dimension. You can do a multitude of things with him -- line him up in the backfield or split him out wide. He has been one of our X factors on offense. We have some speed on the outside with Josh Thompson and Brandon Palmer."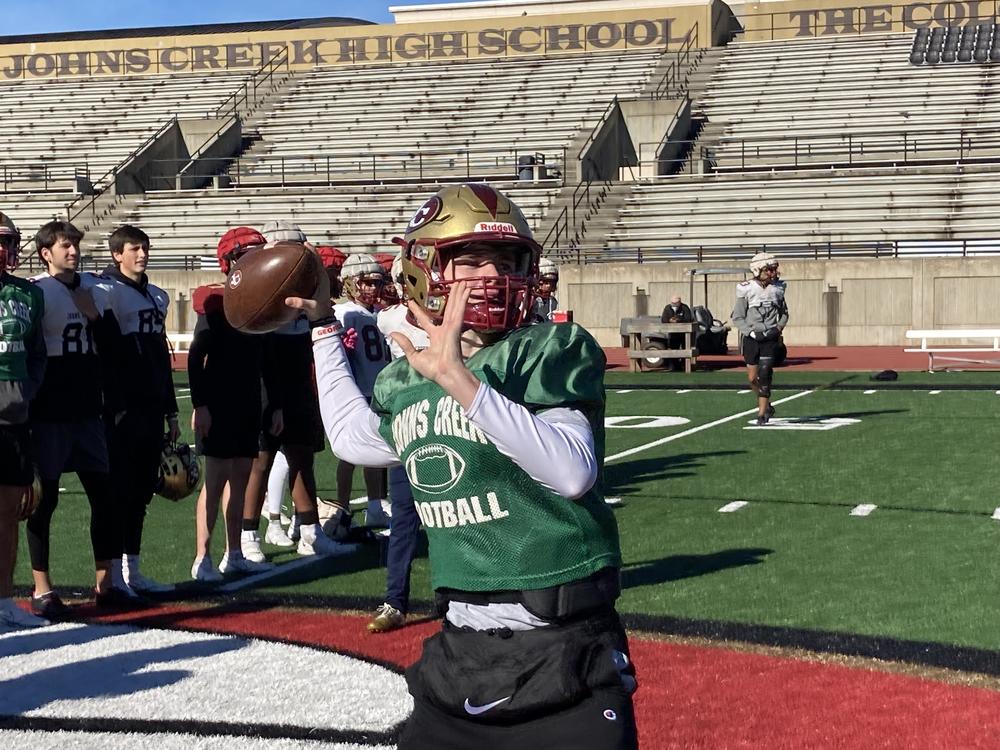 Senior quarterback Kyle Durham directs a prolific offensive attack. Productivity increased as Durham gained more confidence. This season he has thrown for more than 2,500 yards and 27 touchdowns
"He is just growing every single week in a different offense than what ran last year," says Helmerich. "He has learned how to go through his reads and progressions and take what the defense is giving to him. He gets better at that each week. I have been in awe of the touch he can put on the ball."
The Johns Creek defense came up big in last week's win, limiting Evans to 14 points. One of the stalwarts on defense is Terian "TJ" Williams. Williams has six interceptions this season and is committed to Stanford.
"Terian is a leader," remarks Helmerich. "Always on the right spot and one of the few players we have who plays both ways. He's one of the top guys in the state in interceptions. He knows where to be and when to be there. Stanford is really getting a good one with him."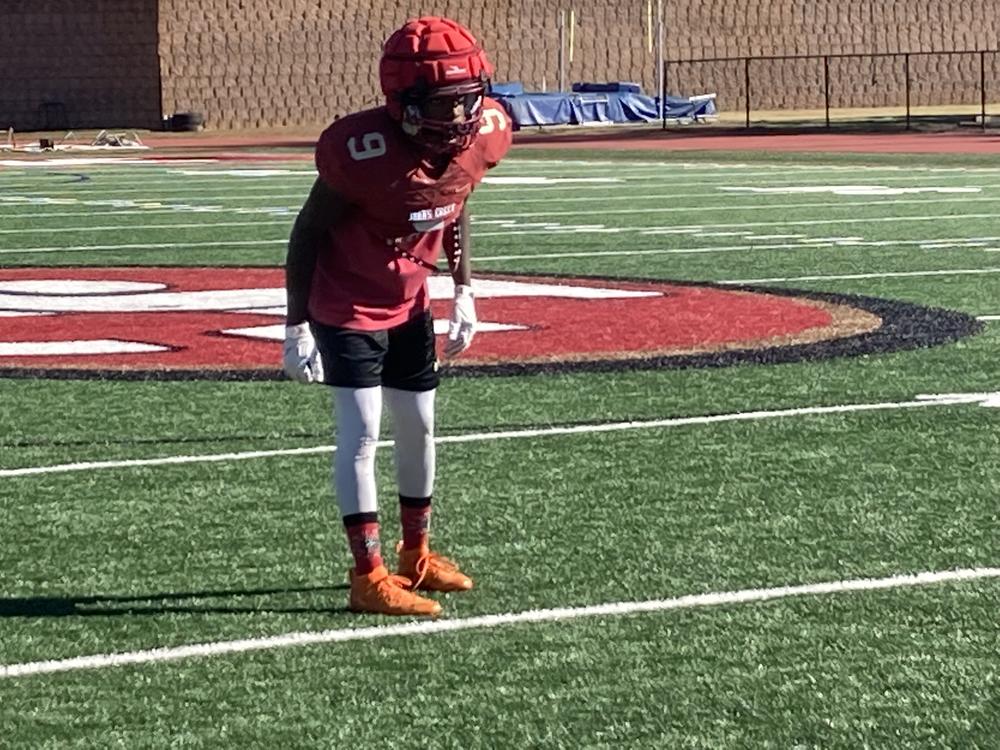 Williams' partner in the Gladiators secondary is senior cornerback Dubem Nwizugbo, who in addition to being an all-region hurdler is also a violinist. Multi-sport athletes can be found all over the Johns Creek roster. Punter/kicker McRae Ball is also a basketball player. Mason Eaton plays lacrosse in the spring and is the long snapper for football. He has attracted the attention of the University of South Carolina and he went for a visit last weekend.
"He's a pretty good long snapper and has been visiting schools," says Helmerich. "It's one of the things that gets overlooked. Our long snapper from last year is at Indiana right now and our punter from last year is at Kennesaw State right now. We have had some good specialist here. This time of year a good long snapper and a punter/kicker are definitely key. Those little pieces are big when you are on a playoff run like us."
A long and fruitful playoff run so far. Helmerich knows a little something about long playoff runs, as he was defensive coordinator and national powerhouse St. Thomas Aquinas in Fort Lauderdale, Fla., before coming to Johns Creek. St Thomas Aquinas has won 12 Florida state championships and three national championships with a list of alumni that include NFL stars Nick and Joey Bosa. Helmerich feels that what he learned coaching in big games, late in the season, is priceless. Much like the lessons his team learned this season playing in a very tough region.
"Our region has gotten better and better every year since I got here," says Helmerich. " I don't know if a lot of people remember that we were down 22 in the third quarter to River Ridge and if we don't come back to win that game and then get beat by Creekview, like we did, River Ridge would have been in the playoffs and we would have been sitting at home.
"We got ourselves into a big hole. We had 10 turnovers in the last two games of the season. Our region was tough. We ended up with a lot of close games this year. I think it pays off now because our kids know we can go through some ups and downs in a game and our kids don't blink anymore. It all turns out to be a blessing in disguise. Who knew that being a four seed would work out to our advantage a little bit."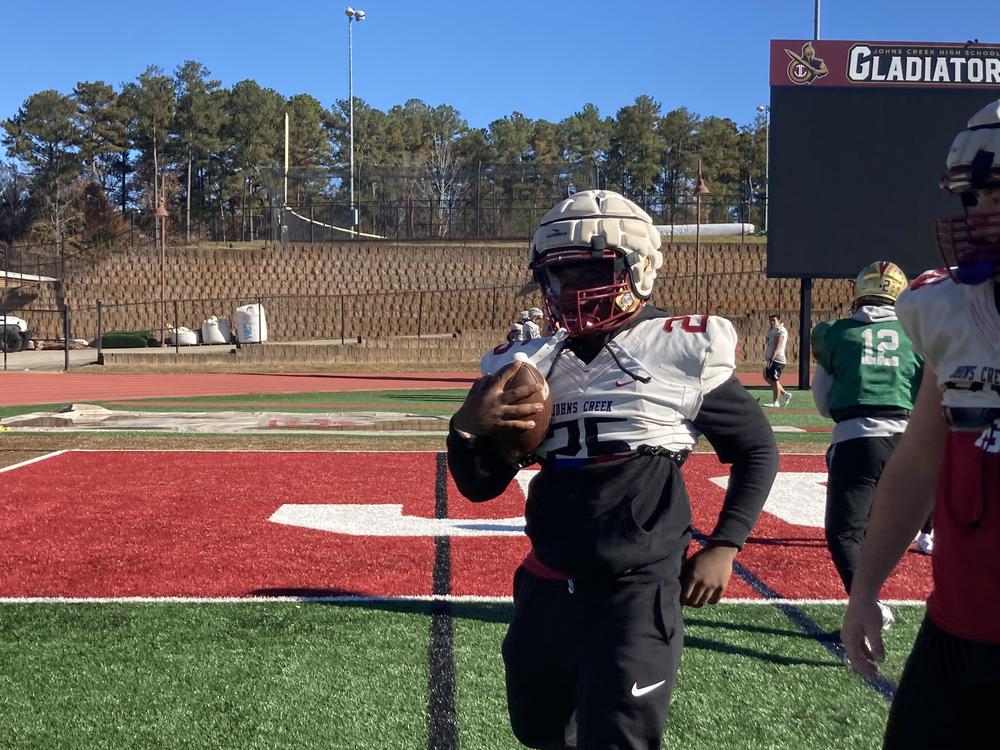 While at practice with Johns Creek this week I noticed a slogan on the back of each helmet. "Find A Way." Be it a long bus ride to Rome in the first round of the playoffs and the longer ride to Augusta to face Evans in the second round, the Gladiators just keep on finding a way. This week the bus ride won't be as long, to face a Dacula team that might be their toughest postseason test yet.
"They have tough, hard-nosed kids," says Helmerich. "They want to run the ball, with a pretty good defense. They always seem like they have a bunch of D-1 linebackers over there the last 3–4 years. They have some size up front and I think that they will try to control the clock . This game will be won or lost in the trenches. We are going to see if we can get it done."
This week Football Fridays in Georgia will feature a quarterfinal showdown between Walton and Brookwood. It all gets started at 7 p.m. with Recruiting 2021 on the great GPB!
Secondary Content
Bottom Content