Section Branding
Header Content
No Frills, Just Success For Hapeville Charter
Primary Content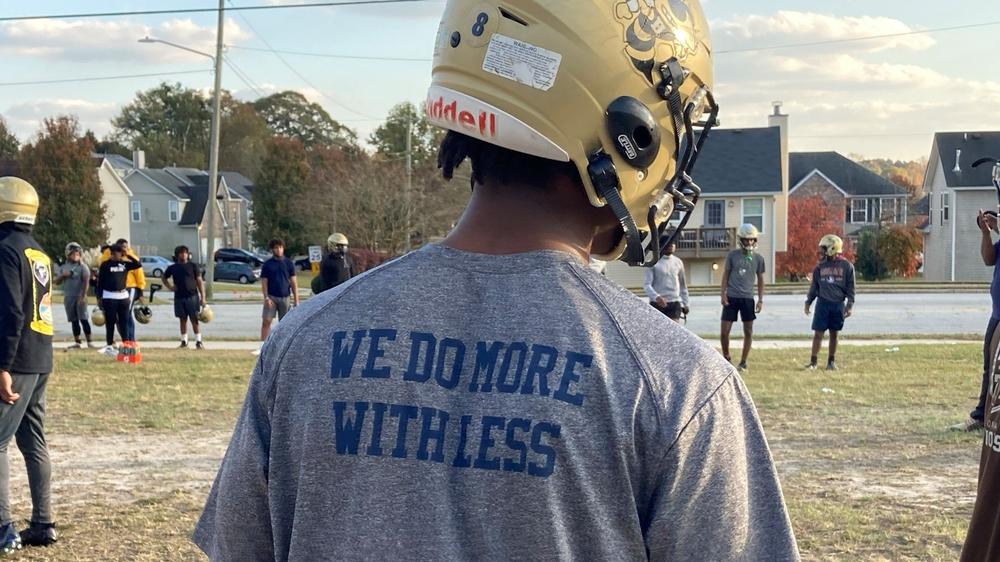 If you drive on South Fulton Parkway, exit at Buffington Road and head south, you may catch a glimpse of something quite amazing.
Traffic on this road usually travels at a speed of around 50 mph, but if you are driving during the late afternoon hours, the speed drops. Maybe those who don't frequent the area are stunned to see a high school football team practicing on a field by a busy road with no fencing. There are those drivers who live in the area and may know some of the players, and then there are those who are just honoring the sign that mandates a 25 mph speed limit that is actually posted on the practice field.
Welcome to Hapeville Charter Career Academy, where football thrives against the odds. There are no lines on the field, very little grass, no goalposts and no lights.
The cars don't bother the team at all. In fact, I actually witnessed a player running into the street to retrieve a football. The team is too busy preparing for this week's second round Class 4A playoff game against No. 2-ranked Carver-Columbus. Winston Gordon has been the head coach since the program's inception in 2011.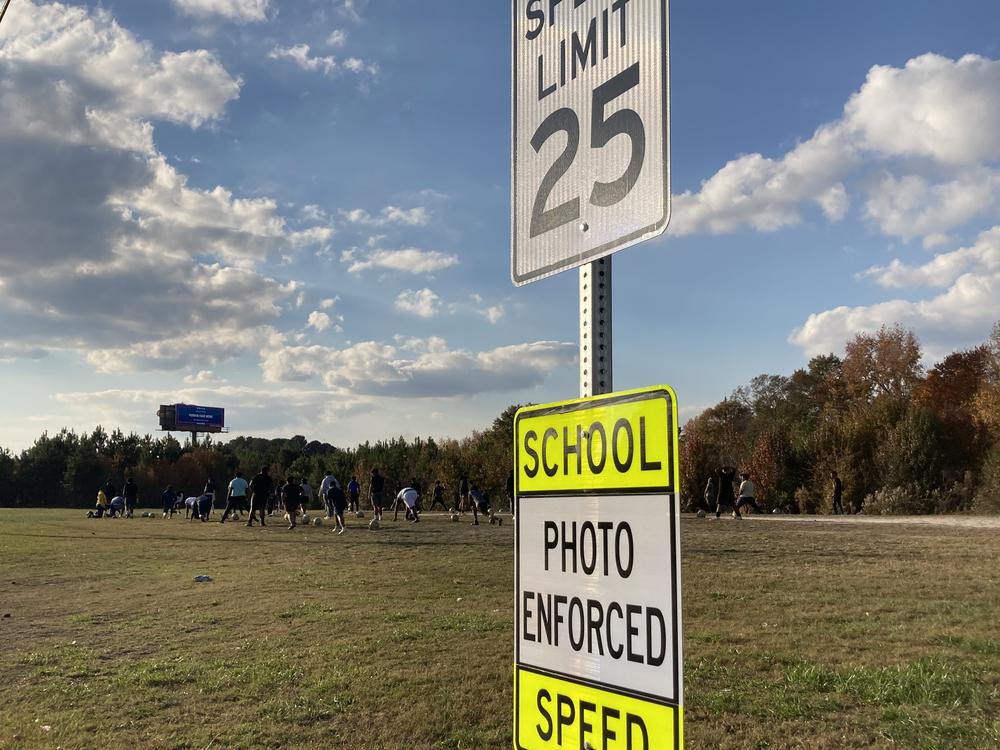 "It's a group of hard-nosed kids who want to have a program," says Gordon. "When we arrived here at Hapeville Charter, we were not even talking about sports. It was an academic situation and we were building a career academy. We wanted to try to provide an outlet for those kids and that's when sports came about. Somehow it just morphed into this. One by one the kids have come here and taken on that outlook of 'We Do More With Less.'"
Last week the team that does more with less pulled off one of the biggest wins of the first round of the playoffs, traveling to Jefferson and beating the one-time No. 1-ranked Dragons 12-10. Most people would call it an upset, but Gordon won't hear it.
"We played them last year (losing in the second round 35-0) so there was some familiarity," recalls Gordon. "We took on their challenge and our kids had a chip on their shoulder from the start. We made an early mistake and threw a pick on the first play of the game and it gave them some momentum. I knew once we settled in, we would get things rolling and in the second half things really got rolling. I tell everyone that football is a four quarter sport."
In the second half the Hornets' defense would limit the Dragons, while the offense rallied for a pair of fourth quarter touchdowns. First-round playoff wins are nothing new for this program, but traveling a great distance to play a first-round playoff games is.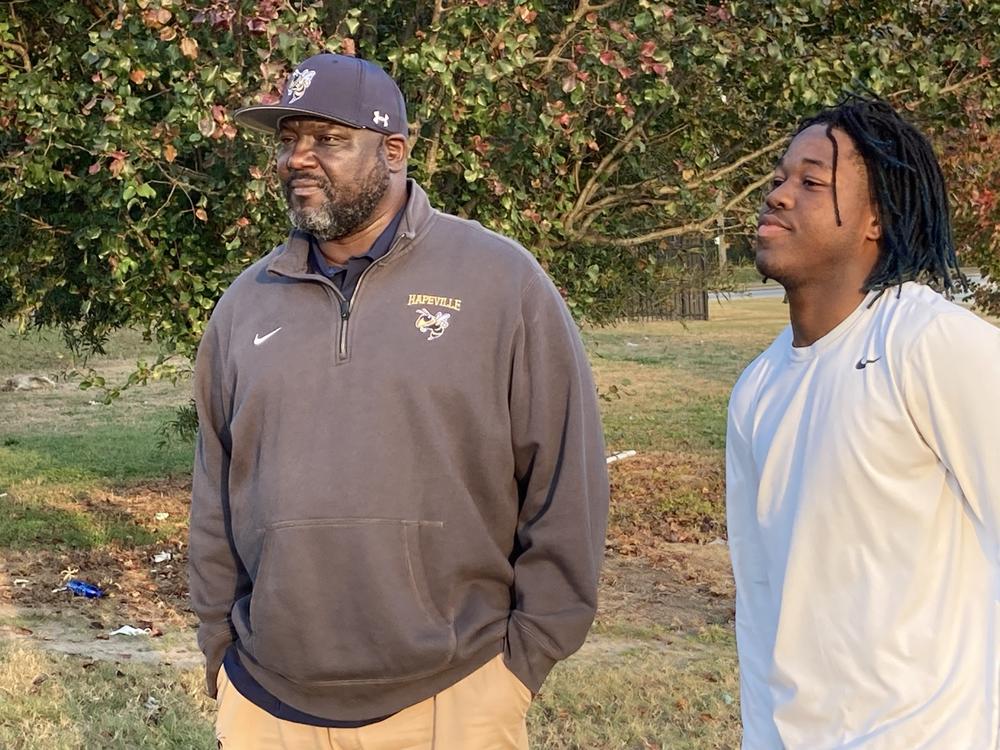 "That's part of the expectations here at Hapeville Charter," says Gordon. "Each year we at least make it to the second round of the playoffs. It was unfamiliar for us to be on the road for a first-round game, but we put ourselves in that hole. We knew what we had to do to get our kids into the proper mindset."
The proper mindset. It's something players at Hapeville Charter must have to succeed. The recent end of daylight savings time means it gets dark sooner. That means, at least once during the week, taking a ride to nearby Banneker High School to practice on a field with lights. It is also the stadium the Hornets have used for their home games on weeks that the Trojans are playing away games.  With no stadium of their own, the Hornets are on a bus every week and last week's game against Jefferson was played on one of the top high school athletic complexes in the state. Gordon maintains an interesting outlook on facilities.
"We take on every stadium like it's our field," says Gordon. "We don't have a home field, so we take that approach to every stadium we go into. I tell our kids, let's go and own it, because it's ours."
Gordon is known for scheduling a tough non-region schedule in hopes that it will prepare them for success in their region. This year's non-region schedule included Milton, Woodward Academy and Pebblebrook – three teams in higher classifications who all won their first-round playoff games. The Hornets lost all thee, failing to score in the first two. Then came losses in their first two region games to Mays and Marist. With a midseason mark of 1-5, things finally started to turn around. They have since won five straight games.
"You try to work a heavy load up front to see where you are as a team," says Gordon. "Sometimes you are ahead of schedule and sometimes you're not. We were just a little behind schedule, and we were working in our new quarterback. Now he is starting to get it and rolling a little bit, plus the defense has been playing lights out all year long. We just had them out there too many series early in the season."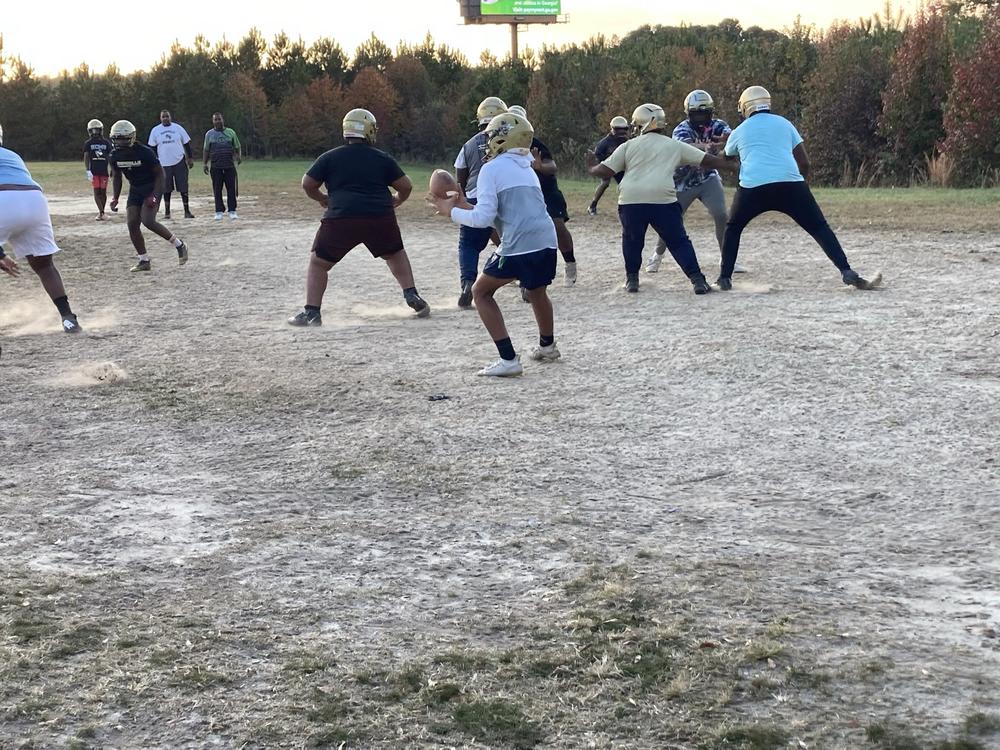 An already challenging situation was made worse by COVID-19 in 2020. Still the Hornets posted a winning season and advanced to the second round of the playoffs. In fact, since 2015, Hapeville Charter has posted winning seasons every year. The Hornets have won four region titles and a state championship in 2017. Gordon and his staff greeted a more normal off season for the team this year.
"This is the first summer that we had post-pandemic to be able to work with our kids," says Gordon. "You learn a lot about those individuals and every kid is different. Every set of kids that come through Hapeville is different. These kids required a little more, so we gave them what they needed. We tried to hone in on the things that will make them successful. You know it's going to be slow sometimes, not having all of things that a traditional high school would have. Still you have to find time and a way to get those things done."
It took junior quarterback Sedrick Hill some time to adjust to what the coaches wanted and what his team needed. He has progressed each week and being surrounded by talented teammates has helped.
"Quantaves Gaskins has been great," says Gordon. "We use him as a dual-threat element every now and then. He scored both the touchdowns in the fourth quarter last week. He can play a little wildcat, and we can do some read option type things."
Gaskins, who will graduate in December, has committed to Vanderbilt, where he will play defensive back. Krishon Lett and rangy Quientin Williams are a pair of dangerous receivers who have more than 550 receiving yards each.
"These guys are making a dynamic impact," Gordon said.
Gordon is happy to point out that from a patch of grass in South Fulton County, a young person with the proper mindset, can get to wherever he wants to go. Gaskins is the latest in a line of players that have gone from Hapeville Charter to play college football. Former Hornets standout Arden Key is currently enjoying a great season with the San Francisco 49ers.
Doing more with less is something that I have seen before, living and working in the Metro Atlanta area. There was the Carver-Atlanta basketball team that won the state championship in 1967, the first year of integration for GHSA. Every game that they played was an away game, because the school had no gymnasium. Then there is Edwin Moses, who raced his way to track and field immortality after attending Morehouse College -- a school that had no track at the time he attended.
In this day and age of prep phenoms who must have all of the bells and whistles, Hapeville Charter is an oddity. No state-of-the-art weight rooms or players lounges. No field turf, no indoor practice facility, no fancy light show. What the Hornets have is a rather unique homefield advantage. A plot of earth with no fence and the constant drone of passing cars on a road, while also having a constant hum of cars speeding on South Fulton Parkway, which is just beyond a briarpatch that borders the other side of the field. Let's not forget the planes that are taking off and landing at Hartsfield-Jackson Atlanta International Airport.
"It's a calm peace for us," says Gordon. "Because we don't hear the noise. Once you have bought into something, you don't even hear the noise. Kids will do anything that you ask of them if they believe in you. I think our kids believe and have bought into this concept of Hapeville Charter. They have embraced this hard-hat mentality and our theme of it's 'Us Against the World.' This is when champions are built, in the playoffs, where you are only as good as your last game. So, we are right back at it this week trying to get better."
This week Football Fridays In Georgia will bring you a second round showdown between Marietta and Milton. It all gets started with Recruiting 2021 at 7 p.m. on the great GPB!
Secondary Content
Bottom Content